Vancouver is a breeding ground for "casual fine dining" chains. Most notably, Cactus Club Cafe, Joey and Earls started on the West Coast, and are now established in multiple provinces across Canada. The latter two also have locations in the US. All three have distinguished themselvesfrom other chains with a serious commitment to their wine program, attracting some of Vancouver's finest sommeliers in the process.
Cactus Club upped the food ante when it brought in Rob Feenie as executive chef in 2008, and aimed just as high for wine when it hired Sebastien Le Goff as Sommelier and Service Director in 2011. Le Goff has an impressive resumé,including tenures at CinCin Ristorante + Bar, Lumière and Cibo Trattoria, as well as fine-dining restaurants in Toronto and Asia. He was named Sommelier of the Year in 2006.
Part of improving Cactus's wine program meant making the list easier for guests and staff to navigate. He and colleague Sam Zavari organize it by the wines' body rather than by price or region, which is the traditional approach. Le Goff also decreased the total number of wines, yet expanded offerings by the glass "to match as many of our customers' tastes as possible," he says.
Joey Restaurant Group followed Cactus's lead in 2016 by snapping up 2015 BC Sommelier of the Year Jason Yamasaki, formerly of Chambar. His criteria requires a wine to be delicious, of course, but it also has to provide value and match the food, vibe and ethos of Joey. For the classics, such as Chablis and Chianti, Yamasaki describes them as "exceptional benchmarks that we are proud to carry across the country." Like Le Goff, he also looks at the particular region a Joey location is in – for instance, BC wines in BC and Ontario wines in Ontario.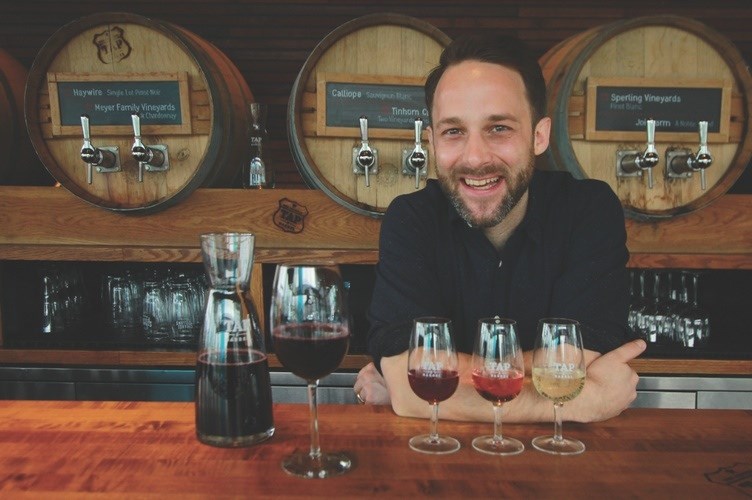 At Earls, Vancouver's original upscale chain, wine has long been an important focus. Under the direction of George Piper, the group established its own brand, Mon Ami Rascal, and forged long-term relationships with great producers around the world to secure wines at a good price. Recently, Earls introduced Torr Keg, a locally developed tap system, for all its wines by the glass. And, as of February, it has sommelier David Stansfield overseeing all locations.
Stansfield is formerly of Tap & Barrel, where he ran the wine program since it opened five years ago. The list is 100-per-cent BC wines on tap, with many single barrels or exclusive lots that Stansfield sourced for the restaurant. In terms of the move to Earls, Stansfield is thrilled. "They've been a leader with their wine service in the style of restaurant they are," he says. "I'm excited not to throw that out." He intends to take what he learned with BC wine at Tap & Barrel and apply it at Earls, giving a local flare to each location.
As talented as Le Goff, Yamasaki and Stansfield are, obviously they cannot be physically present to sell every bottle or glass. Each has his own unique way of providing wine training to ensure staff is comfortable talking about wine to guests. "Creating wine culture is one of the most challenging things across a restaurant group," admits Stansfield. "But it's not impossible. You do it by finding the people for whom this is a passion and foster that."
For Le Goff, this means working alongside them, and he continues to serve on the floor daily. "I love interacting with guests and getting their feedback firsthand about our service, wine selection and food," he enthuses. "Being on the front lines is very crucial to my job."