Ready to feel the burn? Vancouver's first restaurant devoted to Nashville hot chicken, the DownLow Chicken Shack, is prepping for a June 13 grand opening on Commercial Drive.
The project of owners and chefs Doug Stephen and Lindsey Mann of Merchant's Workshop, the DL Chicken Shack is moving into 905 Commercial Dr. (a few blocks north of Merchant's) replacing the former Deserts Restaurant.
The 1,000 square feet space has been designed by Stephen and Mann and has a total of 24 seats with eight at the bar, with plans to have a patio up and running soon.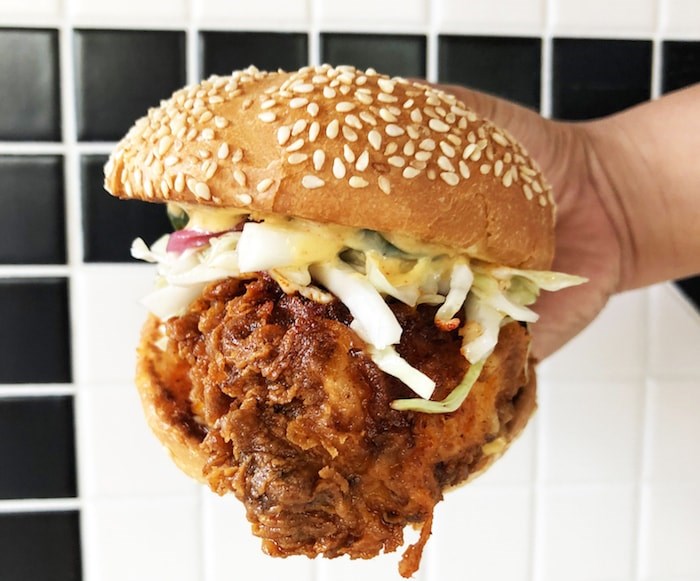 On the menu: Fiery hot fried chicken. Popular for a few years now and made famous at places in the U.S. such as Nashville, and even Los Angeles, Stephen and Mann have been perfecting the marinated, breaded, fried, and seriously spiced chicken over at Merchant's. The special menu item became so popular the Merchant's crew joked they should have kept it "on the downlow," hence the Chicken Shack's playful moniker.
The made to order chicken will come in spice levels (mild, medium, hot, extra hot, and "A side of Milk" a.k.a. extremely hot), and can be ordered up solo or in sandwiches, with sides like coleslaw, corn bread, pickles, macaroni salad, fries, and sweet tea. They'll have specials, too, such as a "Hot Fish" version.
The counter-service restaurant will open officially June 13, and will operate Tuesday to Sunday, from noon to 9 p.m. (or until chicken runs out). Prices start from $9 for a quarter bird up to $32 for a whole bird, with multiple large format options available.
The DownLow Chicken Shack is located at 905 Commercial Dr. in Vancouver.