Standing on the large floating dock of Homfray Lodge, located within Desolation Sound, I struggled to get the camera on my phone open as a large pod of Pacific White Sided dolphins flew past, leaping out of the water in a kind of synchronized aquatic ballet.
Assuming I had missed my opportunity to shoot a video, I lowered my phone, only for the dolphins — obviously on the hunt — to do a very quick about turn and head back in the same direction from which they had just come. But they were moving so fast I missed the shot again. Not taking any chances I held my camera in place just in case and, sure enough, they turned once more and I was able to capture their graceful movements on video as they raced past us through the water.
Even having been born and raised in B.C. — and seeing my fair share of wild sea life — I had never witnessed anything quite like the jaw-dropping scene playing out in front of us. I was joined on the dock by our fellow Homfray Lodge guests and crew members from the Pacific Bear who like me, all stood watching in amazement.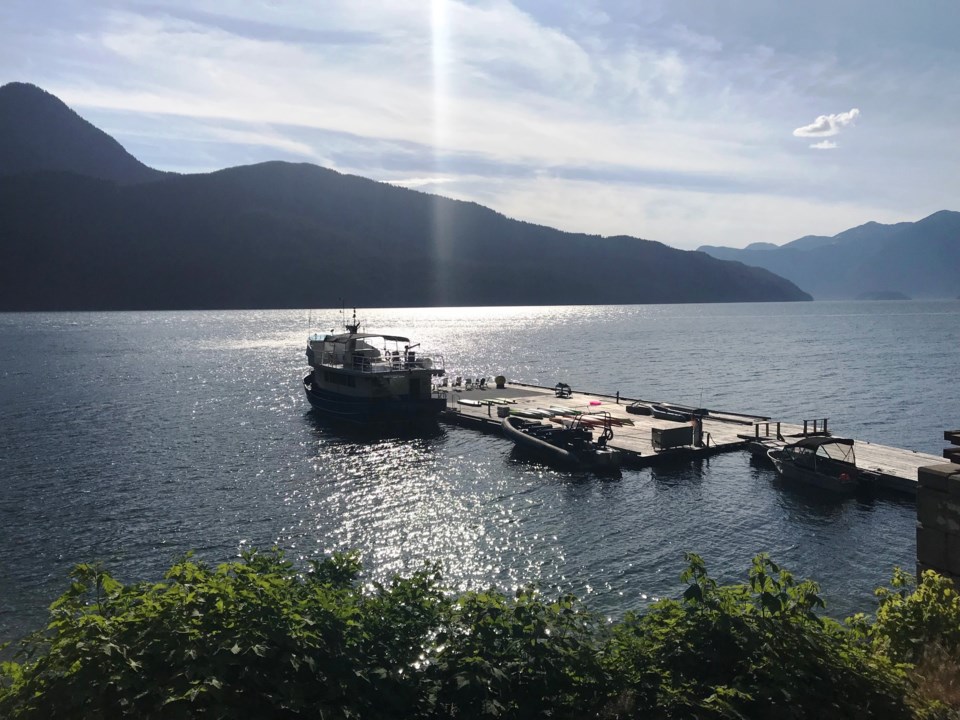 But that wasn't the only close encounter with wildlife and sea life we experienced during our three night, four day stay at Homfray Lodge as part of our Pacific Coastal Cruises excursion. This remote wilderness lodge is cloistered on a beach in Homfray Channel, an isolated inlet of Desolation Sound, which guests can only reach by boat or float plane.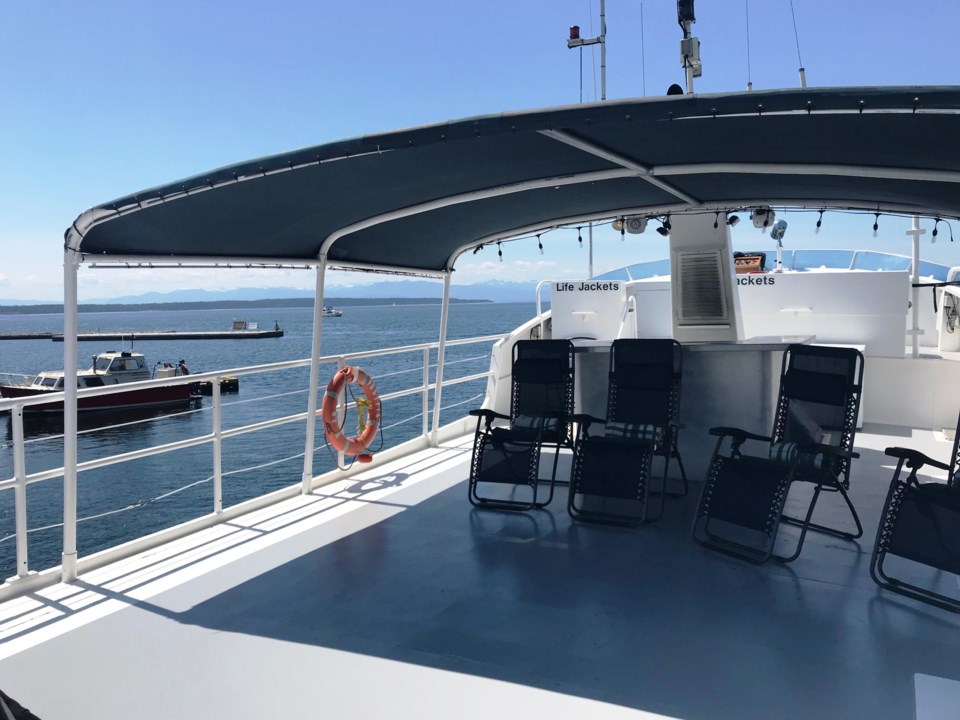 My husband and I and five other guests were transported to Homfray Lodge via the Pacific Bear, a refurbished fishing vessel, which today includes open and enclosed decks, a fully equipped galley and a bar.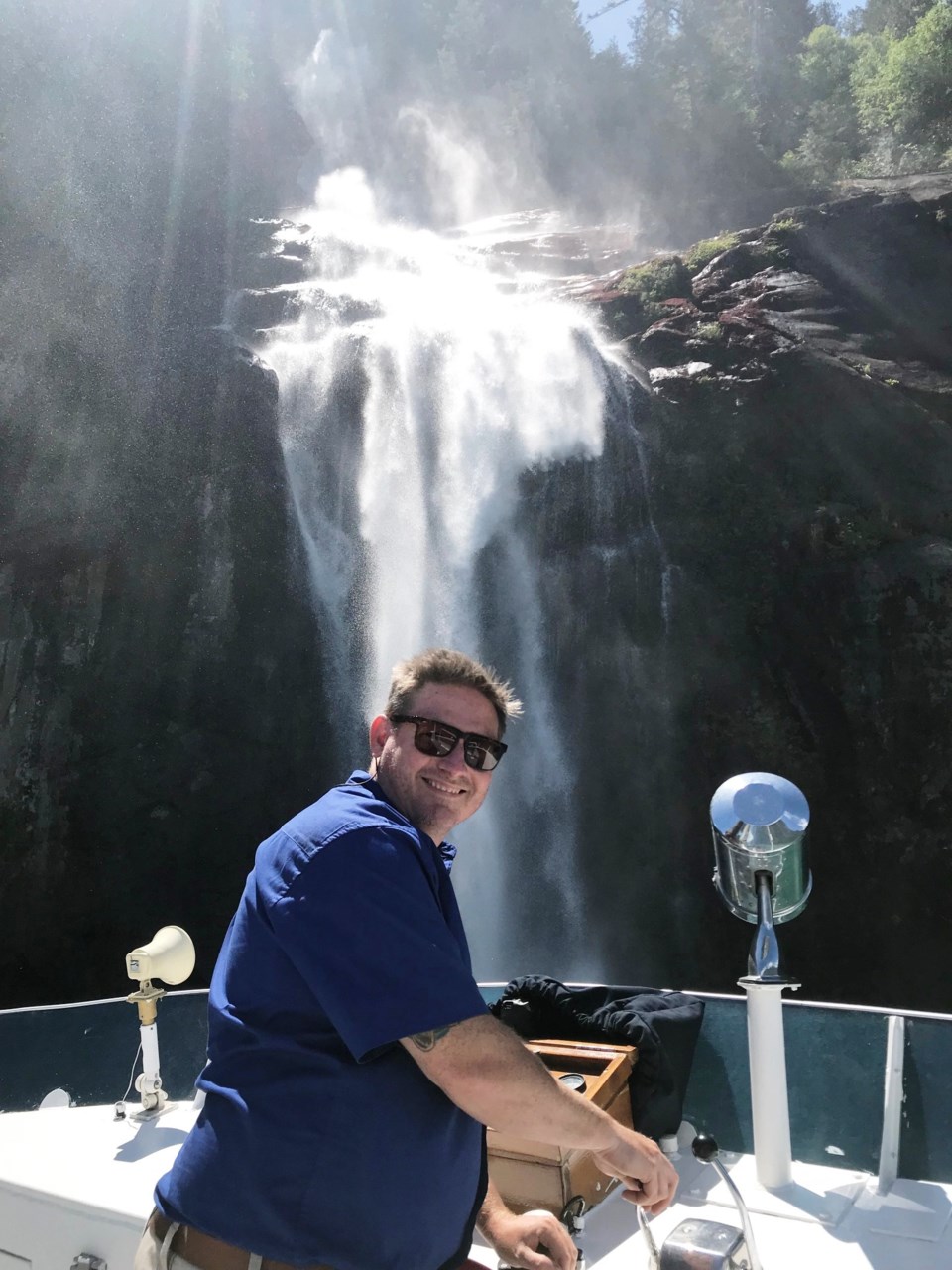 The Pacific Bear has the capacity to host 16 guests, but it was just seven of us on this long-weekend adventure so Capt. Lance Holroyd, naturalist Capt. Gregory Abakhan and the rest of the crew were particularly attentive and kept our wine glasses filled as we spent three leisurely hours on the water meandering from Lund to Homfray Lodge.
Our Pacific Coastal Cruises "cruise" meant spending our days on the water and our nights in the comfort of Homfray Lodge, where we were treated to delicious gourmet meals and had our choice of daily activities.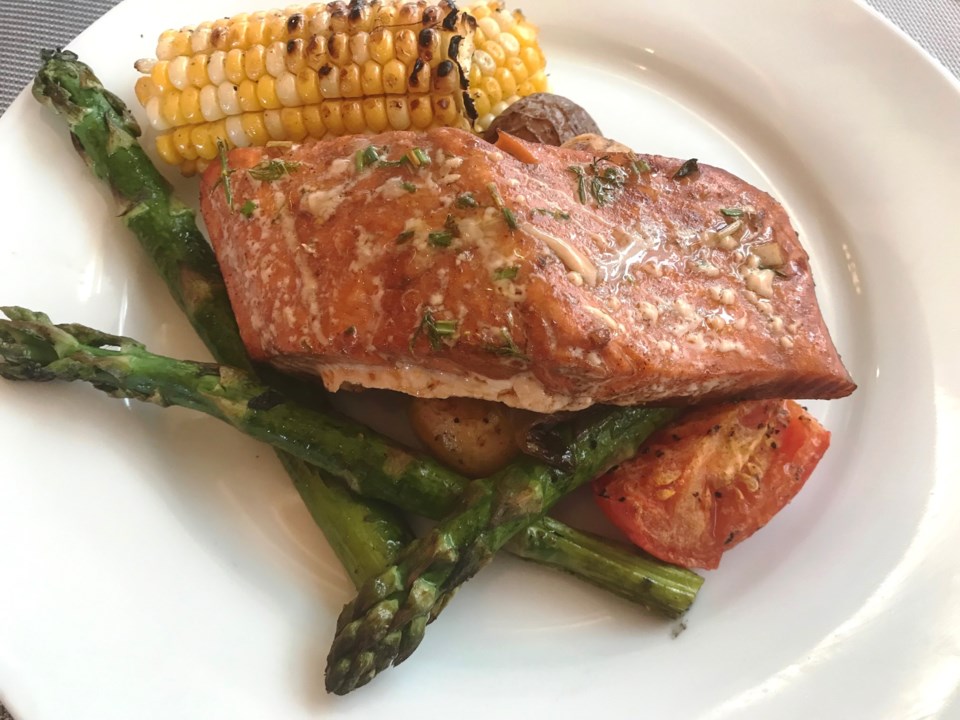 The owners, staff and crew of Homfray Lodge take their role as caretakers of the surrounding forests and waters very seriously and to that end, source their food and beverages locally, package food in reusable containers, offer vegetarian options, reduce, reuse and recycle, partner with the Commercial Bear Viewing Association and offset its carbon footprint by protecting 3,124 square metres of the rainforest in the Toba Valley.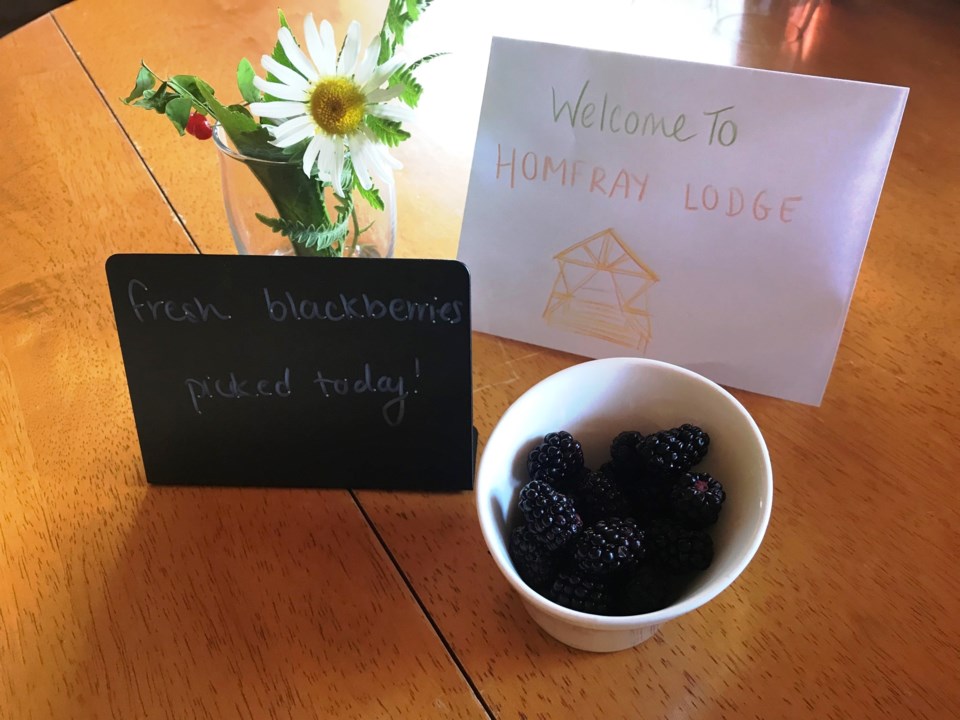 Pacific Coastal Cruises also offers guests the opportunity to help protect the Toba Valley rainforest by purchasing parcels of land from either the gift shop or during their booking process.
Even our welcome card was hand-drawn on recyclable paper and the treats we found in our room included fruit, such as blackberries, hand-picked daily from the surrounding forest. The lodge's tagline, "Discover the calm," innately captures the spirit of this remote paradise.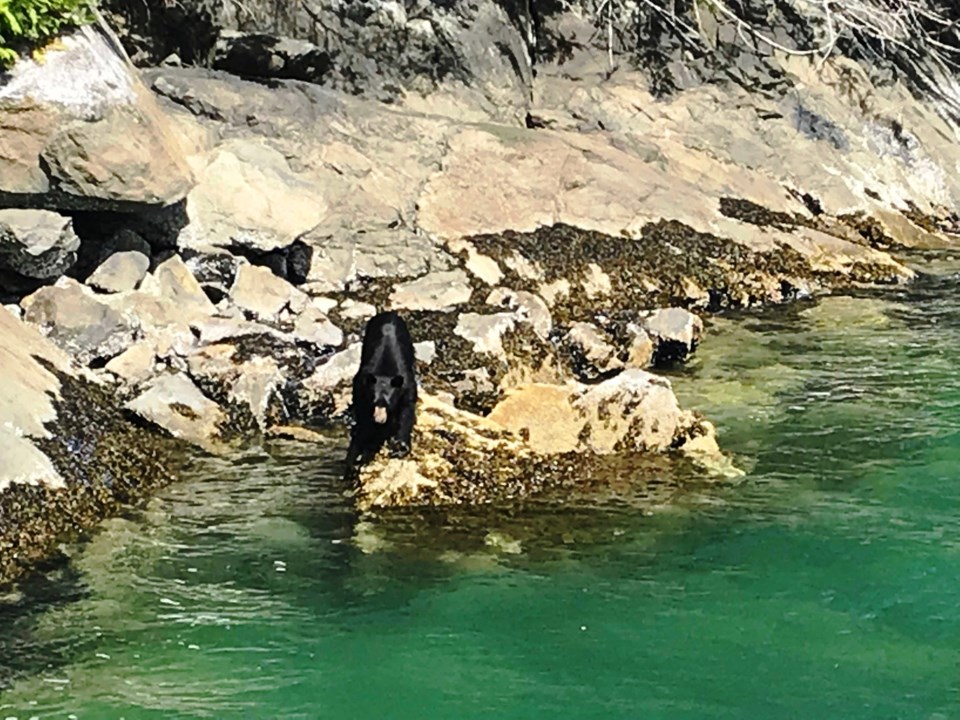 We spent our Saturday cruising aboard the Pacific Bear for almost six hours, during which at one point we were almost surrounded by a massive pod of Pacific White Sided dolphins that seemed to reach from one side of the inlet to the other.
But the real gasps came when we spotted a black bear gorging itself on mussels clinging to rocks along the shore. Absolutely unperturbed by our presence, the bear lumbered from rock to rock shredding large clumps of mussels with its massive claws and teeth as easily as if they were sunflower seeds.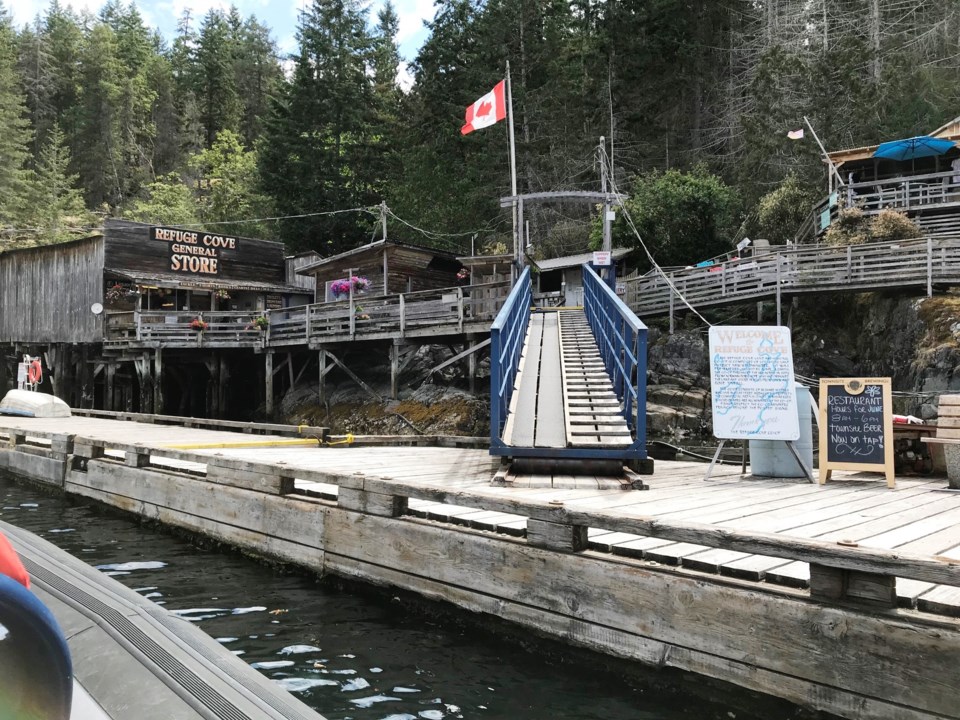 It was the next day when our group ventured out on a small Zodiac to get even more up-close and personal with nature, including the many eagles we watched twirling high above us. From this smaller vessel we were able to experience the beauty and force of waterfalls from just metres away and also visit Refuge Cove, a tiny enclave that welcomes boaters and sailors in what seems like the middle of nowhere.
At least that was what I thought until I realized I could shop for shoes, something that wasn't even on my radar when we first docked in this remote village built onto the surrounding hills.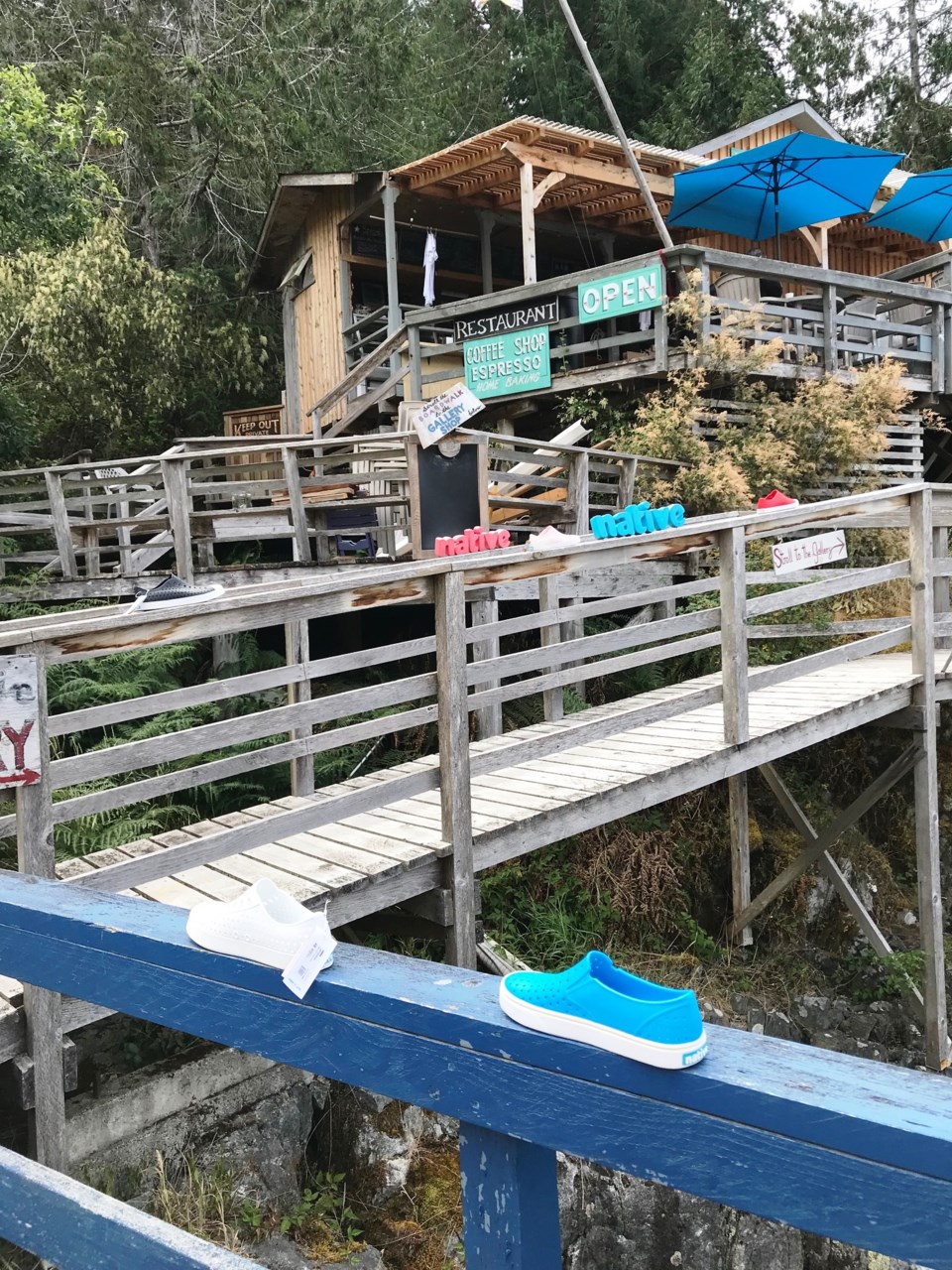 A throwback to much simpler times, Refuge Cove is home to a restaurant, book store, general store — with a tiny section in the back dedicated to liquor sales — and local art for sale everywhere, including in a dedicated gallery.
I fell in love with Refuge Cove and for a brief moment fantasized about giving it all up and applying for the job at the general store, which was posted on a bulletin board, but reality quickly came rushing back when I remembered we don't own a boat — and the Wi-Fi wasn't great.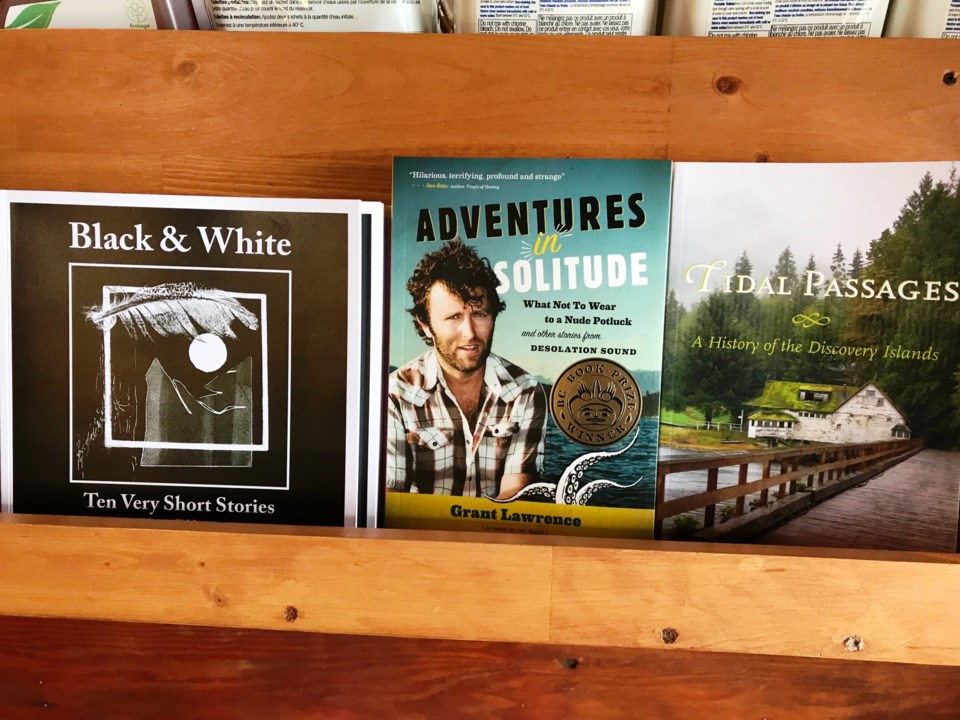 Refuge Cove is located within Desolation Sound Marine Park, which is 8,450 hectares, has more 60-kilometres of shore line, several islands, multiple bays and numerous snug coves, including the beach were Homfray Lodge sits.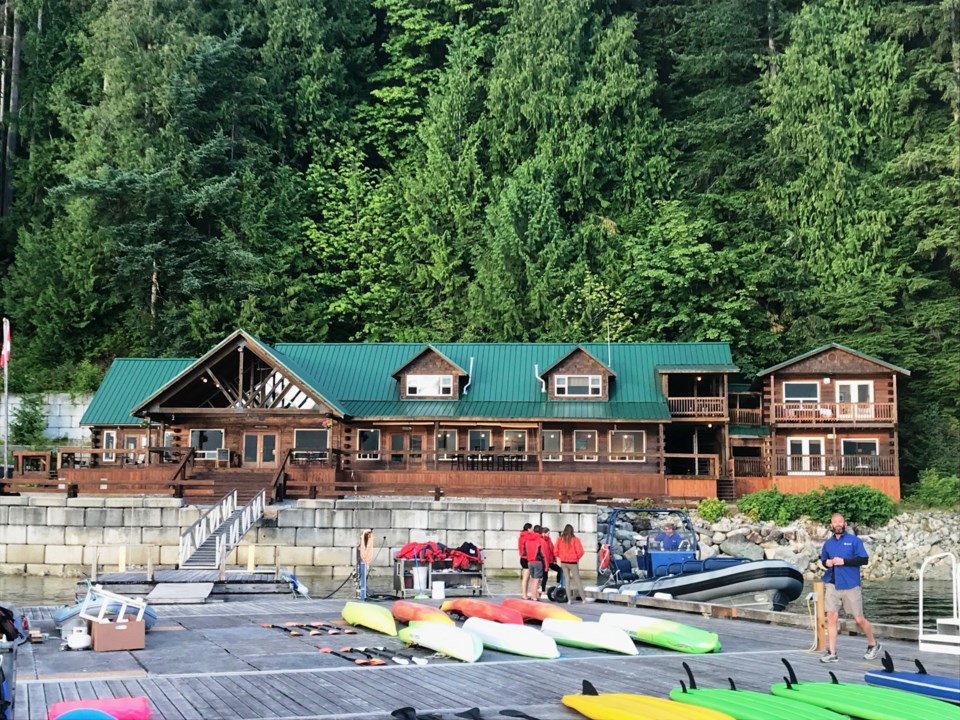 Homfray Lodge, which was built in 2008, was reimagined in 2017 as an all-inclusive wilderness destination. A visit to the all-inclusive lodge includes Powell River Airport transfers, cruising on the Pacific Bear, three meals and unlimited snacks a day, wine and beer, eco-boat tours, seasonal grizzly bear viewing, yoga, hikes and kayaking.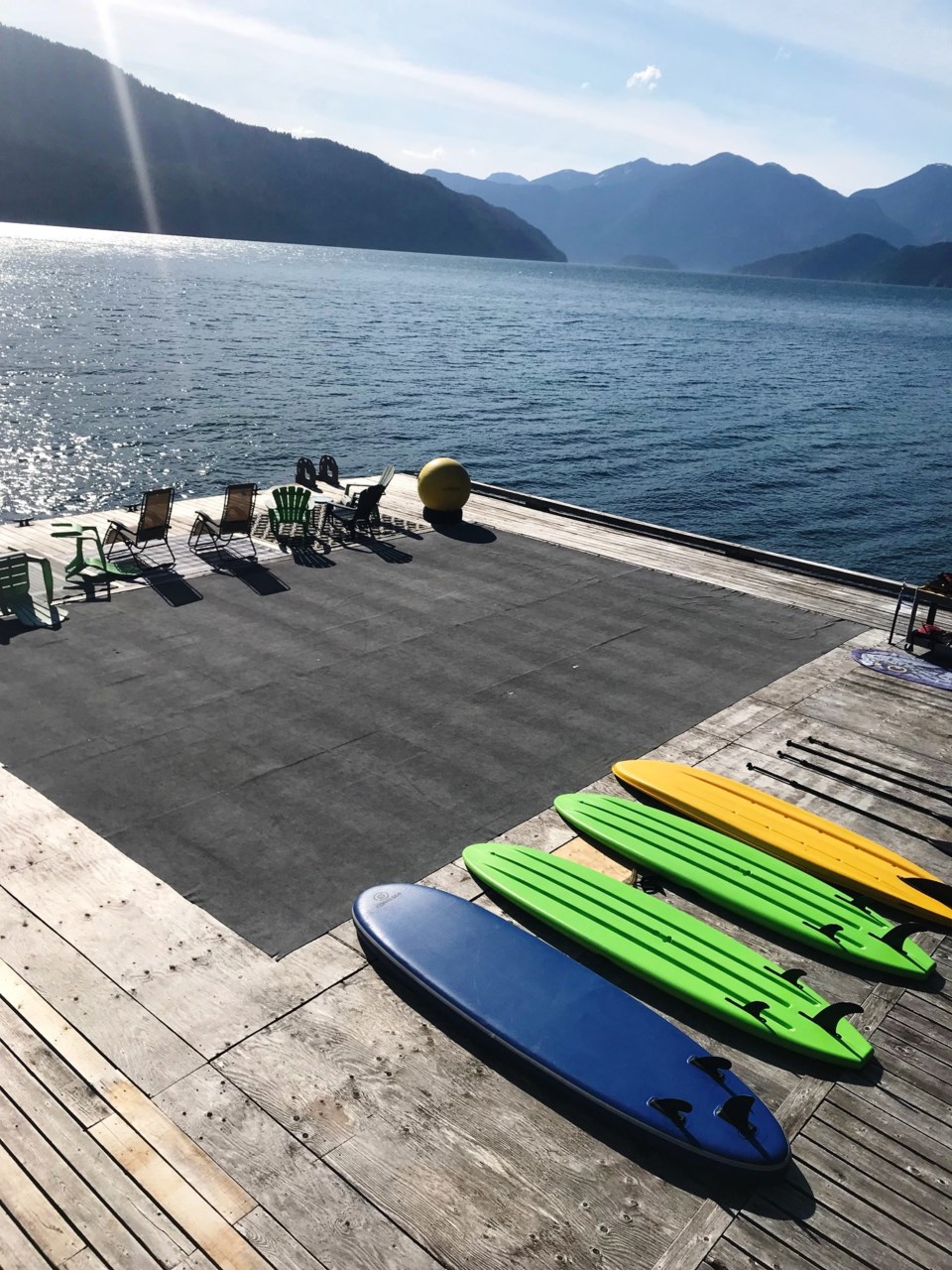 A couple of the braver members in our group also swam off the end of the dock each day and almost each time were greeted by Oscar, a curious seal that charmed us over the weekend. And while I didn't find the water in June warm enough to swim during our visit, the area is famous because due to the configuration of its tides and vast amounts of sunshine, summer water temperatures often exceed 22 C.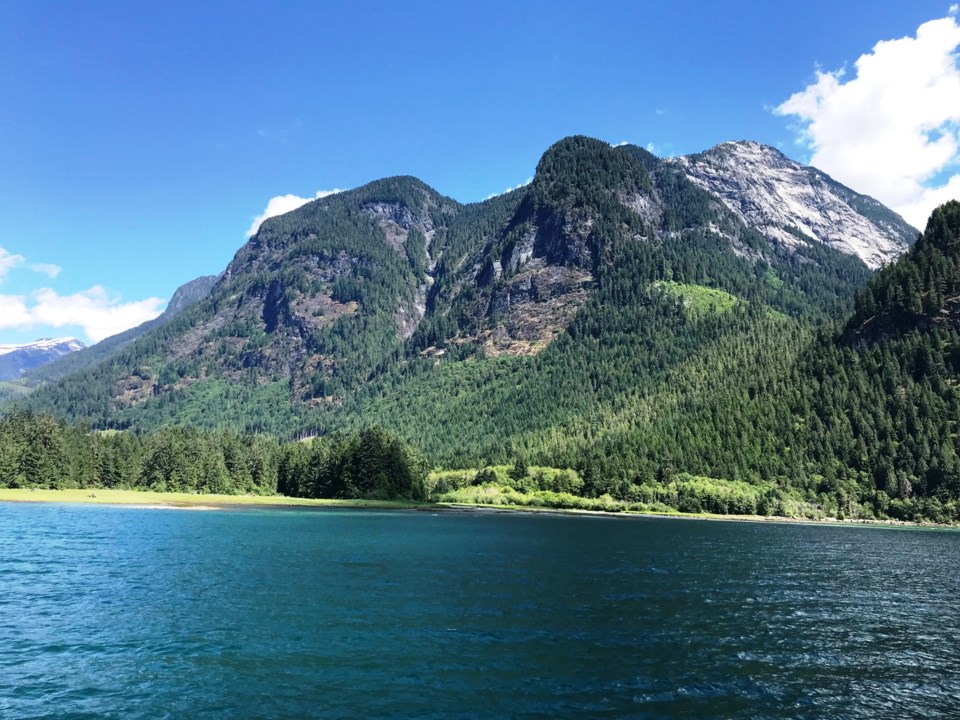 Desolation Sound was named by Captain George Vancouver after he sailed into its waters in 1792 and our cruise followed much of the same route he and his crew ventured, the difference being the Pacific Bear includes a state-of-the-art navigation system — and wine.
Despite those differences, I can only imagine Captain Vancouver's response to the rugged beauty of the area was very similar to ours. A visit to Desolation Sound is a good reminder not only of just how vast this province is, but also how absolutely vital it is to protect these stunning wilderness areas from over-development. And I think the dolphins, bears, whales and eagles of the area would agree.
Getting there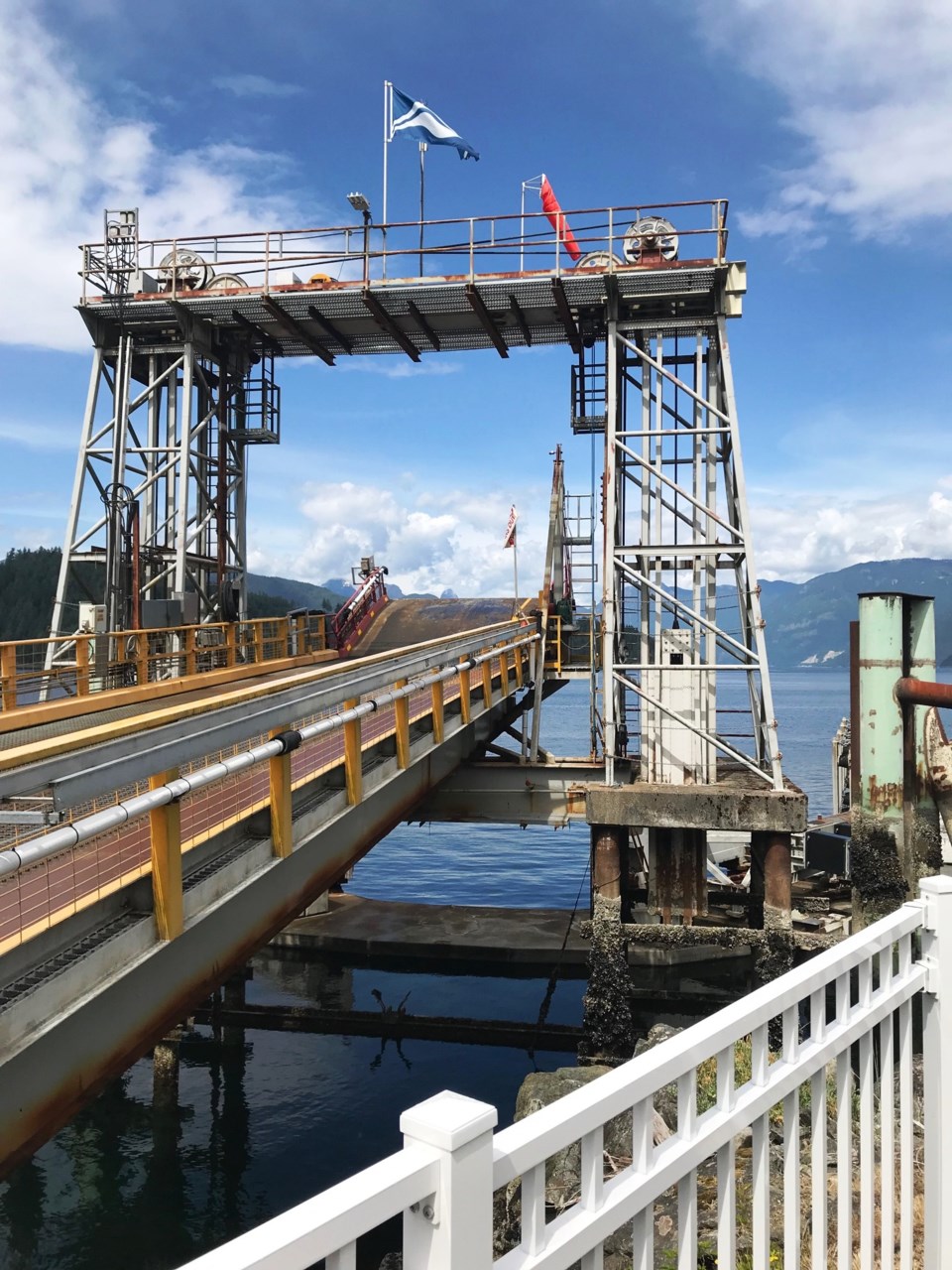 Our trip to Lund included two B.C. Ferries and took about seven hours from Vancouver, but it was a beautiful day, which made the ferry rides a great way to get us even more excited about our upcoming cruise.
We left from Horseshoe Bay on a B.C. Ferry and crossed to Langdale near Gibsons on the Sunshine Coast and took Highway 101/Sunshine Coast Highway to Earls Cove.
It was there we caught our second B.C. Ferry to Saltery Bay and drove 30 minutes past Powell River to the beautiful town of Lund. We spent the night in Lund, where we boarded the Pacific Bear the next day and cruised for three hours to Homfray Lodge.
Guests can also fly into Lund via floatplane.
sthomas@vancourier.com
@sthomas10