I'm standing in front of a tower full of skulls. It is 33 degrees Celsius in this humid, dusty Cambodian park and what I'm seeing feels almost too hallucinatory to process. I remove my sunglasses and squint at the Memorial Stupa, a 62-metre, glass-sided Buddhist tower built in 1988. Yes, there they are — more than 8,000 human skulls.
This is not fiction. It's not an Iron Maiden song or a scene from The Terminator. Nor is it some horrific vestige of the Assyrian Empire. It is something that happened in my own lifetime and still holds enormous meaning today.
The Choeung Ek Genocidal Center lies 15 kilometres southeast of Phnom Penh, the capital of Cambodia. It's an optional excursion during my eight-day Mekong River cruise through Southeast Asia on the Scenic Spirit. As a student of history, I can't bypass the legacy of the Khmer Rouge's 1970's reign of terror. Among Westerners, this bizarre, tragic tale is best-known from the Academy Award-winning 1984 film The Killing Fields.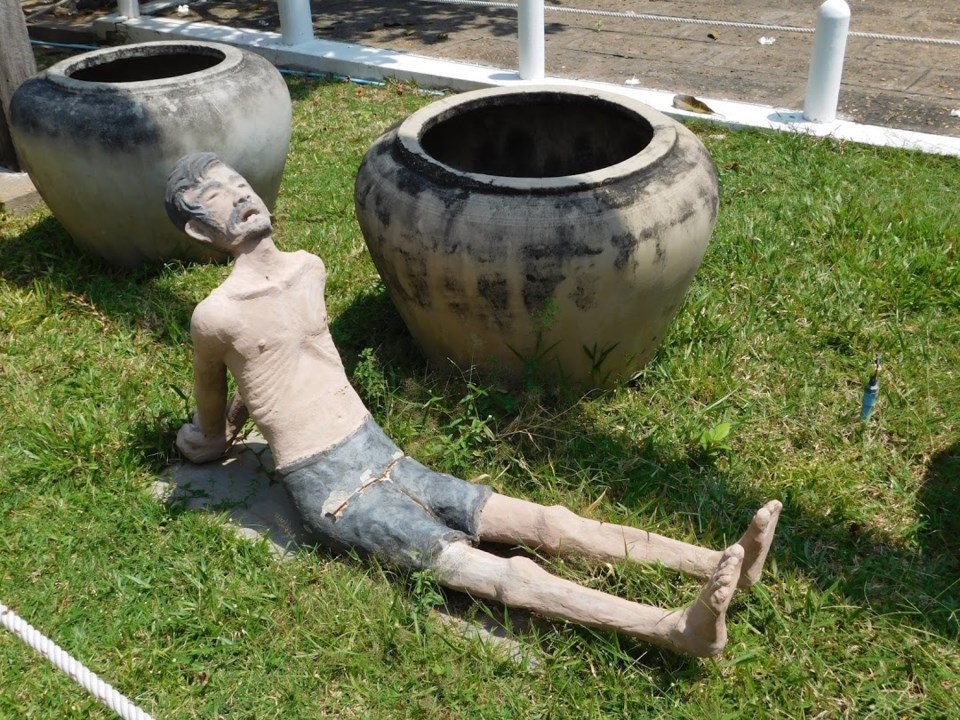 As a political party, the Khmer Rouge's goal was to establish a utopian form of agrarian Communism, inspired by Mao Tse-Tung's Great Leap Forward in China. Their guerilla army won a civil war against the corrupt, U.S.-backed Cambodian government. In power from April 17, 1975 to Jan. 7, 1979, the genocidal Pol Pot-led regime rivalled the worst excesses of Hitler's Germany and Stalin's Russia. More than three million people died, 1.7 million by execution, the rest from disease or starvation. Primitive collective farming failed, as people toiled up to 18 hours a day for one bowl of rice.
In this former Chinese cemetery, I can see just how ghastly it got as my group inspects dusty mass graves. Bones jut out, sometimes in the open, other times inside glass cases. I wish I was only looking at sticks instead of human remains.
Choeung Ek is the most infamous of more than 300 killing fields in what was known as Democratic Kampuchea. Signs such as "Mass Grave of 166 Victims Without Heads" abound. Our Scenic guide, Dara Chhung, points out a huge banyan tree where the Khmer Rouge hung loudspeakers that blasted music to mask the screams of the dying.
And just why were thousands murdered with bullets, knives and bamboo sticks? The Khmer Rouge targeted anyone suspected of intellectualism. The educated, journalists, people with glasses, those who spoke English or French — I realize I'd have been among the first to go if I'd lived here in 1975.
The regime banned such staples of civilization as doctors, currency and newspapers. Christians and Muslims were killed, along with ethnic Chinese and Vietnamese. Children were slaughtered because Pol Pot feared they'd seek revenge for their parents' deaths: "When you dig up the grass, you must remove even the roots." It was a ruthless attempt to drive this sleepy, laidback Buddhist nation of rice paddies and pagodas back to Year Zero.
I absorb these soul-scarring details while traipsing along wooden walkways that strangely remind me of nature hikes back home in British Columbia. When another tour guide harangues her group loudly, it feels both grating and profane.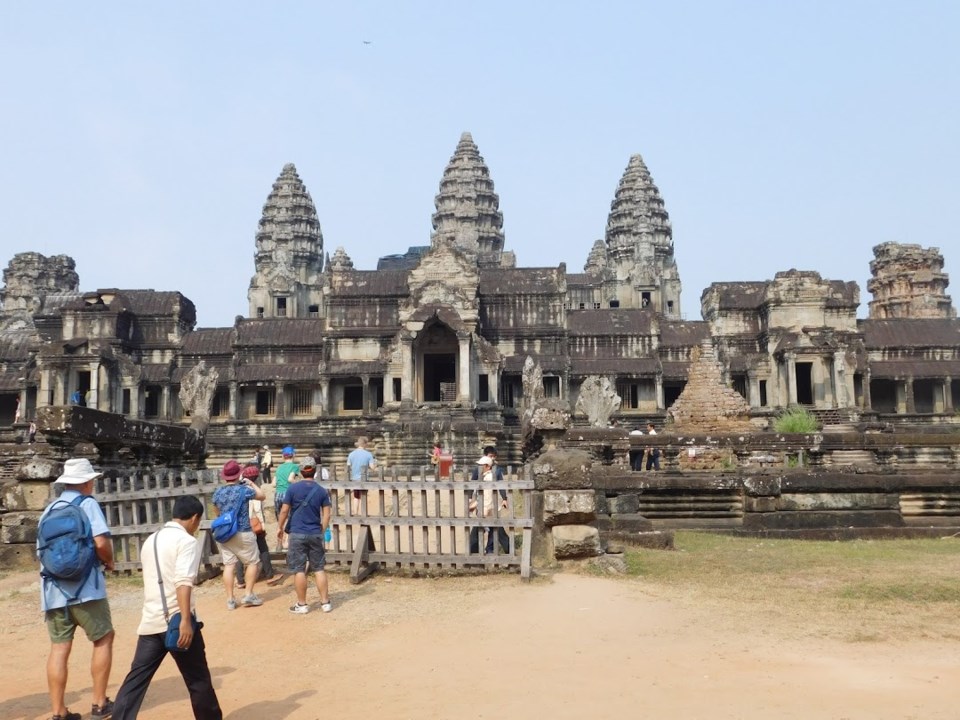 Sometimes North Americans find it all too easy to distance themselves from tragedies in Asia, like the 2003 earthquake in Iran (26,000 dead) or the 2004 tsunami that hit Thailand (220,000 dead). But I can feel the full weight of what happened here not that long ago.
Before Chhung ushers us back to the tour bus, I decide to enter the Memorial Stupa. I remove my hat, socks and shoes before heading up the steps. Inside, I find myself moving faster as I look at the racks of yellowing skulls. They're colour-coded by criteria like the victims' ages and the methods of execution. It's hard to view for someone as life-centric as myself. As I leave the tower, I step past two Australian girls in blue sun dresses, and seeing them feels like a relief, just a quick glimpse of life.
This country of 16 million was also traumatized by the American bombing during the Vietnam War — 2,756,941 tons of bombs hit Cambodia between 1969 and 1973 — and a decade of harsh rule by its Vietnamese liberators between 1979 and 1989. First They Killed My Father, a new Angelina Jolie-produced movie coming to Netflix in September, will bring more attention to the massive psychological burden Cambodians bear from these years of turmoil.
It feels strange to make sites associated with murder into tourist attractions, whether it's the Roman Colosseum or the Texas School Book Depository where Lee Harvey Oswald shot U.S. president John F. Kennedy in Dallas. But the Khmer Rouge years can't be minimized or forgotten, and keeping Choeung Ek open keeps them tangible.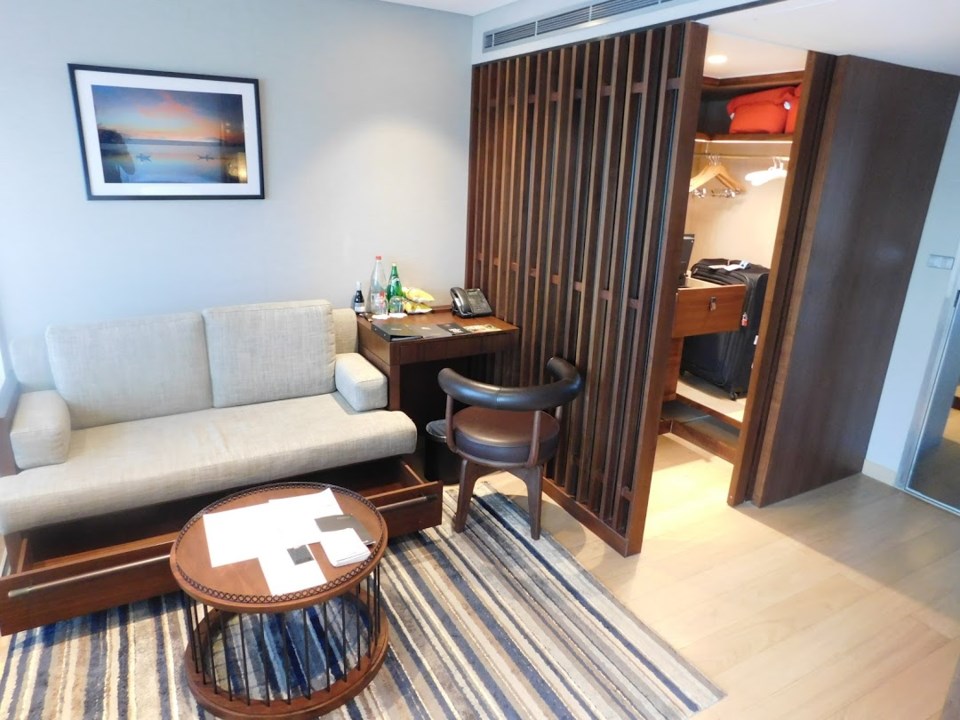 The contrast between the Killing Fields and my luxurious existence on the 2016-built Scenic Spirit couldn't be starker. I have Egyptian cotton sheets on my queen-sized bed, a swimming pool, an open bar, roast duck breast and tiramisu for dinner, and smiling butlers who address me by name. Of course, the mostly Cambodian cruise staff could tell many tales about their families' 1970's privations.
In Phnom Penh, we also visit Tuol Sleng, a former high school used by the Khmer Rouge as a prison. Close to 20,000 prisoners were kept here and almost all were executed. Meeting a survivor named Chum Mey is a revelation.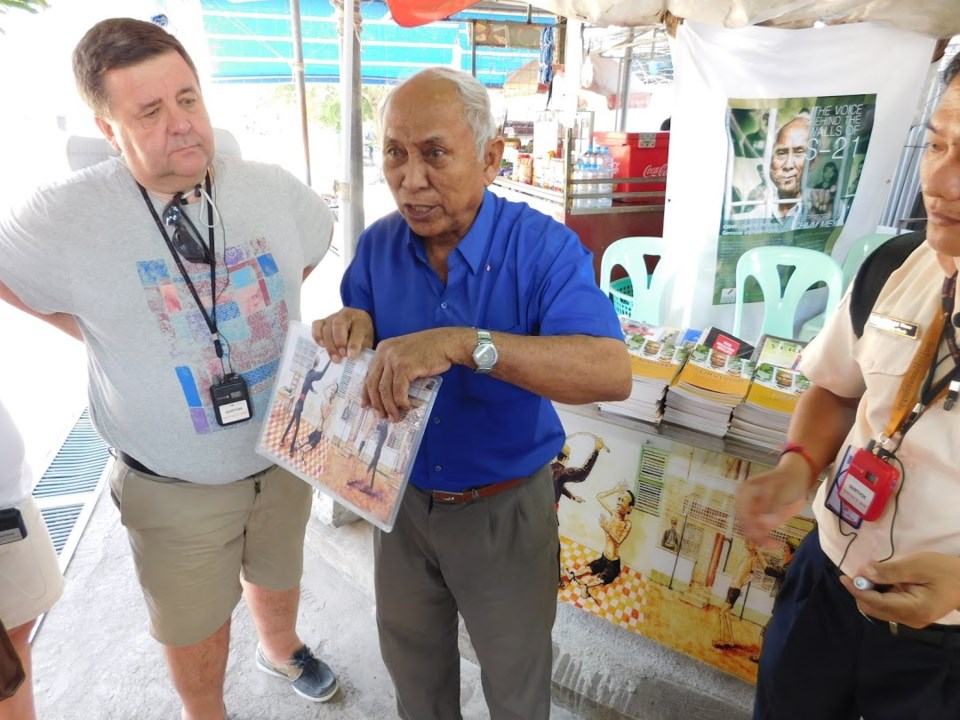 The slight 86-year-old man in a blue shirt and sandals spends his days here, selling his autobiography for $10 US. Chum Mey only survived the Khmer Rouge because he could fix typewriters. His jailers gave him electric shocks and pulled his toenails out. Yet the whole grim prison pales in comparison to the simple dignity of this man.
"Instead of living in a fancy house and enjoying life, Chum Mey comes back to the place where he suffered," says Chhung admiringly. "It doesn't make sense!"
What does make sense, though, is how the Khmer Rouge mobilized support for its fanatical policies in a nation that built the spectacular, sophisticated temples of Angkor Wat 900 years ago.
In his 1987 autobiography, Haing Ngor, the Cambodian star of The Killing Fields, describes the working-class Khmer Rouge members as "revenge-people" and adds, "All they know is that city people like us used to lord it over them and this is their chance to get back."
The regime demonized foreigners and the media while glorifying war and cutting essential services. Does that sound familiar? It was a classic illustration of the impulse to follow false messiahs who promise a glorious future. It's just sad when the lesson is reinforced with a tower full of skulls.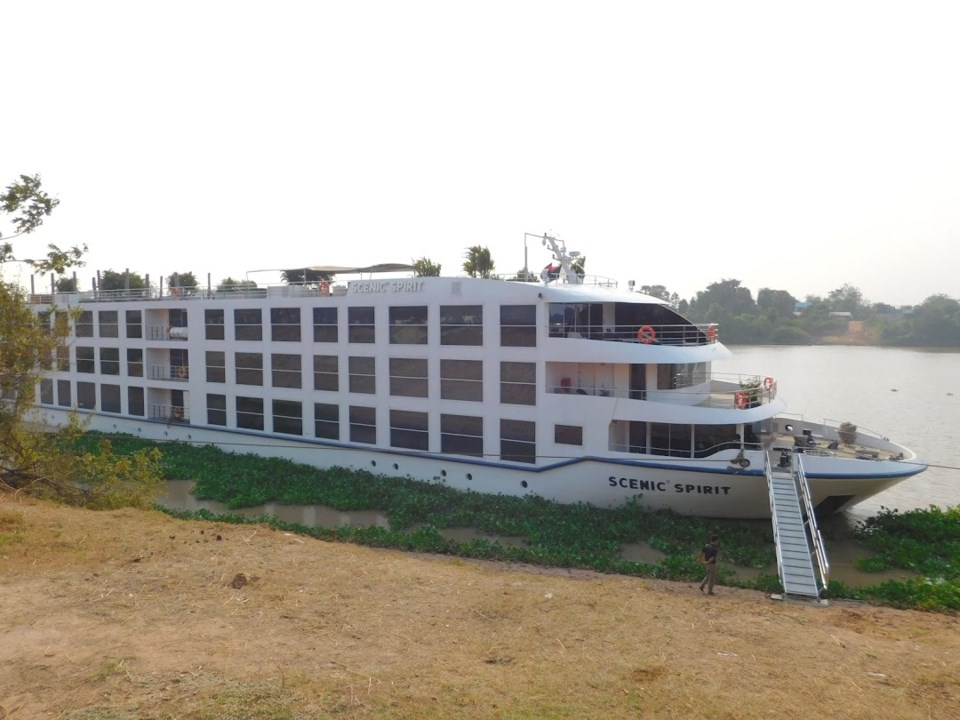 The web site of the Choeung Ek Genocidal Center is cekillingfield.org. For more on Scenic's luxury cruises and tours, visit scenic.ca. Lucas Aykroyd was a guest of Scenic, which did not review or approve this article.