Fiji is a 10-hour non-stop flight from the U.S. west coast, but well worth the jaunt. 
A handful of hotels on Fiji's main island of Viti Levu have separate wings, clubs or pools dedicated to adults only. So for those seeking incredibly hospitable hosts, swaying palms, warm turquoise waters and a laid back island paradise sans junior, Fiji beckons.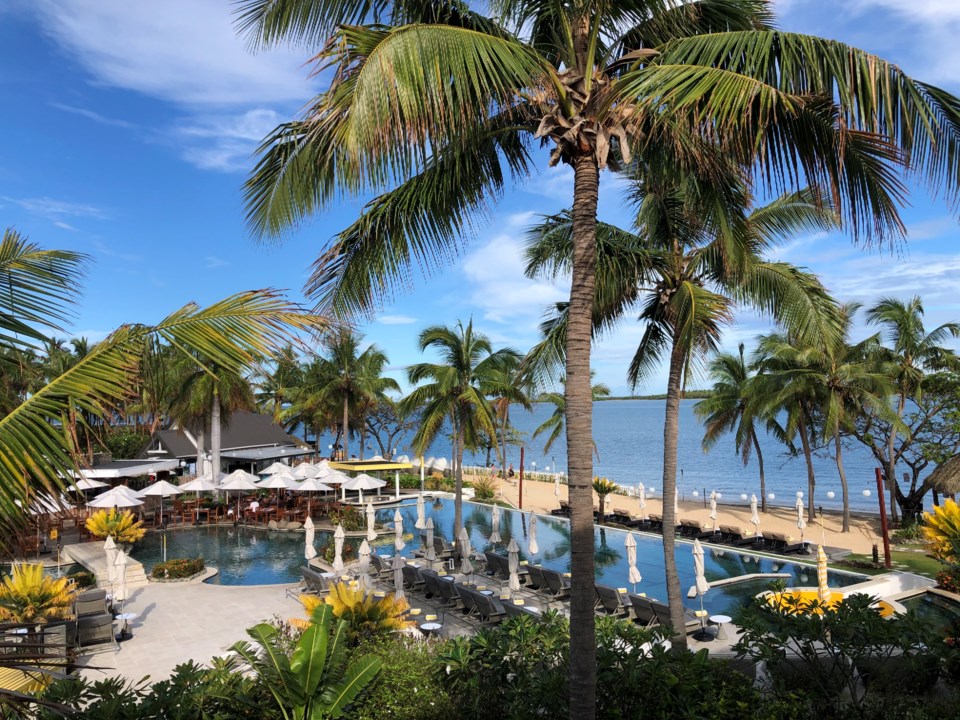 A great base for exploring Nadi — Fiji's third largest town — or simply relaxing, is the Sofitel Fiji Resort & Spa on Denerau Island. Accessed by a short bridge, Denerau is only 20-minutes from the airport and an oasis of manicured calm.
The Sofitel's adults-only Waitui Beach Club has separate reception facilities to swiftly check-in. Newly renovated rooms, a beautiful pool with swim-up bar and an abundance of uber comfortable ocean-front daybeds provide complete relaxation.
Waitui Bar's daily happy hour serving complimentary cocktails made under the direction of talented French mixologist Clement Cujus, are coupled with scrumptious canapés. Just like the fresh fish served at Waitui Grill, all are rather wananavu (awesome).
In addition to the Sofitel's ocean-facing So Spa and a host of daily activities on offer, Denerau is an excellent place to stroll or run and numerous recreational options are available, including golf. It's also very convenient as ferries depart nearby for those traveling onward to Fiji's lovely Mamanuca islands.
Peaceful Yanuca Island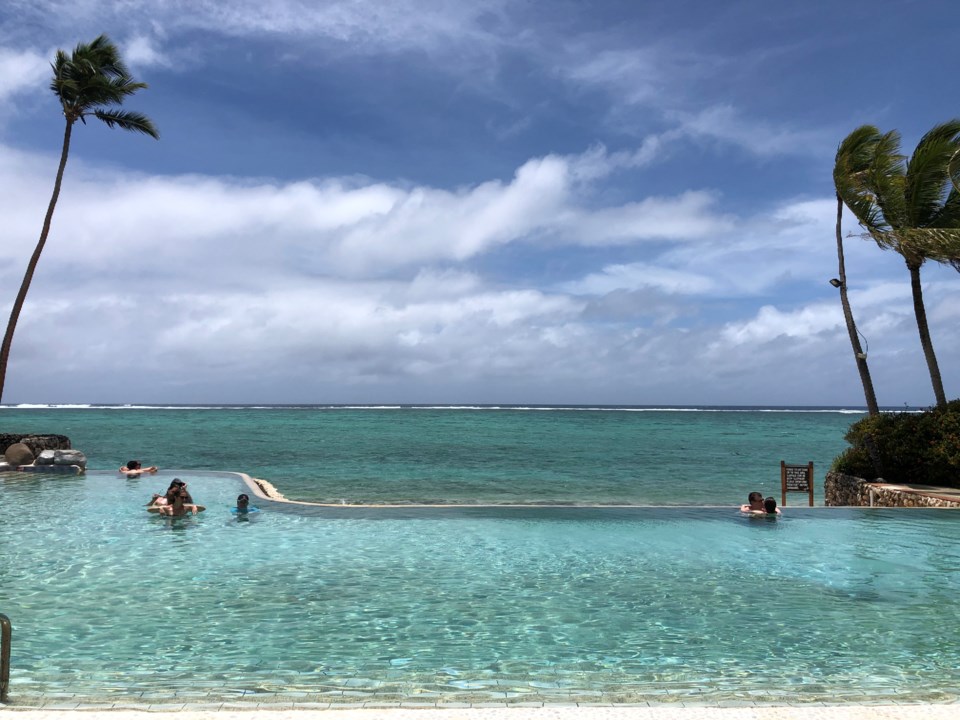 An hour from Nadi along Viti Levu's southwest coast, a causeway is crossed to Yanuca Island. Here Shangri-La's Fijian Resort & Spa magically appears on this 109-acre, lush verdant island.
The Reef Wing, its adults-only enclave has its own reception and here I received a choral welcome like nowhere else. While the property overall has 443 rooms and is child friendly — with Fiji's largest inflatable water park and a marine education center -- it is also a retreat for adults.
The completely separate, adults-only Reef Wing has 72-rooms, a glorious infinity pool and six new Reef Bures — free standing bungalows — conveying a strong sense of place with Fijian art and textiles. No small wonder this Shangri-La performs more than 200 weddings annually in its modern seaside chapel.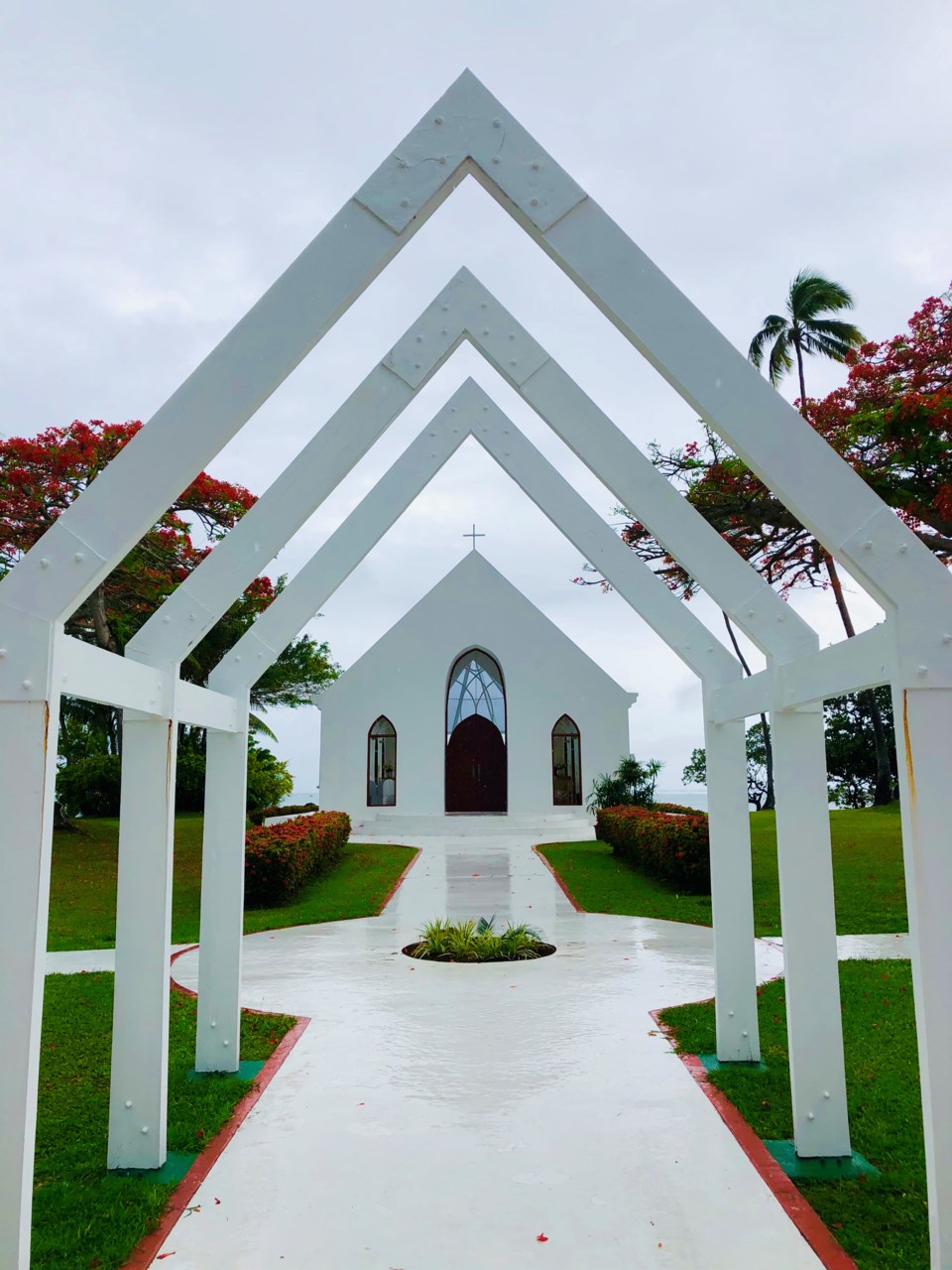 In keeping with Shangri-La tradition, its Chi Spa is a wellness haven of total tranquility. In a calm private bure, my therapist worked her Fijian magic and I'm certain made me a few inches taller.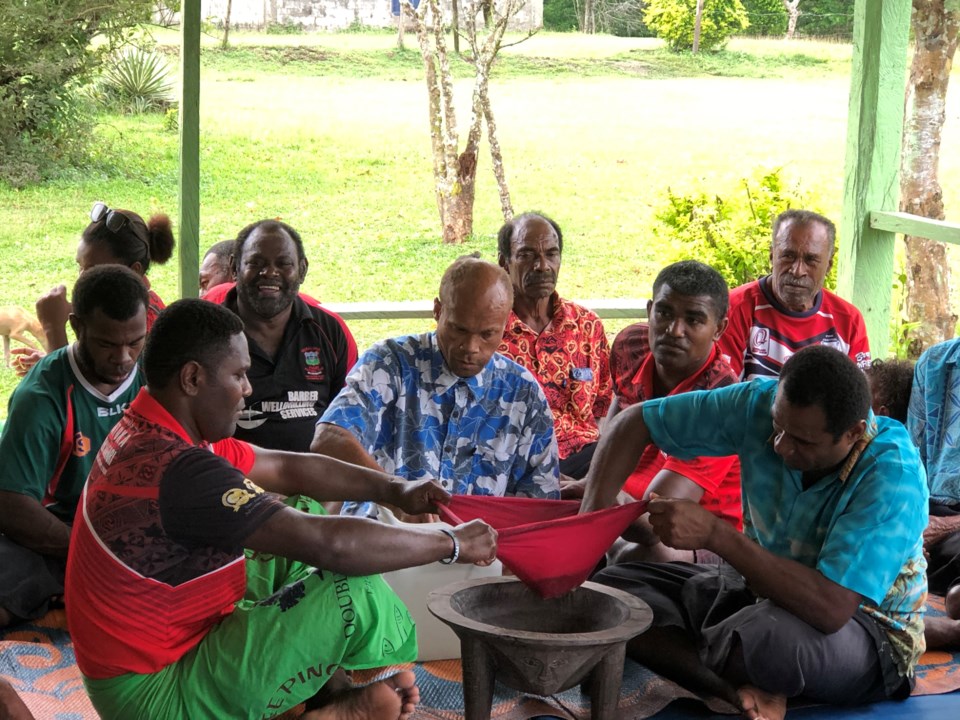 Shangri-La's location made it easy to head to nearby Sigatoka town and join a river safari that provides a unique entrée into traditional Fijian life. Sigatoka River is Fiji's longest at 75 miles and along its banks upriver are 30 traditional villages deep in its interior, each with a tribal chief, church, communal dining area, small homes and an open air bungalow where kava ceremonies are held.
Made from the kava root, this light brown, mild alcohol involves a ceremonial preparation with village men followed by offering to guests and then of course drinking. Central to Fijian culture, kava plays a significant role in traditional life.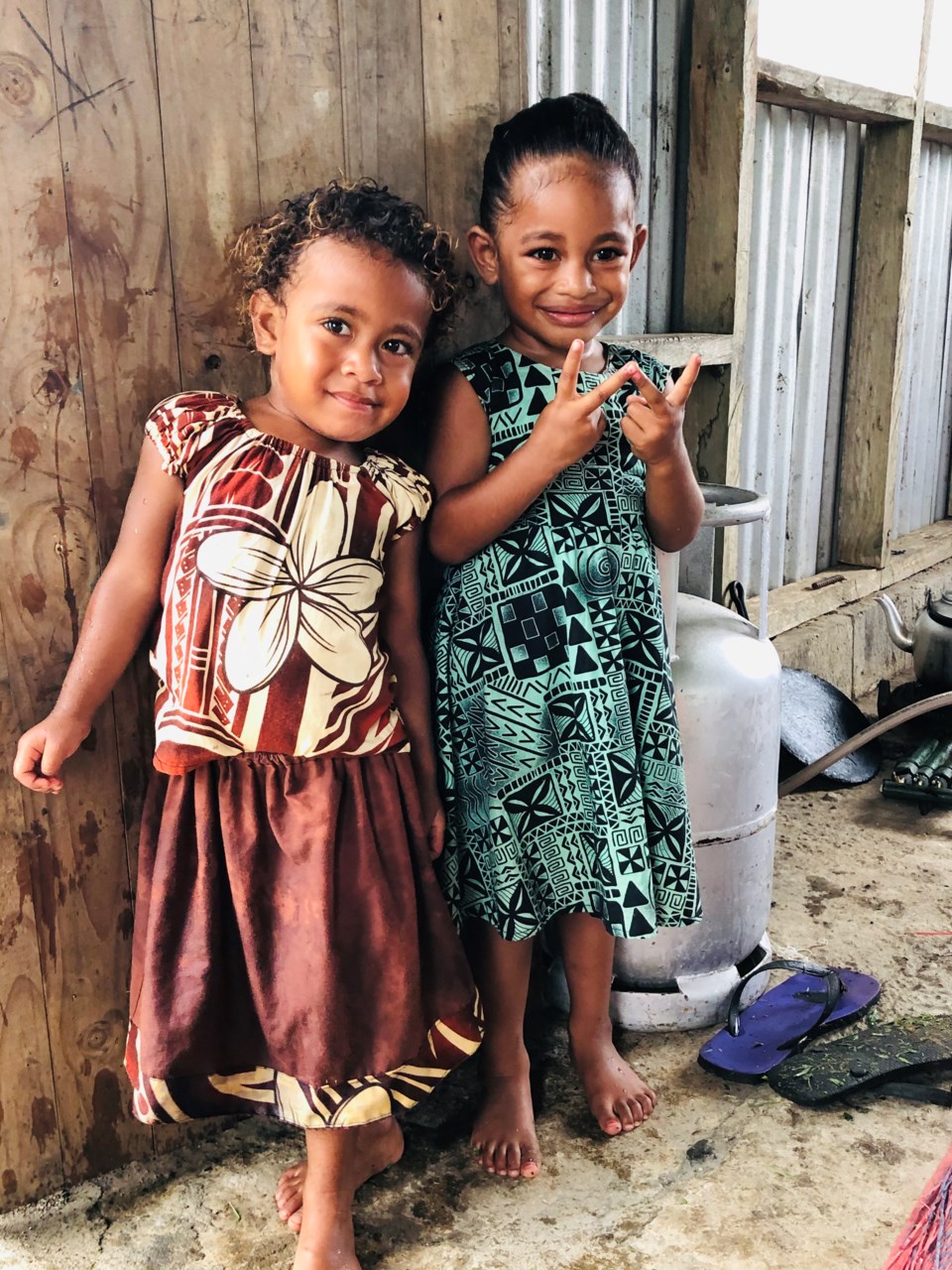 On this trip I visited Navula Village, 31-miles upriver. Its 150 residents, including several children and about a dozen dogs — which aid in wild boar hunting — chose to only have solar operated lights and no other electricity.
Villagers were genuinely hospitable, eager to show us their church and prepared a traditional lunch for us following the kava ceremony. Upon completion of the ceremony, guitars were brought out and serious singing and dancing ensued.
By our return trip the tide had changed and every few miles we saw mirage-like, lone women fishing for tilapia while mountain goats perched impossibly on nearby hills. In between these fisherwomen, we spotted a wild horse or two and a few cows slowly swimming across the river.
Intercontinental Fiji Golf Resort & Spa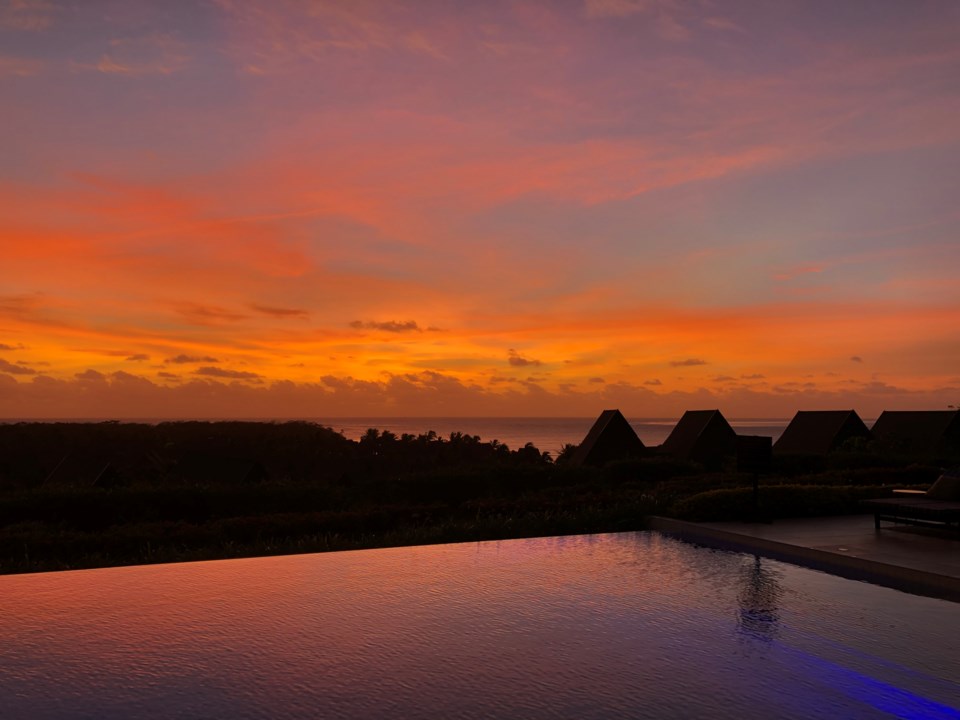 Known locally as the Intercon, this impressive 35-acre tropical resort with one of the island's best beaches is a property not at all like its urban brethren across this brand in North America.
Rooms are enormous and start at 630-square feet. Club level villas are more than 1,000 square feet with huge lanai's containing outdoor bathtubs. The beachfront adults-only pool is quiet and boasts forever views.
While many come to the Intercon to expertly and fully "flop and drop," there is plenty to do. If your visit includes a Sunday, attending a local church service is an unforgettable cultural and musical experience.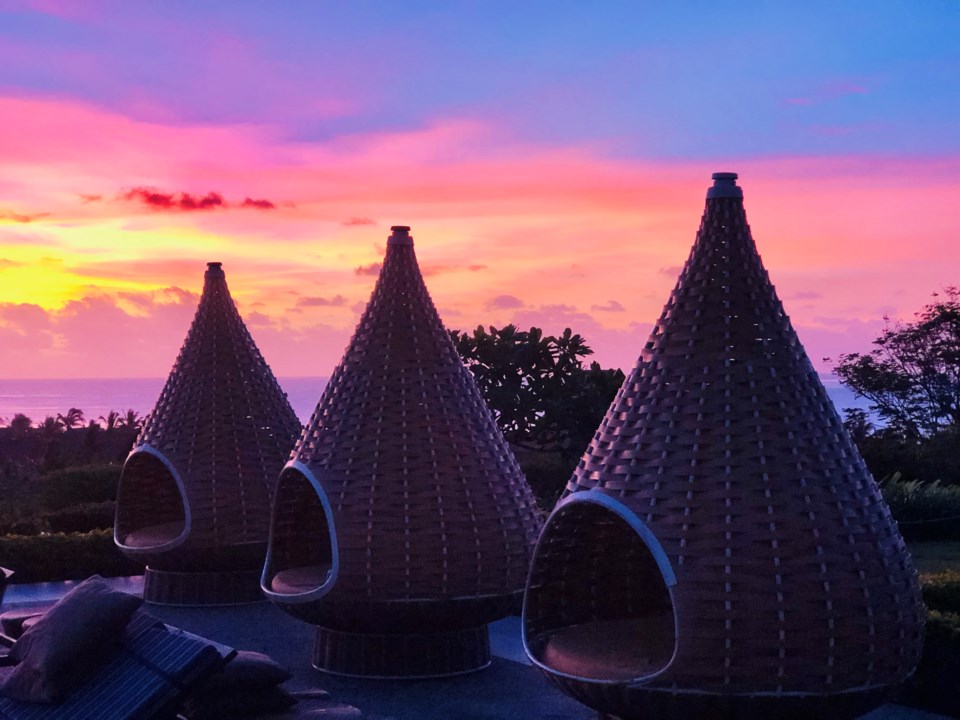 Likewise, the treatments at Intercon's Spa have strong cultural components. Here technicians open fresh coconuts, use its milk and grate its meat to make rejuvenating body scrubs for personalized treatments that are utterly bliss inducing.
Meals at Intercon are sure to satisfy all tastes with the freshest of fruits, fish, lobsters, prawns and outstanding steaks coupled with an extensive wine selection at its several restaurants and their award-winning baristas had me at bula (hello).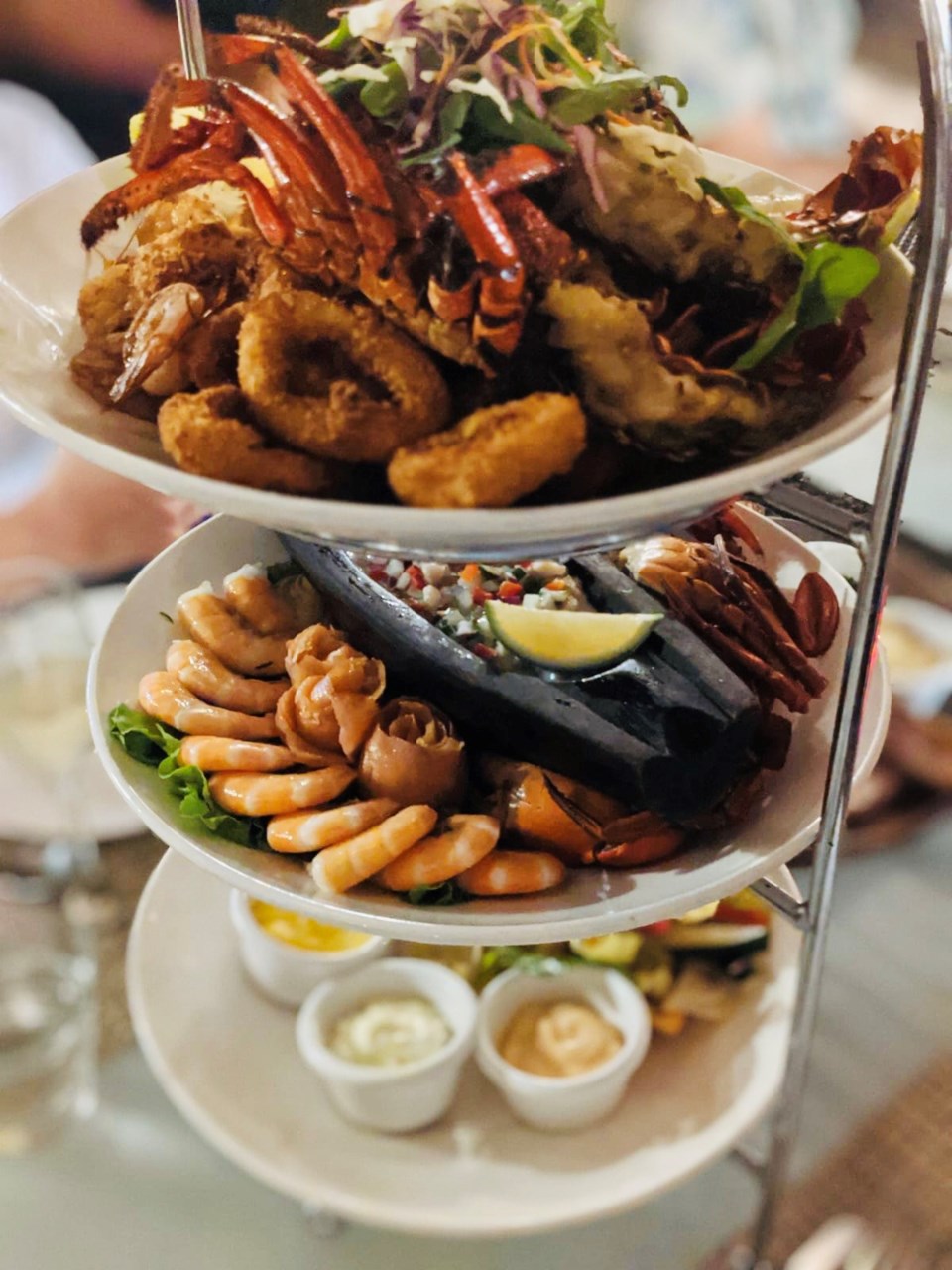 A snorkeling safari by boat to Natadola Bay allowed us to swim in warm waters amid butterfly fish and violet-colored corals.
My favorite excursion was a five-hour jet-ski safari that had us stopping first at Momi sandbar for fresh fruit and croissants. In the distance appeared majestic Monuriki island, part of the Mamanuca chain, where Tom Hanks' Castaway was filmed.
As we finished up breakfast, the sandbar was slowly disappearing so we hopped back on our jet-skis.
Another hour of fun-filled riding and we stopped at Robinson Crusoe island, a lovely, sleepy island with basic accommodations accessible only by boat. Then we set off on another delightful ride to Intercon, our perfect home away from home.
Sadly, my week came to a close and it was time to travel onward. I was then reminded that there are 15 words in Fijian for "heaven." Given the islands' many natural blessings, the genuine joviality of the Fijian people and the properties that happily and hospitably cater to guests who travel to this Pacific paradise, 15 is probably wholly insufficient.
If you go
Fiji's national carrier Fiji Airways, has non-stop service three times a week from SFO to Nadi international Airport (pronounced Nandee), located on Viti Levu. It's also the first Pacific-based airline to operate the new A350-900 XWB, the world's most modern, long-range aircraft, which offers service daily from LAX.
Cabins on the A-350 are the quietest of any twin-aisle — 40-percent noise footprint reduction — and offer an abundance of personal space. The planes and are also eco-friendlier, with 25 per cent lower CO2 emissions than any previous generation aircraft.
Business class seating, all with direct aisle access, offers 33 fully lie-flat seats with mattress pads, duvets and 17-inch entertainment touch screens. Premium "Bula Space" has 39 seats offering 34-inch seat pitch and 262 Economy seats with a 31-32 seat pitch.
Planes are Wi-Fi-equipped and provide the warm hospitality for which Fijians are well-known. Flights depart in the evening, cross the International Date Line and arrive at dawn a day later in time for a full day of Pacific pleasure. www.FijiAirways.com
Julie L. Kessler is a journalist, attorney, legal columnist and the author of the award-winning memoir: "Fifty-Fifty, The Clarity of Hindsight." She can be reached at Julie@VagabondLawyer.com. While some vendors hosted the writer, none of the content was reviewed by them prior to publication and is solely the writer's opinion.