During a recent visit to Oahu, Hawaii, my husband and I had the opportunity to overnight and explore the Sheraton Waikiki.
Before arriving at this popular resort, I perused many photos of the Instagram-worthy Edge Infinity Pool, so I had a feeling that would be a highlight of our stay — and it was. In fact, we spent an entire day (my birthday) lounging in a cabana overlooking the infinity pool and ocean.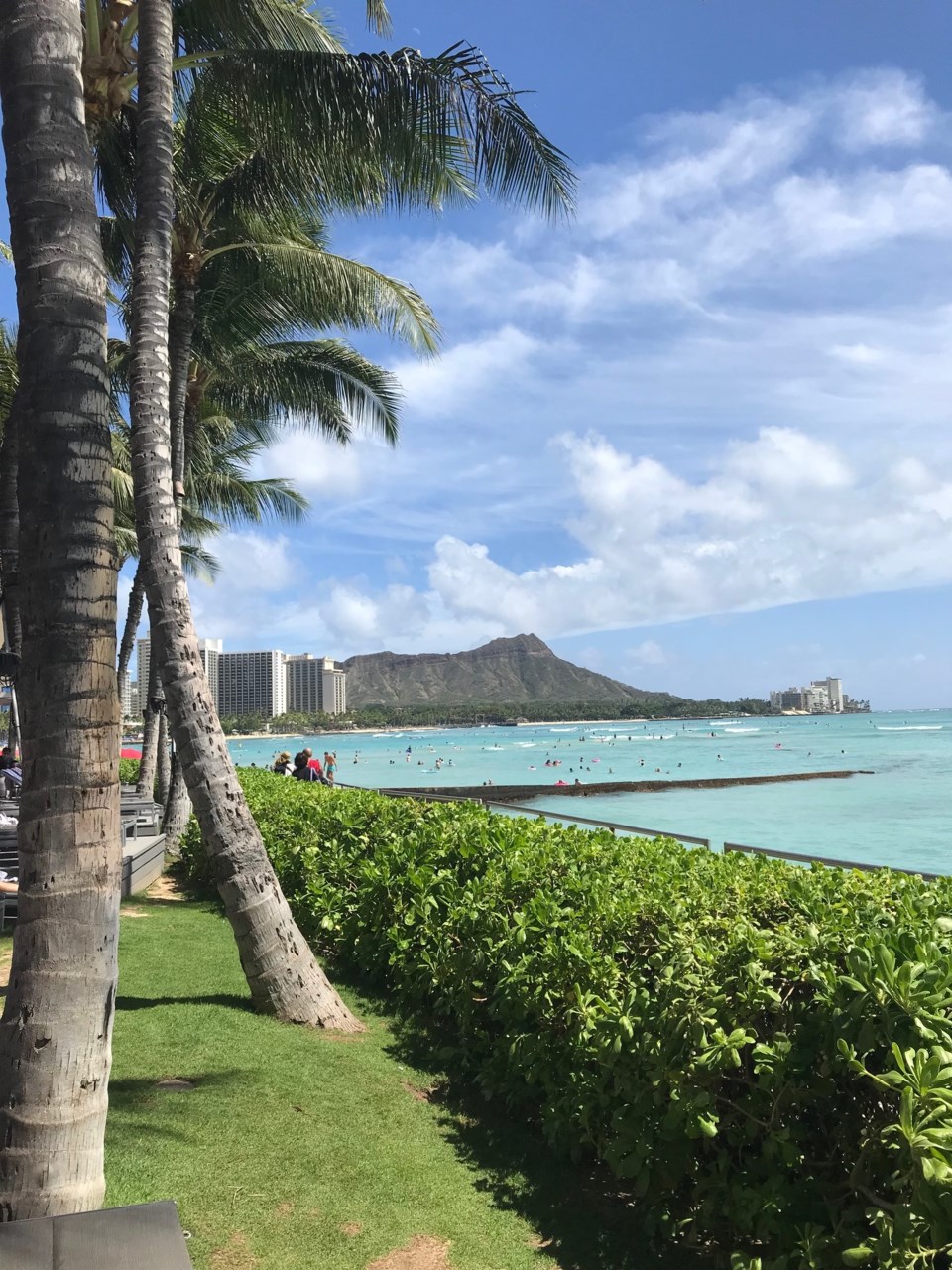 It was clear from the moment we arrived, that the Sheraton is one of the hottest properties on Waikiki Beach when it comes to social media and during our 24-hour stay, we discovered why. Check out five reasons why you'll want to add the Sheraton Waikiki to your 2019 travel plans:
Location, location, location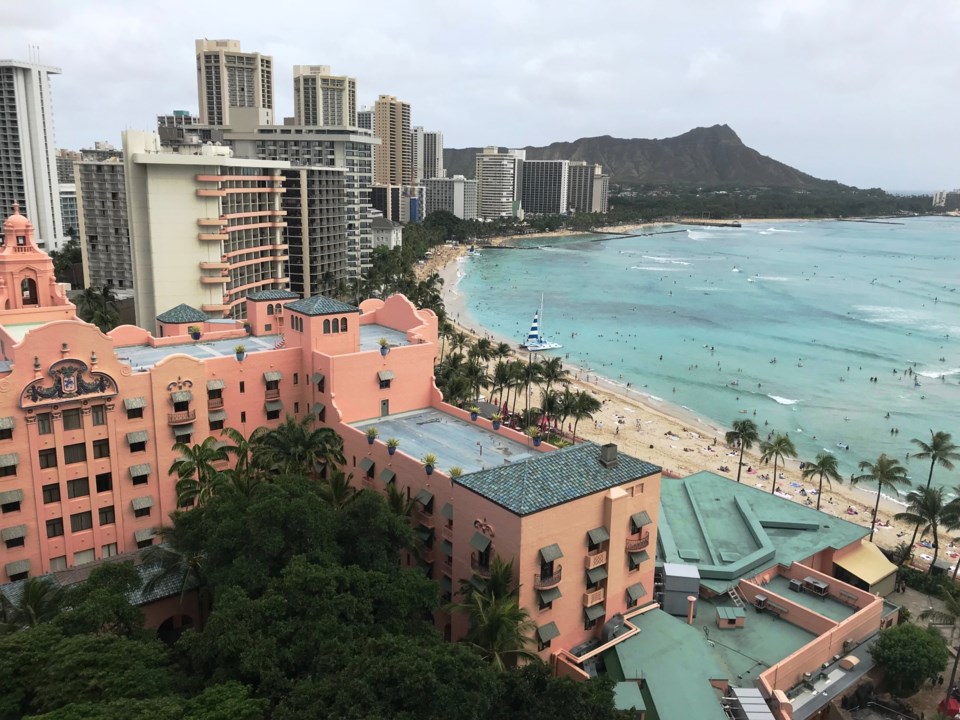 Not only is the Sheraton located directly on world-famous Waikiki Beach, it's also centred in the heart of the action, which means you're just steps away from world-class shopping, eating, cocktails and activities.
Our room offered breathtaking views of the ocean, the iconic pink Royal Hawaiian luxury resort, Diamond Head and, in the morning, surfers taking to the water at sunrise over Waikiki Beach. The Royal Hawaiian hotel is adjacent to the Sheraton, so you'll want to take the time to tour this gorgeous, vintage property.
Social media worthy pools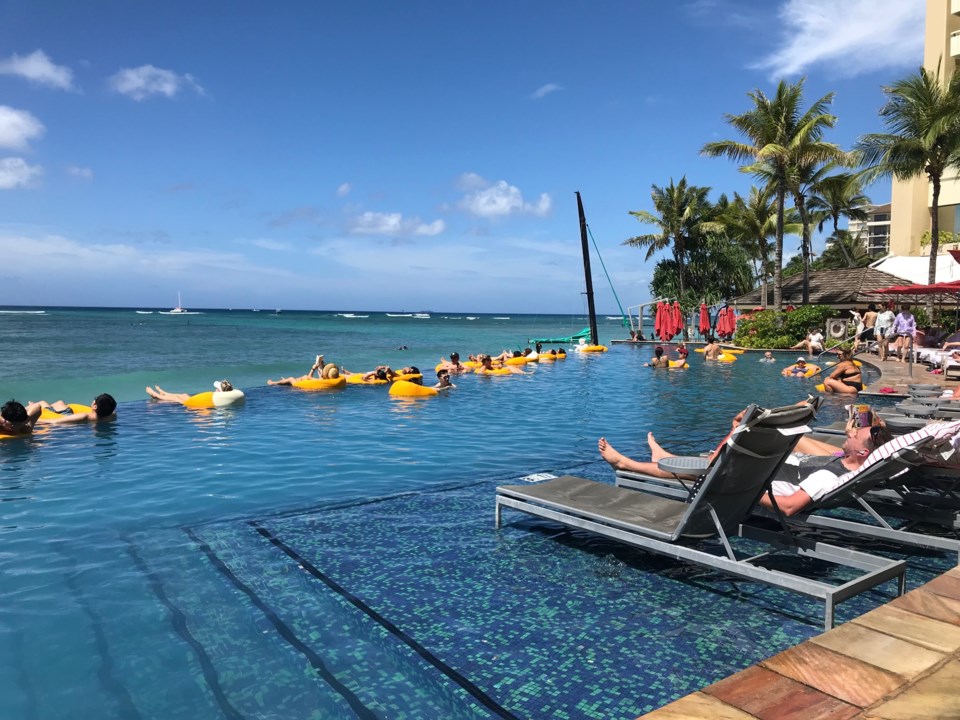 The first time I saw a young woman head into the adults-only Edge Infinity Pool wearing a GoPro camera strapped to her head and carrying a phone in one hand and a phone attached to a selfie stick in the other, I assumed she was simply obsessed with taking the perfect photo.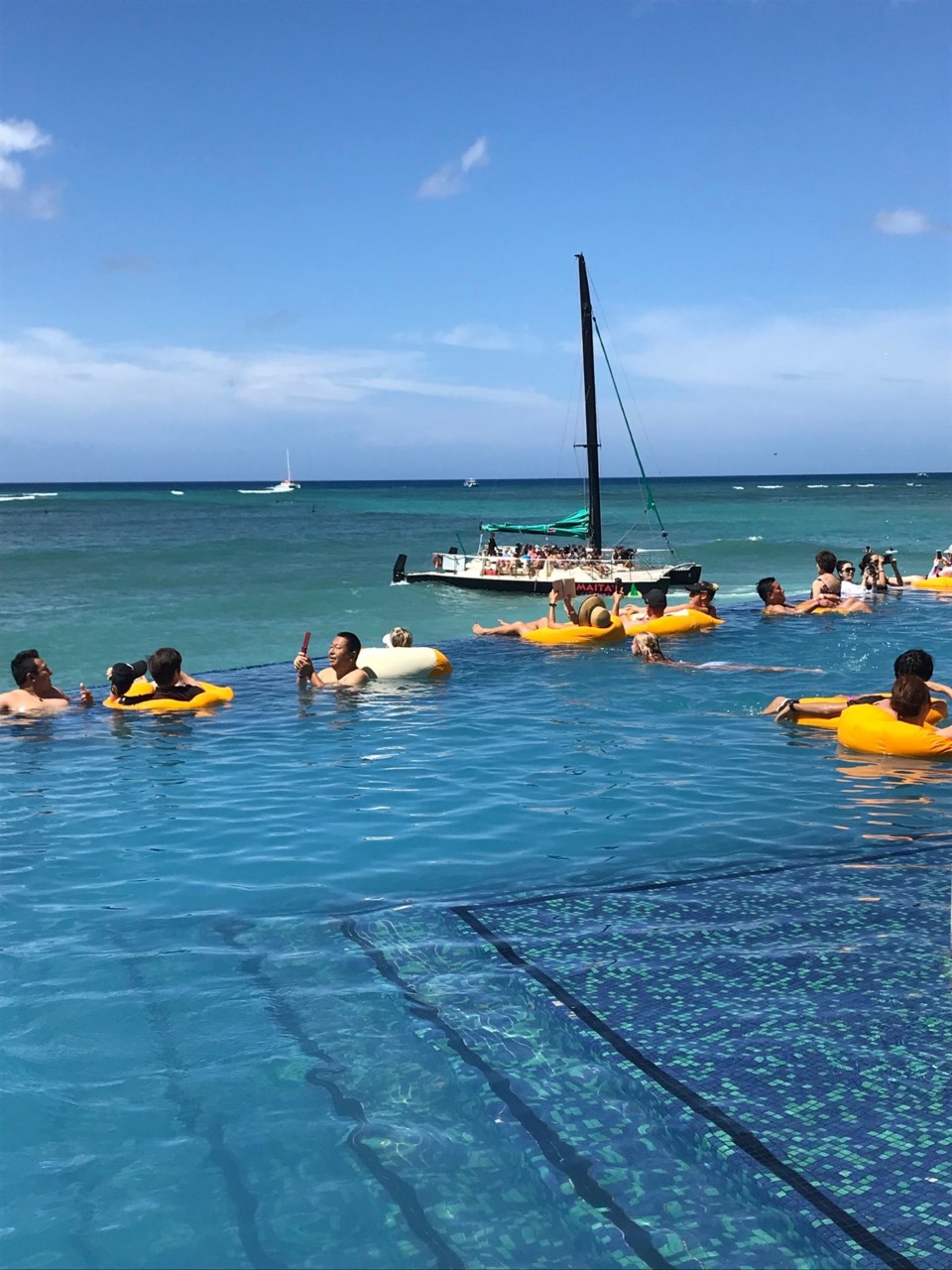 It wasn't until I did a bit of people watching that I realized taking multiple selfies and photos — using multiple devices — was part of the adults-only pool scene, which comes complete with bright yellow floats your Instagram account will thank you for. The use of a GoPro camera for one day is included with the resort fee.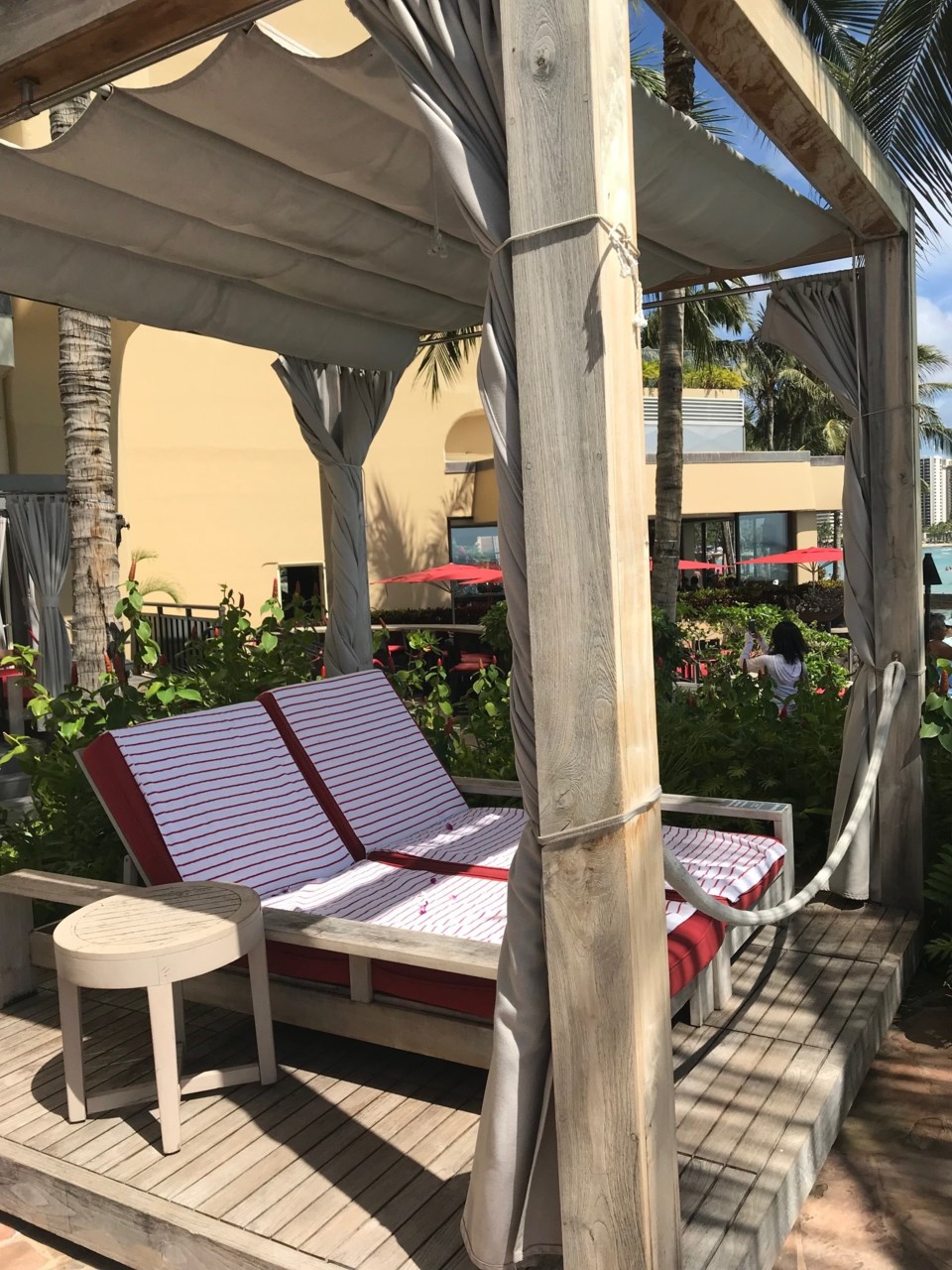 We spent my birthday lounging in a cabana taking in the scene and enjoying tropical drinks and a fruit platter, which are included in the cost of the rental. Mini cabanas are also available to rent and, for an extra charge, you can relax in a pool-front lounge chair with an umbrella. Non-guests can also book a cabana, which gives them access to the Edge Infinity Pool.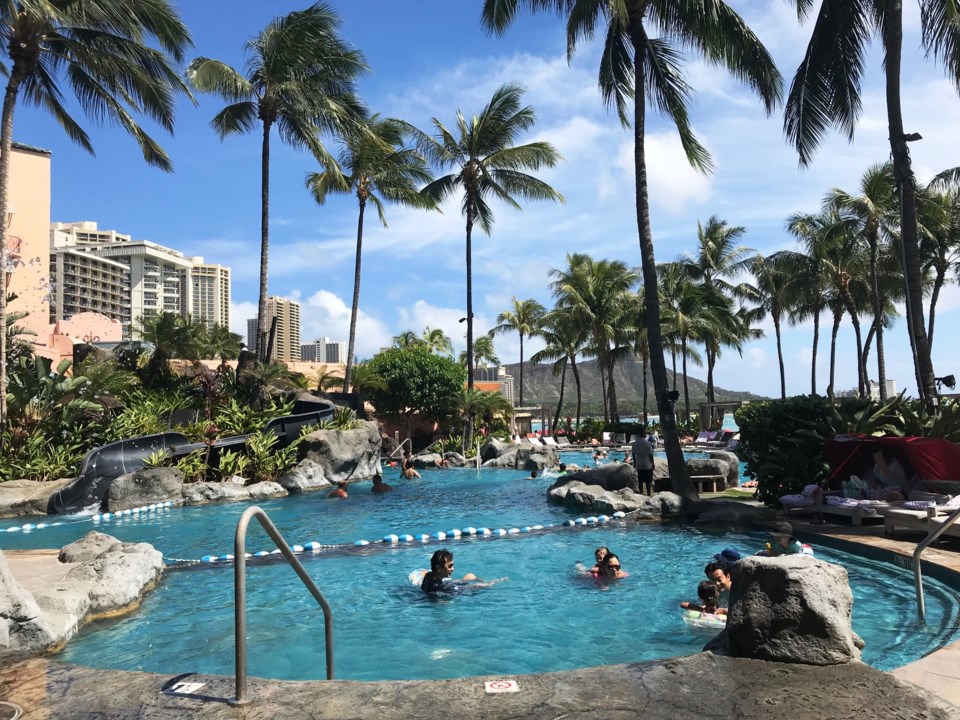 The nearby, family-friendly Helumoa Playground Pool, located on property between the Sheraton and the Royal Hawaiian, features two fresh water swimming pools, a 15-foot high, 70-foot long water-slide, hot tubs and more ocean views.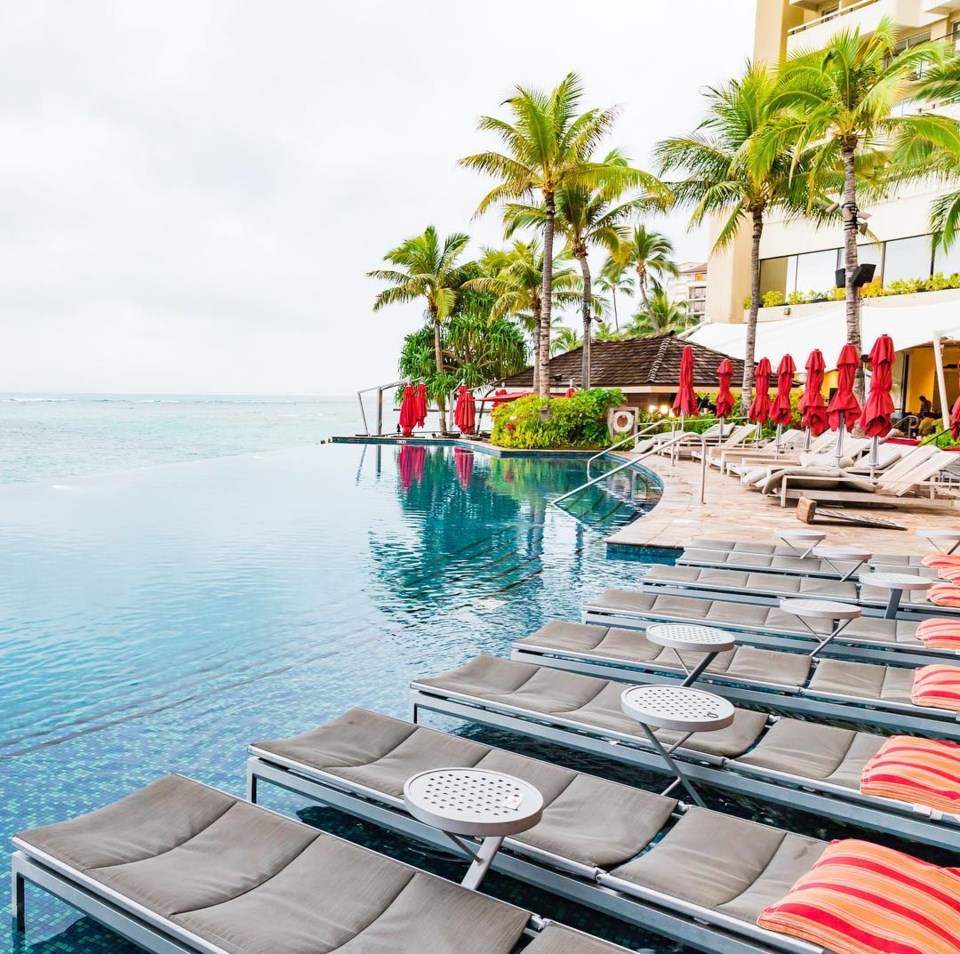 Cabanas can also be rented at the Helumoa pool. A self-serve air compressor allows adults to blow up their pool and ocean floats and we saw everything from oversized unicorns to donuts — again, ideal for all things social media. Body boards, surfboards, snorkel gear and chairs with umbrellas on the beach are also available for rent.
Activities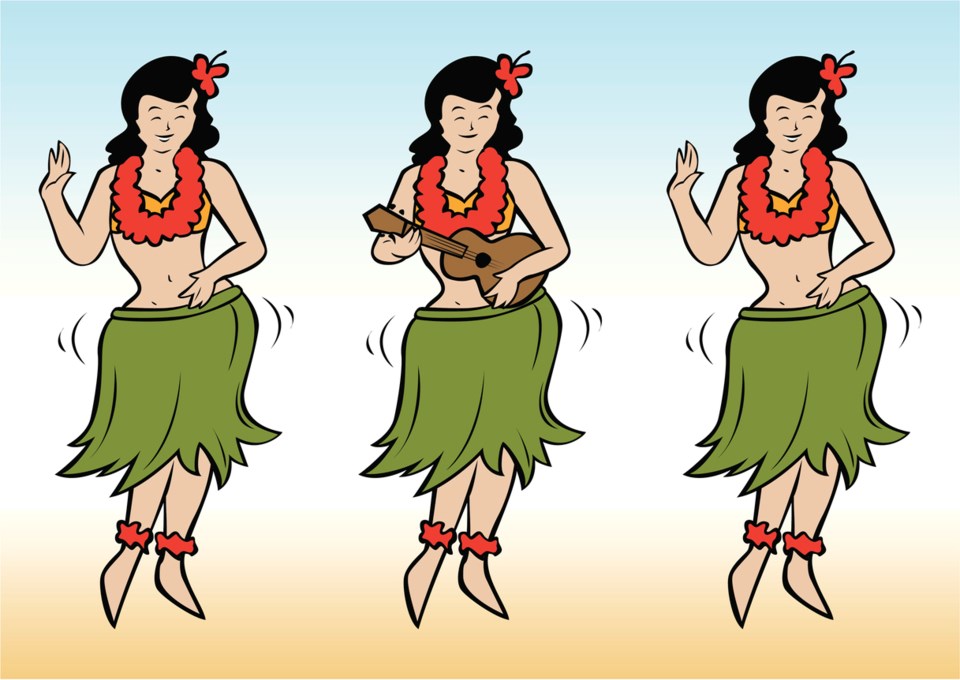 The Sheraton offers fun activities for all ages, including ukulele and hula lessons, flower lei making classes and mermaid lessons during the summer. The fitness centre is also open 24-hours a day/seven days a week.
Hawaiian Foodie tour by BIKI
Walk out of the Sheraton and turn right towards the Royal Hawaiian where you'll find a BIKI bike sharing station. Once you've got your bike, choose between a longer, steeper route or the shorter, less strenuous version. The tour hits some Hawaiian foodie favourites along the way, including Pioneer Saloon (which doesn't sell beer), Bogart's Café and Banan for non-dairy banana soft serve --- just to name a few. Check with the Sheraton's concierge for more details.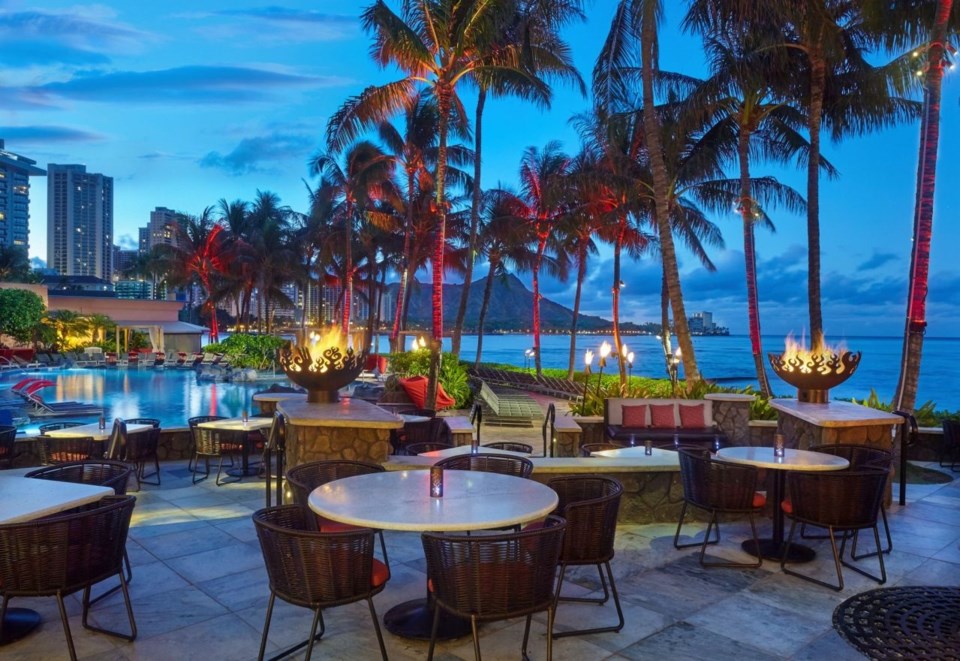 The Sheraton offers lots of choice when it comes to food, but we enjoyed dinner at RumFire where we listened to live Hawaiian music while checking out signature cocktails made with private label RumFire Cruzan single barrel rum (of course).
The menu includes a mix of Pacific Rim specialties inspired by Asian influences — think fresh spicy ahi poke, miso butter fish, Bombay chicken tacos and pork belly bao. On the weekends, RumFire also transforms into a nightclub featuring celebrity DJ's from Hawaii and the mainland.
Kai Market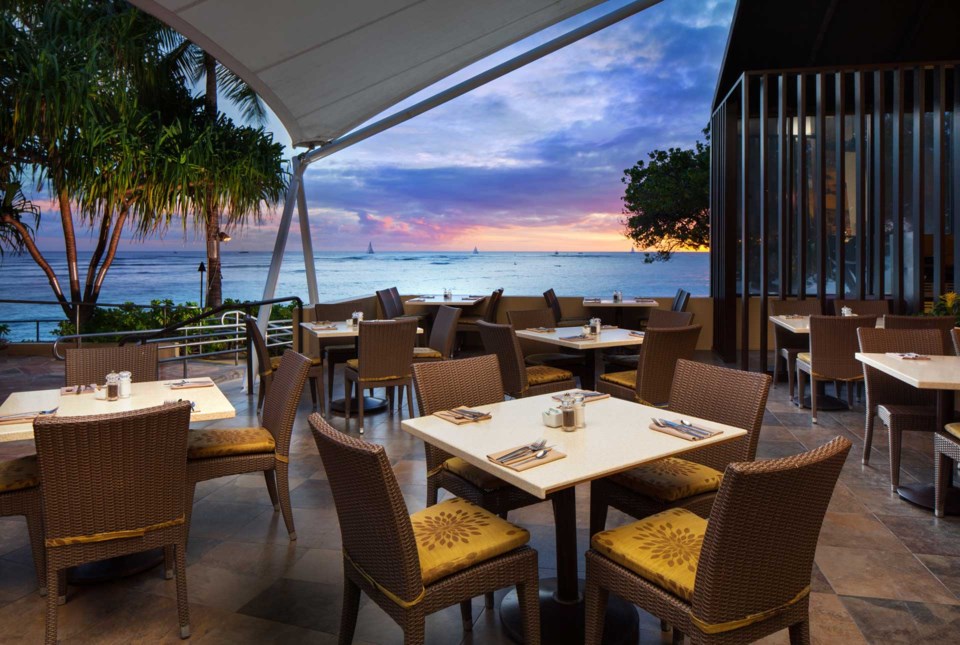 Kai Market, which offers cuisine inspired by the plantation tables of Hawaii 100 years ago, is the Sheraton's take on an upscale buffet. And, this being Hawaii, fresh fish and seafood are highlights of every menu.
Yoshiya
Look for Japanese specialties including, sushi, sashimi, seafood and steak from chef Yoshi Ikuzo. Tip: The chef's lunch specials are only $15.
Hapa's Pizza
Enjoy pizza to go smothered in classic Italian staples with fresh local ingredients. You can find Hapa's near the infinity pool so after a couple of those fruity cocktails you won't have far to go for a really great pizza.
And while you're planning your visit to Sheraton Waikiki, make up a batch of these Sand & Sea cocktails from RumFire to really get you in a tropical mood. This cocktail, nicknamed "liquid aloha," is made for two or more to share.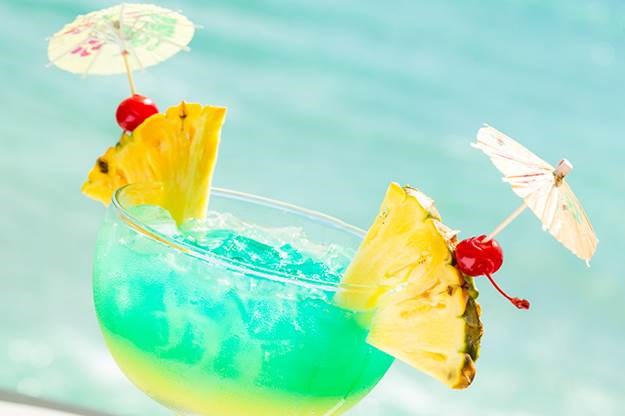 Sand & Sea
5 oz Deep Fire Rum
1.25 oz. passion fruit puree
2.5 oz. sweet and sour
5 oz. pineapple juice
1.25 oz. Blue Curacao
Fill vessel with ice and pour in all ingredients except Blue Curacao. Slowly drizzle Blue curacao on the top while shooting a Boomerang clip on Instagram.
@sthomas10