We were parched and sweaty, our skin on the cusp of sunburnt and certainly damp. Inside Kameleon Food & Drink in Quathiaski Cove, the light was dim, a stark contrast to the last couple of hours we'd just spent easing our way down a root-gnarled hillside then gingerly picking our way across rock-studded shore to stand in the salty waters of Open Bay. We had whiled away our time approximating swimming as seals searched for their lunch nearby, as an anchored boat bobbed in the late morning sun.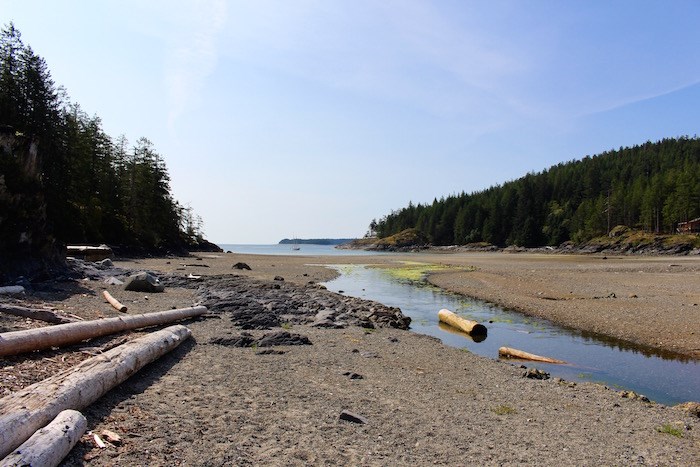 After departing Quadra Island's only sandy beach and making the drive down a gravel roadway, then the forested and mountainous twists of Hyacinth Road, we were back "in town," and ready for a quick lunch before heading back to our home base for the week at Taku Resort & Marina. It was a Monday in July, and while there were only a handful of other diners in the restaurant, it soon became clear that lunch wasn't going to be quick.
Panic set in. What if we couldn't get out of there in the next 30 minutes? I flashed back to a parting conversation with the manager of Taku Resort as we'd headed out that morning, making a plan to meet up "after lunch" to collect the prawn traps we'd set the previous afternoon. What if "after lunch" crept into more "early afternoon" territory? I'd have to call to let him know we'd be late.
I glanced down at my phone. "No Service" read the top left corner, as it had for so much of our time so far on Quadra.
Then it dawned on me: He's not pacing, wondering where we are. No one expects a phone call when there's little to no cell service island-wide. I was being a true "city slicker," and it was time to let go and just be.
We were on "island time."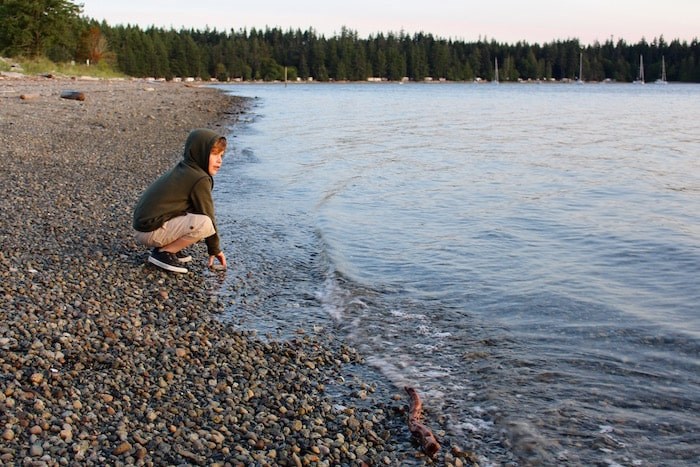 Island time is a state of mind, and for the most part, it's the governing mode for being on Quadra Island. Located just across the water from Campbell River (a brief 10-minute ferry ride gets you there, with ferries running hourly and the fee only charged from the Campbell River port), Quadra is the gateway to the Discovery Islands, popular with boaters, adventurers, off-the-grid-ers, and anyone looking for some serious decompression in a spectacularly and ruggedly beautiful place.
Outdoor adventures and other explorations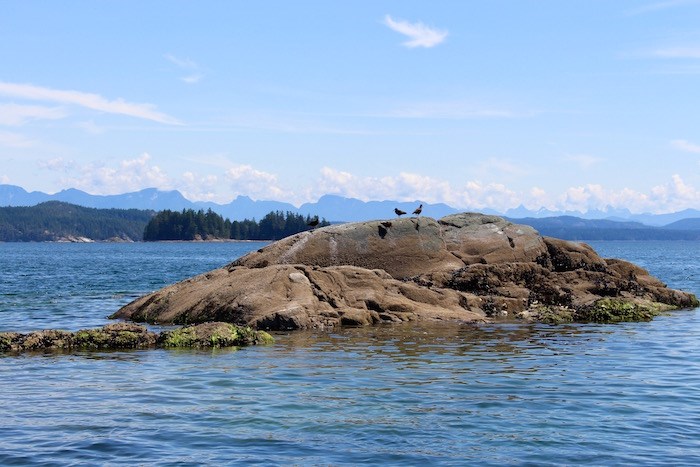 Quadra is a nature-lover's paradise. Boaters often drop anchor here as a necessary last stock-up spot before setting course north into the Discovery Islands, as the island boasts a grocery store and other vital businesses. Kayaking, hiking, canoeing, biking, paddleboarding, camping, fishing, golfing — pretty much you name it and you can enjoy it on Quadra.
That said, one doesn't have to be the full-on outdoorsy type to dip their toes into the natural wonders of Quadra. Novice kayakers can sign up for short outings and lessons, while there are plenty of scenic walks and hikes that aren't expert-level climbs and hauls. Lakes and ocean provide plenty of opportunities to take a dip, and it takes zero skills or fitness to sit and drink in Quadra's stunning sunrises and sunsets.
Rebecca Spit is probably one of Quadra's most treasured outdoor spaces, and you can get to this wooded jut of land on Heriot Bay on the island's central east side via car, boat, or foot — the latter in particular if you've got your tent or RV set up there for a stay. Take a stroll around the spit, with or without your pup, throw some rocks, or check out the Trout and Trivet food truck parked on site when they're up and running. (Sadly they were closed up during our visit due to catering obligations.) The Spit is the spot to do some serious beachcombing while on Quadra.
When it comes to trails and places to cool off in the water, there are a number of options — there are 200 kilometres of hiking trails on the island. We opted to take the advice and directions of a blogger who enjoyed their visit to Open Bay, and likewise, we found ourselves basking in the sunshine and salty waters of the beautiful little spot, while tiny crabs passed by our toes and an eagle watched from its perch high, high above the serene zone.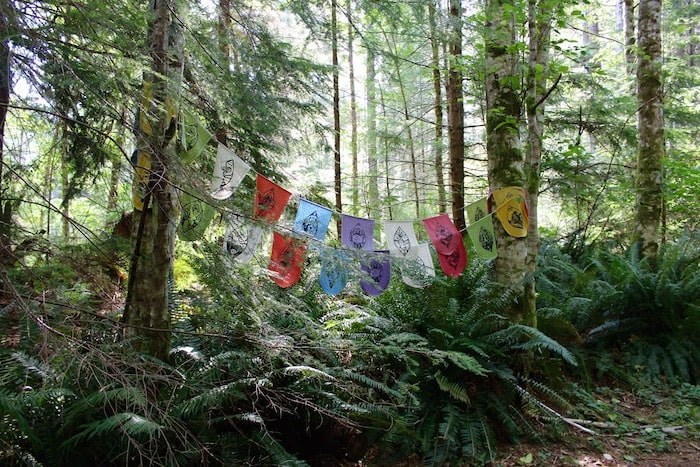 Other worthwhile spots to check out include the Cape Mudge Lighthouse, at the southern tip of Quadra. The heritage lighthouse is just over a century old, but remains an active military location, so you'll have to check it out from the other side of the fence.
Here you can peer across the water at Campbell River (which looks dramatically urban compared to where you stand, I guarantee) and also enjoy the rocky shoreline and windy trail walks.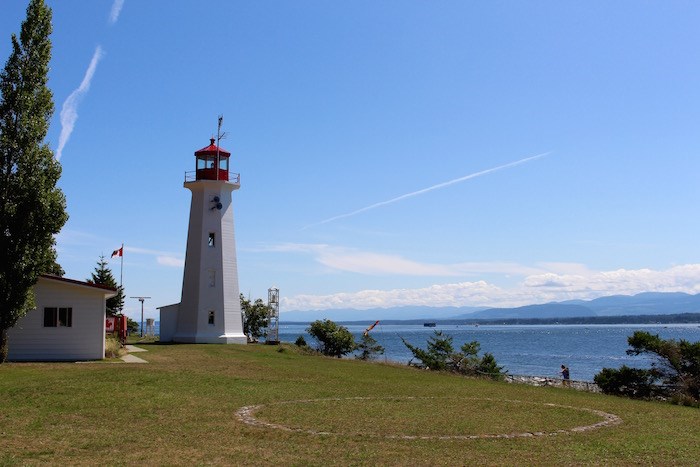 Cape Mudge is a part of the territory of the Kwa'Kwa'Ka' Wa'Kw Nation, whose history is there to discover at the Nuyumbalees Cultural Centre. Also in the region are some outdoor spaces, including a garden and gathering space across the street from the museum that also includes an interactive video display.
The Cape Mudge area features many petroglyphs — ancient rock carvings — from the First Nations people indigenous to the area. These can be photographed, however rubbings are not permitted. There are nearly 100 petroglyphs on Quadra Island, scattered on 13 various sites.
For a look at contemporary art and artisans, Quadra has a vivid community of painters, carvers, potters, and other visual artists and craftspeople. You can tour studios and workshops, many of which have beckoning roadside signs you'll pass as you wind your way through town. Some of the shops in the plaza at Quathiaski Cove also sell wares created by local artists, too.
Where to eat
There are a number of restaurants on Quadra, with the majority easily classified as casual, though if you're there more than a couple of days, you can expect to plan on bringing in supplies and/or hitting one of the two Tru Value Foods small grocery stores on the island — there's one each at Heriot Bay and Quathiaski Cove.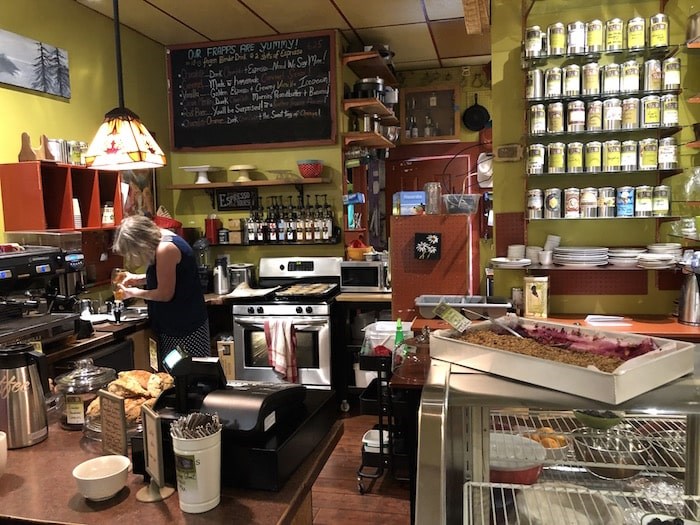 Inside the Heriot Bay Tru Value Foods' building is a local gem for coffee and baked goods called the Java Bay Cafe. It's basically a one-woman show, as the owner moves about what's basically the equivalent of an apartment kitchen (with the regular ol' kitchen stove to match) whipping up sweet and savoury scones, fresh fruit crisps, and heaps of other goodies along with a plethora of coffee and tea drinks. This cash-only spot is one place you can sign on to wifi on Quadra, and it can get pretty busy in the morning — but remember, you're on "island time" so try not to sweat it.
Down in Quathiaski Cove, just up from where the ferry to and from Campbell River docks, there are a few eateries to check out. The aforementioned Kameleon Food & Drink is a great place for soups, sandwiches, and salads; their generous plates focus on fresh ingredients and global flavours.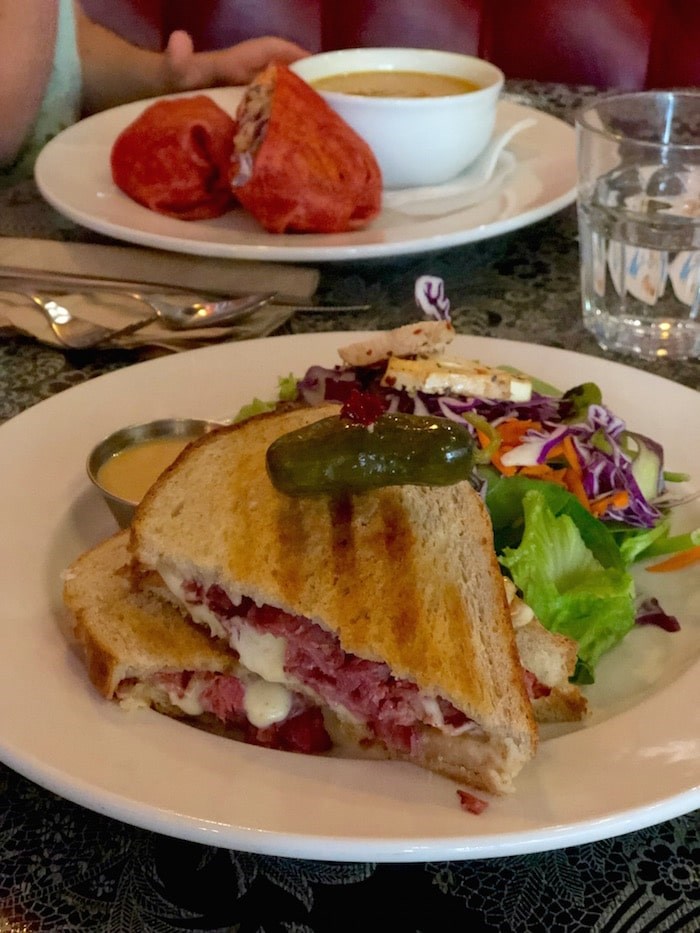 A couple of doors down is The Clove, a popular spot for pizza and drinks. They've got an ever-changing specials board for entrees and appetizers using seasonal and special ingredients, as well as lots of great share plates.
Look for inventive items like BBQ Duck Wings to nibble on before you tuck into their pan pizzas. Hang out here and check out the local art on the walls and play some board games while you wait, or order your eats to go.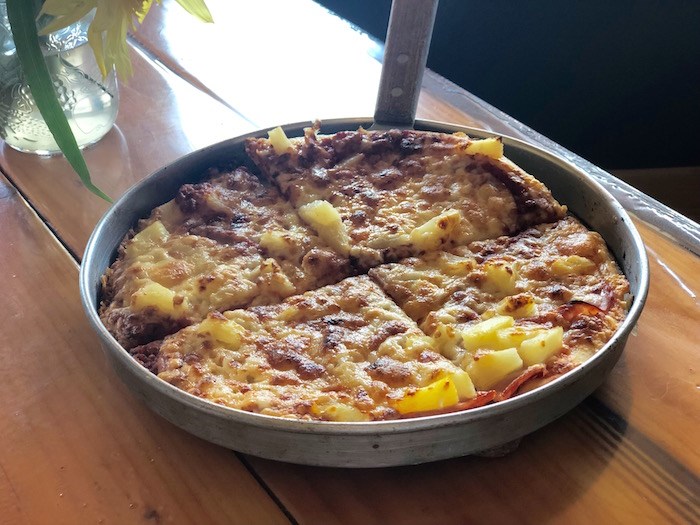 Without a doubt one of the busiest and most storied spots on Quadra is Herons at the Heriot Bay Inn. This ever-so-slightly more upscale spot (which is still pretty buttoned down, all things considered) is coveted for their ample patio overlooking Heriot Bay, and on weekends in peak season, reservations are absolutely necessary. There's a 19+ pub on site, too, at this haunted hotel where you can grab a drink and wait for a table, or get your bite to eat there.
You can get all sorts of bistro and west coast fare here, including dishes made with B.C. seafood — something that is ironically hard to get your hands on while on Quadra, so this is where you might want to get the seafood pasta or steamed clams or mussels, for sure.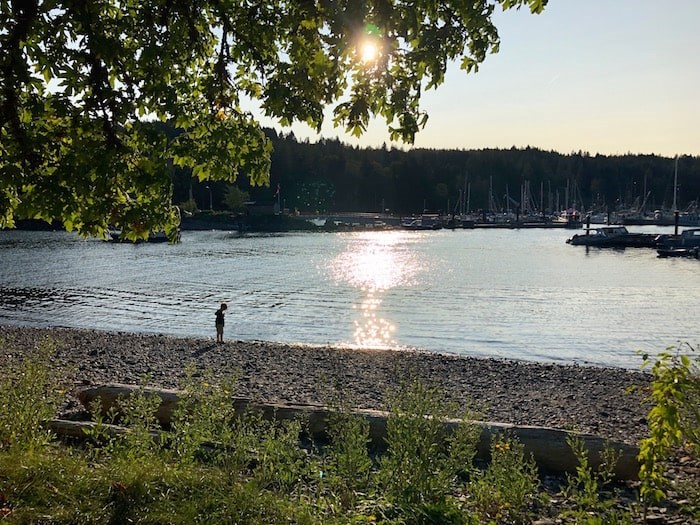 While fishing and shellfish harvesting are abundant on Quadra, the product is all sent to the mainland for processing by law, which means you won't find a fish monger on the island that sells to the general public. Sawmill Bay, for example, harvests and sells oysters to restaurants and other clients, and while they have a storefront near Quathiaski Cove, it's rarely open.
If you want to do your own fishing, be sure to adhere to all local regulations; fishing excursions can be arranged with the resorts on the island, too.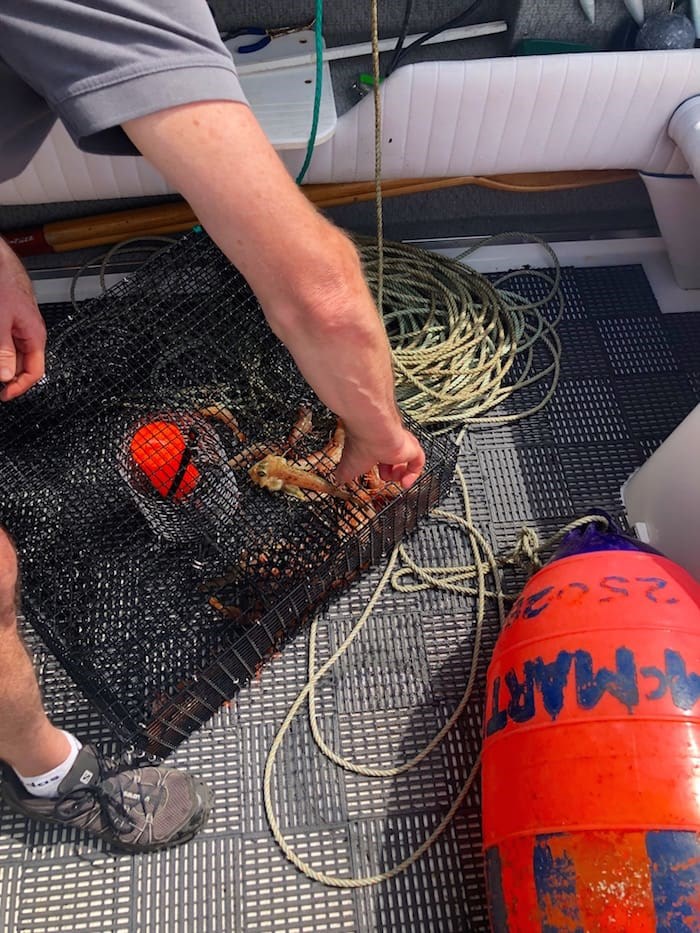 One spot to enjoy Quadra eats and one other locally-made product is at Southend Farm Winery. The island's only winery is a very relaxed, no frills operation that produces small batches of a handful of varietals, sold in re-usable stopper bottles with paper tag labels.
You can try what's on tap in the casual tasting room, or order up wines by the glass or bottle along with some charcuterie and picnic-style eats to enjoy on the patio, which overlooks the vineyard.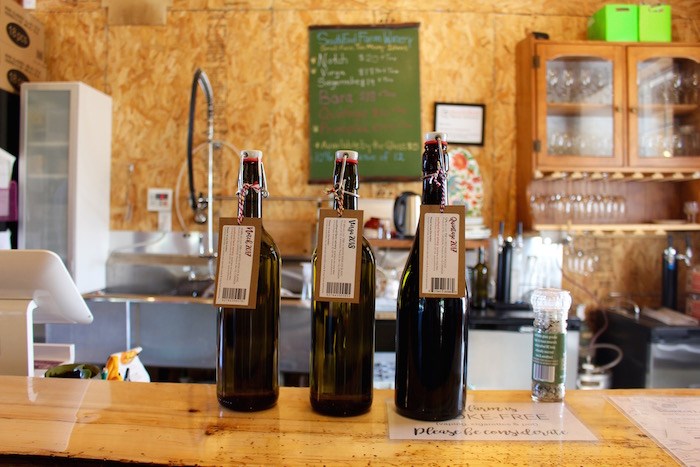 There are a couple of other options for eats on Quadra, including Amped (a hybrid deli/juice bar/health food store); Q-Beans (for coffee and snacks at the ferry terminal); Coveside Seafood Eatery (fish & chips, chowder, and poutine at the ferry terminal); Yellow Dog (bulk food shop and ice cream scoop shop); and Café Aroma (a spot for coffee, baked goods, and breakfast).
Where to stay
You can set up camp at several spots on Quadra, or opt to stay at one of the island's resort sites. We were guests at Taku Resort, a recently renovated site on the Heriot Bay side with a private dock, ample grounds, and several options for stays. There are beachfront A-frame cabins that can fit up to eight people, terrace-level suites in a variety of configurations, a treehouse suite for two, camping and RV sites, and a two-suite beach house.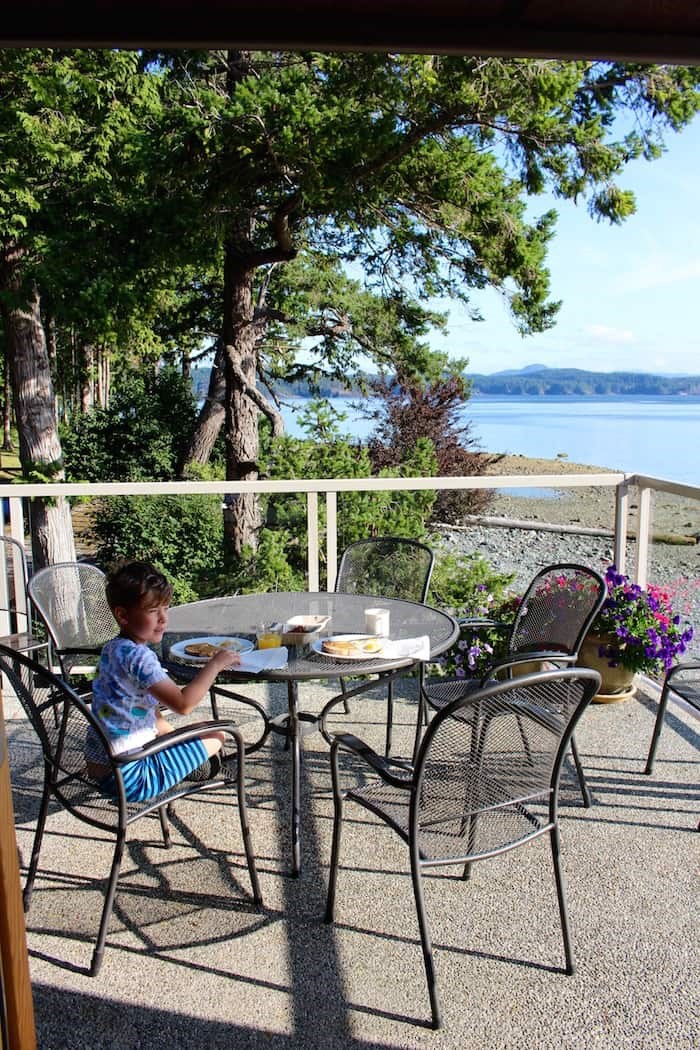 We stayed in the beach house in the upper suite, which is the property's prime spot (though we did get to check out the terrace suites and those are also very well-appointed and smartly laid-out, with everything you need for a few days by the shore in perfect creature comfort).
With two bedrooms each with its own en suite bathroom, a full open-concept kitchen, dining and living space, a side deck and 180-degree waterfront views, this modern, airy suite is a real showstopper. Even though you're on vacation, you'll want to plan to be up to grab a cup of coffee and watch the sunrise from the deck or living room, and the kitchen is a dream for whipping up easy meals to enjoy in your own space and at your own pace.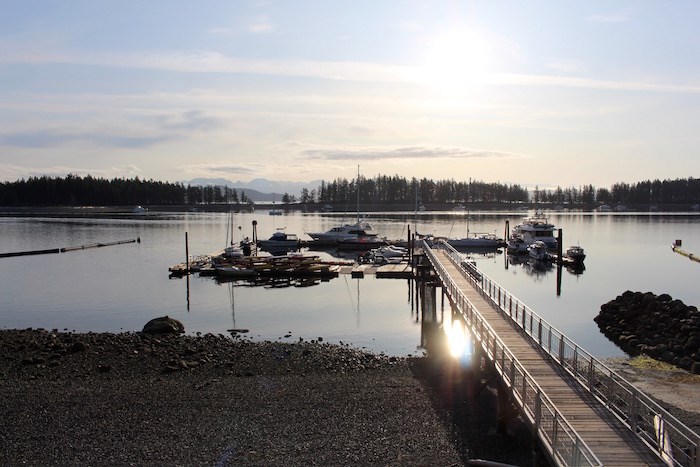 On site you'll find amenities like a hot tub, tennis courts, basketball courts, a bocce ball court, playground, swimming area, and of course the dock. The staff can help you arrange anything you need for your stay, from tips on spots to hike or explore, to board games you can borrow for your cabin or suite, or to get you set up on an excursion or experience. They've got Wi-Fi, but they'll be the first to admit it is super spotty; that's really just how it is on all of Quadra — you come here to unplug.
Quadra is really a very special place, and Taku can easily become the spot to which you return time and time again. It's one that puts nature right up front, and relaxation and recreation a priority — both things that are the very essence of "island time." Disconnect from tech and city life, and connect with the outdoors and the people you're with.
Getting there
Quadra Island is easily accessed via BC Ferries, departing from Campbell River and in peak season running every hour during the day. This is a small ferry that you cannot reserve in advance, so be sure to factor in a likely one- to two-sailing wait to board for the 10-minute journey. Your fee is collected only from Campbell River; no fees are collected from Quadra Island. Once on island, you can get around easily via your car, by bicycle, or on foot, depending on the scope of your plans for the trip.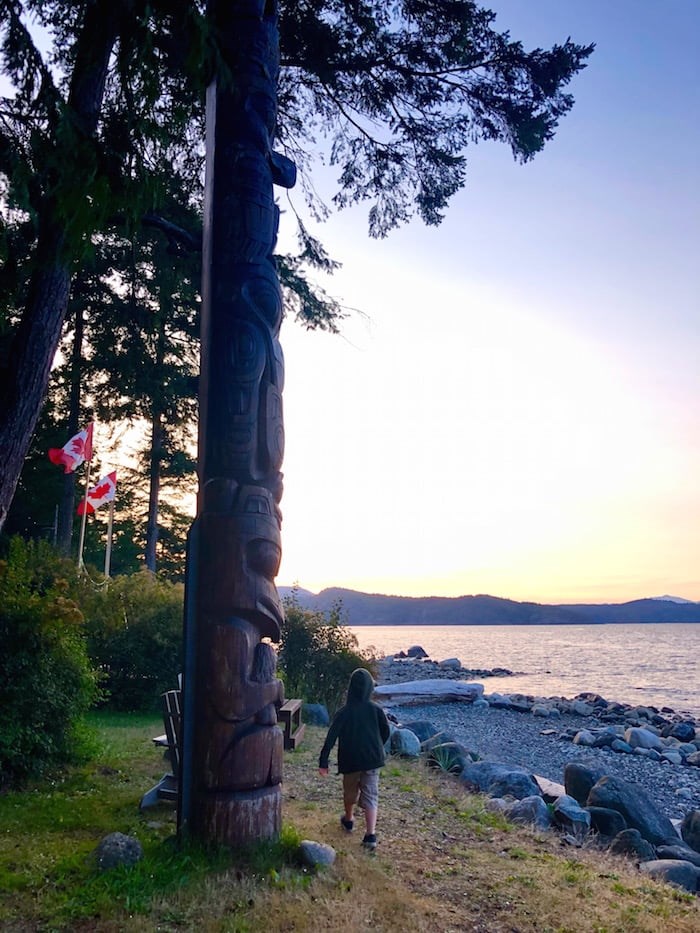 Want to see more of our trip to Quadra Island? Check out my Instagram Story Highlight "Quadra Island" for the whole trip in photos.
Thanks to Taku Resort & Marina and Destination BC for their assistance with facilitating portions of this trip. All opinions and inclusions are those of the author's and were not guided or influenced in any way by the facilitators.