Chef Ned Bell has spent his career wanting food to be an uplifting experience.
This summer, he's definitely achieving his goal — literally.
"I am not going to lie — I am a little bit nervous," the celebrated Oceans Wise ambassador said as a crane lifted him and 22 diners high above Mosquito Creek Marina on June 27.
And, no, that's not a parachute he's wearing. Like all of his guests, he's firmly strapped into the platform that's dangling 60 metres above the ground.
Bell is a guest chef with Dinner in the Sky. Three times this July, he's joining executive chef Evan Elman in celebrating all things B.C., including magnificent views of the North Shore Mountains, Lions Gate Bridge and downtown Vancouver.
It might be called Dinner in the Sky but this fear-defying dining experience also gives foodies a chance to enjoy brunch, lunch, happy hour or dinner in the most Instagram-worthy location.
Most experiences last an hour in the air; the happy hour is 45 minutes and doesn't include food (unless you count the canapés in the ground level lounge.)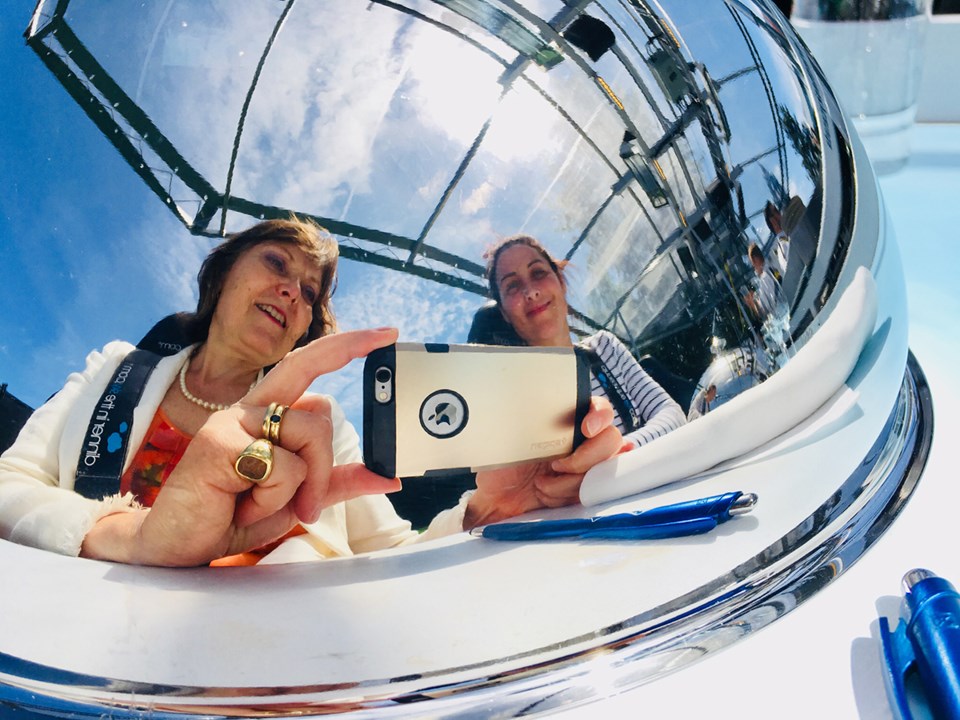 Martha's tips:
• don't drink much beforehand. At the very least, don't forget to pee before you go up. There is — obviously — no washroom on the platform.
• don't wear sling sandals. While you can rest your feet on a perch on your chair, they spend most of their time dangling in air. You don't want to worry about your shoes falling off.
• don't look down. It's not just because looking down is one of the only things that will scare you (and this is from someone who is terrified on a Ferris wheel). There's nothing really to see.
• don't worry. No one has ever thrown up.
• don't expect this to be a PNE Playland ride. Thrill seekers will be disappointed
• seats swivel 180° so try to get a corner seat. You can also recline to get a view of the clouds (and prove to yourself that you can do it.)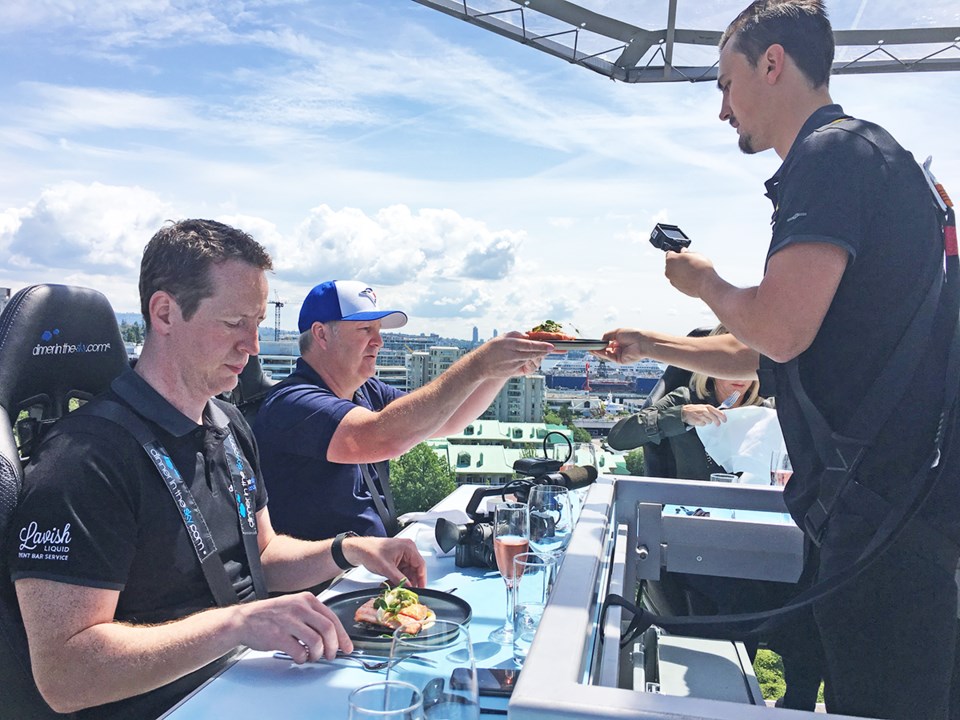 The questions Martha's husband wanted her to ask before she let anyone lift her 60 metres in the air:
• Eagle West Cranes has been in operation for 27 years. It has one of the best work safety records, Dinner in the Sky says.
• Dinner in the Sky has passed at least 10 safety certifications
• the staff is trained by Dynamic Rescue. Think those bartenders are just serving you sparkling wine? Their natural adeptness at putting you at your ease has been complemented by safety training. Staff are positioned at both ends of the platform.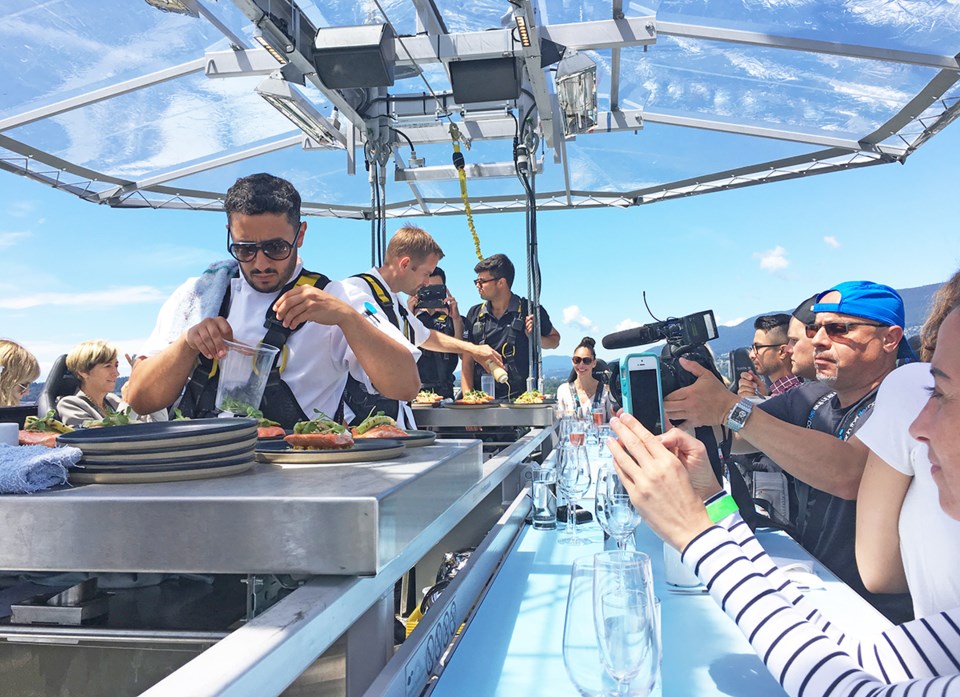 The rules:
• you have to be at least 4'9" tall and weigh less than 330 pounds
• you have to sign a waiver that is more scary than the actual experience
The cost:
• the Happy Hour in the Sky is the least expensive, starting at $149. It includes canapés, a glass of wine and signature dessert.
• the two-course Brunch or Lunch in the Sky start at $299 per person
• the VIP Lunch in the Sky starts at $349 per person and includes canapés and a glass of wine in the ground-level lounge, a wine pairing for each of the two courses and your choice of non-alcoholic drinks
• Dinner in the Sky starts at $399 and includes pre-dinner canapés in the ground-level lounge, a three-course dinner and your choice of non-alcoholic drinks
• the VIP dinner includes wine pairings for each of the three courses, a glass of sparkling wine in the ground-level lounge and VIP seating. It starts at $569 per person
• group bookings available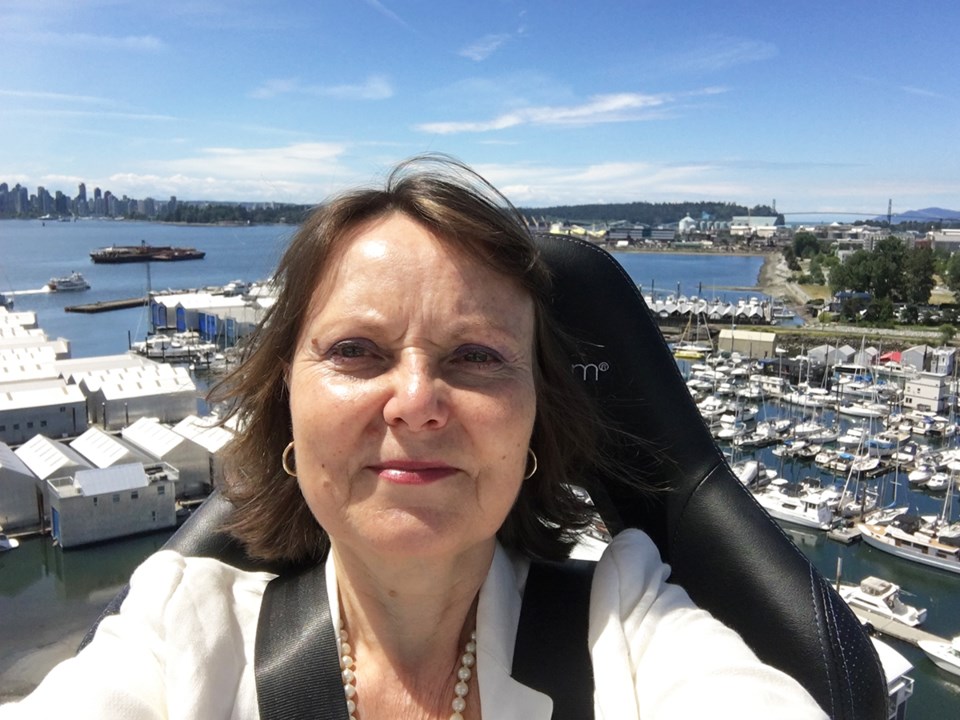 Location:
• for the first part of summer, it's operating from the east side of Mosquito Creek Marina. It's a 10-minute walk west of SeaBus terminal at Lonsdale Quay
• later it will move to West Vancouver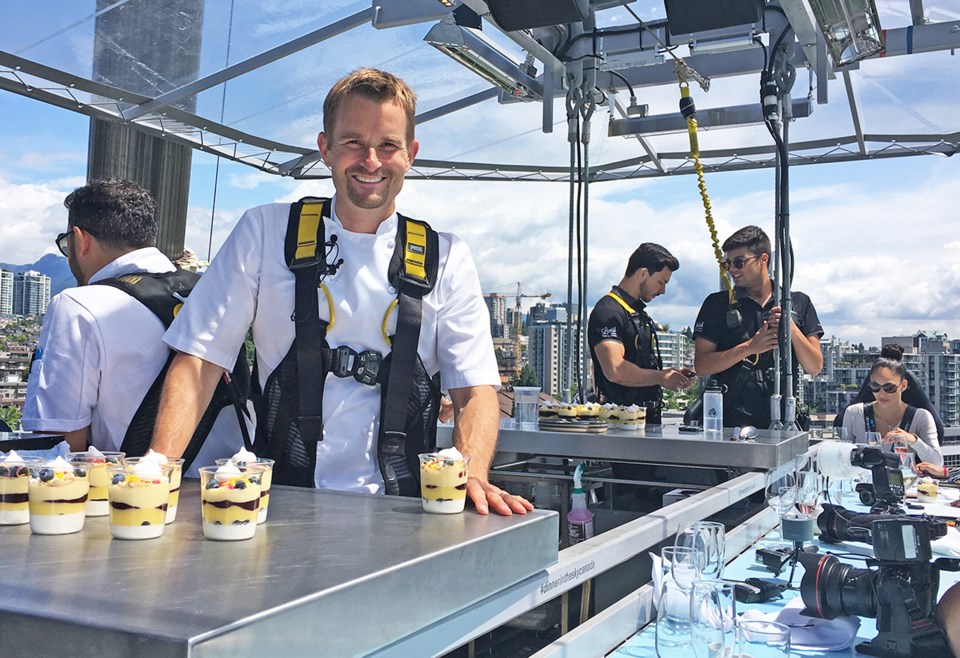 Ned Bell will be the ambassador chef on July 12, 17 and 24.
For more information visit the Dinner in the Sky website.