Here's an idea. Instead of over-indulging on cheap boxed wine this holiday season, how about savouring a perfect cocktail made with really great ingredients.
And if you're entertaining, your guests are sure to be impressed if you offer them one or two exquisite signature cocktails before they start on the rum and eggnog.
New this year is Lumette! Bright Light Alt-Gin, a non-alcoholic gin crafted in Sooke, B.C., which can be used to replicate classic cocktails or to serve to that one uncle or aunt who likes to knock back a few before talking politics at your dinner party.
Distilled with juniper, grand fir, grapefruit, orange, cucumber, mint and rose, the gin tastes as botanical and floral as any legacy gin, but gives a modern twist to the classics. Lumette! is for cocktail lovers who decide to skip the alcohol, but don't want to miss out on the experience or the taste.
You can find Lumette at select private liquor stores, specialty food markets or online at enjoylumette.com. Select bars and restaurants across B.C. are also serving this Bright Light Alt-Gin.
The Courier is giving away a bottle of Lumette! to the 15th person to email sthomas@vancourier.com with the word "Lumette!" in the subject line. The winner must be able to pick the bottle up from the Courier's office on West Fifth Ave. by Dec. 16, unless other arrangments are made.
Lumette! Zero proof gimlet
60 ml Lumette!
15 ml Roses Lime Cordial
7.5 ml lime juice
Method
Shake, strain, serve in a coupe glass and top with 15 ml soda
(A coupe is a low, wide-mouthed bowl-shaped glass originally intended for Champagne.)
Zero proof Clover Club
60 ml Lumette!
22.5 ml lemon juice
1 tbs blackberry jam
30 ml egg white
Method
Dry shake (no ice), followed by a wet shake (with ice), strain and serve in a coupe glass.
Grey Goose Holiday Mule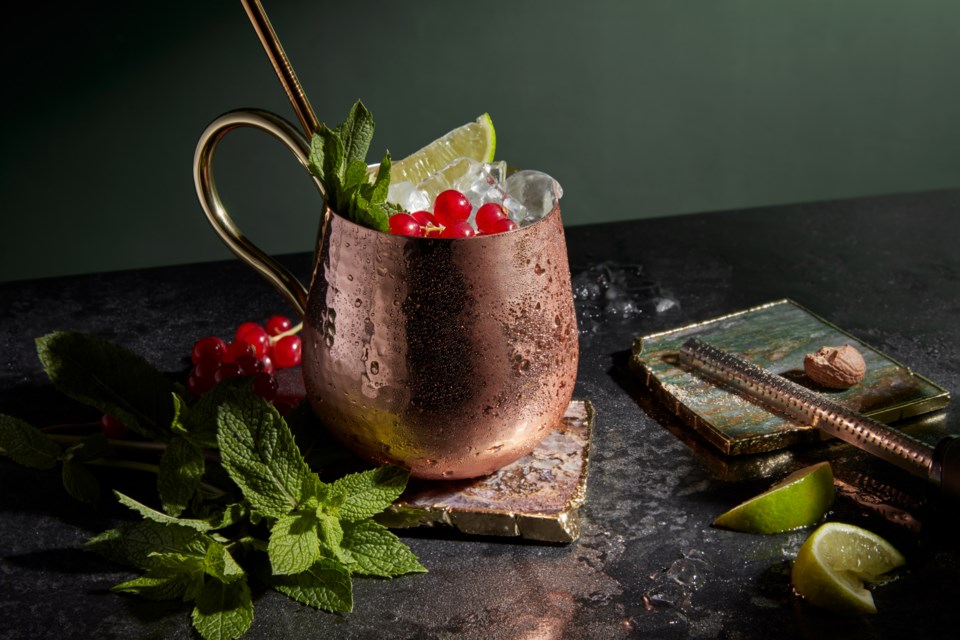 1.5 parts Grey Goose vodka
4 parts ginger beer
Freshly grated nutmeg
Juice of half of a lime
Garnish
Cranberries, lime wedge and sprig of fresh mint
Method
Fill mug with ice to chill it before mixing. Add freshly squeezed juice from half a lime and add vodka, top with ginger beer.
Patrón Ruby Spritzer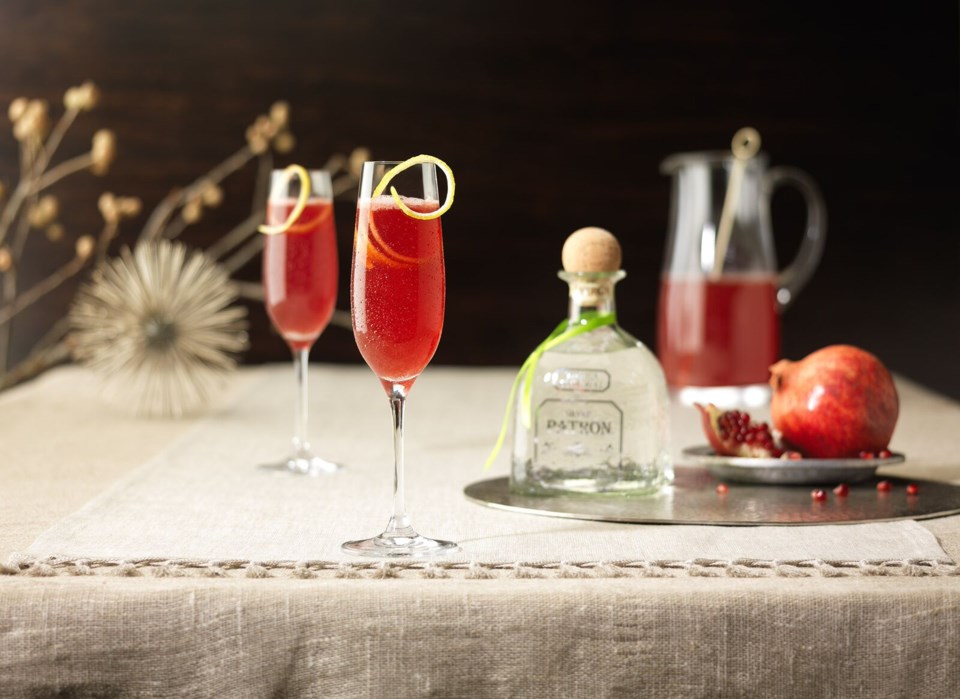 1.5 parts Patrón Silver
2 parts sparkling apple cider
1 part pomegranate juice
.5 parts fresh lemon juice
1 dash Angostura bitters
Lemon twist for garnish
Method
Combine ingredients in a cocktail shaker and shake with ice to chill. Strain into a Champagne flute. Garnish with a lemon twist.
Wayne Gretzky Whisky Winter Tea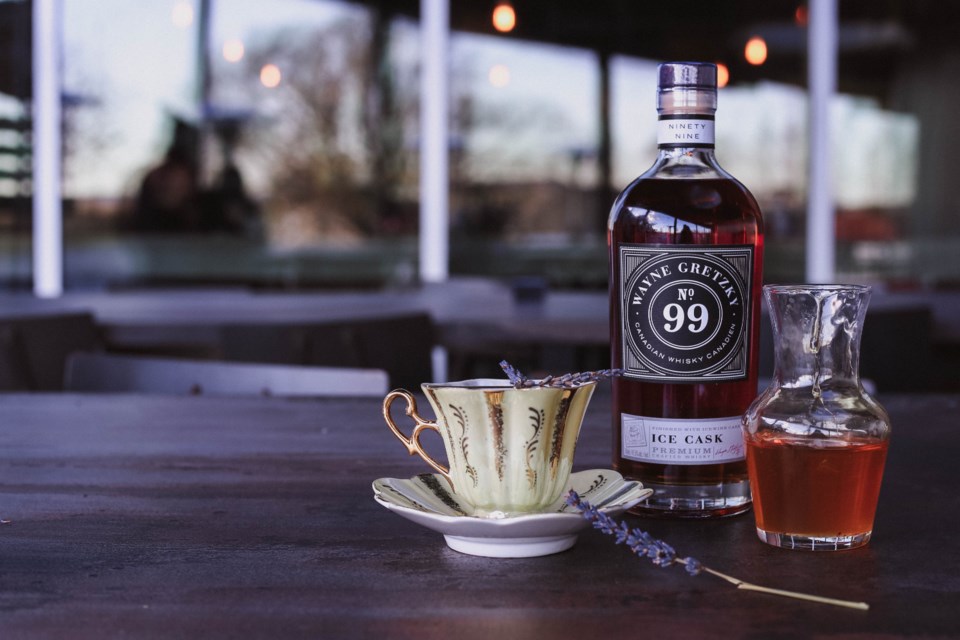 30 ml Wayne Gretzky Ice Cask Whisky
120 ml Earl Grey Tea
15 ml wildflower honey
1 lemon twist
2 shakes of Dillon's Ginger Bitters
3 sprigs of lavender
Method
Bring a kettle to a boil and add 120 ml of hot water to a small mug with an Earl Grey tea bag (or loose leaf tea in a steeping vessel). Add a tablespoon of honey, bitters, the Ice Cask Whisky and one sprig of lavender to the mug and stir. Twist the lemon rind over the cocktail and drop in with the other ingredients. Garnish with two sprigs of lavender bridged over mug.
BACARDÍ Season's Greetings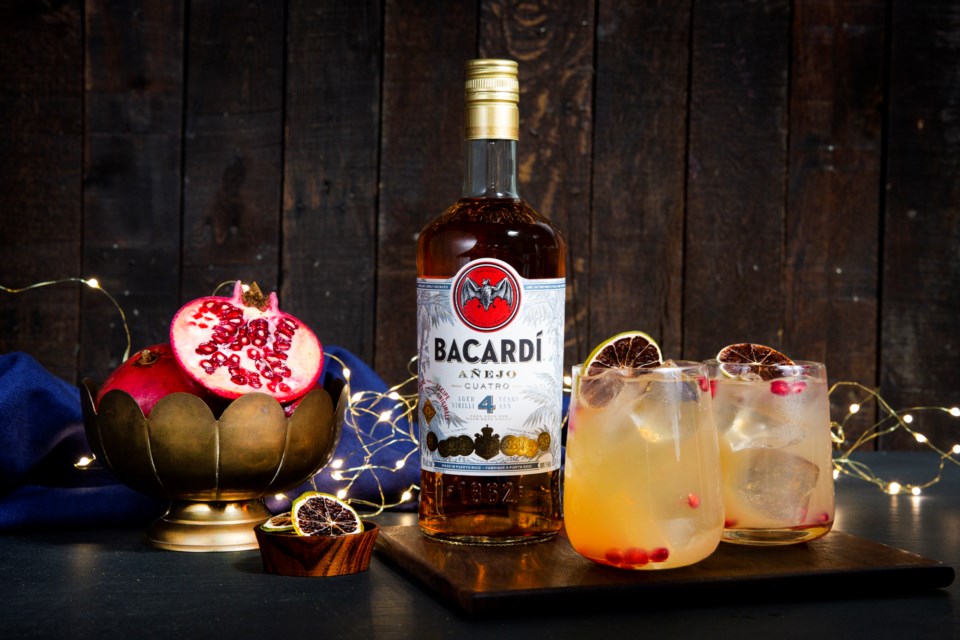 2 parts Bacardi Cuatro
0.5 parts honey 
0.75 parts lime juice
1 part white cranberry juice
Garnish with pomegranate seeds (optional dehydrated citrus)
Method
In a mixing tin, add the Cuatro, honey, lime juice and cranberry juice. Fill the tin with ice and shake vigorously to dilute and chill. Double strain the cocktail into a rocks glass over fresh ice and garnish with pomegranate seeds.
BACARDÍ Fireplace Old-fashioned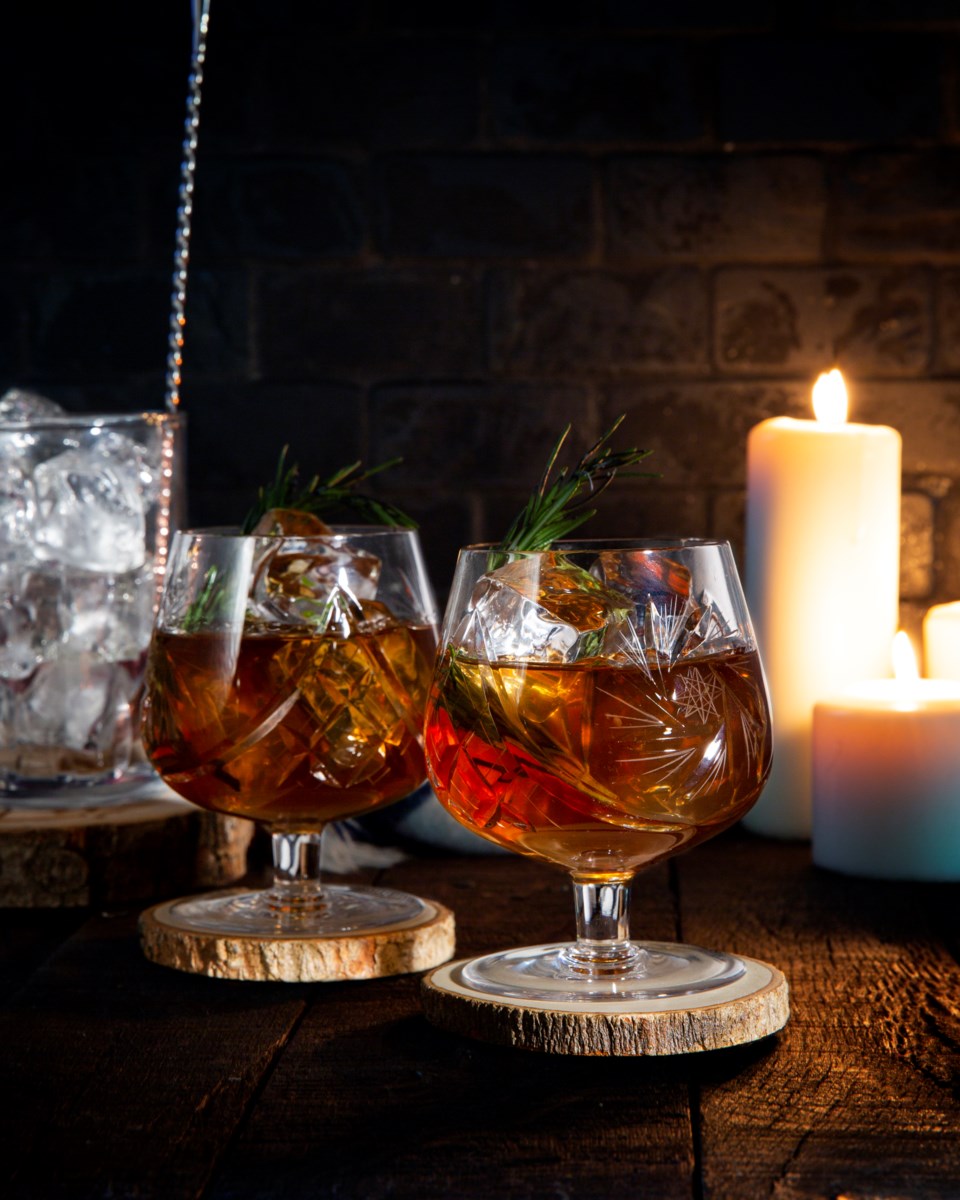 2 parts BACARDÍ Ocho
1 white sugar cube
3 dashes angostura bitters
1 sprig rosemary
Method
In a rocks glass add the Ocho. Add the sugar cube and angostura bitters before filling the rocks glass with ice. Stir the cocktail to chill. Top with more ice and garnish with a rosemary sprig. 
Pro tip: Light the tip of the rosemary sprig on fire before serving and extinguish the flame before enjoying.
sthomas@vancourier.com
@sthomas10