This is the 15th year the Courier has searched the dark, lonely recesses of the internet and mean streets of Vancouver for Christmas gift ideas that are strange, unusual and just plain wrong. In that time we've learned a few things. Bacon has been temporarily defeated by fried chicken in the heated novelty merchandise wars. Pugs still have a lot of consumer pull despite their general creepiness and respiratory problems. And Aidan from Sex and the City and Maude-era Bea Arthur were stone cold foxes back in the day.
Merry Christmas.
Fried chicken candy
$7.95 at offthewagonshop.com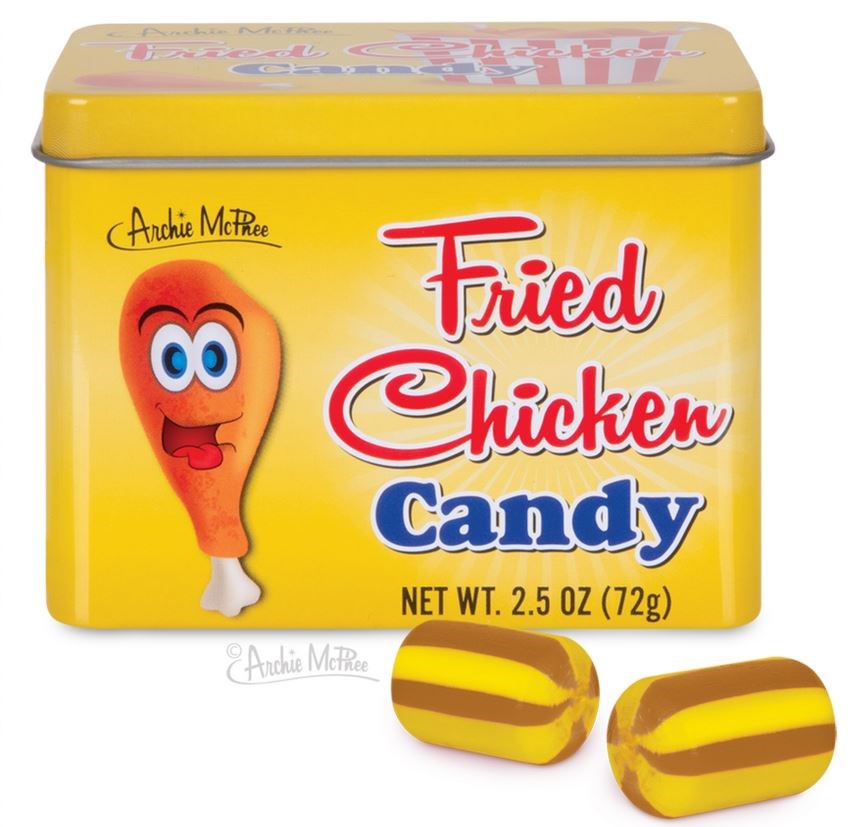 When you visit a KFC more often than you bathe or hear the words "I love you," it's hard to consider fried chicken a treat. But when it comes in the form of a hard candy that can jingle around in your pocket collecting lint or slowly dissolve in your pudgy jowls for hours on end, then it's more than a treat… it's nature's treat.
Stress Turkey
$10.60 at offthewagonshop.com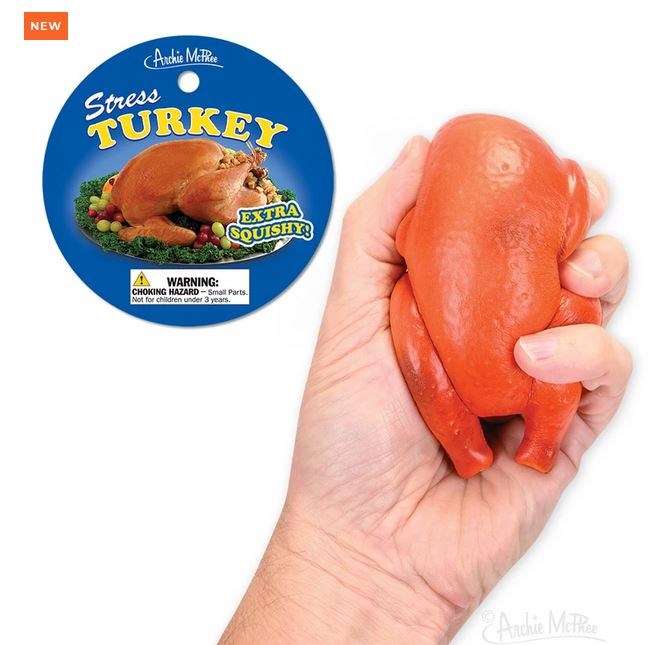 Holidays with the family gathered around a big dead bird don't always make for the most relaxing of evenings — unless, of course, you're highly medicated. But on the off chance your holiday helper has taken the week off or run low on supplies, this squeezable turkey toy could be the only thing keeping you from launching a gravy boat at your siblings for never truly appreciating all you've done for them. 
Sublimated Guitar T-shirt
$24.96 at whatonearthcatalog.com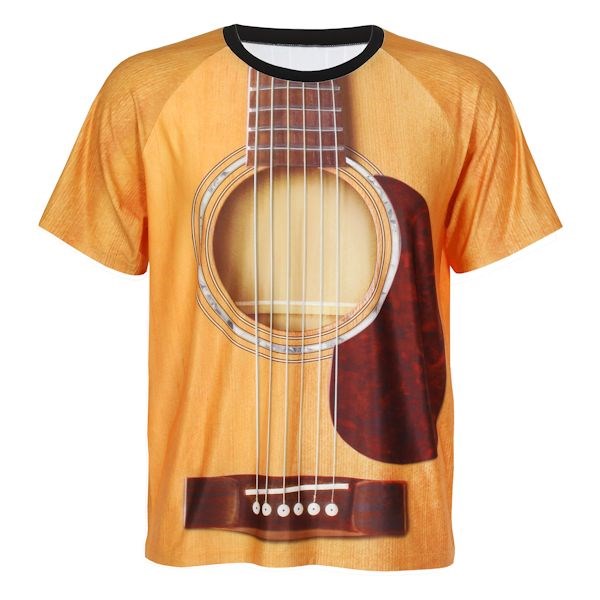 You know the lyrics to "Hotel California" better than the names of your nieces and nephews. If there's a guitar left unattended in a room or at a campfire, you'll be the first person to pick it up and play "Black Bird" or "Brown-Eyed Girl" whether anyone wants you to or not (they don't, by the way). Cement your reputation as "worst party guest in the world" with this monstrosity of a T-shirt that turns your torso into a gigantic acoustic guitar. Sure, the sound hole and bridge are far bigger than an actual guitar, but you can add that to your fascinating observations about arpeggios and augmented fifths. 
Fried Chicken Erasers
$14 at Front and Co. 3772 Main St.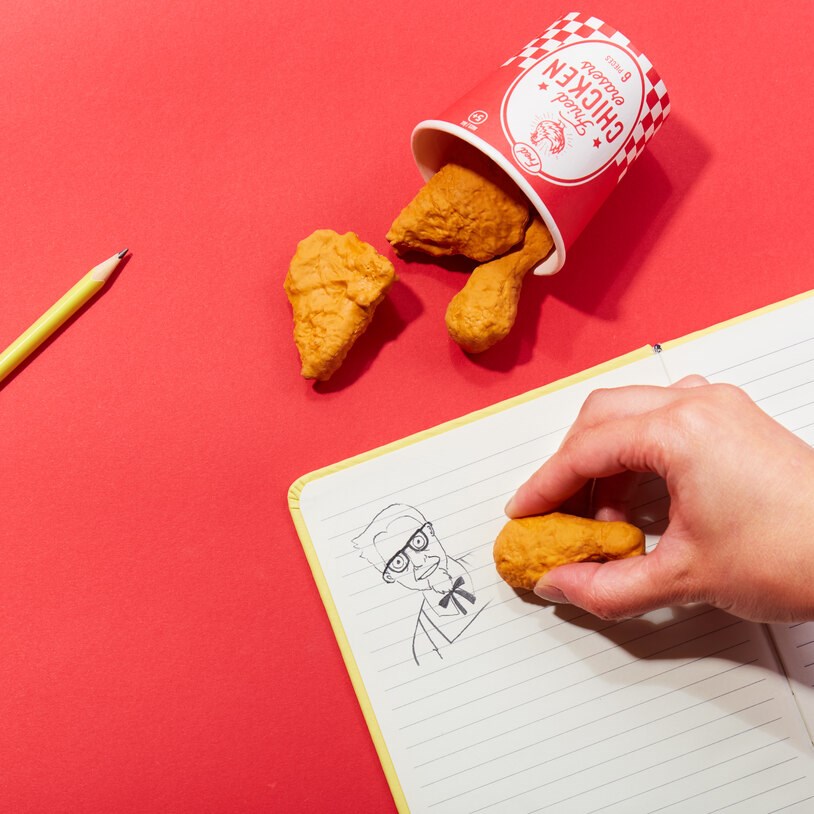 Every few years, the novelty gift landscape tends to tilt in one direction. A decade ago, it was bacon-themed ephemerae. Then it was toast and moustaches. Pickles unsuccessfully tried capture the cultural zeitgeist for a while. Now it's fried chicken's turn. Why anyone would want erasers that look and smell like fried chicken is a fair question. But a better one is why wouldn't they want erasers that look and smell like fried chicken?
Pug Change Purse
$12 at Front and Co.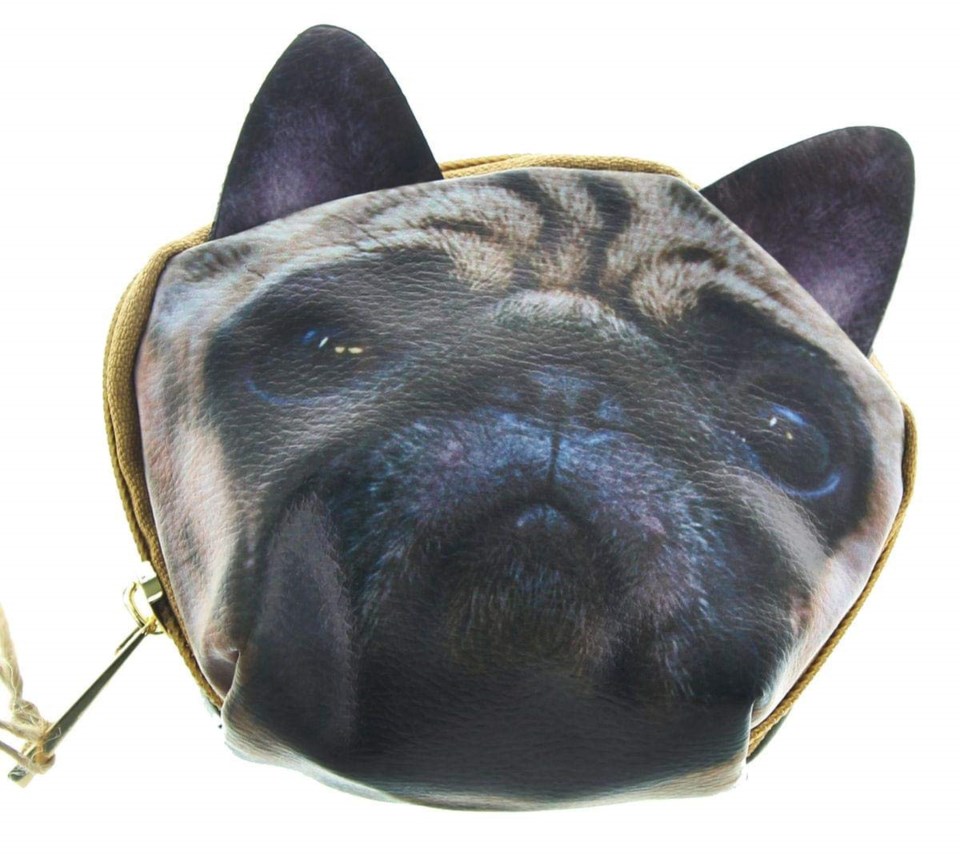 In Nanaimo where I grew up, a Pug Change Purse means something entirely different, and not suitable for a family publication such as this. This Pug Change Purse, however, is exactly what it says it is: a tiny change purse that looks like a pug's head. And it's creepy as hell.
Animal Paw Socks
$11.95 at whatonearthcatalog.com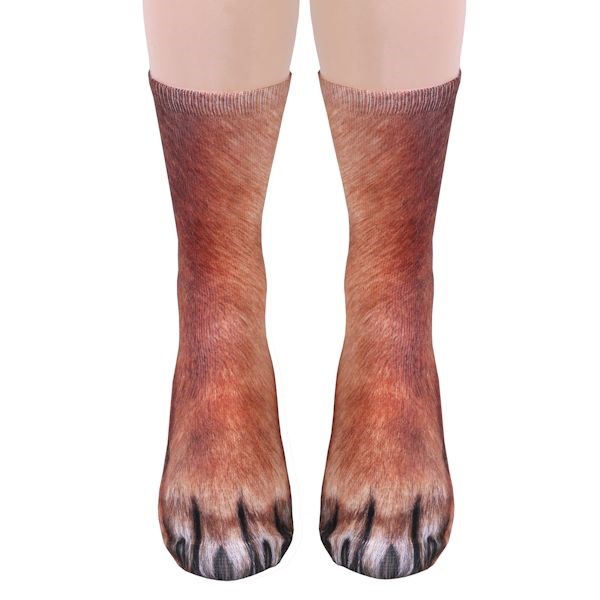 While your reputation for being an animal in the sack is a secret only shared between you and Siri, being an animal from the knees down might be a more achievable goal. Made of 100 per cent polyester, these one-size-fits-all printed socks are designed to transform your feet into a set of hoofs, talons or paws. Cat, dog, alligator, goat, camel, leopard, pig — they've got them all — except badger. Which, in retrospect, makes me question this company's dedication to its craft. For shame.  
Shark Bath Bomb
$9.67 at etsy.com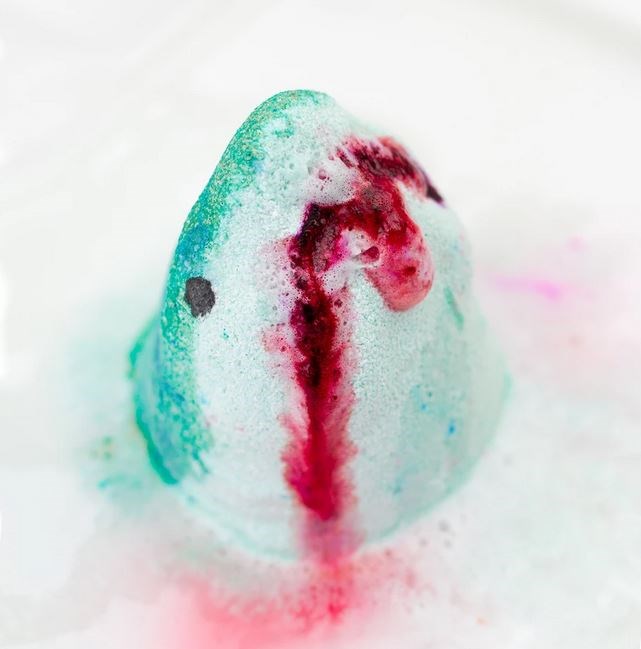 Whether you want to transform your relaxing bath into bloody, shark-infested waters or give your filthy kids yet another reason to hate bath time, this Great White Shark Bath Bomb has you covered.
Pizza blanket
$44.99 at amazon.ca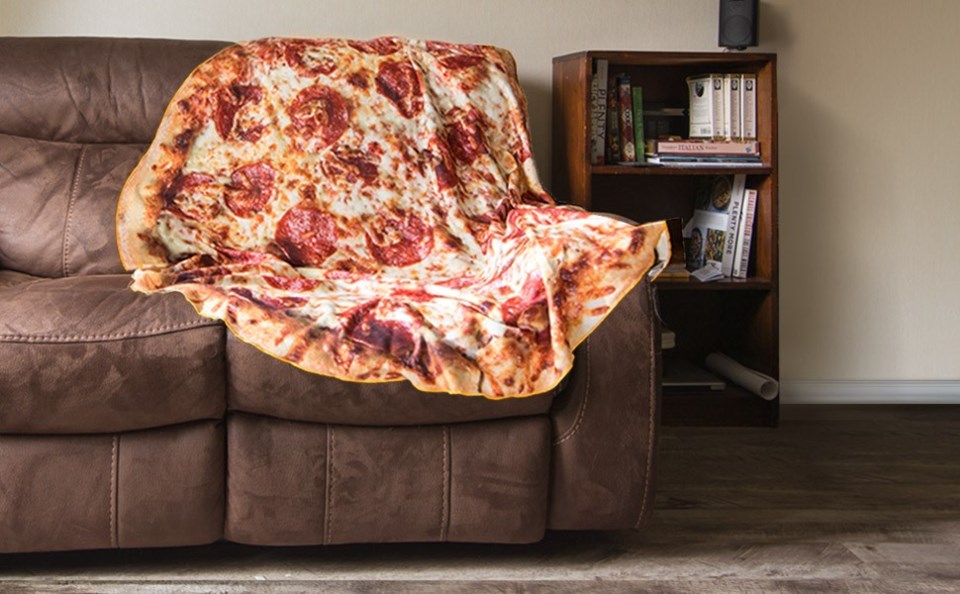 Instead of cloaking yourself in shame while binge watching Sex and the City and cursing Carrie for messing up such a good thing with Aidan — perhaps I've said too much — wrap yourself in this totally flammable plush pleasure provider that looks like a giant pizza. But make no mistake: there'll still be some level of shame involved, only this shame resembles pepperoni and melted cheese. 
Taco Booties
$33.18 at uncommongoods.com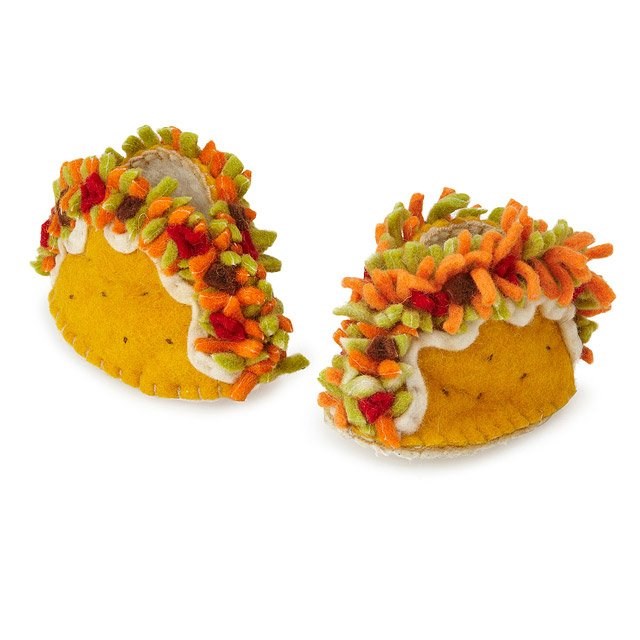 Somewhere there's a Celtic funk band from the '90s wishing these bad boys had been invented back in the day so they could have named themselves Taco Booty instead of the career-killing Fun-orrhea. Alas, Taco Booties will forever be associated with that unfortunate era of the late 2010s, when whimsical adults forced babies to wear booties fashioned after Mexican food. What a time to be alive. 
F-Bomb Paperweight
$59.72 at uncommongoods.com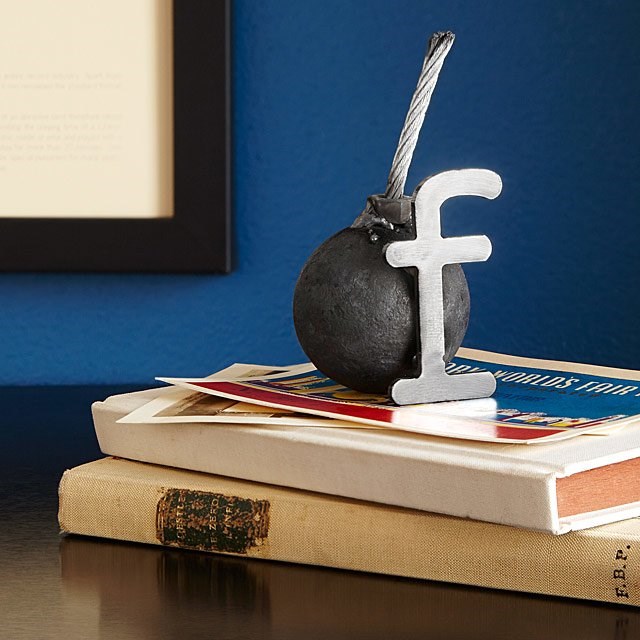 Is misquoting Maya Angelou and listing your preferred pronouns on your Twitter bio not woke enough for you? Then this mind-blowing paperweight is just the ticket. Crafted out of recycled steel and handmade in Utah (you're damn right it is), this molten message to the masses lets co-workers know that you "get it." And by "it," I mean everything — the military industrial complex, cultural hegemony, generational diphtheria, institutionalized FOMO, toxic punctuation, palindromic crotch blindness, the fact that Rug Doctor rentals are a crock and just make your carpets dirtier… everything.
Burrito Baby
$63.70 at uncommongoods.com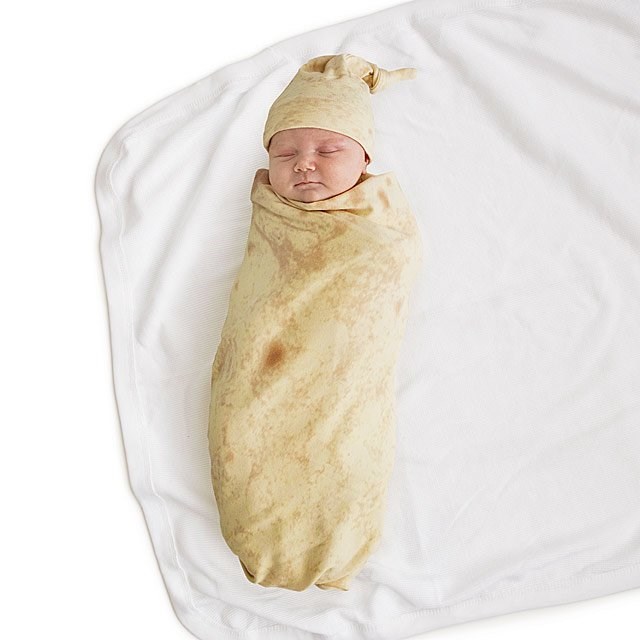 Who hasn't imagined swaddling a newborn baby in a cozy tortilla shell? The breathable cotton-polyester blend keeps your little dream killer and feces factory comfortable no matter the temperature, while the tiny matching tortilla hat tops the delicious ensemble off and will provide ample therapy fodder for them later in life. Surprise, it's made in Brooklyn.
Mason Jar Butter Churner
$51.76 at uncommongoods.com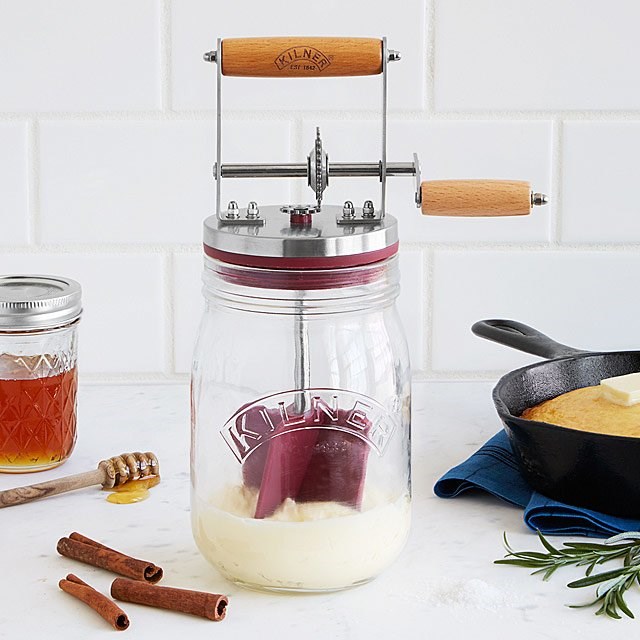 Now that you've made your own toothpaste, deodorant, pickled okra marmalade and dungarees, what's an ambitious urban homesteader to do? Churn your own butter, that's what. As your ancestors who are long dead will attest, there are few household chores more enjoyable than the many, many, many arm-cramping hours of making your own butter rather than spending a few bucks and a couple minutes at the grocery store half a block away. 
Sriracha Baby
$38.49 at uncommongoods.com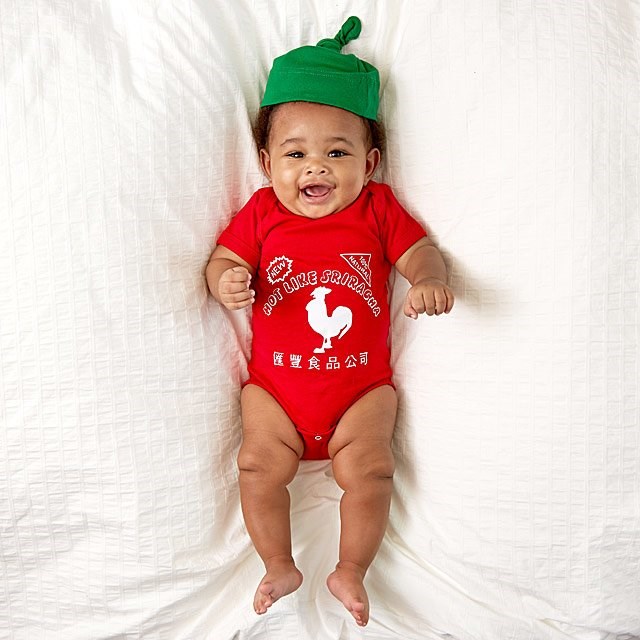 Colton and Sasha beat you to the punch by dressing their baby Boo Radley in a cute-as-eff burrito shell, effectively usurping your claim as the hippest parents at Montessori. Time to bring out the big guns and turn your little one into a bottle of Sriracha hot sauce — you know, the kind you no longer eat because your spouse says it makes your breath stink and why you haven't been kissed on the lips in 11 months… among other reasons you've yet to deduce.    
Lucky Lager Soap
$7.95 at metchosinsoapworks.com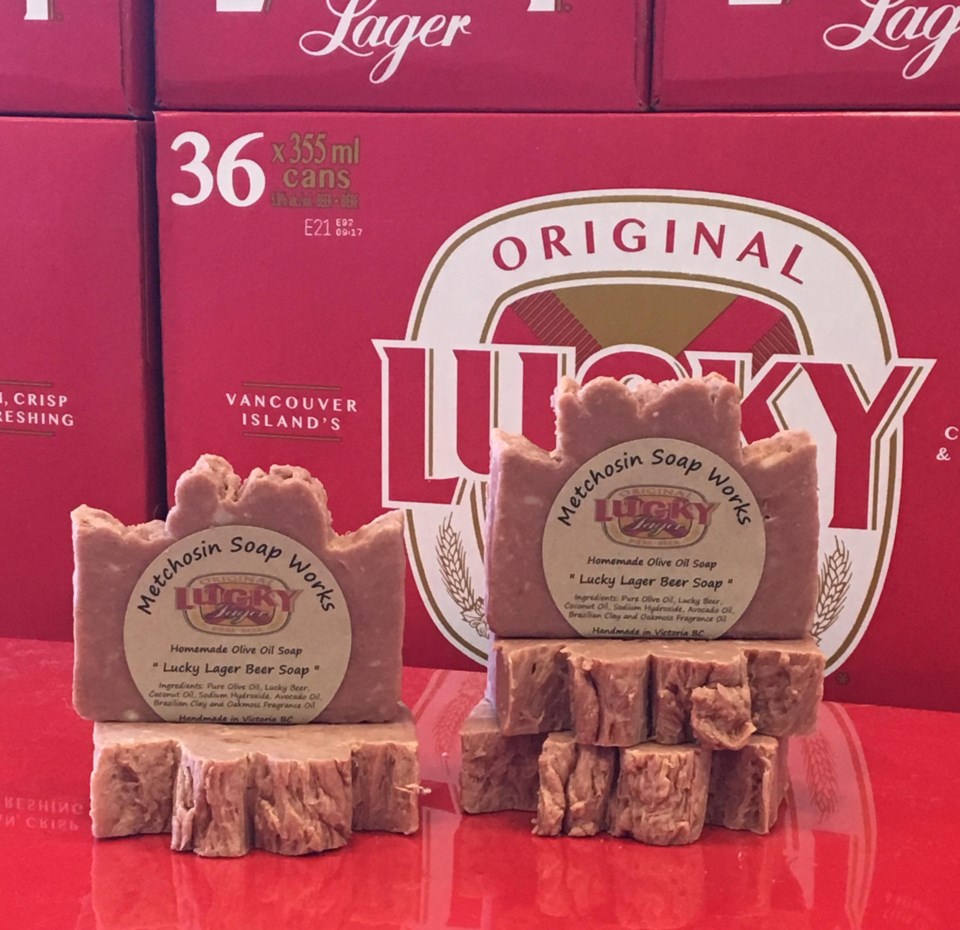 For a crappy Edmonton-brewed beer that originated in San Francisco, Lucky Lager holds a strange place in Vancouver Islanders' hearts. Made with olive, coconut and avocado oil, red clay, activated bamboo charcoal and the favourite beer of drunk uncles and millwrights from Port Hardy to Langford, this is probably one of the few ways to enjoy Lucky Lager that won't end in a bar fight, hangover or missed child support payment.
R2D2 Insta Pot Wrap
$15.22 at etsy.com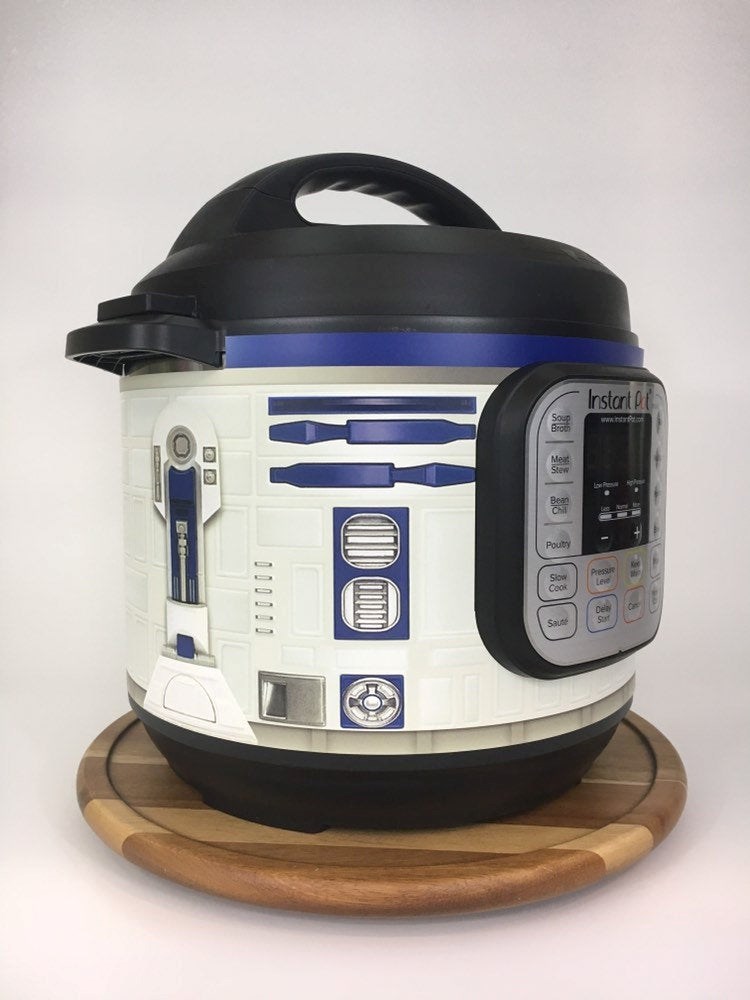 "This is not the Insta Pot you're looking for." Or maybe it would be if it resembled everybody's favourite closeted droid. Made from premium non-adhesive waterproof wrap, this culinary robot costume transforms the bulkiest of kitchen appliances into something just as bulky, but way nerdier. George Lucas might not approve, but your dinner guests will. Unless they're more Star Trek fans — then in that case, screw them.
Golfer Legs Side Table
$599.95 at hammacher.com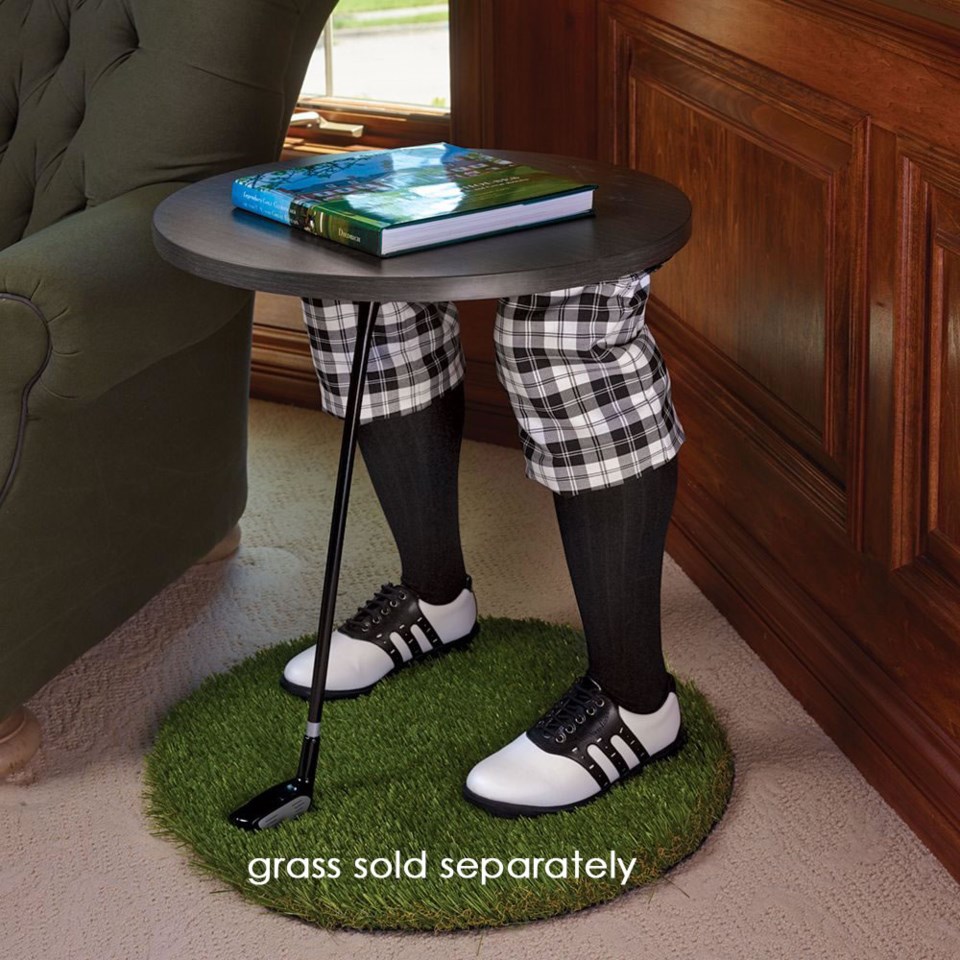 On one hand, it's a terrifying side table that appears to be propped up by the severed legs of an old-timey golfer. On the other, the protruding golf club looks like a cross between a futuristic metal detector and a robot penis. Either way, this decorative ode to celibacy tells the world your disposable income shows no bounds.  
OG Kush Weed Pillow
$32 at smokebreak.live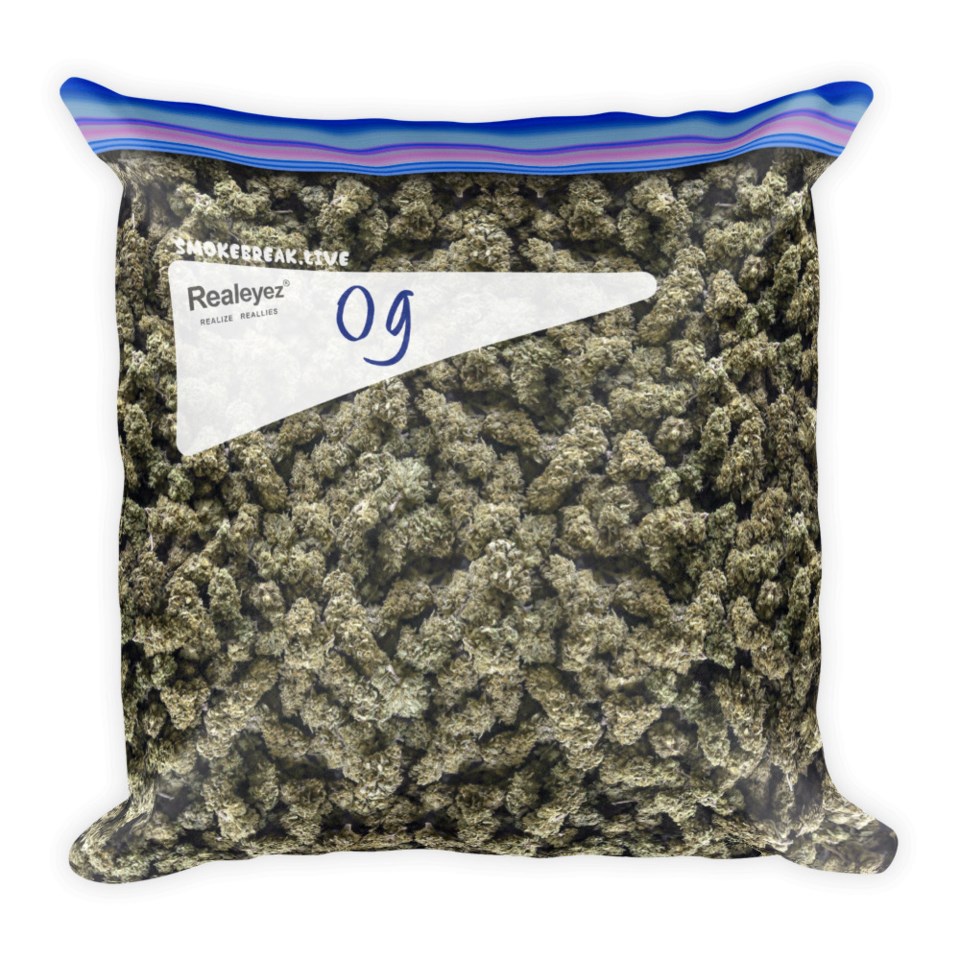 Duuuuuude. It's a pillow that looks like a Ziploc bag full of the stickiest, ickiest, John Wickiest weed around. Which will come in super handy when you need something to rest your head on while waiting hours in a small windowless room for airport security to inspect your orifices.
Bloody Bath Mat
$14 at fancy.com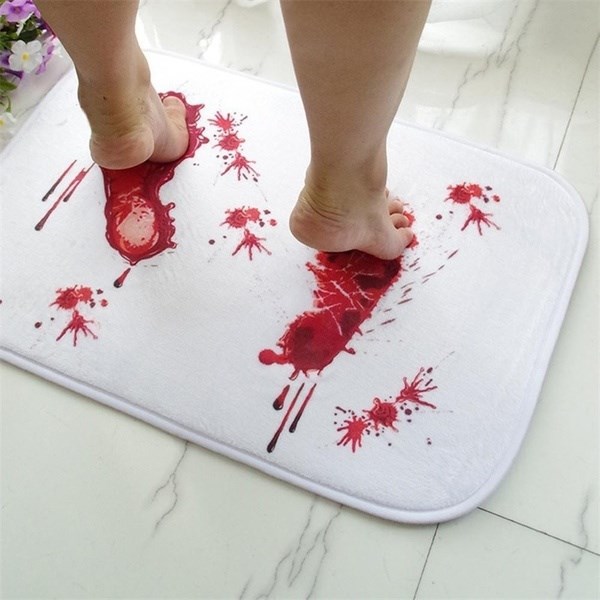 What better way to cap off a relaxing shower or bath than leaving what appears to be a trail of bloody footprints. This scientific marvel bleeds red when wet and turns white again when dry. Why this technology hasn't been applied to swimsuits, gym wear or work shirts remains one of life's great mysteries, right up there with "How soon is now?" and "Who let the dogs out?"
Tea Cup Holster
$113 at etsy.com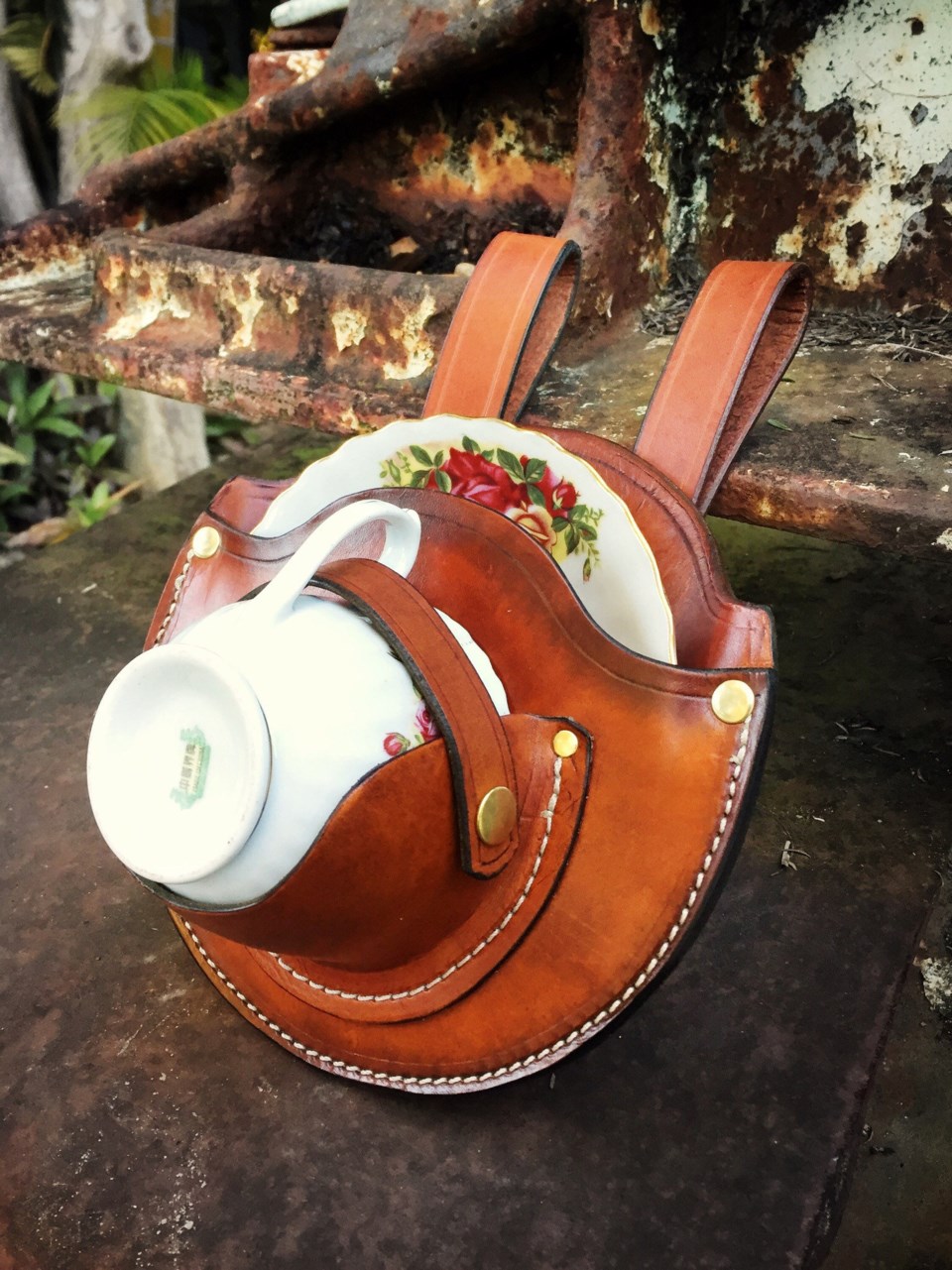 Everyone in your birding group knows you're a real killer with the chamomile and executioner of Earl Grey. So why not put your steeped bad-assery on full display with this leathery lethal weapon that fits precisely one teacup and one saucer. While some might foolishly ask where one might put the cream and sugar, as you well know cream and sugar are for pussies.
Personalized well wishes from the Boston Bruins' Brad Marchand
$200 at cameo.com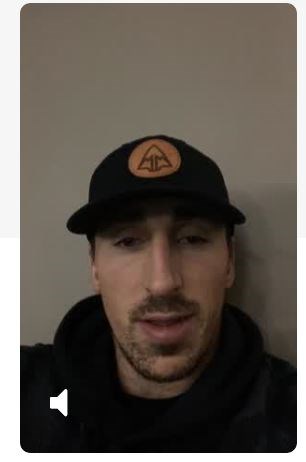 Whether it's reality TV stars, washed-up actors or money-grubbing professional athletes trying to suck the last drop of milk from the teat of celebrity, Cameo.com has it all. From as low as $25 (guitarist Steve Vai) to $2,500 (Caitlyn Jenner), just about everyone has their price when it comes to making a personalized video message for a complete stranger.
Make Your Own Uke
$30 at Front and Co.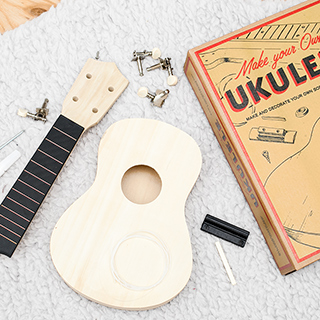 If playing ukulele wasn't quaint enough, just wait until you make your own ukulele. It's like putting a bowtie on a bowtie. Or if your handlebar moustache grew its own handlebar moustache. Adorable.
XXL Hip Flask
$288 at Front and Co.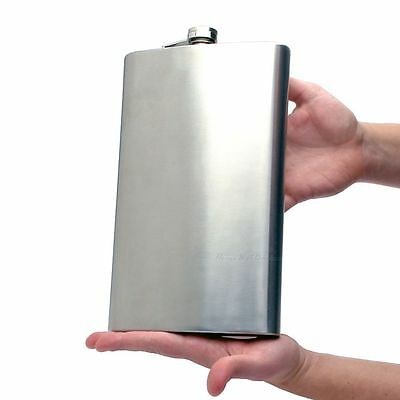 This 1.1-litre container of liquid happiness — or sadness, depending on your disposition — is more than a novelty gift. It's a damn expensive novelty gift. Which almost makes it respectable — until, of course, you pull it out of your commemorative Loverboy bomber jacket at a Canucks game and get arrested in front of your kids. Again.
Briefcase BBQ
$106 at Front and Co.
We've all been there: After a long day at the office farming content and creating listicles for the "10 best places to catch your high school French teacher eating soup alone in public," you need a little pick-me-up. And what better way than cooking up a couple smokies or s'mores from the comfort of your desk for the entire office to smell and envy. That's where the Briefcase BBQ comes in. Made of high grade stainless steel and more portable than the job skills listed on your resume, this little gourmet gizmo will remind you what it's like to be alive.  
Sudski Shower Beer Holder
$22 at Front and Co.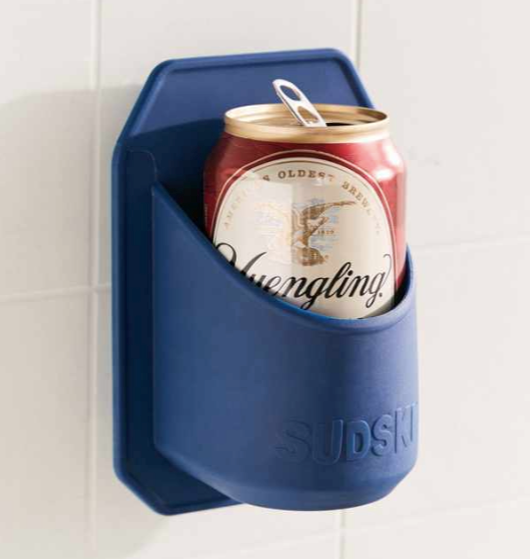 If there is anything more life-affirming than drinking in the shower, I've yet to experience or remember it. Still, it can be a dangerous and lonely pursuit. Unless, of course, you get your soapy paws on this personal hygiene-minded drinking companion. Sadly, it does not come in growler sizes.
Underpants Wallet
$26 at Front and Co.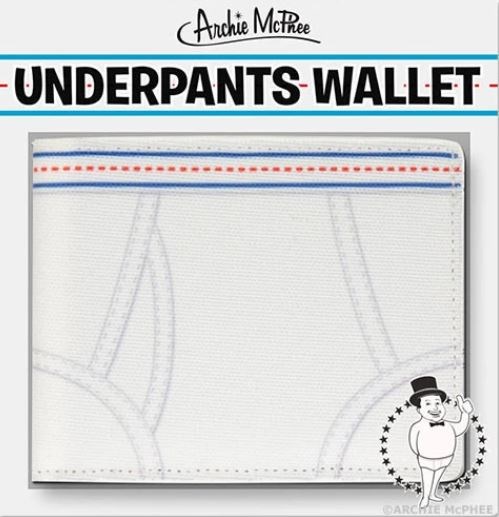 Designed to look like y-front gaunch of old, this casual cash carrier will definitely be a red flag for any prospective Tinder dates. But then again, your ex once described you as the United Nations of red flags. Which is good, right?
Avocado Plush Doll
$22 to $28 at Front and Co.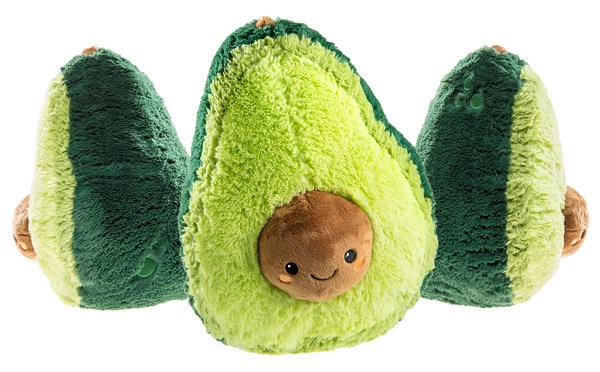 Imprint society's recent fetishization of avocados on your teething toddler before they're old enough to form their own opinions and realize that your inability to reject the allure of rampant consumerism masks a profound inability to connect with others, including yourself, on a deeper, more spiritual level. Woah, shit just got real. But they are pretty cute avocados. 
Gentlemen's Hardware Red Brick Soap
$22 at Front and Co.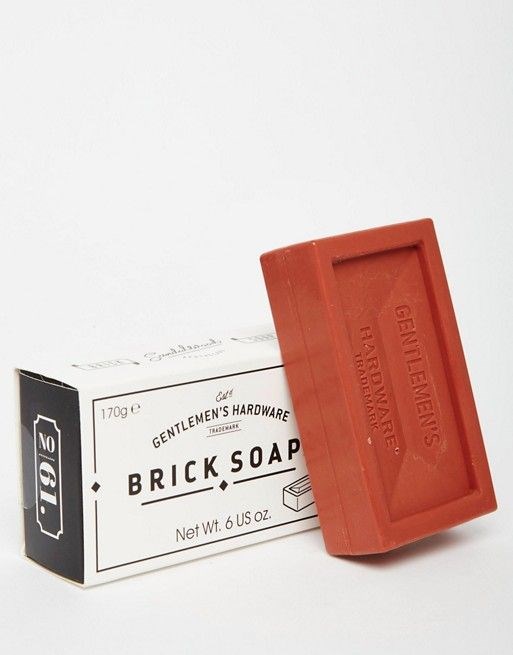 Harkening back to the good ol' days when you could buy opium-based children's medicine at the local apothecary and hard-working folks washed their soot-covered bodies with actual bricks, this sandalwood scented bar of authenticity gives new meaning to the word rugged, as in "$22 is a rugged amount of money to spend on a bar of soap that looks like a brick."
Plush Glands and Organs
$28 at Front and Co.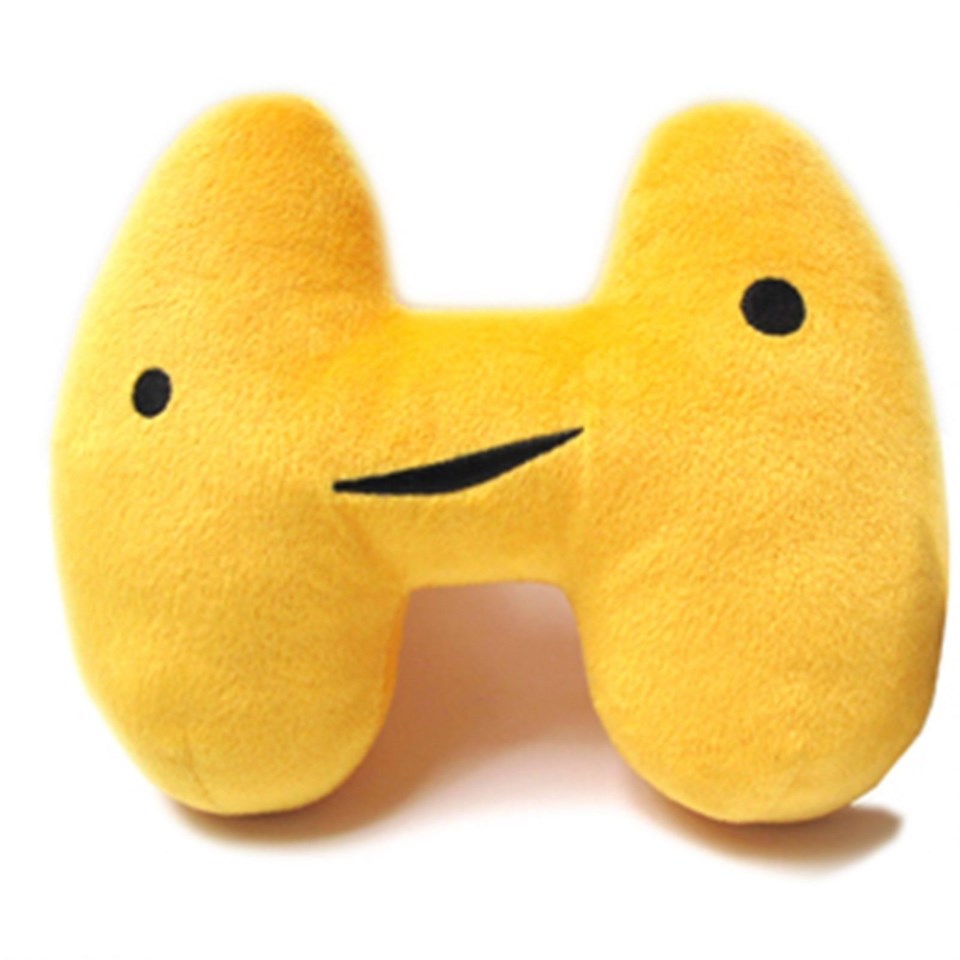 Who cares if you can't tell the difference between a plush thyroid gland, gallbladder or testicle — you're not a rocket surgeon. You're just a person standing in front of another person asking them to love you and not realize you're quoting Julia Roberts in Notting Hill by accepting this poorly thought out Christmas gift that you left to the last minute because you were re-watching all six seasons of Sex and the City and coming around to the idea that maybe Big and Carrie were meant for each other.
Autographed Photo of Bea Arthur
$86.44 at hollywoodmemorabilia.com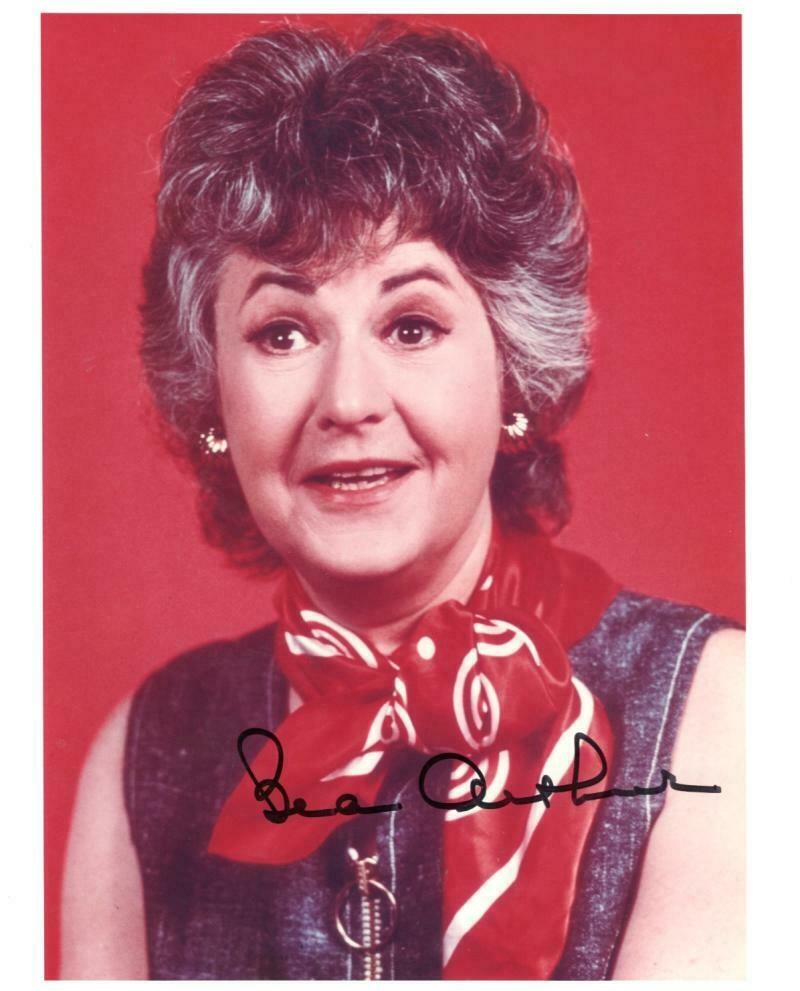 Who wouldn't want an autographed photo of pre-Golden Girls Bea Arthur for Christmas? Someone you're hoping to sleep with, that's who. But there's little chance of that, isn't there.
Loverboy Windbreaker celebrating five million albums sold for Columbia Records
$77.89 at hollywoodmemorabilia.com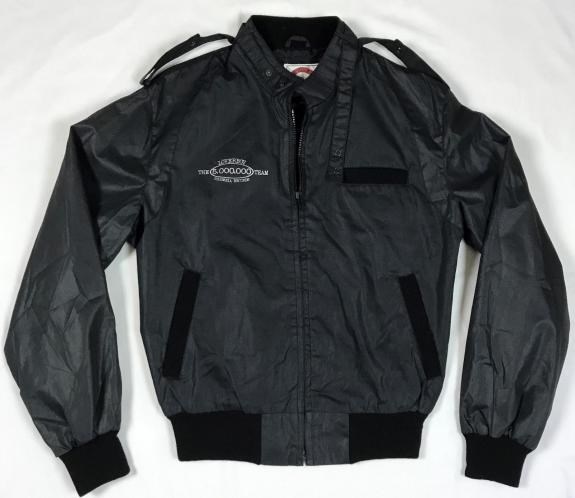 Pity the poor sap who didn't have the foresight to keep this sweet, collectors' item bomber jacket commemorating Vancouver rock band Loverboy "moving five-million units" for Columbia Records. Pardon the industry talk — I dreamt of being a roadie for Bootsauce for most of the '90s, so it just comes naturally to me. Check check. Backend royalties. Check check.
Vancouver-opoly
$29.93 at Walmart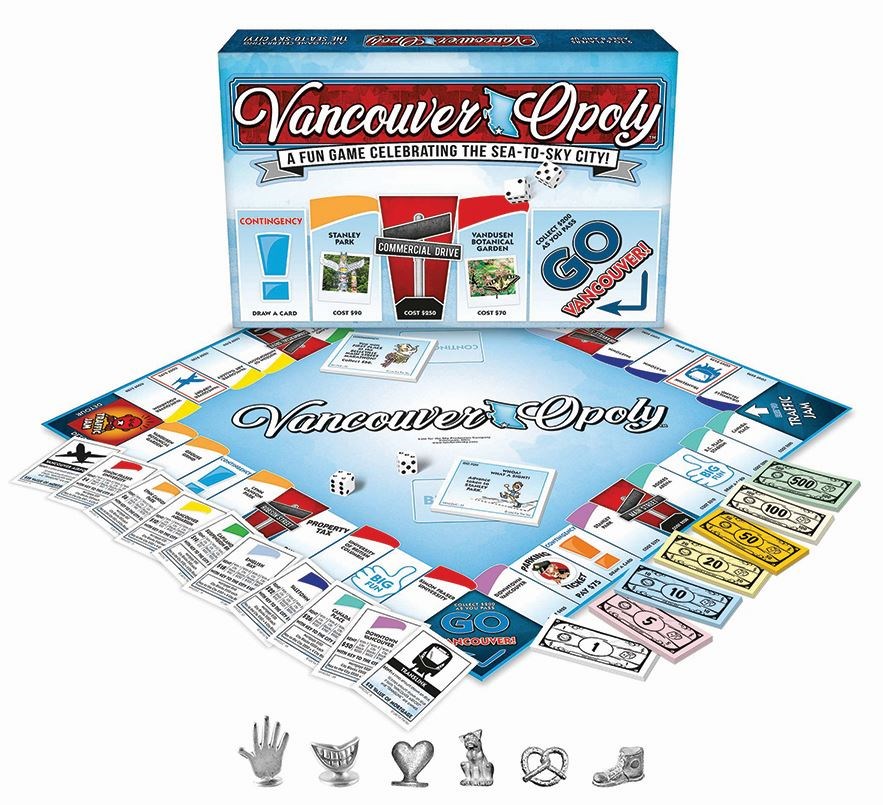 It's probably the only chance many of us will have to own real estate in this city, Vancouver-opoly is exactly how it sounds: a localized version of the classic board game that takes a reductionist view of Vancouver, by cobbling together a bunch of well-known tourists spots such as the Grouse Grind, University of B.C., the aquarium, Stanley Park and Trevor Linden's Treasure Trail. I may have made that last one up. Even the Go to Jail square has been replaced with Traffic Jam, which, granted, is a prison in itself, but lacks the danger of being locked up at a real Vancouver police station. Or so my co-workers tell me.