The length of bikeways in Metro Vancouver has nearly tripled from 1,700 kilometres to 4,600 kilometres over the past decade, but only 46 per cent of the bikeways are comfortable for most people, according to a new report.
HUB Cycling and TransLink have worked together to release the first ever State of Cycling Report for Metro Vancouver, which offers an up-to-date picture and understanding of cycling across the region.
The report assessed the region's quality and quantity of bikeways, the number of residents regularly cycling, and the safety of the cycling network to create a benchmark to measure future progress.
Jeff Leigh, vice-president of HUB Cycling, a charitable not-for-profit organization that has spent more than 20 years removing barriers to cycling in Metro Vancouver, said the goal for the project is to "advance the development of a complete regional cycling network that is accessible and comfortable to people of all ages and abilities."
TransLink engaged with 21 local municipalities, one Electoral Area and one Treaty First Nation to develop a framework for classifying the nature and comfort levels of different cycle route types. It found that while the region has come a long way in building more bikeways, more could be done to make the network more comfortable for people who cycle.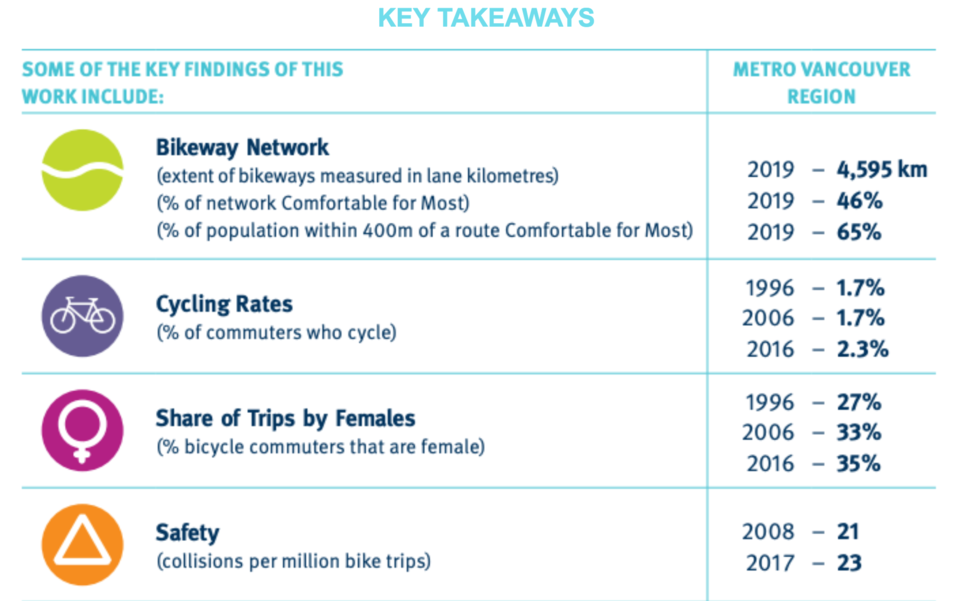 As part of the project, Vancouverites who want to get around by bike will soon have access to new cycling route maps that state the safety and comfort of each cycle route for more accessible trip planning. While there are improvements to be made, the report highlighted that 60 per cent of Metro Vancouver residents already live near a bikeway that is considered comfortable for most people.
The report also looked at the collision rate involving people who travel by bicycle and found it was relatively stable between 2008 and 2017 at 21 and 23 collisions per million trips, respectively.
"In areas where the network has grown or improved, the rate of cycling collisions has dropped, and the number of cycling trips have increased dramatically," the report stated.
It also noted that over the years, more and more Vancouverites have decided to swap their car for a more sustainable mode of transportation, with an increase from 24 per cent in 2011 to 27 per cent in 2017.
"As cycling becomes safer and more convenient, people will choose to cycle more," Kevin Desmond, TransLink CEO, said in a release.
Last year, TransLink invested approximately $15 million to build new or improve existing Metro Vancouver cycle paths.
"By expanding our bike parkade program and investing in cycle paths throughout the region, our system is one of the most cycle-friendly transit networks in Canada," Desmond said.
TransLink and Hub Cycling said the report will be updated every few years "to allow the region to monitor progress with building out the regional bikeway network to help support regional goals for more and safer cycling."
The data from the report will also be shared with regional municipalities and the province to help make recommendations about future cycling infrastructure investments.