Maru Korean Bistro
125 E. 2nd, North Vancouver
604-566-6292
Open Mon.-Sat., 11am-3pm and 5pm-9:30pm
It looks tiny from the outside, but then you step through the door and realize this relative newcomer to the Lonsdale dining scene is larger than it first appears. Maru Korean Bistro is housed in a former banquet facility, and the room has been redone in a modern minimalist style, with Korean chalk drawings along the walls. It feels spacious – almost too spacious at the front, where a large greenhouse window lets in oodles of natural light.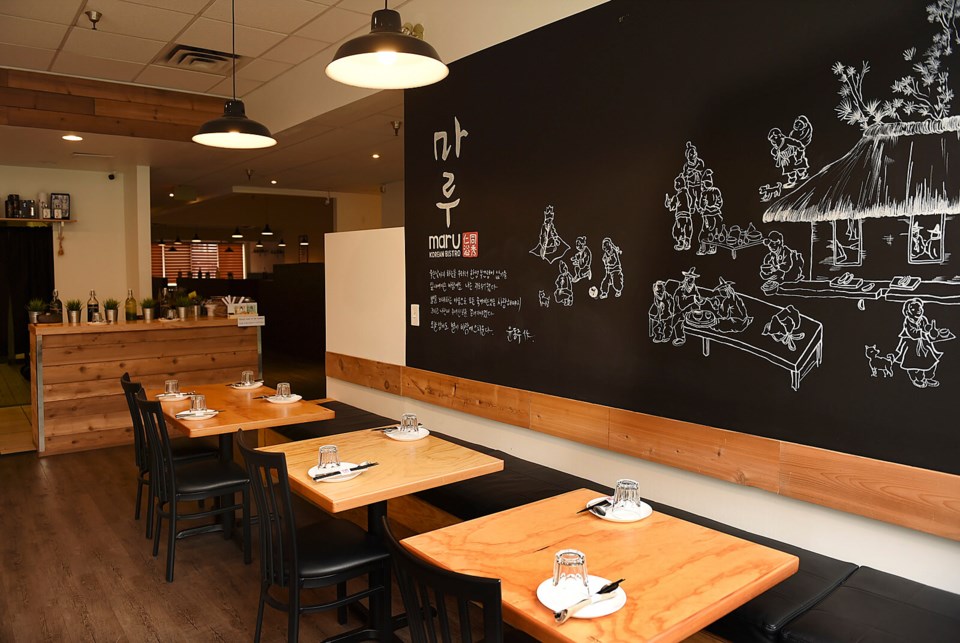 Initially, I wondered why there seemed to be a row of tables missing between two facing banquettes. Then I realized the surplus space was needed for the trolleys. Yes, when there's more than a dish or two to deliver, it all comes out on one of those handy bar carts. The ease and simplicity of such a system makes me wonder why more restaurants don't do this, until I remember the average square-foot price of retail space. Given the proportions here, that's obviously not an issue.
Maru is a first-time venture for chefs Bobby Shin and David Jo, who opened Bap's Kitchen – a catering service specializing in Korean food – a couple of years ago. The website describes the food here as "home style and casual," and it's an accurate summation.
Korean "snacks" and lettuce wraps make up a significant portion of the menu – and, yes, KFC (Korean fried chicken) is right at the top. Maru's version ($8.50) is divine: a plate full of boneless, breaded, succulent morsels that dribbled their juices down our chins. Served over a bed of creamy coleslaw (a tad too creamy for my taste), the dish also includes cylindrical rice cakes that are lightly crisped on the outside and silky-smooth within. The whole is garnished with chili threads, sunflower and sesame seeds, and green onion. You can order it in a mild soy-garlic sauce or a fiery Korean chili concoction. Both are good, but I prefer the former, since it also has a hint of heat but doesn't burn the taste buds.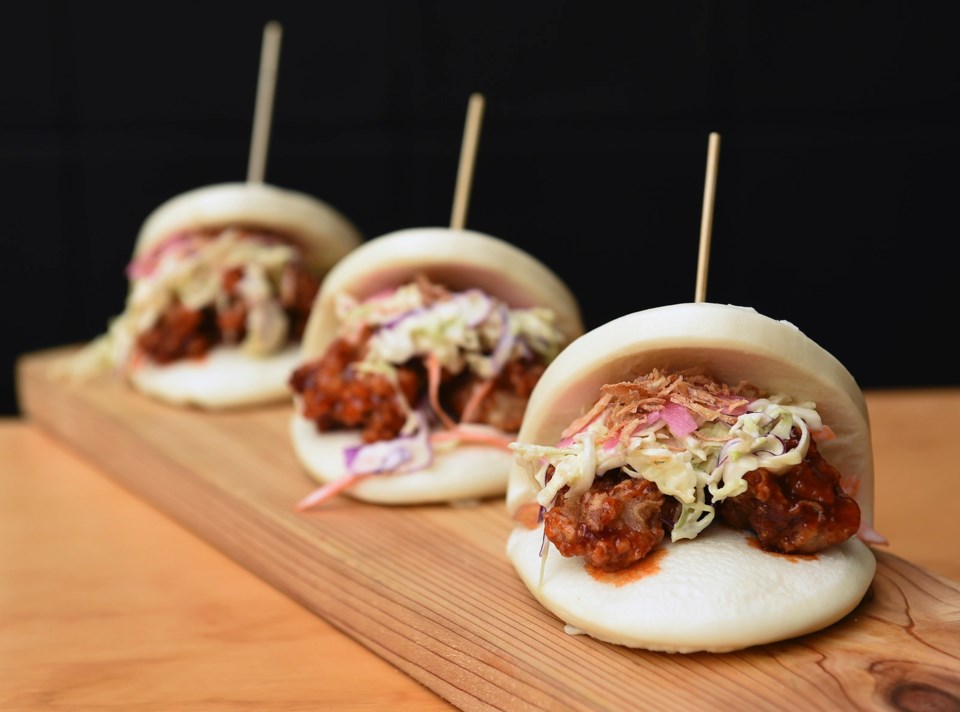 Kimchi, squid and onion pancake ($8) is another must-try. The pancake is served pizza-style, sliced up on a round plate, with lovely fresh squid and a vinegar-soy sauce. The rice cakes can also be tried in the "Royal" ddok-bokky ($9.50), a dish of soy-marinated sirloin alongside sautéed and green onion, garlic chips, nori flakes and sesame. The beef could have been more tender, and the rice cakes are steamed instead of fried, making the whole dish rather soft on texture (which wasn't balanced enough by the minimal sprinkling of garlic chips), but it was full of umami and comfort.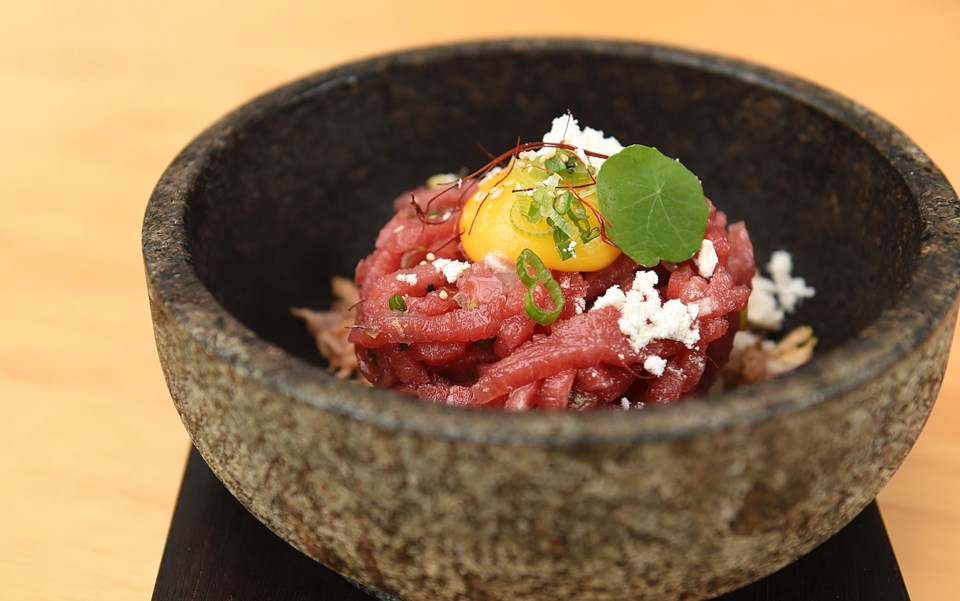 The kalbi (grilled short ribs) were much better. This is under the SSAM (lettuce wraps) menu, and is enough for two to share if you get the "meal" size ($20). The ribs arrived sizzling on an iron skillet, along with scissors for cutting. Traditional sides like rice, potatoes, kimchi, bean sprouts with corn, and pickled vegetables – including some lovely carrots and cabbage – came along for the ride, as well as some stellar, slightly spicy miso-tomato soup that's loaded with crunchy cubes of zucchini, silky tofu and onion.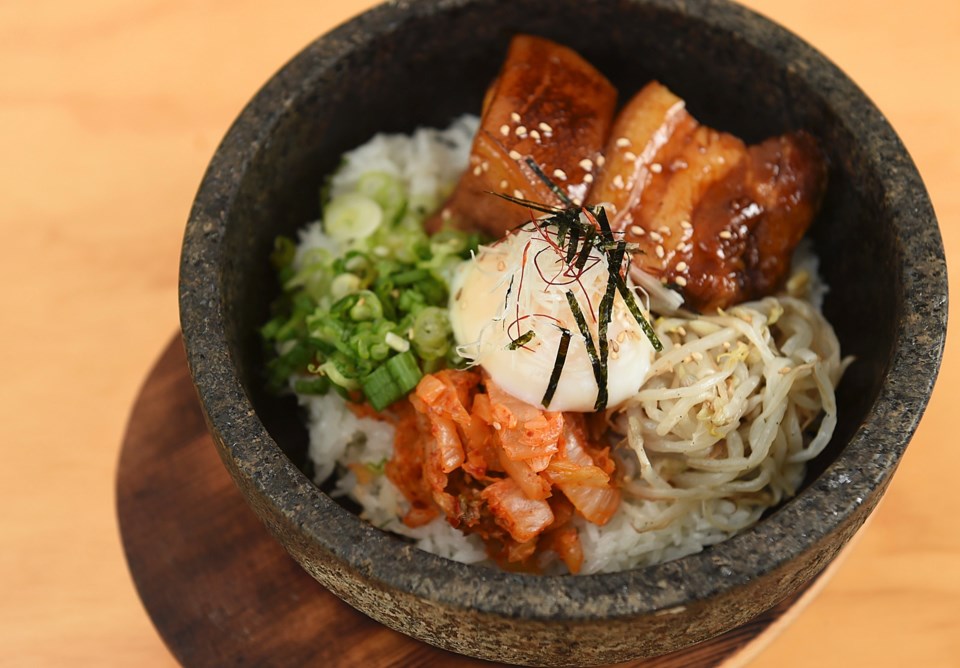 Larger dishes – like a hot stone bowl of bibimbap ($11-$12), or yukgaejang (spicy beef soup; $12) – are also worth trying, especially on a cold, wet night. If you're feeling adventurous, try the six-course tasting menu ($40) and leave the choosing to the chef.
While friendly and accommodating, service was a bit hit-and-miss. Tea and water often weren't refilled without waving someone over, and while wiping down the table next to us one night, a server managed to spray us with cleaning fluid, despite the well-spaced seating.
Nevertheless, Maru has a lot going for it – enough to make it worth crossing a bridge.
Food: ★★★★
Service: ★★★
Ambiance: ★★
Value: ★★★
Overall: ★★★
All ratings out of five stars.
★: Okay, nothing memorable.
★★: Good, shows promise.
★★★: Very good, occasionally excellent.
★★★★: Excellent, consistently above average.
★★★★★: Awe-inspiring, practically perfect in every way.
Anya Levykh is a freelance food, drink and travel writer who covers all things ingestible. Find her on Twitter and Instagram @foodgirlfriday.