Kissa Tanto
263 East Pender | 778-379-8078 | KissaTanto.com
Open Tuesday-Saturday, 5:30pm-midnight
Fusion has historically been a rather shameful term in the restaurant world – especially in Vancouver. Thinking back on the few fusion restaurants to have surfaced – and eventually plummeted – over the last two decades, there is almost nothing that comes to mind as a successful joining of two disparate cultures and cuisines. Exceptions can be counted on one hand and include the likes of Pin Pin (Chinese-Filipino) and Ancora (Peruvian-Japanese).
Now comes Kissa Tanto, from Bao Bei owner Tannis Ling and chef Joël Watanabe (both are partners in this second venture), and our prejudices toward fusion food might finally have to be put to rest. The name of the restaurant comes from two words, the Japanese for "café" and the Italian for "a lot." Japanese-Italian may sound like an odd pairing, but, as with Pin Pin and Ancora, the food is rooted in social/political history. Itameshi (Italian cuisine) is highly popular in Japan, and both cultures appreciate strong simple flavours built from excellent local ingredients.
The upstairs space sits on a quiet street in Chinatown that is going through the typical Vancouver transition of long-standing neighbourhood businesses shutting down and new, more upscale ones slowly arriving. Despite this, the restaurant is steadily busy on any given night, which can, in part, be attributed to the room.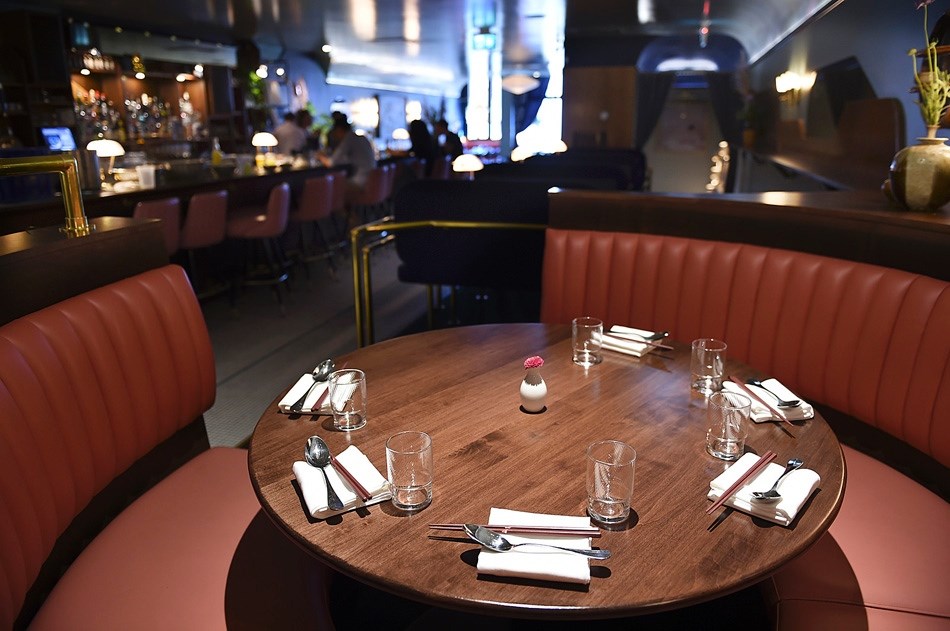 Hits of teal and bright red line the walls. Mid-century modern seems the predominant theme, with lots of brass and interesting prints on the walls. The music is almost all jazz, with a little blues thrown in for good measure, and the bar, fittingly, sports a long row of vinyl, in addition to the usual bottles.
That bar is presided over by Wendy McGuinness and her cocktails sound some deeply satisfying notes. The Perfidia ($12) is a light refreshing mix of gin, Amaro Montenegro, ginger-rose syrup, egg white and lemon. For something with more depth and a hint of darkness, there's the Moon Indigo ($13), with its heady blend of bourbon, Cynar, chocolate bitters and spice cherry notes. The wine list favours the organic and naturalist bottles, but it's the sake and spirits lists that you should be paying attention to. From a Macallan Gold single malt to the local Osake, there is a whole bag full of treats here.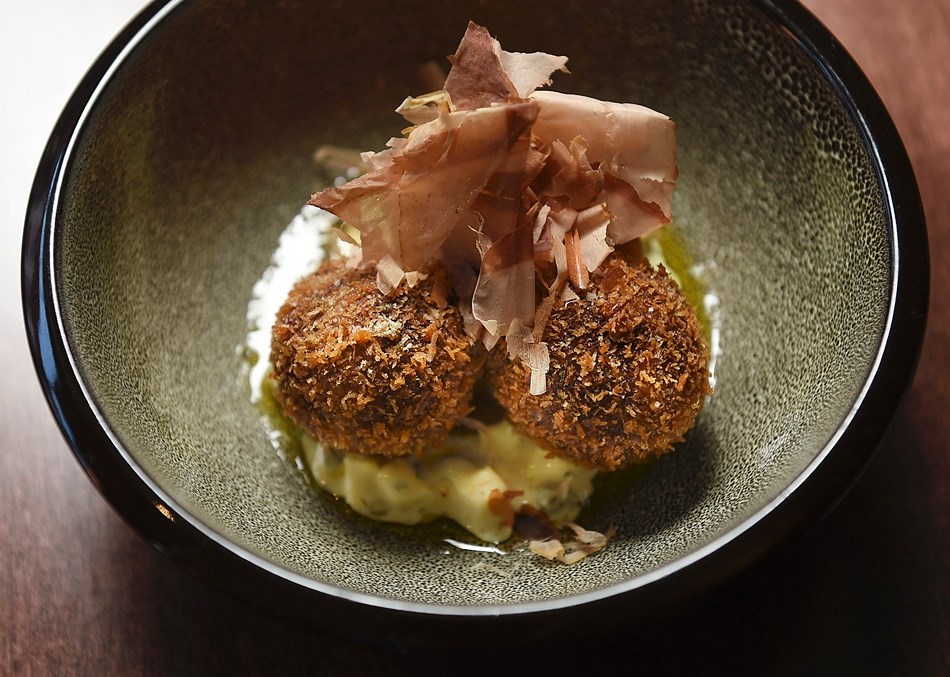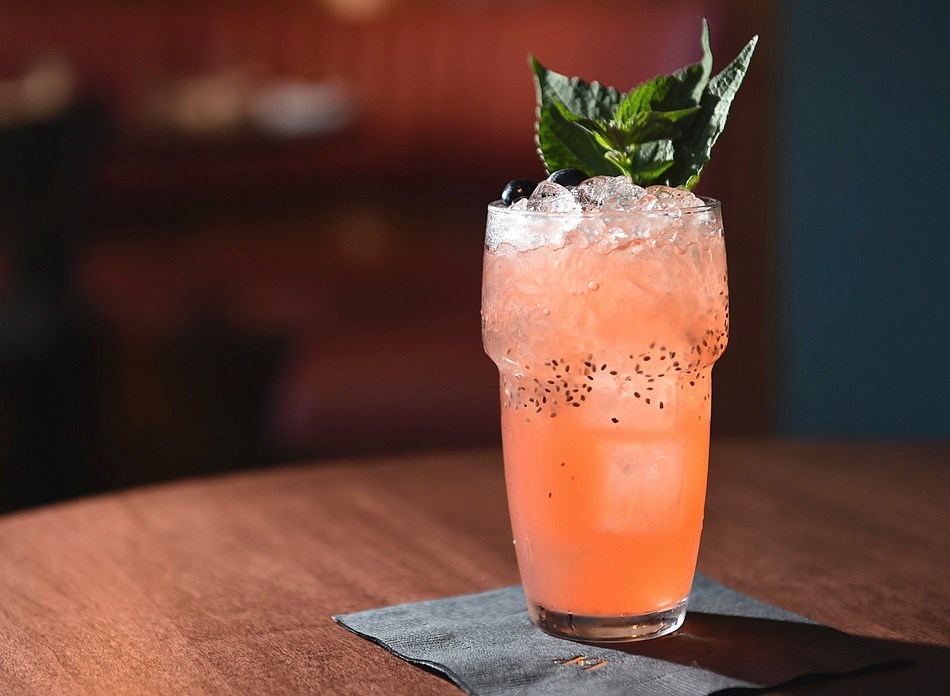 The food doesn't try too hard to throw both cultures into each and every dish, which is a good thing, but there is plenty of play. Excellent housemade sourdough ($6) comes with nori butter, which is what old-fashioned salty margarine can only aspire to be. Garlic-eggplant fritters ($14) come with a yuzu gribiche that balances the tangy and creamy elements well, although the fritters themselves were a little bland and mushy. Tonkatsu millefoglio ($21) is an absolute delight, a lovely paper-thin-layered napoleon of Humboldt squid and crispy pork cutlet. The squid is fork-tender and the cutlet juicy, and my only complaint is how quickly we scoffed it down.
There is a lack of pretension here that is wonderfully attractive. Service – after some early bumps – is excellent, prompt and knowledgeable, but the overarching impression is that of friendliness and good cheer. The music isn't too loud, the drinks aren't too strong, and the food is sustainable without it being trumpeted on every line of the menu. In fact, much of the meats and fish are bought whole and butchered in-house, meaning rarely-available items like fish collars are a regular and exciting feature.
Kissa Tanto is still in its infancy, but it's already showing all the signs of becoming a long-standing star on the restaurant scene and, perhaps, a forerunner of a renaissance for fusion fare.
Food: ★★★★
Service: ★★★★
Ambiance: ★★★★
Value: ★★★
Overall: ★★★★
All ratings out of five stars.
★: Okay, nothing memorable.
★★: Good, shows promise.
★★★: Very good, occasionally excellent.
★★★★: Excellent, consistently above average.
★★★★★: Awe-inspiring, practically perfect in every way.
Anya Levykh is a freelance food, drink and travel writer who covers all things ingestible. Find her on Twitter and Instagram @foodgirlfriday.