I can't speak for anyone else, but I've rarely had a salon facial that impresses. They're usually pleasant, but their effects tend to last just a few days – and apart from the (very satisfying) extraction phase, I can do most of the steps at home. Then there are doctor-only aesthetic treatments, such as injectables and Thermage: they deliver visible, long-term results, but for a price, and they aren't everyone's cup of tea.
Now there's a middle ground: medi-spa facials. These are given by an aesthetician – not a doctor – using machines, devices and prescription-grade skincare. They promise to give obvious, lasting results on everything from wrinkles to zits. "When it comes to spa treatments, such as regular facials, you may be left with more hydrated skin, or feeling relaxed and refreshed, but you are not going to see any real significant change," explains Natasha Cuzner. Her team at the Vanity Lab is made up of medical aestheticians, certified to perform treatments such as laser facials and chemical peels, working alongside physicians in the clinic. 
The presence of physicians at medi-spas is a huge advantage, says Dr. William McGillivray, 'Artist in Residence' at Project Skin MD, which recently opened a medi-spa called the Glow Room. "The types of procedures we're doing are a step up from typical facials, in that since we are a medical facility, we have access to more interventional peel processes, as well as light devices to augment the effectiveness of these procedures," he says. "If necessary, the patients can be given advice on more assertive procedures, such as the ones I'm involved in, whether they be laser, light or energy devices, or injectables, to suit the particular goals they have in mind with regard to their skin."
Here are some treatments to try now.
CüR Laser and Skin SilkPeel Diamond Dermal Infusion
Who it's for: Anyone. The serum is selected based on your skin type and main concern.
What happens: After cleansing, an aesthetician passes the SilkPeel device across the skin. It has a diamond tip that exfoliates, and simultaneously uses suction to extract blackheads and pull out excess dirt and oil. At the same time, serum is pushed into skin, supposedly reaching the dermal layer.
Treatment time: Around 45 minutes.
How many treatments: Four to six, two weeks apart
Results: Skin will be smoother and brighter immediately after treatment. Results of a one-off treatment last up to two weeks, and skin will gradually be better, for longer, after successive sessions.
Cost: $249 or $999 for four sessions (four-session package includes a Phase 1 Anti-Aging kit from ZO Skin Health, worth $210).
Where: CüR Laser and Skin, 2830 Main, 604-662-7368, CurLaser.com
The Glow Room Max LED Facial
Who it's for: Anyone. The wavelength of the LED light used in the treatment can be adjusted to treat everything from acne (it kills the bacteria) to redness.
What happens:The Max+ Facial is an add-on to any of the Glow Room's facials, which include cleansing and a mask (and a peel, if you like). After the facial, you lie on a bed and an LED arm automatically passes back and forth over the face, emitting the correct wavelength of light to treat your specific skin concern.  Nothing touches your skin and there is no pain or downtime.
Treatment time: 75 minutes for the Max+ Facial with peel.
How many treatments: It depends on the initial condition of your skin.
Results: Improvements to any of your main skin concerns, from acne to lack of radiance. These can last up to four weeks.  
Cost:$245 for the Max+ Facial with peel.
Where: The Glow Room at Project Skin MD, 1495 W. 11th, 604-732-000, ProjectSkinMD.com
The Vanity Lab IPL Photo Facial
Who it's for: People with redness, broken capillaries and rosacea, as well as brown pigmentation, sun damage, age spots, discolouration and freckles. The face is the most common area to treat, but intense pulsed light (IPL) can also be used on the décolleté and backs of the hands. People with very dark skin and pregnant women cannot be treated.
What happens:After cleansing, goggles are placed over the eyes and ultrasound gel is applied to protect skin. The aesthetician will go over skin with the IPL device while simultaneously blowing cold air to keep you comfortable. The treatment is said to feel like a rubber band hitting the skin. Afterwards, skin may feel sunburned and be swollen. Brown spots can darken as the pigmentation rises to the surface. It's recommended that you avoid exercise or anything that significantly raises your body temperature (for example, saunas or hot yoga) for 24 hours. Skip retinol or salicylic acid products for a week prior to and after treatment, and avoid direct sunlight for four weeks.
Treatment time: 30 to 45 minutes.
How many treatments: Generally, four to six treatments, four weeks apart.
Results: Results depend on the individual, but may include a more even complexion, reduced freckles and pigmentation, finer capillaries and less redness. You may also notice your pore size appears reduced and your skin looks smoother and tighter. Effects appear after a single session and last as long as you avoid the sun and look after your skin, though you get more noticeable results the more treatments you have.
Cost: $350 per session or $145 per session on Thursdays (for the 'Throwback Thursday' special).
Where: 1110 Hamilton, 604-669-1001, TheVanityLab.com
Vancouver Medi Spa Nanotechnology Fortified Facial
Who it's for: Anyone, since it's customized to your main skin concerns.
What happens: The clinic uses a quadruple cleansing system to remove impurities and dead skin, after which a lotion that contains amino acids, copper, silver, gold, ceramides and vitamins is applied. These ingredients are nano-sized, so they supposedly penetrate to the deepest layers of skin, where they stimulate fibroblasts (collagen-producing cells). A nourishing, tightening mask is then applied, and finally, an oxygen/serum mix is spritzed over skin.
Treatment time: One hour
How many treatments: Four at two-week intervals; thereafter, once a month.
Results: Reduced fine lines and wrinkles, and increased hydration and radiance. It also soothes acne and rosacea, and minimizes the appearance of dark under-eye circles.  
Cost:$210.
Where: Vancouver Medi Spa, 1060 Hornby, 1-888-622-1772, VancouverMediSpa.ca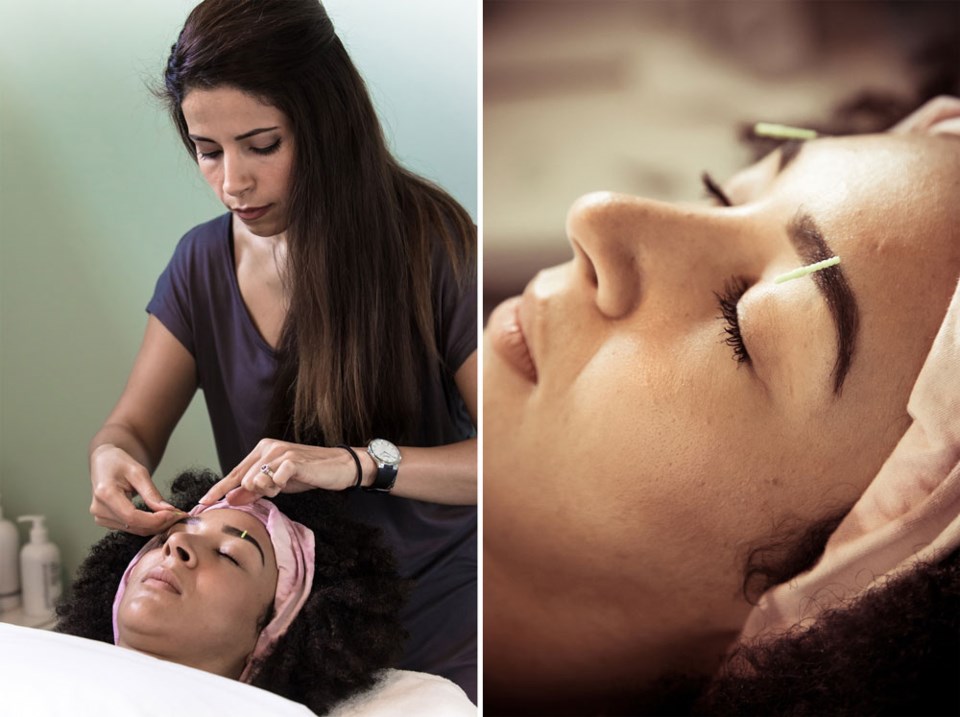 Stick a pin in it
If you prefer a holistic approach to your facial, there's another option. Cosmetic acupuncture treats you both inside and out, so you look and feel younger, and is completely customizable. It can also improve mood, focus and sleep, and reduce headaches, says Mahsa Ahmadi,the resident registered acupuncturist at Collective Skin Care.
Her treatments last 60 minutes or more, including consultation to identify your needs. There can be minor sensitivity during treatment, which dissipates immediately, and no downtime afterward. Ahmadi says results vary according to what you're treating, but you get immediate temporary reductions in fine lines and, with more treatments, longer-lasting effects – even permanent results on conditions like acne scarring.
It's not suitable for people with colds or flu, active herpes breakouts on the face, active migraine, or high blood pressure. If you're pregnant or on blood thinners, check when you book.  From $145 for an initial consultation and treatment (75 minutes), at Collective Skin Care, 1268 Pacific, 778-228-4275, CollectiveSkinCare.com.
 • Aileen Lalor is the resident beauty expert at VITADaily.ca, Canada's premiere fashion and lifestyle newsletter. For more stories like this, check out the website and subscribe.