Over the weekend, the quality of snow tweets coming out of YVR airport caught our attention. Not only were they keeping people well informed of important airport business — clear runways, delays, traffic conditions coming on and off of Sea Island — but they were owning the #snowmageddon space with memes, snow drawings and soulful Justin Bieber gazes. 
It got us wondering, who are these people daring to have fun behind the scenes of Canada's second busiest airport?
Airports receive a staggering 100 million+ tweets per year (few of them good), making it a job most social media specialists would run from. But it turns out that, as ambassadors for B.C. by proxy, YVR's team is made up of people who genuinely care about making sure that Vancouver and Canada are well represented to the world, while still taking the time to engage their local audience, as well as fuel some spirited rivalries with other airport Twitter feeds.
We caught up with lead social media strategist Christopher "Yes, That's A Real Job Title" Richards to find out more about life at YVR.
Is this kind of levity generally weather dependent, or do you try to make your followers laugh all the time?
CR: Yeah, I think, regardless of the topic, if you look back through our feed, we certainly try to inject a bit of humour into our messaging.
Our goal is to try to inform the community as best we can. Whether it's snow, or really anything, injecting a bit of humour into that messaging can really help it get in front of more eyeballs. There's a fine line there, obviously — a balance we need to strike — but we certainly try to have a bit of fun, because we work at a really interesting and dynamic place.
The fire alarm sounding in domestic terminal is no cause for concern for passengers. Sorry for the racket. pic.twitter.com/ghtzYNPE7j

— Vancouver Airport (@yvrairport) February 24, 2018
What is it like to run the social media for an airport?
I'm part of a much larger marketing and communications team that works extremely hard to communicate with the public everything that's going on here at the airport. From changes in parking, which are happening this week, to anything snow related/weather related happening. And then just community outreach trying to sort of just let people know who we are, that kind of thing.
I also have Andrea Pham, the communications specialist in social media, who I work with very closely. And then we have another set of operations centre agents who monitor things in the off hours to make sure we're really there for people 24/7. We are a 24/7 airport, so we make sure we're there for people if they have anything they need within the terminal.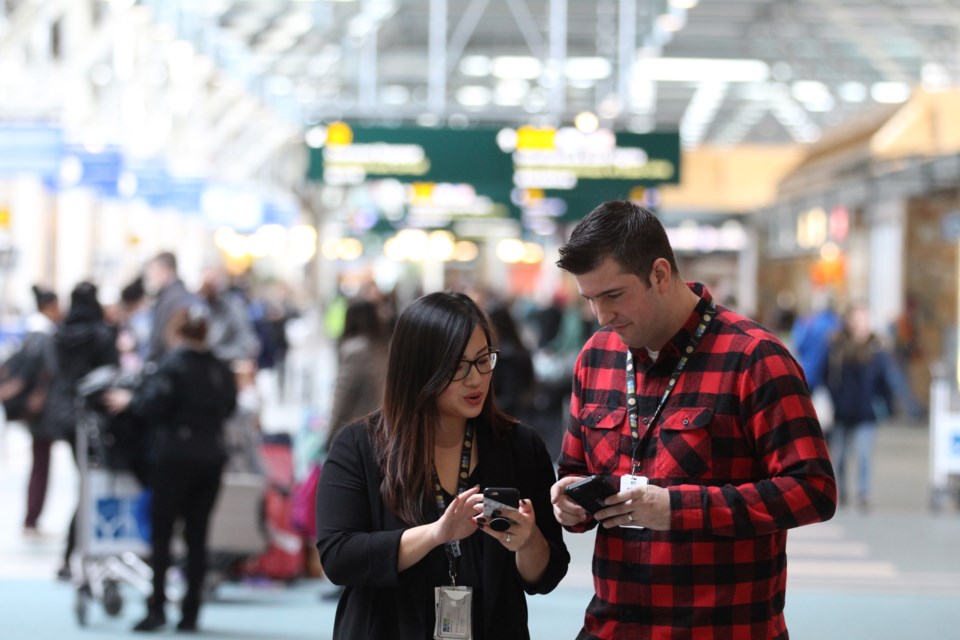 How do you know when something really wild happens somewhere else in the airport?
That all speaks to our bigger organizational structure. We communicate very well internally as to what's happening. We're looped in with our operations people, with our customer care team, it's all integrated up here into the Vancouver Airport Authority. If there's anything interesting happening at the airport we're usually given a heads up, and we can go down and try to capture that content here on site and make sure we're sharing anything that's pertinent to the public, as well as the more fun stuff.
I've worked for the airport for a long time and it really is this incredible place — this sort of nexus of the human experience, where people are welcoming family from all over the world, or sending loved ones off on an adventure. There really is a ton happening here, and it's hard to capture it all, but we try to capture as much as we can and share that with our community.
Canada Goose-bumps as the crowd at YVR serenaded our Olympic athletes upon returning to Vancouver! Welcome home to our incredible Olympians! pic.twitter.com/EHUEdiih6v

— Vancouver Airport (@yvrairport) February 26, 2018

What's the response generally like? Do people ever give you a hard time about the jokes and the joviality?
You know, not everyone's travel experience is incredible at all times, so it's more important than ever to be able to step in and assist someone who's maybe not having the best time. At the end of the day, our ultimate goal is to deliver exceptional customer experiences, so if someone is not having that, I really want to hear from that person, and we really want to be able to step in and help. So yeah, sometimes people do have issues when they're at the airport, but we relish the opportunity to try to improve their experience while they're here on site.

If someone follows your Twitter feed, what can they expect to find?
We try to redirect to the airlines for flight-specific stuff, and we focus on airport operations. So, certainly if you're worried about what's going on at the airport, we're going to tell you. Snow is a good example: the runways are clear, flights are taking off and departing, you might see a few delays. We can speak to anything airport related. Especially Sea Island related.
We are ready to dive in to this fun-filled Friday that is calling for lots of snow! Check with airlines for flight info and leave plenty of time to get to the airport if you are flying out of YVR today. #YVRSnowOps pic.twitter.com/ZFiQAqosvf

— Vancouver Airport (@yvrairport) February 23, 2018

Why is having a strong, engaged social media presence important to the airport?
That's a big one [laughs]. Essentially, we want to be able to deliver the same level of customer care online as we do in person. … If you're travelling through the airport and you're having a tough time with something, and you need information or assistance, we want to be able to be there for our community every step of the way.
In the event of something like snow operations, which is a bit irregular, we want to make sure that the community is well informed so we can get people on their way as quickly and safely as possible. And we also want to be seen as as member of the community.
People use YVR as sort of a stand-in for the word "Vancouver," and we love our community and we want to be able to have that open-minded dialogue between us and the public.
We are together now. pic.twitter.com/FSP9cOh2Qg

— Vancouver Airport (@yvrairport) February 24, 2018
It's a level of transparency you don't get from a lot of large organizations — the behind-the-scenes photos, etc. Is there anything you're not allowed to show?
We try to be as open, honest and timely as possible with our communications, so aside from some security processes, you can see that we're allowed to pretty well share the airport experience with the public.

Are you in competition with any other airport Twitters?
This is a good one, because I do have some pals out there. Orlando (MCO) has fantastic social media. We had a little bit of a running thing with Portland — we had a couple bets. And we just lost a bet to Las Vegas Airport, actually. The Golden Knights beat the Canucks, so I owe them a YVR-themed [hockey] puck that doesn't even exist yet. We're going to get that made and send it down to Vegas airport.
We see your fancy YVR puck and raise you a (as yet nonexistent) LAS version. #AirportTwitter pic.twitter.com/JM132sHcoV

— McCarran Airport (@LASairport) February 22, 2018
And if you look up hashtag #AirportTwitter, it's this weird little subculture of airport social media. I've never met any of these people in person, but we're like, best friends on Twitter.
The 100-meter dash (with luggage). #AirportTwitter pic.twitter.com/gE7cTEu5qa

— Vancouver Airport (@yvrairport) February 13, 2018
And what makes an airport an amazing place to work?
I've worked here for about 15 years, and it's its own little community out here. It might sound a little cheesy, but we truly care about getting people where they're going and making sure that when they get home that they feel like they're home.
We represent Vancouver to the world and we connect B.C. proudly to the world and we take that seriously. We're super proud to be, sort of, the first place people see when they get to Vancouver or to Canada. We're also very proud to see our community off to wherever they are going, as well.
We have this tremendous sense of place at YVR, so that even when you're at the airport, you feel like you're in Vancouver, you feel like you're in B.C., you feel like you're home. We really want to create that connection to the community so that they trust their airport.