As the sun shines through the windows of a common room at Youville Residence on Heather Street, five residents seated around an over-sized drum elevated by a stand use sticks to keep time to The Happy Wanderer, a song made popular in the 1950s after the BBC broadcast a version performed by a German children's choir made up largely of war orphans.
As certified music therapist Lorri Johnson sings the famous lyrics, "A knapsack on my back..." the residents bang along with what looks like traditional drumsticks with hockey pucks attached to the end. Besides Johnson, the group is joined by a care aid who, when needed, jumps up to wipe a nose or return a wayward instrument. Scattered across the room are walkers, bongo drums, maracas (rumba shakers), tambourines and percussion bells, which all are put into use at some point during the afternoon. There are smiles all around as the residents sing and play. This is what music therapy looks like at Youville, a multi-level care facility home to senior residents and older adults needing specialized mental health services operated by Providence Health Care.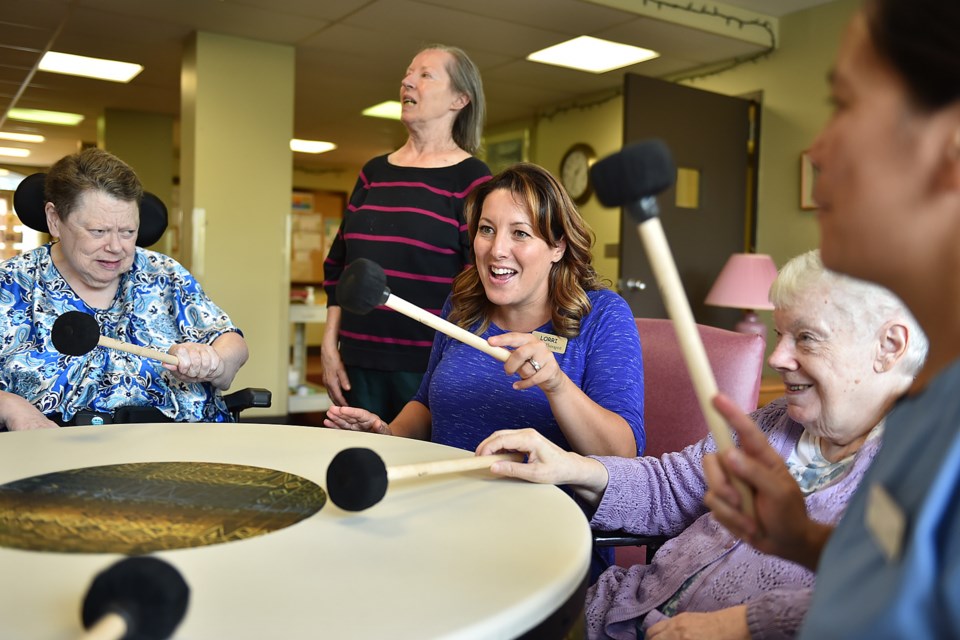 Johnson says the sessions are about much more than simply playing instruments and singing.
"I try to achieve non-musical goals using music. Those include socialization, self-expression, listening, cognitive and physical," says Johnson, who adds she was heavily influenced by her musical parents. While her dad played guitar and sang with her and her sisters, it was her mom who taught her how to "sing spontaneously."
According to the Canadian Association of Music Therapists, music therapy is a discipline in which credentialed professionals "use music purposefully within therapeutic relationships to support development, health, and well-being. Music therapists use music safely and ethically to address human needs within cognitive, communicative, emotional, musical, physical, social, and spiritual domains."
But health benefits aside it's obvious everyone taking part on this day is having fun, including Harold Stubbs who, along with best friend Marlene Stasyk, was banging drums and playing bells. Stasyk says after the 92-year-old Stubbs moved into Youville two years ago, the music sessions encouraged him to socialize.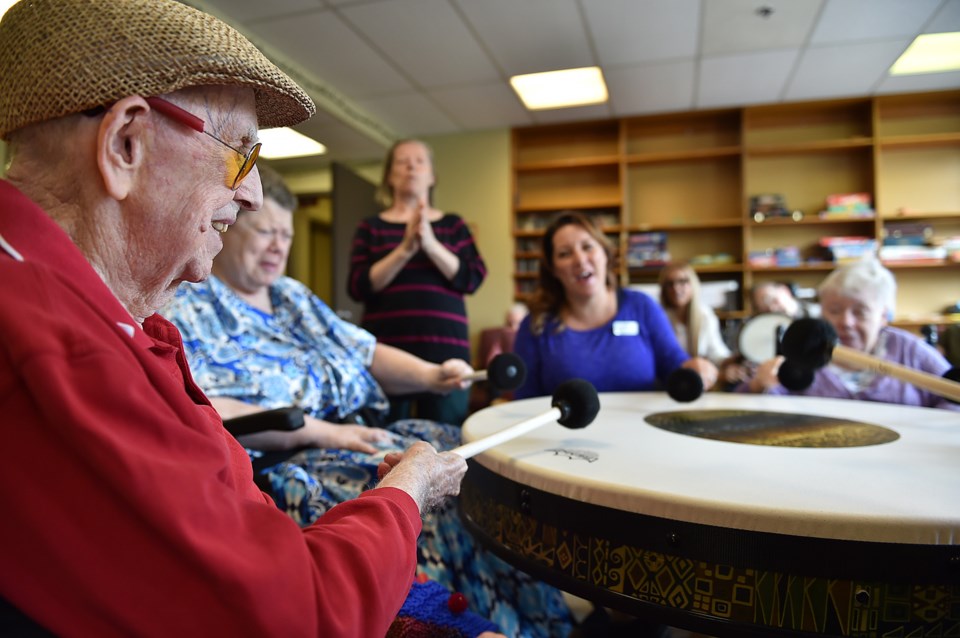 "The drum circle really helped him get to know people," she says of the former airplane mechanic who is largely non-verbal.
Johnson says many new residents to Youville insist they can't sing. What she's found is that as soon as a resident feels they're in a safe environment, they happily join in.
"We also have a Chinese senior here who doesn't speak English, but sings along with us," says Johnson. "Music breaks down barriers and music therapy helps people with Alzheimer's, children and people with head injuries, anyone who's been traumatized. But my heart has always been with seniors."
Breaking into the much-loved You are my Sunshine, Johnson is quickly joined on the drums by the residents who sing along to the familiar tune. It's the smiles around the drum that tell the real story.
"We're definitely like family now," says Johnson.
sthomas@vancourier.com
@sthomas10