Sen Pad Thai
Open daily, 10am-7pm
You might think that the opening of a new food counter on Granville Island isn't highly newsworthy. And, maybe, if it was another hot dog stand or casual lemonade and muffin stop, you might be right.
But, when the mind behind the food is celebrity chef Angus An of Maenam, Longtail Kitchen, Freebird and Fat Mao fame, the hype begins, the chatter spreads like whipped butter, and the anticipation has probably caused more than a few shoes to need a quick drool-removing polish.
Sen Pad Thai goes back to An's Thai roots and focuses on, you guessed it, pad thai, a popular street food. Even better, An doesn't focus on just one region, instead choosing to explore iterations of pad thai from all over Thailand.
Located inside the Net Loft building directly across from the public market, the counter-service stall is located at the centre of shopping area, where a skylight illuminates the goodly number of tables. It's definitely got that upscale food-court feel, thanks to wooden chairs and tables and the high-end boutiques that ring the space.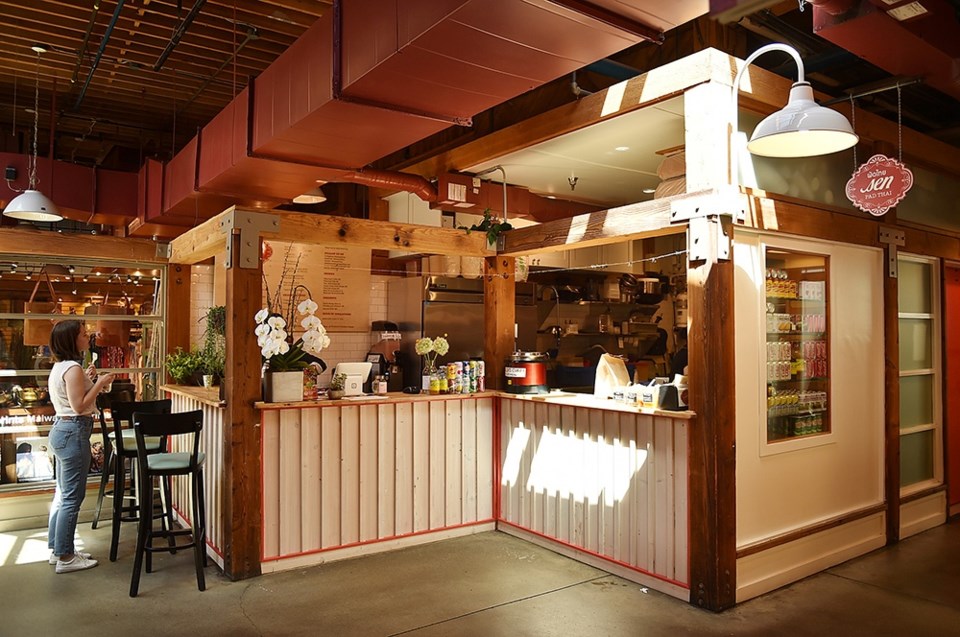 Everything is served to-go, but compostable bowls are available for the asking. Besides, with portions this large, you'll likely want the box to cart home your leftovers.
At last visit, there were about nine rice noodle or sheet dishes, ranging from the excellent pad pu sen chan ($15) from southeastern Thailand, topped with fresh crab, flecked with a little chili paste and garnished with green onion. It's light on the tamarind and fish sauce, which makes it a little blander that you might expect, but any stronger and it would overpower the delicate flavour of the crab. It ends up striking a perfect balance and is brightened with the requisite lime.
The northern-style pad mi korat ($13) is full of stronger, richer flavours. The noodles are cooked in pork fat with lots of garlic, making for a punchier experience.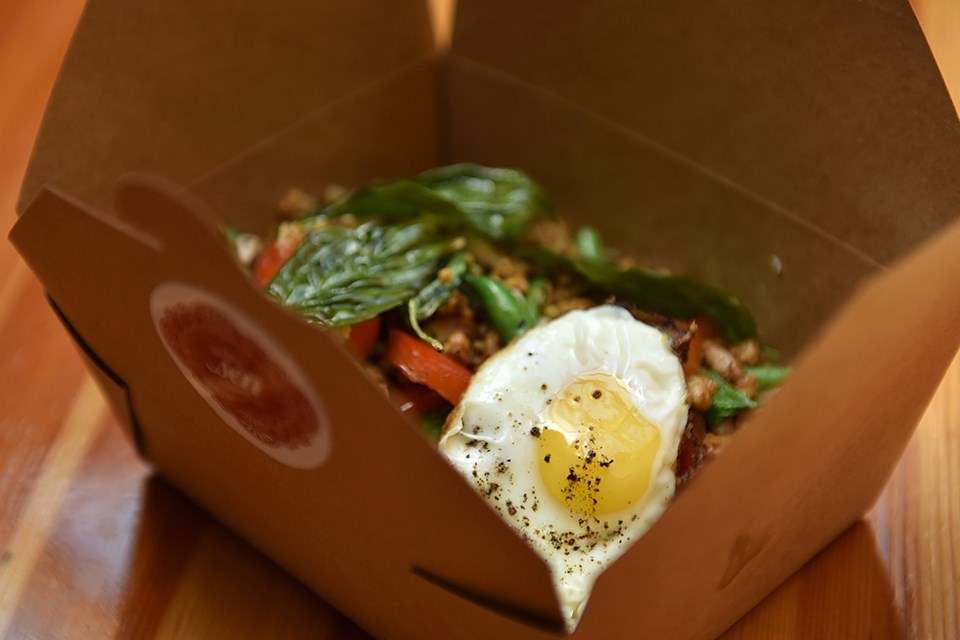 Pad thai isn't the only dish on the menu. Stir-fried rice with Chinese sausage ($10) or the excellent and delicate Thai omelette with crab and sausage are also winners. Add a fried egg to the former for $2 for extra hijinks.
Sides include finger-lickin' good crispy ribs ($10) or chicken wings ($8) with Thai garlic. There are also sidestripe prawns ($12) while they're in season, as well as oyster pancake, papaya salad, and An's famous roti and curry.
The roti also comes as a dessert ($6) with sliced banana and condensed milk drizzled over top, à la Longtail, which I highly recommend.
Otherwise, the black sticky rice in pandan and coconut ($6) is a great sweet finish, along with one of the rotating fruit slushies. Yes, slushies. Seriously.
All ratings out of five stars.
Food: ★★★★
Service: ★★★
Ambience: n/a
Value: ★★★★
Overall: ★★★★
Star guide:
★: Okay, nothing memorable.
★★: Good, shows promise.
★★★: Very good, occasionally excellent.
★★★★: Excellent, consistently above average.
★★★★★: Awe-inspiring, practically perfect in every way.
Anya Levykh is a food, drink and travel writer who covers all things ingestible. Find her on Twitter and Instagram @foodgirlfriday.