With just a few days left until Christmas, the city is, as always, full of people desperately trying to find that oh-so-perfect last-minute gift for a loved one – and I'm among those hustling procrastinators.
This year, however, after being involved with Yellow Pages' Shop the Neighbourhood initiative, the goal of which is to draw attention to the stellar small businesses in Vancouver, I decided to task my family with purchasing our gifts only from local, independent boutiques. Instead of taking advantage of the ease of online shopping or braving the malls, I hit up many of the amazing artisanal markets open during the past few weeks. I spent afternoons seeking out gifts for those on my "nice" list and, at the same time, getting to know the creative minds that made each of them. Although it required a little more work, I feel rewarded by the choices I made, and I look forward to sharing them – and the stories of where they came from and who made them – with my family come Christmas morning. 
If you still have a few names not yet crossed off on your shopping list, one local brand I suggest you hit up is Piton Pottery. With each piece made by designer Coral Patola, the collection embraces the nostalgia of old-time ceramics with the modern need for functionality and efficiency. From family members to neighbours to party hostesses, Patola has every gift-giving need covered. I spoke to her about how she got started and what keeps her inspired.
Tell our readers a little about yourself.
I'm an artist working with clay, and I was born and raised in Kitsilano, where my studio resides. I'm a recent graduate of Emily Carr University, with a major in illustration. I've always been the kind of kid who likes to play in the mud, so it's no wonder why I was attracted to working with clay.  
How did you get started in pottery and what led you to where you are now?
I originally started working in ceramic sculpture back in high school and dabbled in it up until university, which is when I fully dove into the medium. Ceramics quickly became my whole life. I still create sculptures, but recently I've devoted the majority of my time to making utilitarian ceramics and pottery. I believe there's a beauty in using a handmade object every day.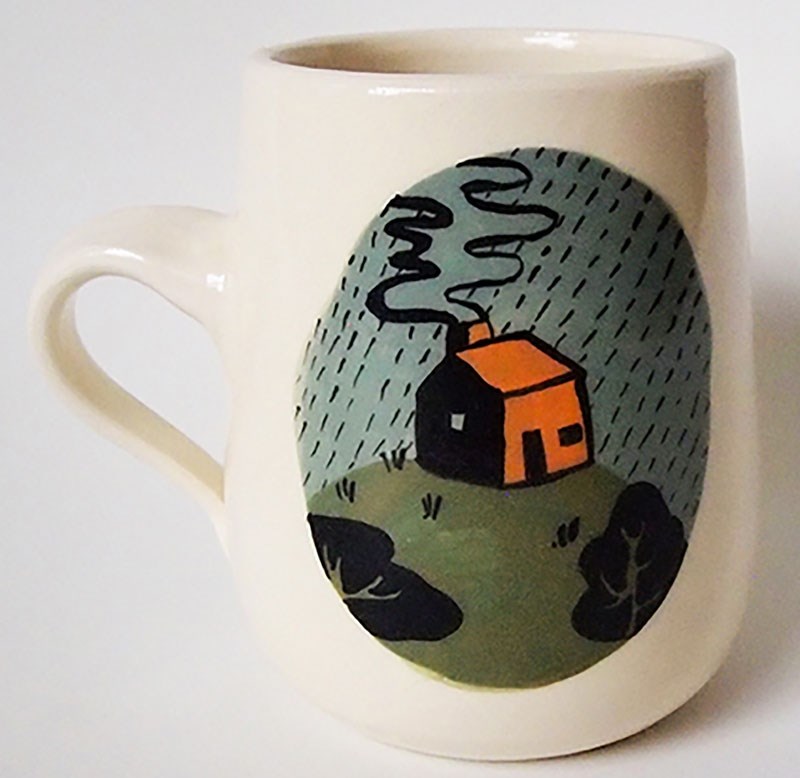 What's your favourite accessory?
For my home, it's more a piece of hardware: Right now I'm all about the cup hooks. I screw them in on any and every underside of shelving. I live in a tiny apartment which is only a step up from living in my van, so figuring out ways to save on counter and shelf space is essential for me. I hang all my mugs from hooks – this way, I always get to see them, too, instead of hiding them away in a cupboard.
Do you have any predictions for the future of your industry?  
I believe right now we're in this huge resurgence of handmade goods, where things are made locally, sourced sustainably, and sold in support of our local artists. I think no matter what kind of art you're producing under this umbrella, it's always creating more awareness and support for our local arts community. Ceramics and pottery right now seem to be booming, and I'm excited to be part of this industry that's becoming popularized and appreciated again. It seems like we're celebrating the reasons why we're different from mass-produced goods, rather than trying to become more mechanized. I feel like this trend will only continue as more and more people realize the beauty in imperfections and the organic qualities of handmade goods.
Finish this sentence: My day is not complete without…
All-consuming kiln anxiety. This is when you're firing your kiln and nothing you can do will stop you from worrying about how your works will turn out. Or if the entire kiln is going to explode, with all your hard work being obliterated or melted down to a pool at the bottom.
Is there a song or a musician that inspires you to create?
Black Sabbath. It seems contradictory to the calming, almost meditative action of [working] on the potter's wheel, but this is the music that really gets me moving in the studio. It's a common occurrence for me to be head-banging and singing along in my studio while I wedge clay.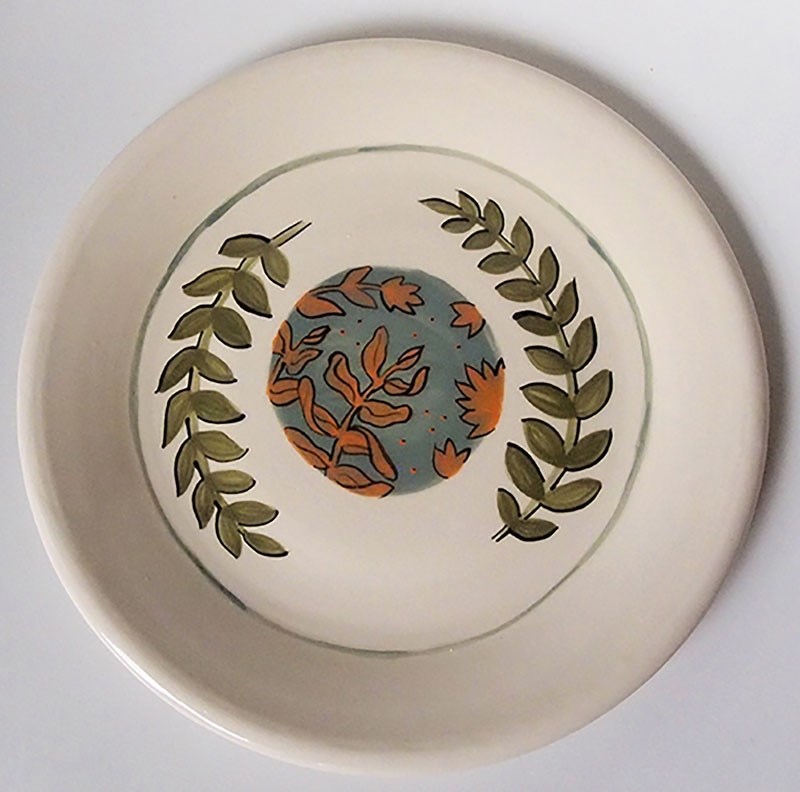 Is there one area of your craft you find especially challenging?
I'm clumsy and a bit of a procrastinator, which are [attributes] maybe not ideal for working with clay. I see many of my pieces come to their demise mostly by me dropping them or bumping them off the table. As well, clay is about precision – there are precise times that you need to be doing certain tasks with it, when it's more wet or when it's becoming drier. Through this process, you learn to not become too attached to anything until it's completely finished, I think this is where I benefit from my easygoing personality.
If you could speak to a roomful of people who are considering a career in the arts, what would your advice be? 
Go to university. It sounds like I'm a nagging parent, but there's something different about artists who go to post-secondary. I know it sounds like a waste of money and time, and I definitely didn't appreciate it or enjoy it. And I know a BFA sounds worthless and like you won't get a job afterward, but it not only helps with basic jobs, but going to an arts university really pushes you. It accelerates your technique and ability. You can only go so far on your own, understanding things through your own eyes. Going to an institution forces you to see your own work in ways you'd rather not recognize, but it makes you better. If I hadn't gone to National Portfolio Day and been offered a spot at Emily Carr, I don't think I would have gone to university. Anything is worth a shot. 
Artistically, what is your favourite part of the city?
When you're driving down a hill going north, and you can see the beach, downtown and the North Shore Mountains all at once. It's breathtaking, and the geography of this city is really awe-inspiring. A lot of the imagery I use on my ceramics is referencing the beaches or the mountains. I'm truly so inspired by the Pacific Northwest.