Green life has sprouted from the metal ashes of Lower Lonsdale's bygone shipbuilding era.
A neighbourhood once consumed by heavy industry is now starting to flourish with local shopkeepers cultivating fruits and vegetables destined for the food bank. This area has been christened as the Shipyards Garden District.
The idea to give business owners a green thumb while warming their soul had been gestating with Lifespace Gardens co-founder Wes Hooper for a while.
He saw his opening after the Lower Lonsdale Business Improvement Area got the green light a couple years ago and pitched them on the idea of mobile micro-plots.
"And they absolutely loved it," says Hooper, who has since partnered with the Lower Lonsdale BIA on the project. 
The innovative concept sees Lower Lonsdale businesses become the caretakers of self-watering mobile cedar garden boxes created by Lifespace Gardens which is based on Esplanade.
Containing a mix of fruits, vegetables and flowers, each box in front of the shops is engraved with the LLBIA logo and a distinctive design inspired by Lower Lonsdale's shipbuilding history.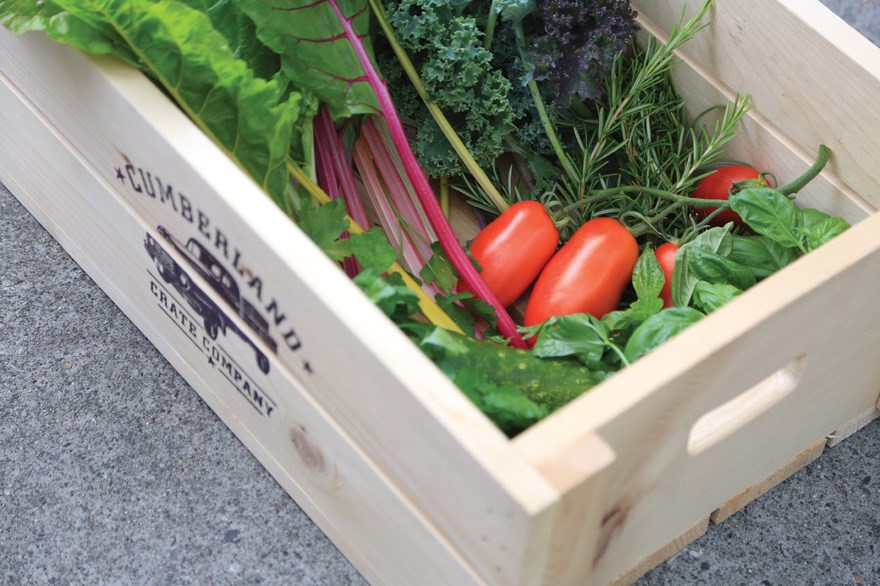 Kale, Swiss chard, basil, tomatoes and cucumbers are among the produce being grown in the Shipyards Garden District. A green bounty is picked weekly for the Harvest Project food bank to provide fresh organic produce to North Vancouver residents in need.
Hooper isn't worried about people being tempted to help themselves to the fruits and vegetables growing on the sidewalk.
In fact, all the gardens have a sign that reads: "If you're hungry, take a bite."
"If someone wants food, they need it," says Hooper. "If they see a tomato that's ripe and they want it – then go for it. At the end of the day, that's what it's all about: cultivating that sort of sense of community."
So far 20 Shipyards District business owners have been loaned a mobile box, with appointed Garden Champions charged with maintaining them. The job involves rolling the gardens out in the morning and back indoors at night and filling the water reservoir.
Hooper's company has even taken most of the guesswork out of watering which – as many have learned the hard way – is a delicate affair.
"Remembering to water is quite the task and if you mess it up it can be quite discouraging," says Hooper.
Lifespace Gardens has patented a system whereby they have created a hidden reservoir below the soil that only needs to be filled once a week.
"And it allows water to wick up into the top soil naturally through capillary action," says Hooper, explaining how Lifespace emulated this science seen in nature and transplanted it into these urban gardens.
Mo's General Store owner Mithra Sawyer was bestowed with one of the mobile gardens at the corner of Lonsdale and Esplanade and says they have been a boost to the business community.
"Yeah, they're awesome," says Sawyer. "We have comments every day and people just loving it."
The funny thing, says Sawyer, is that passersby have been too timid to pick the herbs and veggies.
"I'll say to people walking up: 'Do you want a little bit of basil to bring home? Help yourself.'"
Lifespace has planted permanent garden boxes on the patios of some restaurants in the neighbourhood, with the produce ending up on diner's plates.
Some of the colourful planters have also cropped up in Lower Lonsdale's Fun Alley.
Lifespace is currently involved with the installation of eight permanent garden boxes on City of North Vancouver land, the first of which was put in last week at the foot of Lonsdale.
After surveying the new green hue of the neighbourhood, Lower Lonsdale BIA executive director Greg Holmes is tickled pink.
"Where most places we're constantly being told to not pick the flowers, stay off the grass … our initiative encourages people to pick and eat the fruits of our collective labour," says Holmes.
"Recently, Lower Lonsdale has blossomed into one of the most lively, thriving urban centres in Metro Vancouver, and we are proud to be enhancing the look and feel of our streets while simultaneously doing good for our community, supporting local business owners and bringing our close-knit neighbourhood even closer together."
The Lower Lonsdale BIA has invested $14,000 for the mobile business garden boxes, which should last a minimum of five years. Annually, the BIA will contribute another $5,000 for maintenance and garden lesson presentations.
"As we install more Shipyards Garden District boxes we'll be rolling out lessons about how easy it is to grow edible produce in an urban environment," explains Holmes.
The goal of the green initiative is to branch out to the more than 600 businesses in the Shipyards District, bordered by Forbes and St. Georges avenues to the east and west respectively and East Fourth Street to the north.
"It's just building on that sense of community in a big way," says Sawyer.