It was in July 13, 1980 when farm worker Pritam Kaur Hayre was fired from her job picking fruits and vegetables at Sabaloy's Farm in retaliation for her participation in a march and rally in Clearbrook the day before.
According to a history of the farm workers movement in the Fraser Valley of the 1970s and '80s complied by researchers at Simon Fraser University, the Canadian Farmworkers Union (CFU) held the protest to demand an end to the farm labour contract system used to hire workers. At the time, contractors who did the hiring were keeping between 25 to 40 per cent of the farm workers' wages. Shortly after, Hayre was featured on the cover of a CFU pamphlet with a headline that reads, "Farmworkers need your support."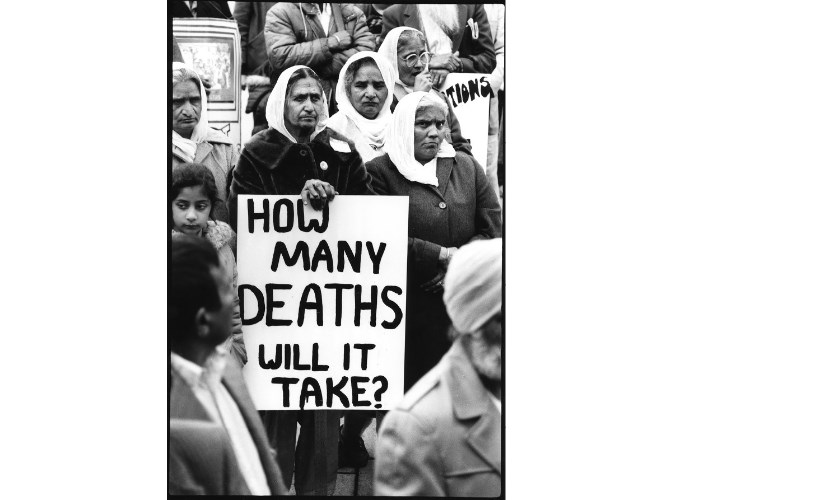 Fast forward to 2017 and Hayre is sitting in a meeting room at South Vancouver Neighbourhood House, a white scarf covering most of her silver hair and small gold hoops adorning her ears. With the help of interpreters Ramesh Kalia and Chindo Ojala, the soon-to-be 92-year-old reminisces about those years and her early days in Canada. In 1975, at 50-years old, Hayre moved to B.C. from Punjab, India.
"I picked berries for 40 years," says Hayre. "I couldn't speak the language, but I was strong. I'd pick 50 flats of raspberries, blue berries, blackberries, strawberries and cranberries. My brother almost drowned when we were picking cranberries, but I pulled him out of the water."
Hayre's husband passed away when she was just 28, so when her son offered to sponsor her to come to Canada she agreed. But her new life in Canada did not go as planned. Hayre says her daughter-in-law wanted her to stay home to look after their children instead of going out to work and when she refused she was forced to leave their home. With no money or resources Hayre says there were days she was so hungry she ate raw potatoes from the farms where she worked across the Lower Mainland, including in Abbotsford, Langley, Richmond and Surrey, often 12 hours a day, seven days a week.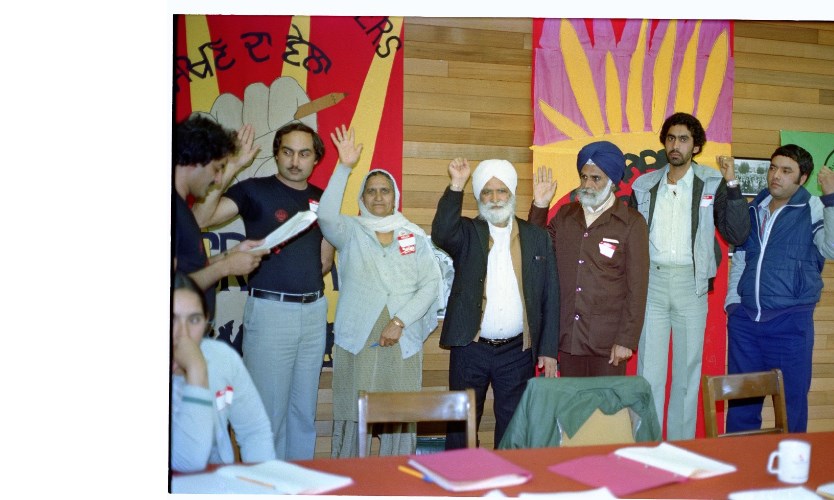 Hayre became involved in helping to form the union after some young women came to her complaining of sexual harassment.
"The young girls said the farmer had no pants," Hayre said with the help of her two friends and interpreters, who gasped as she told her story. "So I went to see him. He threatened me with a gun, but I said, 'I'm here and I'm not going away.'"
It was then, in 1980, when Hayre became a symbol of strength to dozens of other workers who began to rally around her. Hayre then began her work helping the CFU by attending protests and rallies fighting for minimum wage and basic workers rights, including access to clean water and daycare. Hayre also helped organize a boycott of one of the farms, blowing a horn to gather the 200 workers to stand up against the owner. Led by Hayre, the farm workers took their case to court and won a cash settlement, which was divided amongst them. Previously the workers were making less than $2 an hour.
As Hayre speaks it's obvious the years of hard work and sorrow have taken their toll. She's lived in the same basement suite off of Fraser Street for almost 40 years with no TV or phone, but at almost 92 still loves to garden — and pick berries.
"Now I pick berries for fun," she says. "Or if someone needs extra money, I pick berries for them too."
Hayre is also quick to help worthy causes outside of her community as part of the South Asian Women's Wellness program, which meets at South Vancouver Neighbourhood House every Monday. It's here she keeps up with news from here and India, takes part in Tai Chi classes and socializes with other women over tea. Hayre also attends the nearby Sikh temple.
"If someone comes and needs help, I'm there," she says.
@sthomas10