When Harvinder Sihra walked into his old Burnaby high school this week, he had a flashback of his younger, scrawnier, teenaged self arriving at school in the mornings more than 15 years earlier.
"Every morning when I used to come in, I'd have my wrestling music playing, and in my mind I was at a wrestling arena," he said.
For Harv and his older brother Gurvinder, professional wrestling was an escape to another world, full of larger-than-life characters they passionately wanted to be a part of.
"Besides hockey, that's all we really watched," Gurv said. "We watched it as a family. It wasn't just the two of us watching, dad, mom, the whole family."
The duo practiced wrestling moves in the Moscrop Secondary School lunchroom and told their friends they wanted to be stars on WWE, the biggest professional wrestling promotion in the world.
"Everybody used to laugh. They thought it was so far-fetched," Harv said.
Ahead of #WWEVancouver, I went to my old high school and found my old locker. I was that kid in high school who told everyone what I wanted to be. Check out that @brethitmanhart shrine! #tbt @WWE pic.twitter.com/zlxPJWTUJh

— Singh Brothers (@SinghBrosWWE) February 13, 2020
This Wednesday, however, the duo stood in front of a gym full of Grade 8 to 10 students to talk about how grit and resilience helped them to do just that.
Gurv and Harv Sihra, who now wrestle under the ring names Sunil and Samir Singh, a Bollywood-inspired tag-team duo, earned their first WWE contract in 2016.
But it had been an uphill battle from the start to get there.
"We faced a lot of hardship, obstacles, especially being smaller guys trying to survive in a big-man world," said Gurv. "Most wrestlers that you see are six-foot-five, 200-plus pounds." 
(Gurv is five-foot-10. His brother is five-foot-nine. Together they weigh just over 300 pounds.)
They began wrestling for smaller promotions in 2005, including promoter Tony Condello's so-called "Death Tour" in Northern Manitoba.
"We got all the way up north to the reservations, driving 72 hours," Harv said. "Sometimes we'd be in the car for five days, but we never had a grain of doubt that we were doing whatever it takes to make it."
Between shows and small towns, the duo would send their resumes and photos and videos of their matches to WWE.
In 2008, in an attempt to wow WWE recruiters with their work ethic, the brothers flew to Toronto, lied their way backstage at a show at Air Canada Centre and started handing out their highlight videos and photos.
"They told us to get the hell out and never to contact WWE ever again," Harv said. "That broke our hearts."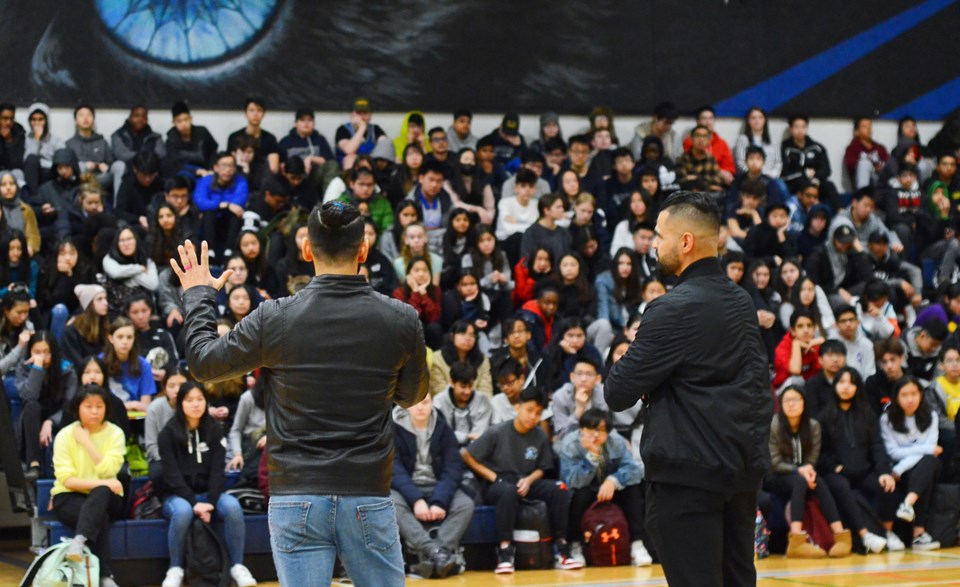 Six years later, they said they got a chance to give WWE bigwig Paul Michael Levesque (aka Triple H) a 30-second elevator pitch.
But that wasn't their big break either.
Levesque recognized the pair as the "Bollywood Boyz" – their ring name at the time – and said, if they really wanted to make it as a Bollywood act, they should go to India and break into the movie industry there.
Harv gave it a shot, even though he didn't know anyone in the movie industry in India, he said, and eventually landed a small, uncredited role in Brothers, a 2015 film starring Bollywood superstar Akshay Kumar.
But his goal was always WWE, he said.
In June 2016, the Sihra brothers finally got their big break with an invitation to compete in the promotions first ever Cruiserweight Classic, a 32-man tournament in Orlando, Fla. showcasing up-and-coming talent from across the globe.
Today, wrestling for WWE is the duo's full-time job.
"You can't take no for an answer," Harv told Moscrop students.
Besides determination, the brothers stressed the importance of hard work and resilience.
"You take your failures and you use them to your advantage," Gurv said. "You learn something from them."
The Sihra brothers' talk at Moscrop is one example of what Burnaby schools are doing to support mental health skills and social emotional learning, according to the school district.
"Increasing understanding and support of mental health and well-being is a key goal in our strategic plan," stated a district press release.
To find out more about what the district is doing to promote mental health in schools, visit https://tinyurl.com/SD41mentalhealth.