Gentrification doesn't spread in an even wave. The 900- and 1000-blocks of Main Street are proof of that.
While some post-millennial condo developments have sprouted up, this small stretch of road is still dominated by a triangle of historic hotels: the American, Cobalt and Ivanhoe, which date back to the first two decades of the 20th century.
Amputation from Chinatown by the Georgia and Dunsmuir viaducts has long lent a stubborn, gritty edge to this area. Importantly, that's kept real estate prices and rents relatively low, which in turn has fostered an incoming wave of restaurateurs and entrepreneurs eager to find a corner of Vancouver to call their own – while they can.
Now a hotspot for the city's bubbling restaurant scene, the two blocks are home to draws like The American pub, Bodega on Main, Boxcar, Pizzeria Farina and Torafuku. But the slow change began back in 2008 when Robert Belcham and his partners set up Campagnolo next door to the Ivanhoe.
"You have young entrepreneurs who want to start a business, so they go to a part of town where the rents and leases are the cheapest," Belcham says. "So this is how these disenfranchised neighbourhoods get reinvigorated. ...They want to start something interesting but they don't have much capital to start with. They start with something small. And that's what we did."
Belcham and his partners bought the building outright with the aim of having Campagnolo pay it off. So far, it's working.
"We were young and idealistic, it was a 'if we build it, they will come' kind of idea... in hindsight it was a massive risk, but it's definitely paid off for us."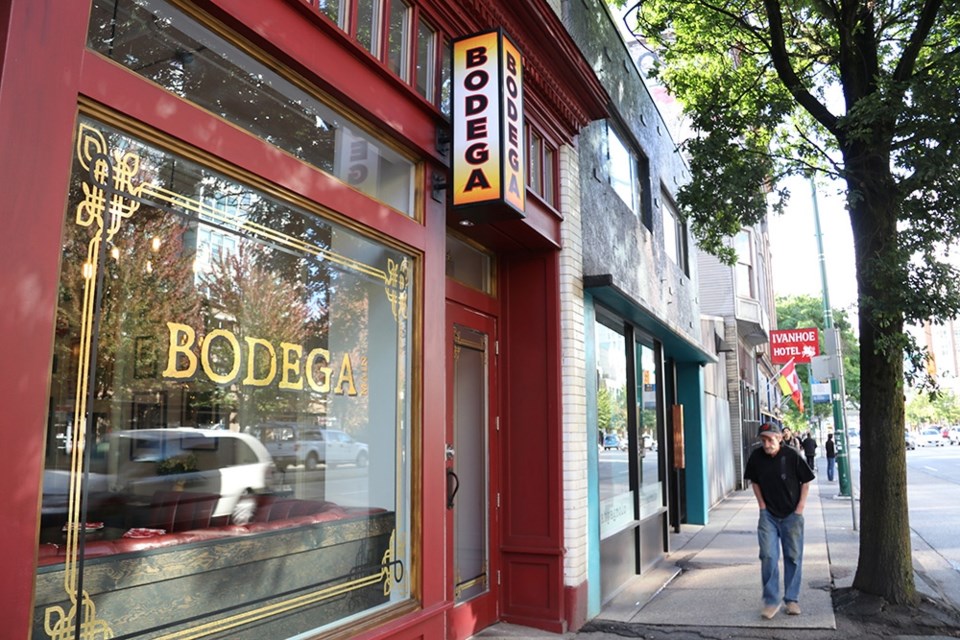 Following close behind Belcham were two young service industry veterans looking for a place to call their own. Patryk Drozd and Ezra Kish found what they were looking for at the ground level of the Cobalt Hotel, where the old hotel bar was being used for metal gigs. With small reserves, Drozd and Kish transformed it into what they thought Vancouver was lacking: a dive bar that wasn't the Roxy.
We're the centre hub of Vancouver... We're everywhere but we're nowhere. —Patryk Drozd 
The area's neglect was part of its charm, Drozd says. Despite being very central, it's very overlooked.
"We're between Chinatown, Strathcona, Upper Main Street, Yaletown, False Creek area. We are the centre hub of Vancouver," Drozd says. "If you're not taking a bridge and you're going somewhere in Vancouver, you're probably driving right past us.
"We're everywhere but we're nowhere," he adds, with a laugh. "It's like the armpit of Vancouver. It's vital but no one ever thinks about you."
After a few years, Drozd and Kish turned the long room adjoining The Cobalt into The Boxcar, which keeps an interesting craft beer and cocktail list. They later took over a couple of other nearby properties and set up Pizzeria Farina and redeveloped The American pub.
It's notable that these businesses are in keeping with the feel of area. There's The Cobalt's pleasant shabbiness, The Boxcar's faded-glory feel; from across the street, Pizza Farina looks like a cheap and cheerful post-club pie hangout, not one of the city's best pizza joints; and The American promises an old-school, no-frills pinball and arcade experience, while Belcham's in-house Monarch Burger pop-up adorns its cheeseburger with (gasp!) processed cheese.
Belcham, too, has been careful to complement the neighbourhood rather than change it.
"We've always tried to be part of the betterment of the neighbourhood. We hire people from the neighbourhood as much as we possibly can. We never wanted to come here and take over," he says, adding how they've been involved with the nearby farmers market from the beginning of its seven-year run.
This slower, more organic approach to neighbourhood revitalization seems to be what allows Campagnolo to flourish just a door down from the Ivanhoe. It's a curious mix that lends no small amount of charm to the area.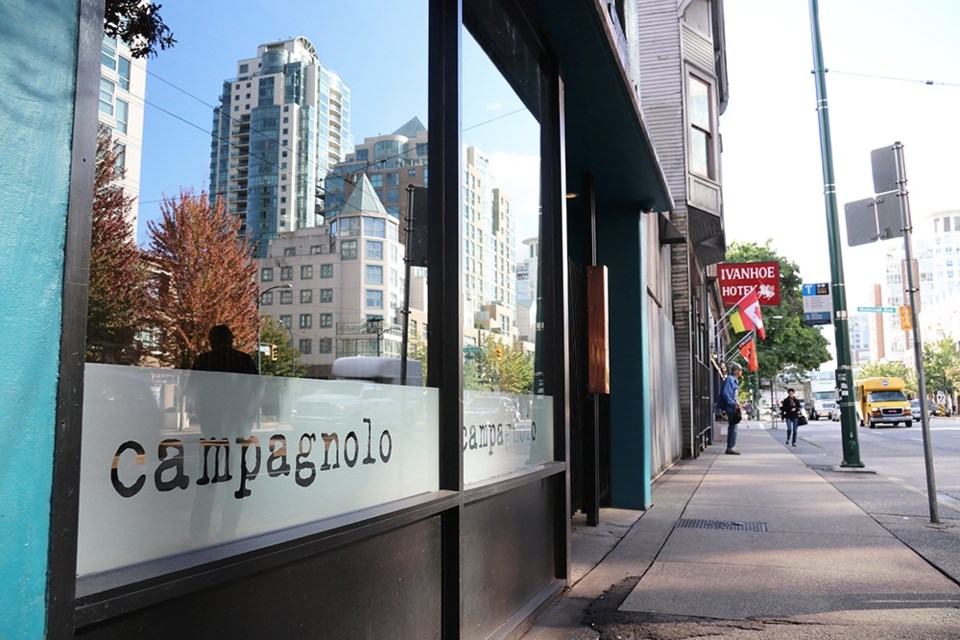 But change is coming to this part of town, and fast. The new St. Paul's Hospital campus, still at the planning stage, is set to occupy the 7.5-hectare site to the east of the blocks.
Meanwhile, the Northeast False Creek Draft Plan places this part of Main Street into one of its three "districts" of the new project. Once the viaducts come down, the 900-block Main Street will once again be united with Chinatown, with around 725,000 square feet of new floor space including up to 300 social housing units.
"These blocks will contribute to the social and cultural connectivity of the area. They will connect the historic communities of the Downtown Eastside, Citygate and the False Creek Flats to the new Creekside Park and False Creek Waterfront," the report states. In light of these changes, the future of Main's historic hotels is unclear – particularly the decaying SRO Cobalt Hotel, which is owned by Paul Sahota – the owner of the recently evacuated Balmoral Hotel.
Kevin McNaney, director of the Northeast False Creek Project Office, highlighted the Cobalt Hotel's heritage status and said the city was committed to maintaining its SRO count.
But Drozd seems philosophical in his resignation that the building will disappear one day soon to make way for something shinier.
"It's not pretty. It's going to come down. We all know that. I think the city's ready for it. It's an old building, right?"
In the meantime, make the most of your feast of food options in this still-gritty neck of the city. And if you can't choose, there's always the Ivanhoe.