For much of Whistler's winter crowd, good food is comprised of a dog from Zogg's (and maybe some poutine) and a beer or three at one of the many pubs and "casual" restaurants. And, hey, that can be wonderful, fantastic and extra-primo-good after a day on the trails.
Whistler, however, is more than just about the skiing. The food and drink scene is growing, as evidenced by the newly expanded Cornucopia line-up this year. In between seminars, tastings and yoga sessions (yes, really), here are a few restaurants that are worth checking out, and soon.
The Green Moustache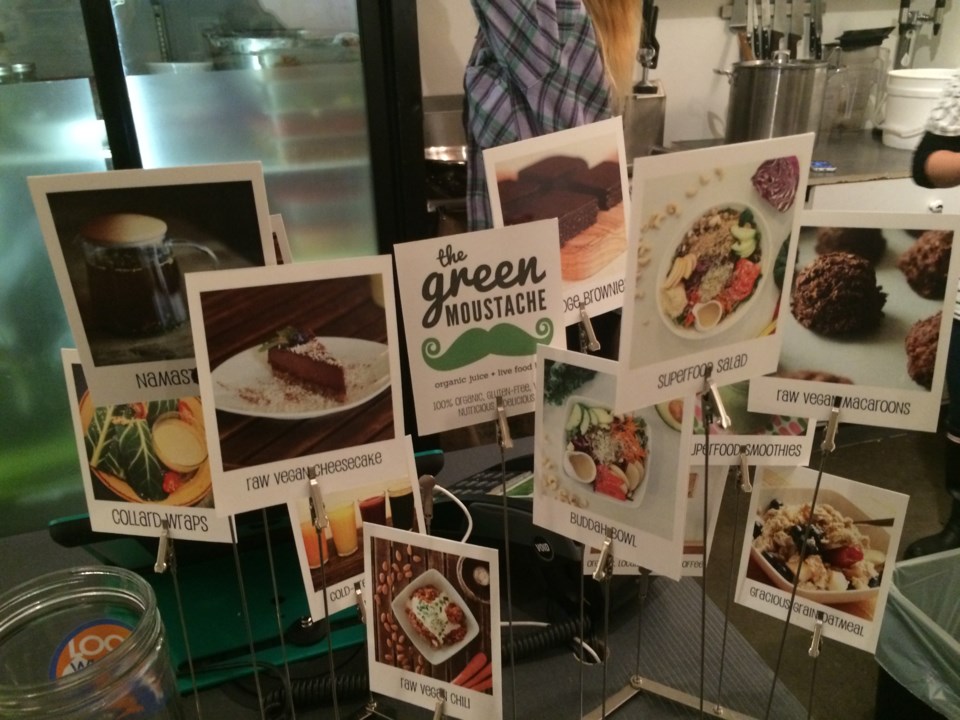 Perfect for a town made up of sports nuts, The Green Moustache Organic Juice and Live Food Bar is Whistler's answer to Organic Lives. Almost everything they serve is raw, vegan, gluten-free, non-GMO, organic and local.
Owners Nicolette and Pierre Richer have developed a menu that is full of super-foods and – most exciting – super taste.  The "superfood" salad ($9.95) was nicely dressed with a maple-balsamic, and we opted to add some extras in the form of avocado and egg for a little extra richness. For breakfast, don't miss the "gracious grain" oatmeal bowl ($6.50) with goji berries, almond milk, apple sauce and cinnamon.
Juices come in both fresh-squeezed and cold-pressed options. My cold-pressed mixture of carrot, apple, beet and ginger ($6.50 for 12 oz.) was perfectly balanced, without the bitterness that often comes from poorly peeled roots. 
Araxi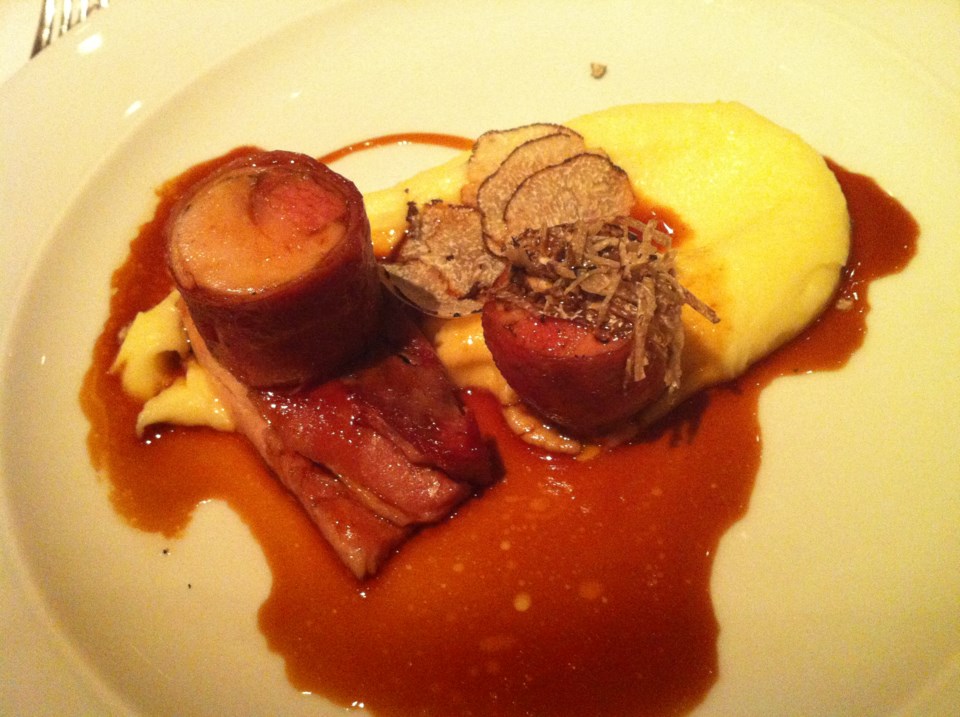 It's not luck that this restaurant has been open for 33 years and counting. Part of the high-end Top Table Group (and now owned by the Aquilinis), Araxi is more than the sum of its parts, but each of those parts is excellent. Executive Chef James Walt is one of the original proponents of farm-to-table dining and still sources most of his ingredients from nearby Pemberton farmers and producers.
Walt and his team are more than matched by sommelier Samantha Rahn and Araxi's well-stocked wine cellar. It's a menu that runs the gamut from local oysters and chilled seafood to Yarrow Meadows duck breast and wild white prawn risotto. Mains are $25 and up, and worth every penny. 
Stonesedge Kitchen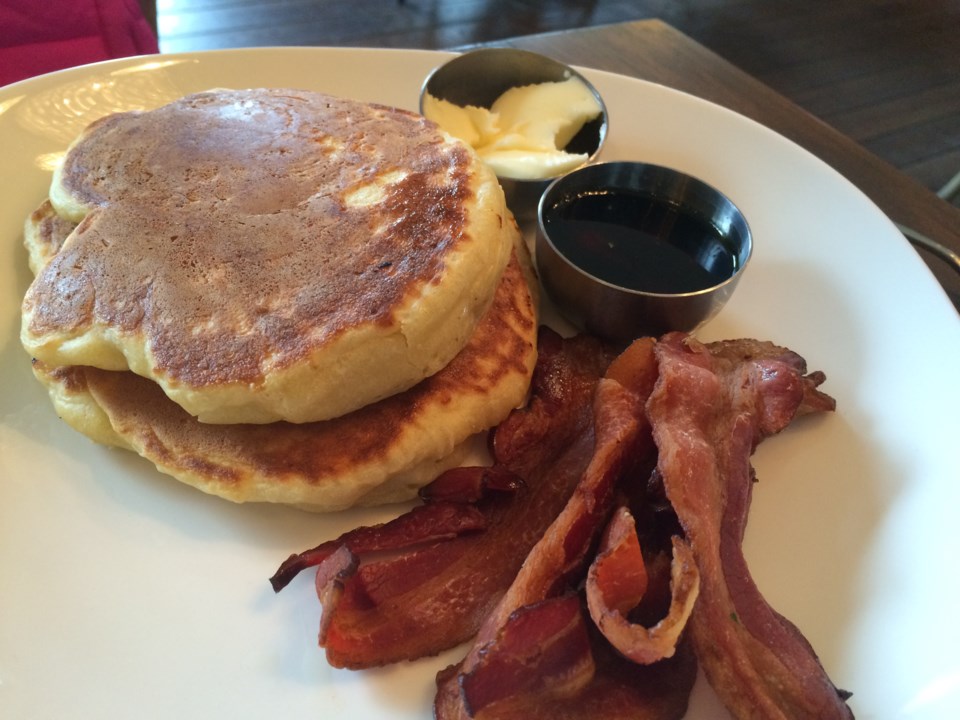 This recent newcomer is quickly making a name for itself as the hot new gastropub in town. It might be the great ingredients or the inventive twists on low-brow items (big kid grilled cheese and tomato soup, y'all), but Stonesedge is delivering up some fine grub in a surprisingly un-grubby setting.
The room is bright, airy and the tables are well spaced (no knocking elbows here). The large patio is sure to be a draw come summer, but for now it just adds to the view. Brunch was our favourite meal. The house breakfast ($13) comes with two free-run eggs, excellent potatoes and toast, and your choice of bacon, marmalade-glazed ham, sausage patties or creamy mushrooms.
Normally I stay away from sausage patties, but these, like the bacon, come from Two Rivers and are awesome. Thick, juicy and large, two of them took up almost half the plate. I splurged and got the creamy mushrooms as a side ($5). These were a mix of foraged and cultivated, and exactly how they sound. Don't miss out on the potato pancakes ($11). No, these aren't latkes. They're pancakes that have mashed potato added in for extra density and flavour. They are fluffy, thick and, while you can get them with coffee-infused maple syrup and butter, I'd go the savoury route for the same price and try them with the crispy bacon lardons, green onions and sour cream. 
La Cantina
While Vancouver has been celebrating the authentic taco for some time, Whistler has only recently acquired an authentic and high quality tacqueria in the form of La Cantina. Brought to us by the owners of the popular Mexican Corner, this "urban taco bar" brings big flavour to the tiny hand-held taco. All tacos are $2.86-$3.57, and are of the double-lined variety.
Slow-cooked brisket in chipotle sauce with crispy potato strips was succulent. The "Takorean" was an interesting take on a Korean taco, pork in kao paigu with cabbage and a mass of pickled onions. Surprisingly, the onions didn't lend as much acidity as could be hoped for, but the pork was perfectly done. Fish in cornflake breading with gaujillo mayo was much more successful. Salads were another great find. The Machu Picchu ($9) is solidly composed of mixed greens, quinoa, beet strings, cucumber, avocado, pear and cashews – all tossed in a slightly spicy ginger-soy dressing. Big enough to share if you throw in a few tacos. 
Bearfoot Bistro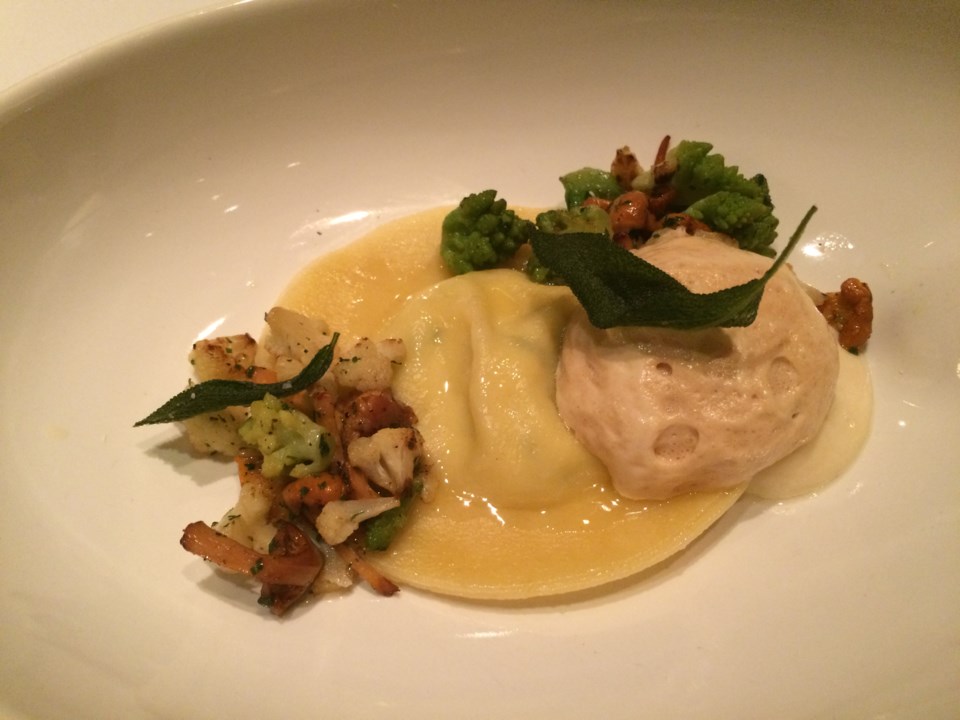 Another long-standing fine-dining Whistler institution, Bearfoot has become internationally known for the experience it offers under the directorship of bon vivant/owner André Saint-Jacques. Live music from resident pianist Cameron Chu, subdued lighting, and paintings from emerging artists on the walls, all make for an equally lively and intimate setting.
The food, thanks to executive chef Melissa Craig and her team, which includes executive pastry chef Dominic Fortin, is solid, lush and just this side of being elegantly barbaric. Albacore tuna tartare is given depth with charred octopus, smoked paprika and a lemon jam. Ricotta and leek agnolotti is drizzled in a cauliflower brown butter puree so thick it's almost a mousse, and studded with chanterelles and crispy sage.
Try the chef's five-course menu for $78 on Fridays and Saturdays, or the discounted five-course menu Sunday to Thursday for $39. Throw in a champagne sabering lesson from master sommelier Maryke Vandermarel (it's held in the 20,000-bottle wine cellar, which is an experience in and of itself) and maybe a visit to the vodka ice room (the coldest vodka tasting room in the world – don't worry, you get a parka before you go in), and it's a night that no one can forget. 
Peaked Pies
Australian meat pies have been a growing trend in the Lower Mainland over the past year or so, but things just got real with the opening of Peaked Pies. Co-owner and Aussie ex-pat Kerri Jones has brought Australian meat pies to a whole new level with her "peaked" experience.
In case you're wondering, this means saddling up a luscious meat pie (excellent pastry, BTW) with a large dollop of mashed potatoes, topped with an equally large dollop of mushy peas, the whole drizzled in a dark, rich jus gravy. Pies alone are around $6-$7, with peaked versions going for $9-$10. Try the chicken-mushroom-leek or the steak-bacon-cheese for kicks, and definitely check out the seasonal pumpkin while it's available, as well as the apple-berry. For early risers, the breakfast Rise & Shine is a winner, with scrambled, eggs, green pepper, bacon, cheddar and mozza, all topped with shredded hashbrown.