With gas prices in Canada at an historic high, I was curious to test drive the 2019 Honda Accord Hybrid Touring to see just how much fuel I could save during my weekly travels.
During the 10 days I recently drove the Accord, I commuted back and forth to work Monday to Friday in rush-hour traffic from south-east Vancouver to my office near Cambie Street, went to Vancouver Island to visit family for three days and took a drive out to Anmore to visit even more family the following weekend.
The end result? This hybrid Accord gets an average of 48 miles to the gallon and takes regular unleaded fuel, so when I did need to fill up the tank before dropping it back off, it cost me $14, which I deemed a bargain.
Before I checked out the 2019 Honda Accord Hybrid Touring for myself, I read several reviews online and the verdict was clear — even the power house automotive journalists love this car, with U.S. News declaring it number two of 19 midsize cars and the same rank in best hybrid and electric car category.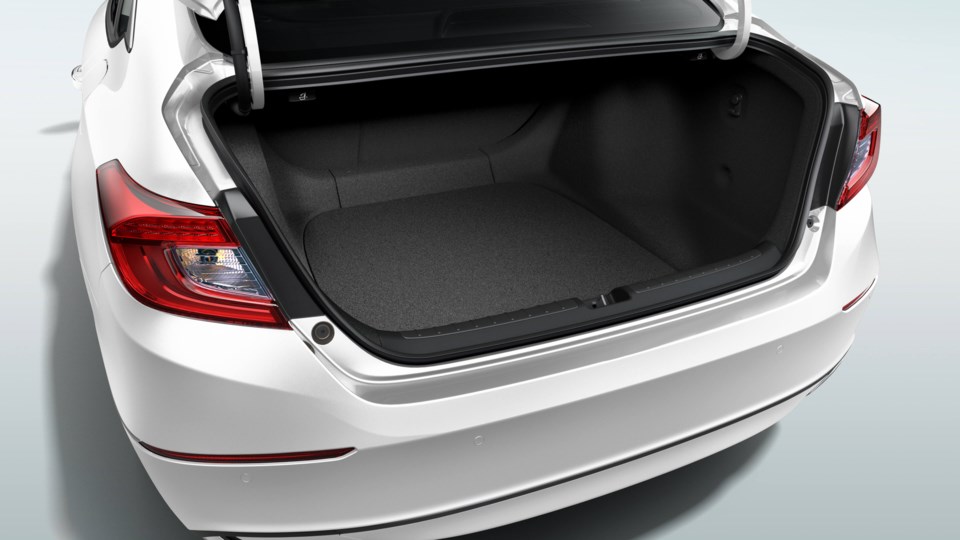 So, I was anxious to drive this top-of-the line, four-door hybrid, which seats five and has plenty of trunk room due to the fact the battery pack has been moved to under the rear seats.
The first thing I noticed about this reimagined 10th-generation Accord was the look. The car I drove was a dark royal blue, dubbed Obsidian Blue Pearl, giving it a classic look of understated elegance. Meanwhile the sleek lines of the exterior, including the fastback-style roofline, give the sedan a speedy, aerodynamic look. I also like the way the front grill dips down to a narrow lower fascia, adding to the overall effect. The hybrid has no tailpipes jutting out of the rear, but instead has slim chrome ovals tucked into both sides of the lower rear body giving it a clean, streamline look.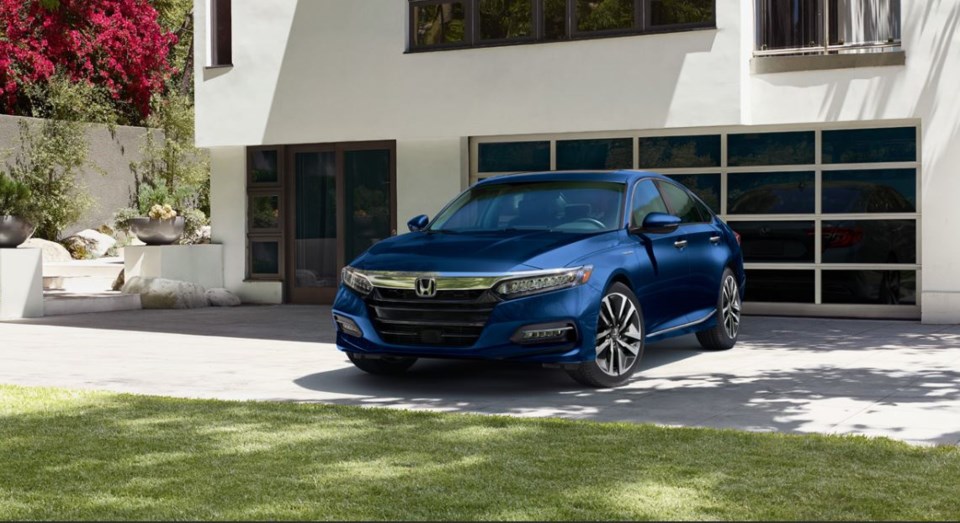 But looks aside, the true test of a vehicle is always its guts and options because, as the saying goes, "You can put lipstick on a pig..." But, in the case of the 2019 Honda Accord Hybrid Touring, it not only has the lipstick, but also the drive, comfort and safety technology to back it up.
The Accord's interior is just as attractive as its exterior and the trim is luxurious, right down to the heated, leather wrapped steering wheel, silver/satin accents, woodgrain inlay and an easy-to-navigate, high definition infotainment interface. My six-foot, two-inch husband also found the hybrid spacious enough to be more than comfortable.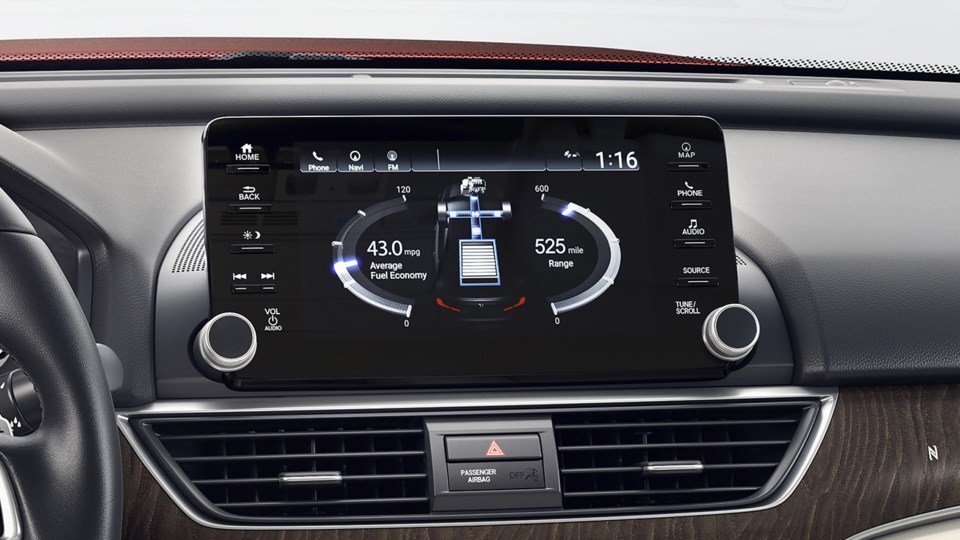 Always a bonus in a test drive is when a vehicle has Carplay, dubbed the "ultimate co-pilot" by its founder Apple. By connecting my iPhone to the Accord's built-in display, I was able to get directions, make and take calls, enjoy music from my playlist and ask Siri questions — all in a safe and legal hands-free way.
I also liked the rain-sensing wipers, because instead of constantly switching between intermittent and full on, which I do during my weekday commute in rainy Vancouver eight months of the year, I let the car do the work. The Accord also acts as a Wifi hotspot, which is super handy.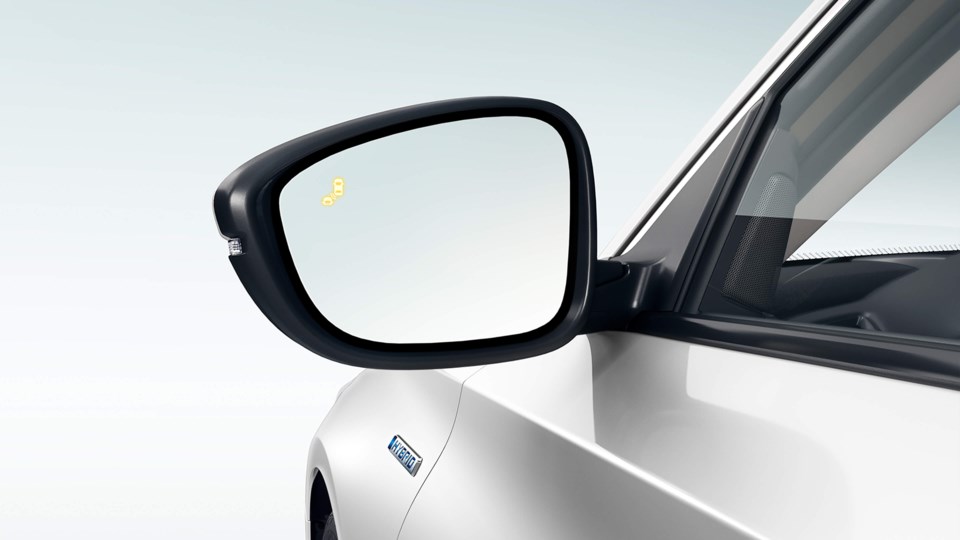 As a grandmother, when I check out a vehicle I typically try and fit in a visit with the family to put it to the grandkid test, which to me means safety and comfort are key. Safety features in the Accord I drove include:      
Electronic stability control
LED daytime running lights, taillights and fog lights
Child safety locks (a must with a toddler)
Traction control
Blind spot monitor
Lane departure warning (great for highway driving)
Lane keeping assist
Cross-traffic alert
Brake assist (so important while city driving)
Powering the hybrid Accord is a 2.0-litre, four-cylinder engine partnered with a pair of electric motors fed by a lithium-ion battery pack for a total of 212 horsepower, which gave me plenty of power on both the highway and in bumper-to-bumper Vancouver traffic. The gas tank holds 12.8 gallons.
@sthomas10