As everyone knows, cocktails make a good party even better – and this also applies to Dine Out Vancouver.
"It just adds more of what Vancouver excels at," says Lucas Pavan, coordinator of the annual festival. "Dine Out is not just about food and wine. It's your whole culinary experience."
This year's 15th edition kicks off Jan. 20 and continues through Feb. 4, with a whopping 284 restaurants offering three-course prix-fixe meals for $20, $30 or $40 – many with BC VQA wine pairings at an additional cost.
The festival was originally designed to generate business for the city's dining establishments during the January doldrums. But it has become so much more than that, and cocktails are an important part of its evolution. "The vision is a self-sustaining festival that is recognized around the globe as one of those must-attend culinary [events]," says Pavan. "And having people like Sabrine and Lauren, it just escalates Dine Out even further."
Pavin is referring to Sabrine Dhaliwal and Lauren Mote, two of Vancouver's most acclaimed cocktail wizards. This year, Dhaliwal, bar manager at Uva Wine & Cocktail Bar, is offering three-course cocktail-paired dinners. "It's a fun way of dining – food and cocktails. It's something that has gained a lot of momentum in the city," says Dhaliwal. "People are excited to try new things. We're not trying to replace the glass of wine at dinner, but simply adding to the Rolodex for our guests' palates." 
Most of Dine Out's cocktail programming is in the hands of Mote, co-proprietor of Bittered Sling bitters; cocktail consultant to, among others, Yew Seafood + Bar at the Four Seasons; and winner of the 2015 Diageo World Class Canada bartending competition. Over the next 17 days, she'll be offering master classes in cognac, tequila, bitters and whisky. But first, she's kicking things off with the best excuse to enjoy a wee dram: a pair of Robbie Burns dinners on Jan. 24 and 25 at the Four Seasons.
In 2015 – the first year Mote and her partner, chef Jonathan Chovancek, offered the dinner – it was named that year's best Dine Out event. "Last year, it sold out in four hours," says Mote. "It's always been really fun. It's a really whimsical look at Robbie Burns. Jonathan is really playful about it, with interesting food that is West Coast-inspired, but without any haggis."
This year, the event will be a cocktail/culinary collaboration: Chovancek and Mote will be joined by Charles Joly, the Chicago-based winner of the 2014 Diageo competition, as well as Weimar Gomez, the new executive chef at Four Seasons Vancouver. "There's always a master class at the beginning, and Jonathan will do a tasting plate based on the tasting notes of all the single malts," says Mote. "The dinner itself will be paired with cocktails, just as we always do at our Bittered Sling pop-ups. We're going all-out. It will be over-the-top and just awesome and cool."
Mote's master classes also feature a tutored tasting of the theme spirit, as well as cocktails, food, a recipe booklet and a gift pack of Bittered Sling bitters. The master classes are designed for consumers who want to learn more about spirits and cocktails – approachable enough for novices, but still interesting enough for those who know their way around a shaker. "Her master classes are brilliant because you're right at the bar and you get up-close and personal," says Pavan.
Book your table before it's too late. For full info, visit DineOutVancouver.com.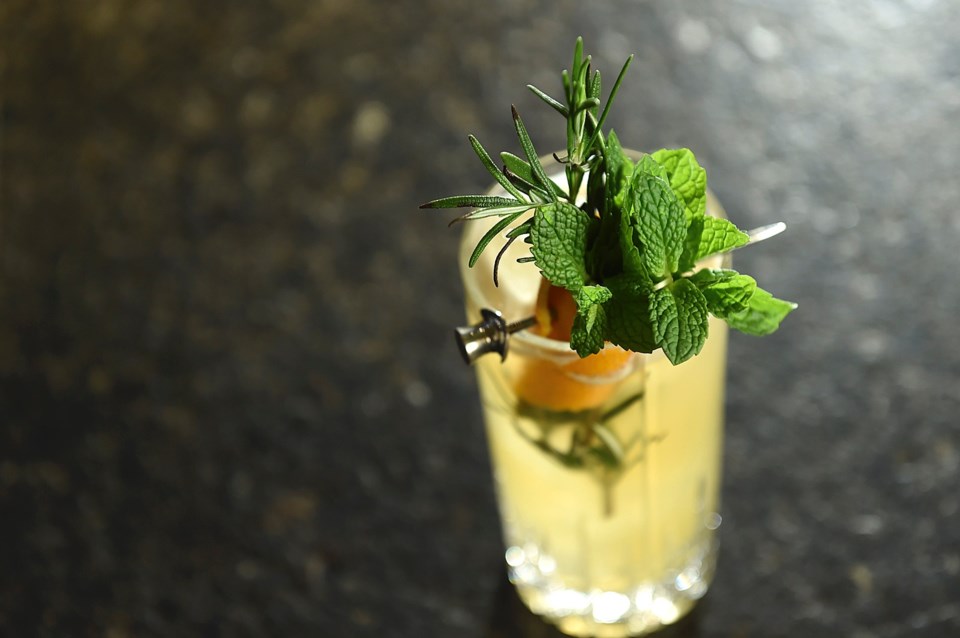 Recipe: Duke of Kildalton
This cocktail, created by Lauren Mote, celebrates the region of Kildalton, on the Scottish isle of Islay, home to the elegant but powerfully smoky Lagavulin 16-year single-malt whisky.
• 1 oz (30 mL) Lagavulin 16 Year Old Islay Single Malt
• ½ oz (15 mL) green Chartreuse
• 3/4 oz (22 mL) sage syrup (recipe below)
• 3/4 oz (22 mL) lemon juice
• 2 dashes Bittered Sling Western Haskap bitters
• Ginger beer (preferably Grace or Fentimans)
Place all ingredients (except ginger beer) in a cocktail shaker with ice, and shake well. Strain over fresh ice in a tall Collins glass. Top with ginger beer, then swizzle gently to combine. If desires, garnish with a bouquet of fresh winter herbs (rosemary, thyme, mint and sage), tied together with butcher twine. Serves 1.
Sage Syrup
• 1 1/2 cups (375 mL) hot water at 140°F (60°C)
• 1 ½ cups (375 mL) white sugar
• 3/8 oz (10 g) dried sage tea leaves, about 2 tbsp (30 mL)
Pour the hot water over the tea and steep at room temperature for 30 minutes. Add the sugar and stir to dissolve. Remove the herbs and store in a clean bottle in the fridge for up to 7 days. Makes about 2 cups (500 mL).