Ask 20 people what makes for a "good" sushi restaurant and you'll likely get 20 different answers, ranging from the size of the specialty rolls ("It's as big as my fist!") to what kind of sashimi is included on the AYCE menu.
For those who favour quality over quantity, however, the criteria are subtler.
Rice, for instance, is a major factor that is almost more important than the fish that tops it. Temperature, seasoning and texture all play their part.
Properly prepared sushi rice should not be cold. That dense, cold, too-firm texture is a telltale sign that the rice was not prepared à la minute.
You should also pay attention to how the rice breaks apart on the tongue. When eating nigiri, the shaped rice on which sits a piece of fish or other topping, pay attention. Does the rice give the impression of airiness, of breaking gently apart the instant you put it in your mouth? Does it hold up to the flavour of the fish and the usual dab of wasabi in between?
These are all deeply philosophical and engrossing questions, but the best way to judge sushi is to just sit down and taste it piece by piece. Is the rice so good you would eat it on its own? How's the fish?
We're lucky to have many excellent spots in the city at which to experience a high-quality omakase (chef's choice) menu, but here are two that focus on the extremely simple, yet always eloquent fish-on-rice presentation.
Maruyama
For purists, there is no better place than this small room in a strip mall buried in the heart of East Van.
Owner/chef Yoshiya Maruyama is the brilliant mind behind his eponymous restaurant. Unlike other "serious" sushi bars in the city, children are welcome here and photos are allowed.
Even better, Maruyama himself is a gregarious soul who will explain the history of the fish as he serves it to you while you sit at the eminently comfortable bar, elaborates on why he purchases certain species from the Tsukiji fish market in Tokyo, as opposed to locally, and discusses why a species like red uni (sea urchin) can taste so different depending on not only where it's caught, but also the time of year it is harvested.
The nigiri omakase menu includes 11 pieces and the price varies depending on the seasonal offerings, but a recent lunch visit was $75 per person.
Included was a truly delicious piece of bluefin (eek, no, it's not Ocean Wise, and yes, I castigated myself heavily after scarfing it down in indecent haste and joy), as well as aji (horse mackerel), hirame (olive flounder), isaki (grunt), and Hokkaido scallop.
We followed it up with a plate of perfectly fried vegetable and prawn tempura, beautifully rippled, as well as the housemade soba udon in a dashi that rivals that of Masayoshi, my favourite in the city. maruyamavancouver.com
Miku
At the other end of the spectrum from the simplicity of Maruyama is Miku, that elevated and elegant bastion and sire of Vancouver's aburi sushi movement.
Aburi refers to the the flame-seared and pressed sushi that has spawned more than a few imitators in the city. At Miku, with its large and lively room and cocktail bar vibe, the new Aburi Prime menu is a multi-piece ode to the care and artistry that goes into each piece of nigiri.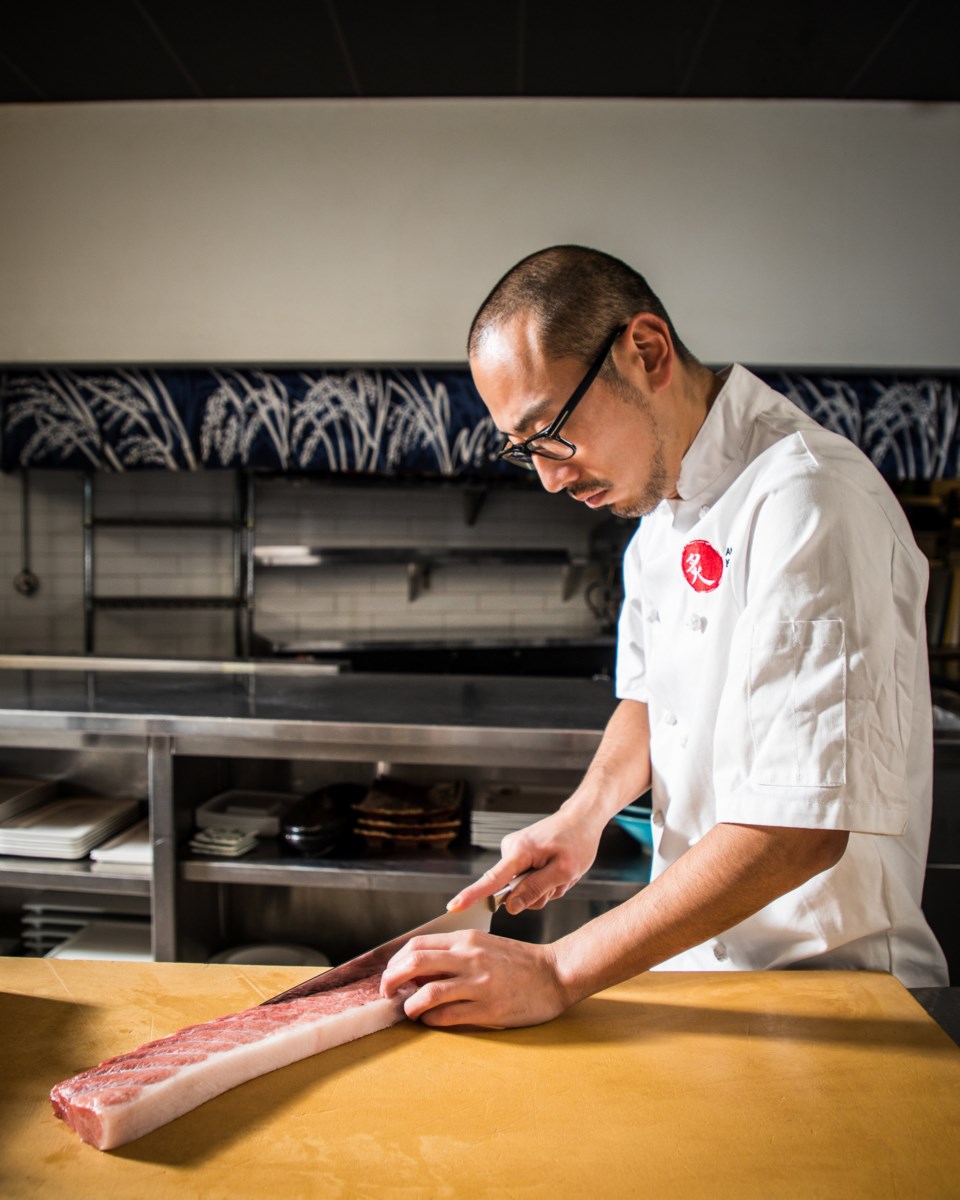 Innovation is at the forefront here, but the rice is classic short-grain, seasoned and served at the ideal, slightly warm temperature. The nine-piece plate of nigiri is available for $55 on its own, or as part of a set menu for $88 (optional sake, wine and spirits pairings available for an additional $44).
The set menu includes a starter trio that one night featured some beautiful spot prawns. Once you are done eating, they are whisked away, and the heads are deep-fried to a perfect crisp, if you so desire.
As for the nigiri, monkfish liver is topped with a sweet soy reduction and shiso flower; maguro (more of that bluefin tuna) is topped with seared Brome Lake foie gras, pickled wasabi and kiku flower.
The classic sockeye with a slice of jalapeño is present, as is kelp-cured hirame topped with ikura and yuzu zest, and A5 Japanese Wagyu graced with fresh uni.
It's a decadent and completely non-traditional experience, but one that is a perfect example of the thriving and innovative sushi scene that makes Vancouver such a haven for pescetarians. mikurestaurant.com
Anya Levykh is a food, drink and travel writer who covers all things ingestible. Find her on Twitter and Instagram @foodgirlfriday.