PARKSVILLE UNCORKED
If you enjoy great food and wine, I recommend you satisfy your whims at Parksville Uncorked, a four-day festival dedicated to the best bounty B.C. has to offer.
I attended last February with my sister Johanne and the Friday night saw us heading to the popular Swirl for a fun evening of sipping some of B.C.'s best local wines paired with wonderfully delicious gourmet bites. Saturday we were invited to the Pacific Prime Restaurant and Quails' Gate Winemaker's Dinner showcasing Beach Club executive chef Rick Davidson's fine dining cuisine. Davidson's menu was heavily influenced by fresh and local, which resulted in amazing flavours.
This year's festival runs from Feb. 18 to 21. Parksville Uncorked benefits Variety – Children's Charity and Rotary Club Parksville. For tickets and information, visit parksvillequalicumbeach.com.  
For the outdoor enthusiast here is my must-do list:
CATHEDRAL GROVE
My parents used to  live in Parksville and a visit to the island with my teenage sons over the years always involved a walk through Cathedral Grove. For those who venture to Tofino, you pass Cathedral Grove on your way. It is part of the MacMillan Provincial Park, nestled at the top end of Cameron Lake, only minutes from Qualicum Beach and Parksville.
Cathedral Grove is a lush old-growth rainforest unique to Vancouver Island and you can spend hours wandering through the rugged trail system. Taking in the 800-year-old massive Douglas fir trees makes you feel small.  
HORNE LAKE CAVES
Vancouver Island has the distinction of being home to the highest concentration of caves in North America and more explored limestone caves than in all other Canadian provinces combined. Vancouver Island is so rich in caves, with more than 1,000, it's commonly referred to as the "Island of Caves." In 2015, Horne Lake Caves Provincial Park was voted Best Natural Outdoor Site in B.C. by Destination B.C.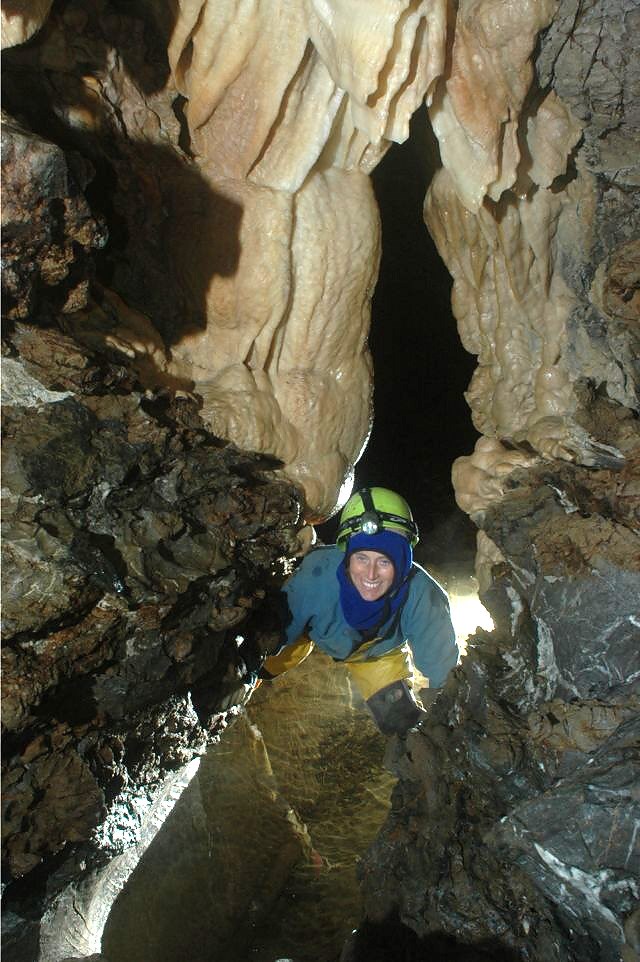 You can opt to explore a public cave on your own or participate in a guided Horne Lake cave tour. (I recommend the tour as our guide was a wealth of interesting and historical tidbits.) From October to May, a creek flows through the caves, turning them from a normally quiet environment to a loud watery manifestation. See an underground river, climb a waterfall, slide down the ramps and ladders and try an optional squeeze through the "worm-hole," a small taste of what's known as "wild" caving. Participants will negotiate some tight passages, short climbs, ramps, ladders and lots of cave scrambling.

SPA-ING AT TIGH-NA-MARA 
Is there any sister or girlfriend getaway that is complete without a spa day?
We venture out on a bright sunny morning to the Tigh-Na-Mara's Grotto Spa, named number one spa in the province by Spas of America. Gaelic for "House by the Sea," Tigh-Na-Mara's stretches some 22 acres, covered with towering arbutus and fir trees that skirt a picturesque stretch of sandy beachfront facing the Strait of Georgia.
Before our treatments, Johanne and I indulge in a soothing dip in the spa's detoxifying mineral pool. Simulating a natural stone grotto, the pool is drenched with natural minerals and trace elements that detoxify the body and rejuvenate your soul — I felt completely serene as I stepped out to ready myself for an hour-long custom Regime Facial while Johanne headed for an aromatherapy massage. 
Because "spa-ing" is about female bonding, the spa's Relaxation Lounge is where you go to linger before or after your treatments — it's very conducive to gossiping with your gal pals over a cup of Zen green tea. During our visit it was full of women, dressed in standard spa fashion — plush bathrobes and cushy slippers — who had left behind jobs, children and husbands for a weekend of pampering.
Snug in our robes, we indulged in a Lounge Platter and a glass of wine at the Treetop Tapas and Grill and we decided it doesn't get much better than this.

WHERE TO STAY:
Nestled on the edge of the Pacific Ocean in Parksville, the Beach Club Resort is one of Vancouver Island's largest resorts, featuring an indoor pool, hot tub and gym. Check out the resort's website for special rates and packages: beachclubbc.com.
GETTING THERE:
Take B.C. Ferries from Horseshoe Bay Terminal to Nanaimo. The scenic ferry ride takes 1.5 hours and then it's a short 30-minute drive north to Parksville. For schedules, visit bcferries.com. For more information, visit ParksvilleQualicumBeach.com.
michelle.hopkins@telus.net