Floating down the Cheakamus River in a yellow dinghy, we all stared as an eagle — a three-foot-tall, brown-speckled juvenile perched in the branches of a black cottonwood — squirted a white streak of crap from its underside. In our boat, someone giggled.
As it is with birds, this was a good omen.
"They unload excess weight before they fly," said Jake Freese, the Sunwolf river guide who navigated our small boat along four kilometres of calm, glacier-fed Cheakamus one week in January.
We watched from our raft as the raptor with the self-sharpening beak and top flight speed of 70 km/h lifted its wings and took off, its power on full display before fading into the coastal mist of a place that lives up to the name Paradise Valley.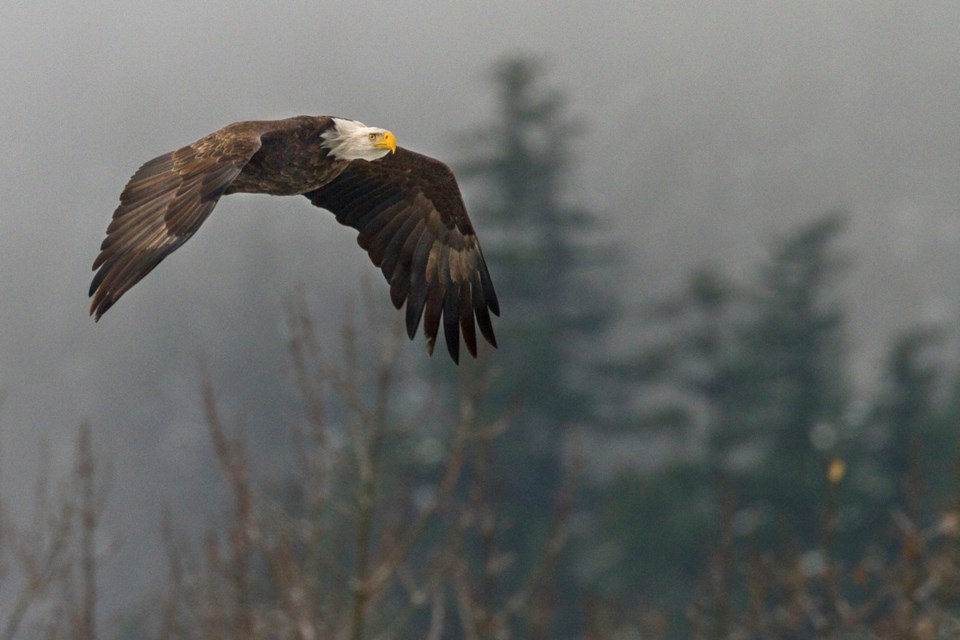 "Photographers love it," said Freese. "They're always waiting for that sign so they know they'll be able to capture the moment right when an eagle raises its wings and takes off. They're looking for that expressiveness," — it's here our guide shrugs his shoulders as if he were attached to two metres of wing and a body laden with more than 4,000 feathers — "and then it's like rapid fire. When [the photographers] put their cameras down, all that's left is the sound of water. I've had people cry in the boat."
I can understand that feeling. The float was not just beautiful and calm, but meditative. If you connect with nature in such a way, also spiritual. The morning sun shone from above the low-lying clouds as Douglas firs spiked up from below and the only noise came from the boat's long paddles and the splash of Goldeneye ducks taking off from the water. A great blue heron coasted over our heads. We had already seen more than 30 eagles, many with striking white crowns of maturity. (Bald comes from "balde" for whiteness not hairlessness, in this archaic linguistic tidbit from the Squamish Environment Society.)
For five years, Sunwolf has offered this slow, peaceful and one-of-a-kind nature immersion on an eagle viewing river tour. This is not adventurous river rafting over Class 5 rapids, which they do come summertime on the Elaho. This is a tranquil float at four kilometres an hour. It wasn't raining, so we stayed dry. And since Sunwolf kitted us out with heavy-duty waterproof outerwear, I was also warm — with the eventual exception of my feet.
Until 20 years ago, the Sunwolf property was known as Fergie's Fishing Lodge and served as pack-in, pack-out lodging for anglers looking to catch trout and salmon on the Cheakamus. Charlton Heston landed his helicopter here. Fishers still rent the cabins, which are a lot nicer thanks to the beautiful craftsmanship and design of Freese and his partner (business and romantic) Jessamy Freese.
The riverside escape has 12 cabins, all of them boutique accommodations nestled under a string of white lights and a sky of stars. You can stay overnight under the cedars, as I did, and stoke a fire in the cast-iron stove to warm the snug, renovated Loggers' Shack, a workmen's outpost dating to the early 1900s.
At the confluence of the Cheakamus and Cheekeye rivers, Sunwolf is based on five acres of land north of Brackendale (itself north of Squamish) in a region known as the "World Eagle Capital" for the annual bird count. This years' count in early January was the 30th. The highest number on record, in 1994, counted 3,471 eagles on the Squamish River. On our one-hour float, we saw more than 100 — Freese said it's been a good year despite a low number on the day of the official count.
Come winter, thousands of eagles travel to the Squamish River Valley. Salmon-bearing rivers on Howe Sound and Harrison River near Chilliwack and Skagit River in Washington support a massive ecosystem that includes eagles and humans. Cheakamus is a Squamish word for the people who use the cedar rope fishing net — the watershed is ecologically and spiritually significant for the First Nation.
The salmon run is over, but its signs were everywhere, from fishing weirs in the shallows and fly fishers on the banks, as well as salmon carcases on the shore, under the surface and even in trees where the flesh had been consumed by an eagle.
Some cruisers will count each bird they see to keep a running tally. Others capture them on film. Still others will quietly breathe in their presence. On my float, there was a combination of the above and because we learned to read the signs, we all got excited when an eagle pooped.
This visit and river tour was paid for by Sunwolf.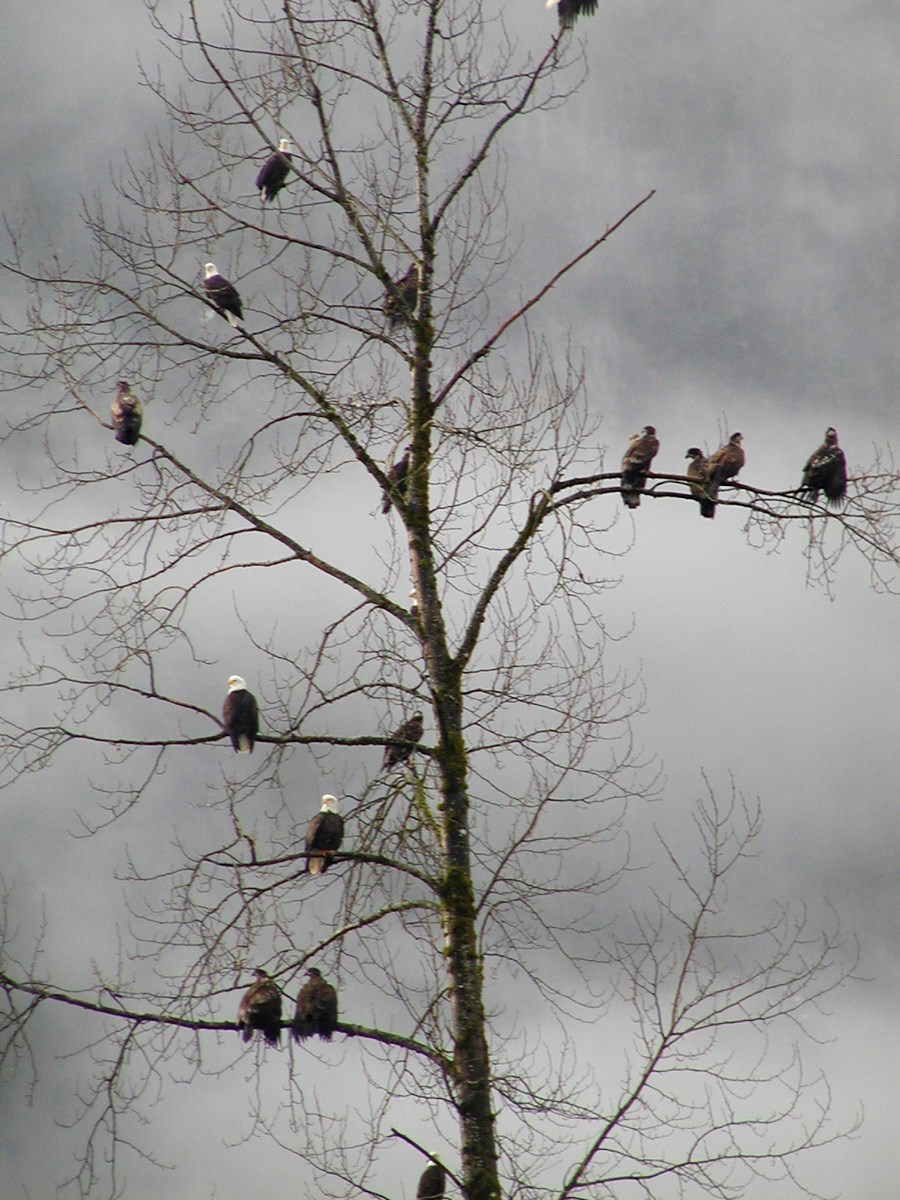 IF YOU GO
Stay and make it homey
If you spend the night, bring bubble bath and a robe to make the most of the deep soaker tub in the Loggers' Shack. The cabin has a full kitchen and sleeps four, including two luxuriously in the peak of the ceiling. Logger's Shack cost per night: $180 in low season and $200 in high, which is June 17 to Sept. 18, 2016. Smaller cabins range from $110 to $150 a night depending on season and amenities.

Go with friends
Because the Fisherman's Cabin has three bedrooms and sleeps eight, it is a relaxed, stylish place to host a large group. Required stay of two nights; cost is $300 weeknights, $400 Friday and Saturday.

Pack your woollies for the river
For the rafting, I wore head-to-toe merino wool beneath a snowsuit and then layered on the waterproof, oil-slick rain gear and boots provided by Sunwolf. A tightly clipped (and mandatory) lifejacket was like a bear hug of bundled warmth. Hour-long eagle viewing float is $110 for adults, $75 for children aged 5 to 12. Includes lunch (I had chilli, hearty veggie and delicious pulled pork) as well as a light breakfast in a wood-heated cabin.

Eat at Fergie's Café
The diner draws enough weekend traffic from Vancouver to form a two-hour wait time in the summer. But don't let that deter you. Most people bring a picnic blanket and enjoy the day beside the river under the black walnut tree. Chef Jason Nadeau formerly worked six years at Cioppino's Mediterranean Grill in Vancouver and created the popular food truck the Locavore.

Ride the Sea to Sky Gondola
The entrance is located south of Squamish and a quick 10 minutes to the top of a granite plateau affords a breathtaking view of Howe Sound, the Gulf Islands, snowy peaks and the town below. There are walking trails, expansive viewing decks and a suspension bridge. Tickets for adults 19 and over are $33.95 online and $37.95 at the ticket window. You can also hike to the top.

Take the shuttle
For car-free folk, there is a daily shuttle to Squamish from Vancouver with pick up at the VPL's Central Library on Georgia St., Canada Place and the Hyatt. Cost is $25, round trip.
Twitter: @MHStewart