When deep inside a cave and about to rappel further into darkness down a waterfall, it was a bit disconcerting to discover that the drop is known as "Fleming's Folly." Particularly since my last name happens to be Fleming.
My tour guide, an affable 34-year-old Yorkshireman named Paul Blood, wasn't sure how the five-metre cliff earned the name but assured me it probably had something to do with a fellow Fleming who simply fell into the shallow pool of water down at the bottom rather than any kind of fatal folly. I had to take his word for it, much as I had to for every other step (and occasional crawl) of the way as he led me and two other inexperienced cavers 20-storeys below the surface of the earth as part of the five-hour Extreme Rappel tour of the Riverbend Cave offered at Horne Lake Caves Provincial Park.
The park is located a short drive from Qualicum Beach, a small oceanfront town known for being a popular Vancouver Island summer destination. There are plenty of ways to escape the heat for visitors but few as guaranteed as exploring a cave where the average temperature is around eight degrees Celsius.
Vancouver Island has a whole lot of holes in the ground, more than anywhere else in North America with more than 1,000, which are the result of a unique combination of the heavy rainfall, dense vegetation and mountainous landscape on limestone rock made from the compressed skeletons of marine creatures more than 300 million years old.
There are three things necessary for a hole in the ground to be considered a cave, according to Blood. "The first thing, it needs to be naturally formed as opposed to something man-made like a mine," he explained. "It also requires the complete absence of natural light and be pitch black inside 24 hours a day. Last but not least, it needs to be big enough to fit a person inside of it. If you throw a baby on a string in a hole, you can't call it a cave. It's called a crime."
Caves have offered shelter to humans since the dawn of time but speleology — the study and exploration of subterranean passages as both a recreational and scientific pursuit — is relatively new. Frenchman Edouard-Alfred Martel, known as the "father of modern speleology," pioneered the multi-disciplinary pursuit of all things underground in the late 19th century, combining chemistry, biology, geology and cartography. After the First World War, interest in "spelunking" or "potholing" exploded in popularity across Europe and it was from there that the activity gradually spread.
The local First Nations tribe, the Nuu-chah-nulth, surely knew about the network of caves but little is known about how or if they used them in any capacity. From the time of early contact with European explorers, an estimated 90 per cent of the Nuu-chah-nulth died from malaria and smallpox. Many were also reportedly killed in raids by neighbouring tribes. Adam Horne, a Hudson's Bay Company surveyor who the park is named after, was the first Westerner to cross the middle of Vancouver Island and he was greeted upon his arrival at the Strait of Georgia by the grisly sight of a village massacre by Haida warriors.
The Main and Lower Main caves were first reported by a visiting geologist in 1912, and the larger Riverbend Cave was discovered in 1941. They soon became a popular tourist attraction and many of the fragile stalactites, stalagmites and other glistening calcite formations known as soda straws, bacon strips, flowstones and cave coral were damaged or removed as souvenirs.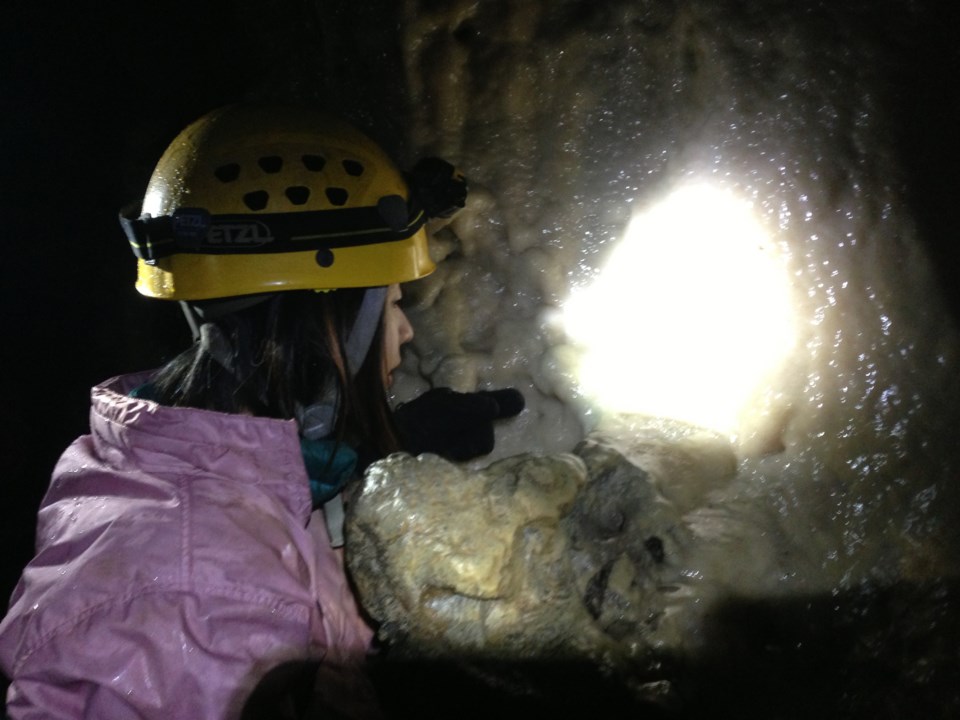 The cave system was granted protected status in 1971 and, fortunately, most of the damage was confined to near the openings. Most of the Riverbend Cave, for example, wasn't even discovered until 1969 after an intrepid caver named Stephanie McLeod decided there might be more beyond the shallow pool of water that was considered the cave's end. Like the crew of a popular new television show at the time, she decided to boldly go where no one had gone before.
"She stripped down, tied a rope around her leg and began digging," said Blood. "Unfortunately, the rope wasn't long enough so she simply untied it and kept going, which no doubt scared the heck out of the group she was with when there stopped being resistance on the line. But she made it through to the other side."
The pool is now drained by an installed sump pump, which allows cavers to crawl on their bellies through the narrow passage — not an experience for the claustrophobic — and onto a far more extensive system of caverns, which require rappelling down a seven-storey cliff and back up a metal ladder suspended from the ceiling.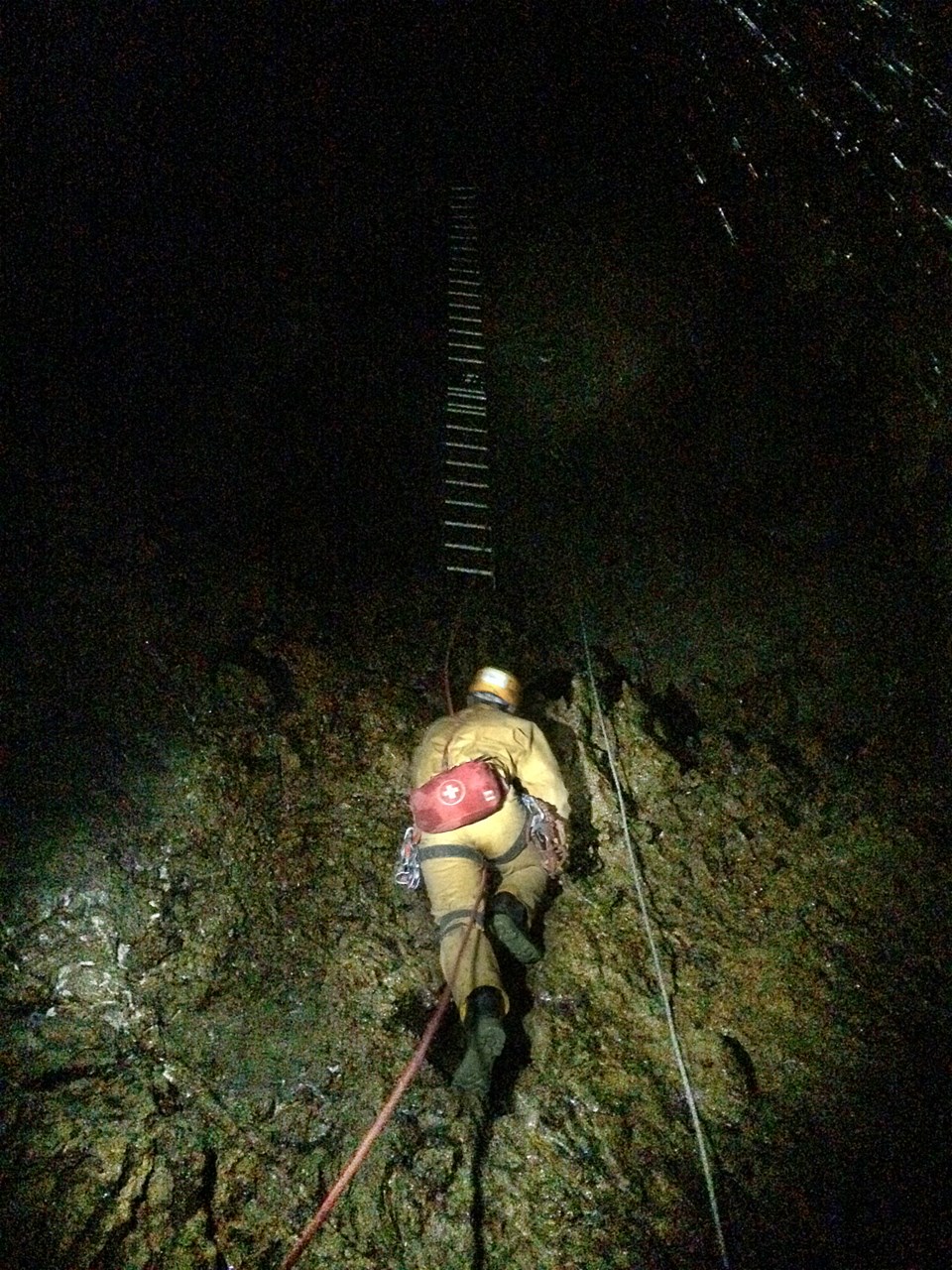 Blood said the first section of the Riverbend Cave receives around 10,000 visitors a year but only 400 or so follow McLeod's footsteps (so to speak) to see the rest of it. The Horne Lake Outdoor Centre offers tours for all ages and fitness levels, but if you don't have a fear of heights, the dark and/or confined spaces, this trip is literally a hidden gem.
For more information on travel and accomodation in the Parksville and Qualicum Beach area, go to visitparksvillequalicumbeach.com.