Canada's Tuscany. Napa of the North. Mention the word "Okanagan" to anyone, resident or visitor, and the first association is invariably "wine country." And, while that is a huge and growing part of the sunny valley's identity, it isn't the whole story. From restaurants and innovative bakeries to breweries and distilleries, there is more than just wine to taste in the Okanagan. And, with the leaves turning and the cooler weather setting in, it's an ideal time to go and explore what's on the menu.
Integrated Eating
Chef Adair Scott of Watermark Beach Resort (WatermarkBeachResort.com) in Osoyoos has a keen interest in not only what's local to the region, but also the stories behind the ingredients. The restaurant's Farm to Vine menu has been recognized as one of Canada's signature experiences and incorporates ingredients and wines from the Golden Mile in Oliver and the Similkameen Valley, as well as items that are made even closer to home. "It's more than just the terroir," says Scott. "It's about telling the stories that have made this place what it is." Take the Okanagan sockeye on the regular menu. Yes, it's wild salmon from the Okanagan. Reintroduced to Osoyoos and Skaha Lakes as part of a community initiative led by the Syilx Okanagan Nation Alliance, the salmon that was once native and plentiful to these waters has been carefully restored and is providing environmentally-sustainable employment for the eight member bands of the alliance, not to mention some rather delicious fish for local restaurants like the Watermark.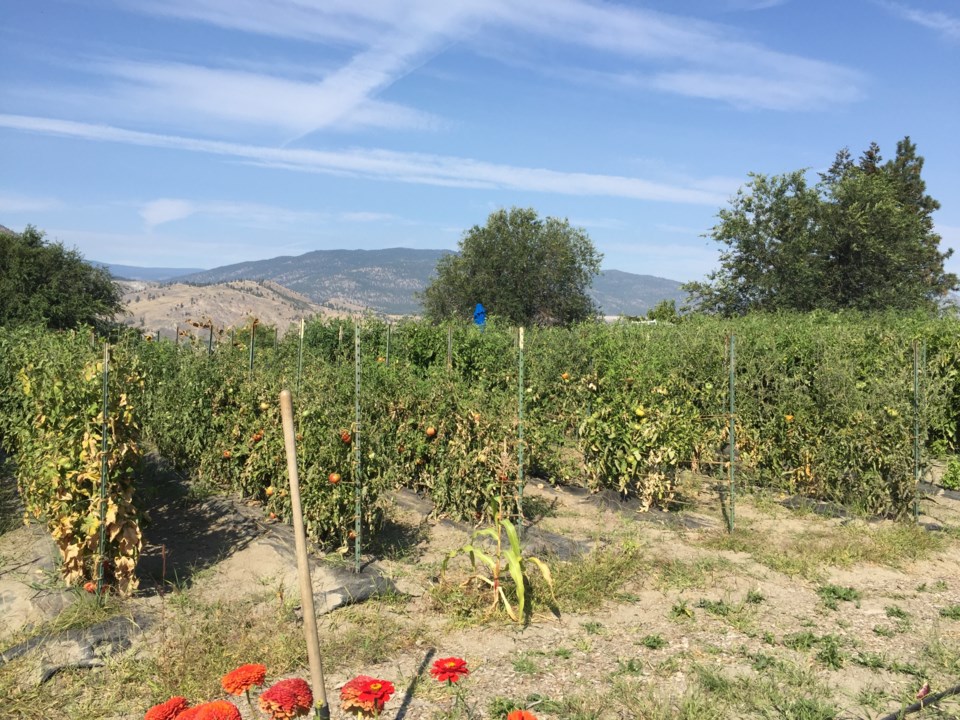 The Hooded Merganser at Penticton Lakeside Resort (PentictonLakesideResort.com) follows a similar philosophy. The restaurant has, in fact, its own farm a short drive away from its downtown Penticton location. Valley View Farms lives up to its name, sitting on a hilltop overlooking wineries, gullies and the city of Penticton. It produces over 1,000 pounds of produce each week for the restaurant during the growing season, although staples are grown year-round. The farm is entirely organic, and in addition to the fruits and vegetables, there are laying hens that provide eggs and an apiary of ingenious Australian-designed beehives that allow you to remove the honey without disturbing the bees inside. Restaurant chef Chris Remington receives the daily deliveries from farm manager Michelle Younie and then designs menus around what's in season. The restaurant also grows all of its own herbs onsite in the hotel gardens.
Meanwhile, at nearby Craft Corner Kitchen (CraftCornerKitchen.com), which just opened a few months ago, owner John Côté and executive chef James Holmes have taken their concept of "craft" and "local" to new levels of comfort. Everything that can be made in-house, from the bitters used in the cocktails to the house bread, is, or else is sourced as closely as possible. The pork is brined in ginger beer from The People's Craft House just down the street, and it's marvellously juicy and just a little sweet. The house bread, a dense chewy sourdough that is slightly toasted, gets drizzled with some balsamic reduction, herbs and salt. A buttermilk panna cotta steeped in Dubh Glass whisky from nearby Oliver is topped with local poached apricots and cornmeal tuile. Sit and enjoy at one of the massive reclaimed-wood tables or in the fairy-lighted garden patio and do not miss the pickled fried chicken if it's on the menu.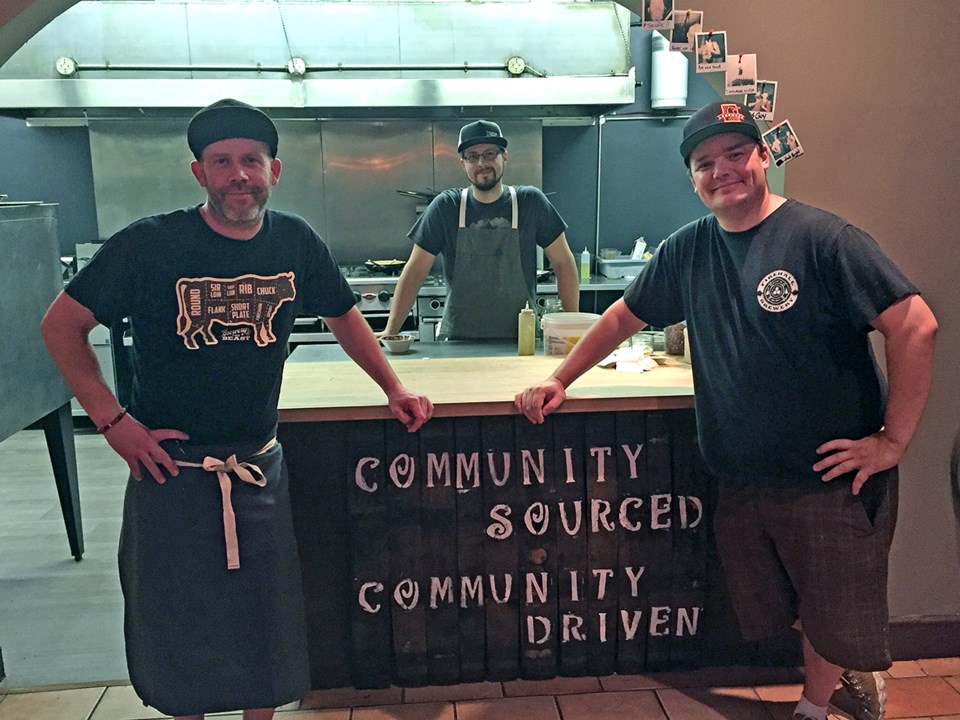 Small Bites, Big Flavours
Sometimes, the tastiest food can be found in the smallest places. Brodo Kitchen (TasteBrodo.com) in Penticton offers up simple and hearty sandwiches, soups and salads. This counter service restaurant is more than the sum of its mainly locavore parts. Ethereal tomato and parmesan soup with basil cream is topped with a parmesan crisp. The house green salad makes all other house salads cringe in shame, thanks to its bright pops of flavour from the fresh feta, seasonal berries, and bits of beets and bacon. Pair it with the barbecue pulled pork sandwich for a complete meal. A few streets away, Wine Crush Market (WineCrush-Market.com), which launched just before Labour Day, is doing something completely new. Owners Tyson Still and Bill Broddy, along with Broddy's daughter Allie, have created a new product from what was originally destined for the compost heap. "Wineries pay to have their left over skins and seeds [the pomace] and lees [a dead yeasty substance that settles to the bottom of the tank] taken away when they've done their job in the tanks," explains Still. "But, it's still full of nutrients. We pick it up and mill it down into a dry powder that is added to our foods." Those foods include a rather tasty and earthy sourdough bread, as well as muffins and other baked goods. There are also house pâtés and sausages, and even a cold-pressed grapeseed oil infused with Pinot Gris. You can also buy the powder on its own in different varietals. Some prepared foods have also joined the list, meaning you can now build a picnic to go.
For a sweet finish, hit up Patio Burger & Ice Cream Co. (PatioBurgerPenticton.com), a brand-new addition to the boardwalk that boasts an outdoor eating space reminiscent of a Fred Astaire summer flick, all white and shiny, with an actual boardwalk leading up to the counter. The ice cream is made in small batches using milk and cream from Blackwell Dairy in Kamloops. The French custard base is then used to create classic flavours like cookies and custard, hazelnut crunch, and blonde mint chip, as well as more seasonal flavours like the blueberry-peach sorbet. If you have room, definitely try the burgers, which are "single grip" and made from fresh chuck every day – and the lettuce, tomatoes, cucumbers and herbs are grown on the rooftop garden.
Sometimes, after a long day of sipping wine, all you want is some tacos and a soda. Enter El Sabor de Marina (no website), a tiny outdoor taco stand located in Oliver on Highway 97 along the Golden Mile. Sneeze as you drive by and you'll miss it, but the tacos, burritos, quesadillas, etc., will have you driving this stretch of highway more than once, especially once you try the pork pupusas. It's not licensed, but that's what ginger ale is for, right?
Spirited Moments
If you need a stronger chaser after wine tasting, check out Cannery Brewing (CanneryBrewing.com) for some of their excellent craft beers. Don't be alarmed if you hear the sound of an axe thudding in the back, it's just someone breaking up the Harker's Organic pumpkins (from nearby Cawston) for the seasonal Knucklehead Pumpkin Ale. The pumpkins are roasted with brown sugar and brewed and seasoned for a warm, spiced flavour. The brewery also has a great pub-style menu featuring ridiculously good nachos with chicken, artichokes and peppers.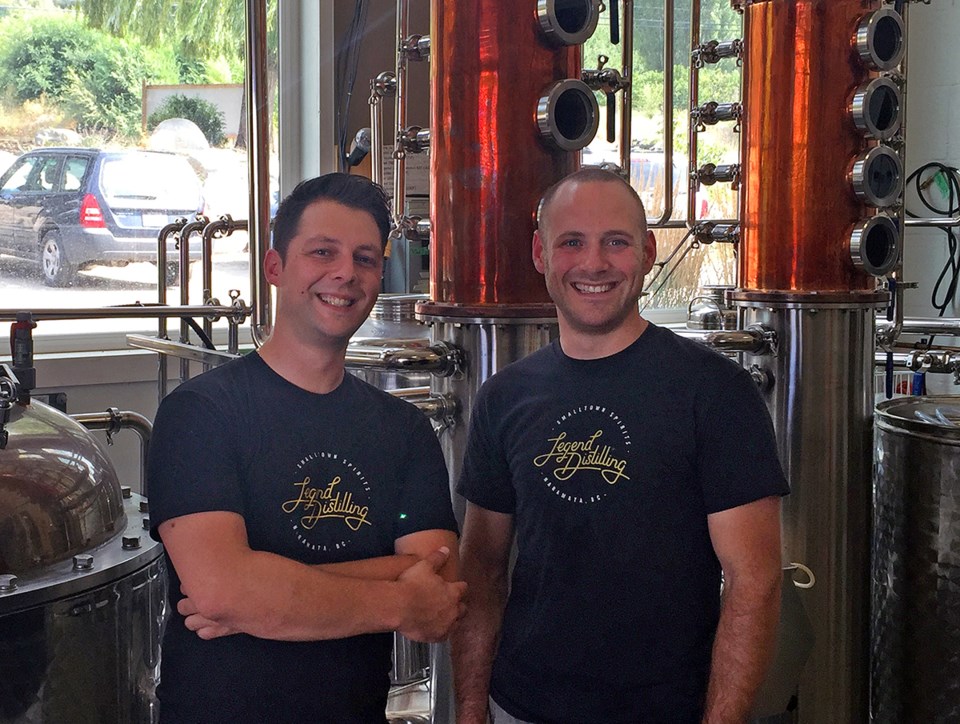 Need something even stronger? Old Order Distilling's (OldOrderDistilling.ca) Black Goat vodka receives its dark hue from the plant minerals added during the blending process. It's made entirely from barley from Vanderhoof, and botanicals grown on owner Graham Martens' family farm in Summerland. Fairly neutral, it still serves up some earthy notes that make it a great martini spirit.
Overlooking Penticton is one of the Okanagan's prettiest and most fertile spots, the Naramata Bench. Chock-full of wineries (and a few cheesemakers), it's also home to the new Legend Distilling (LegendDistilling.com). Built in a former doctor's office, the distillery focuses on gin and vodka, and one cold-brewed spiked coffee. While the Doctor's Orders gin is perfect for a classic G&T with its notes of lavender, elderberry and mint, it's the Defender Island gin, with its smoky taste (from the added charred local rosemary), that'll keep you coming back. There's also a brand-new kitchen, meaning some Southern-style barbecue with your vodka martini or cocktail (there's a rotating list) is now a thing.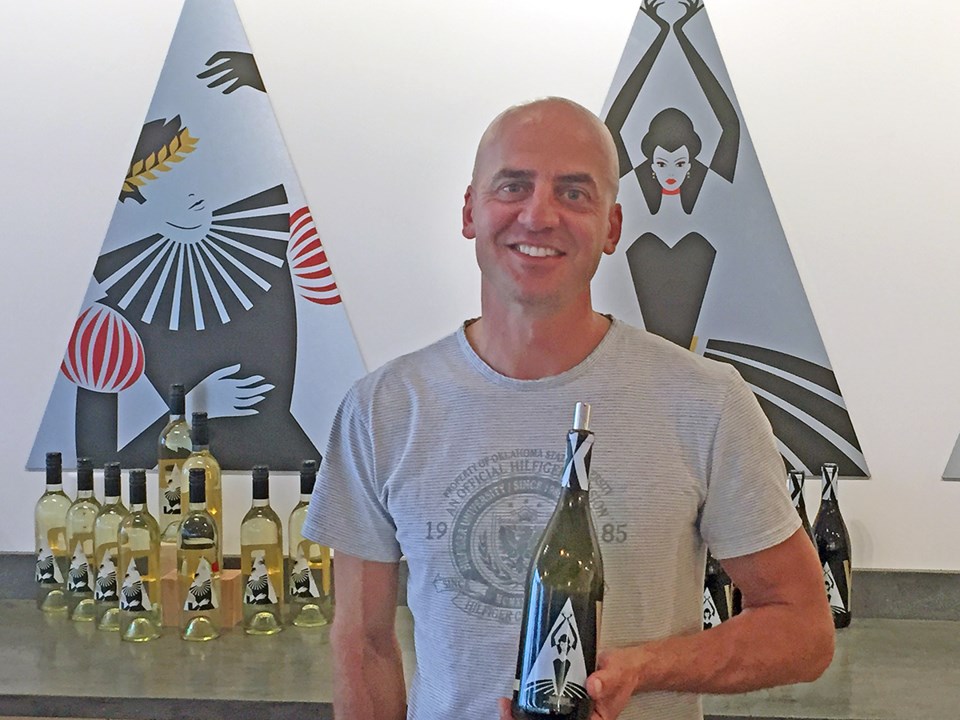 Wine-Not?
Okay, I couldn't resist adding in just one little winery. Play Estate Winery just opened its doors a few months ago, and, in fact, its own estate grapes are not yet ready for bottle (grapes have been sourced from local bench wineries in Naramata and Oliver), but the bistro here on the Skaha bluffs overlooking lake and city serves up some damn fine food thanks to chef Jeff Burns, like the pappardelle carbonara with double-smoked bacon, mushrooms, spring onions and parmesan. Pair with the rather nice Viognier, or for some more peppery notes, try the Syrah, with surprising acidity and pleasant cherry notes.
Where to Stay
Watermark Beach Resort in Osoyoos offers lake-front apartment-style accommodations in its suites and villas, with full, gourmet kitchens, oversized bathtubs and comfortable beds. Try to snag a villa, which all come with a private BBQ patio and at least two bedrooms. Great for families and groups. The littles will enjoy the waterslide, while adults will enjoy the pool-side service and excellent nosh. WatermarkBeachResort.com
Penticton Lakeside Resort is the only hotel in the city with its own private, full-service beach. Located in the heart of downtown Penticton, this is a great location from which to plan your walking and wine tours in the city and up on the famed Naramata Bench. PentictonLakesideResort.com
Want to find more places to visit? Check out VisitPenticton.com, WineCapitalOfCanada.com and DestinationOsoyoos.com.
• Anya Levykh is a freelance food, drink and travel writer who covers all things ingestible. Find her on Twitter and Instagram @foodgirlfriday.