The winner of the Diageo World Class competition is widely considered the best bartender in the world. And right now, the best bartender in the world is Vancouver's own Kaitlyn Stewart, bar manager of Royal Dinette.
"Participating in the finals – and representing Canada – was amazing enough, but to finish the week as winner… I'm so delighted!" says an exuberant Stewart, or, as her friends and fans know her, Kait A Roo.
This is a huge win, not just for Stewart, but for Canada, Vancouver and cocktail culture in general.
Those of us who've been involved in the scene as it's exploded over the last decade or so know how much talent and skill is out there. Now the rest of the world does, too.
Stewart is the ninth bartender, second woman, and first Canadian to join the World Class Hall of Fame. To get there, she joined more than 10,000 bartenders from 57 countries in worldwide regional heats. The 55 winners of those contests gathered in Mexico City last week for a tough four-day competition. On the 23rd, Stewart made it to the final along with bartenders from Australia, Turkey and Denmark. Then, late on Aug. 24, came the announcement the cocktail community was breathlessly waiting for: "She won!"
"She is the personification of everything World Class means – prestige, community, deliciousness, hospitality, family, love and passion," says competition judge Lauren Mote, the Vancouver bartender who won World Class Canada in 2015 and recently became the Diageo Reserve Global Cocktailian. "She accepted each challenge with grace and personality, and succeeded each level with humour and humility."
Stewart and Mote were joined in Mexico by their fellow World Class Canada winners Grant Sceney from Vancouver (2014) and Toronto's Shane Mulvany (2016), as well as Michael Armistead, the Diageo Canada brand manager. The team pulled all-nighters to help Stewart prep, posting their adventures online while Canadians from coast to coast cheered her on.
Without a doubt, the enthusiastic support from Canada's tight-knit and proudly collaborative bartending community helped push her to the top.
This is, after all, no ordinary competition. Even the perpetually upbeat Stewart says, "It's been a grueling week, taking on the toughest challenges against some of most skilled bartenders I've ever met."
The competitors were tested on every significant bartending skill with challenges that spoke to major trends in cocktailing: speed, creativity, immaculate technique, gracious hospitality and a knowledge of the classics, as well as incorporating culinary skills, creating eco-friendly drinks and even translating complex drinks into a simplified but elevated home cocktail experience for what Mote calls "armchair mixologists."
It's all part of Diageo's mission to educate bartenders the world over – and inspire people to drink, not necessarily more, but better. That's why the worldwide spirits company launched World Class in 2008, making it the biggest and most important cocktail competition in the world, using spirits from the Diageo Reserve luxury portfolio (Johnnie Walker, Ketel One, CIROC, Don Julio, Tanqueray No. Ten, Bulleit, Zacapa and collection of single malts including Singleton, Talisker and Cardhu).
"Cocktails are on the up now more than ever," Stewart says. "And to be at the forefront of that, pushing forward the idea of using better ingredients and better recipes to create even better cocktails, is something I'm really passionate about."
Now she will spend the year travelling as a global brand ambassador for Diageo Reserve. Or, as Mote says, "Kaitlyn's mine now – I will take her for the year and make all of her goals and dreams come true."
Meanwhile, the next best bartender in the world may be shaking up drinks in a bar near you, dreaming of 2018, when the 10th annual Diageo World Class competition will be held in Berlin.
We'll drink to that.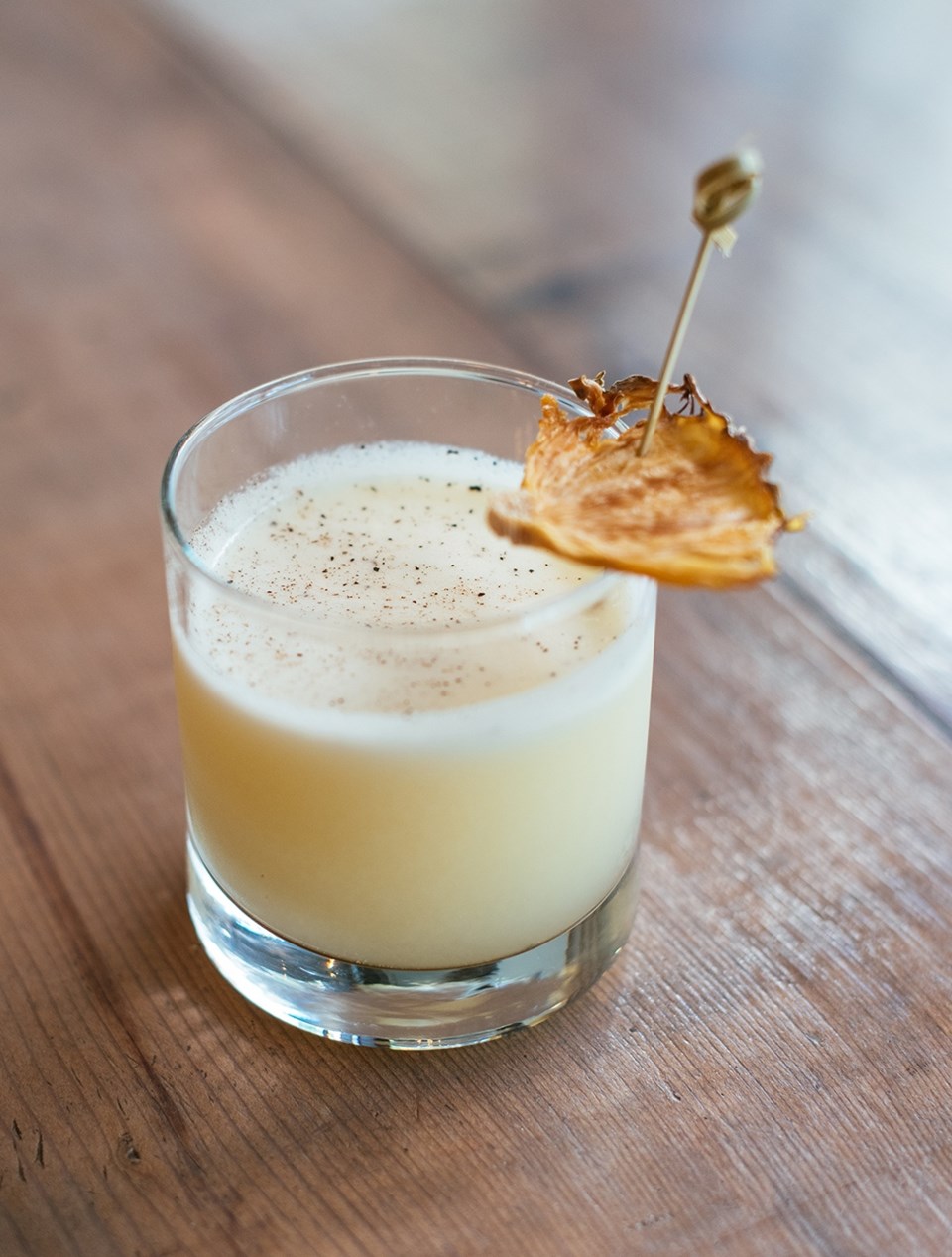 RECIPE: Diced Pineapple Cocktail
This zero-waste cocktail created by Royal Dinette's bar manager Kaitlyn Stewart helped her win Diageo World Class Bartender of the Year 2017. It uses all parts of the pineapple, including the skin, pulp and tops.
Dash of absinthe
1.5 oz (45 mL) Tanqueray No. 10 gin
1/2 oz (15 mL) junmai (cloudy) sake
1/2 lime husk
½ oz (15 mL) pineapple syrup (see note)
1 oz (30 mL) pineapple kasu (see note)
Dash of Bittered Sling Lem-Marrakech bitters
Pinch of sea salt
Rinse an old-fashioned (rocks) glass with absinthe. Put remaining ingredients in a cocktail shaker with ice and shake well for 10 to 12 seconds. Strain into the prepared glass, add ice and garnish with dehydrated pineapple slices. (Alternatively, you can serve it as Stewart did in Mexico, in a recycled pineapple juice tin and garnished with pineapple tops.) Serves 1.
Note: To make pineapple syrup, combine 2 cups (500 mL) sugar, 1 cup (250 mL) water, 1 cup (250 mL) pineapple chunks and 1 oz (30 mL) pineapple juice in a medium-sized pot. Bring just to a boil, stirring until sugar is dissolved, then remove from heat and steep for 2 to 4 hours. Strain out pineapple chunks. Store in the fridge for up to two weeks. Makes about 2 cups (500 mL).
To make the pineapple kasu: Mix the juice of two pineapples (strained, about 3 cups or 570 mL) with 3 heaping tbsp (50 mL) of sake kasu, the lees of sake making (can be purchased at Artisan Sake Maker on Granville Island), a sprinkle of citric acid and a pinch of agar (both should be available from Gourmet Warehouse). Process all ingredients in a blender and adjust as needed for flavour with kasu.