To say that Sola Fiedler is a rabid recycler would be an understatement.
In fact, the 82-year old Vancouver-based fibre artist has made recycling her life's work and to that end has brought new vitality to everything from abandoned buildings to the textiles she uses in the oversized tapestries she spends years creating.
"Sola," as she's known, is also a keeper of history. The artist freezes time with her intricate weavings of iconic skylines of cities from across the globe. Of particular interest are Olympic Games host cities.
"They can take up to five years to complete and that's eight hours a day, seven days a week and that includes Christmas Day and birthdays," says Sola. "When they announced the Olympics would be held in L.A. in 2028, I decided that's where I'll celebrate my 92nd birthday. That gives me 10 years to finish [the tapestry]."
The public can see Sola's magnificent tapestries during an exhibit dubbed, Leap and the Loom Will Appear, on Granville Island during walking tours developed to coincide with the Textile Society of America's 16th Biennial Symposium, Sept. 19 to 23.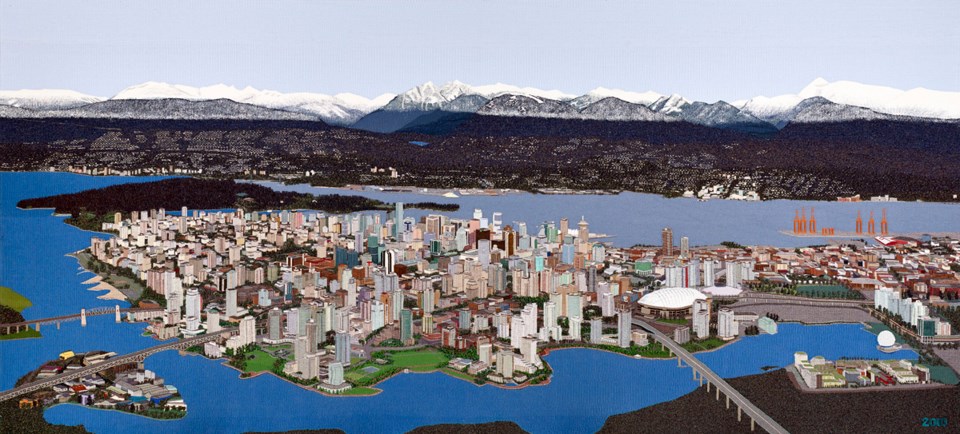 For the first time, Sola's massive 2009 Las Vegas (11 feet by 7.5 feet) and 2002 Salt Lake City  (10 feet by seven feet) tapestries will be exhibited side by side. Her 2014 Vancouver tapestry (11.6 feet by 5.3 feet), on loan from Canuck Place Children's Hospice; the iconic 2018 Canada 150 flag (eight feet by four feet); and a new 2018 Granville Island Tapestry (eight feet by four feet) will also be on display alongside a retrospective of Sola's vintage works, totalling 17 pieces. Sola's tapestries will be included on the self-guided textile walking tours curated by Silk Weaving Studio, which highlight 24 artist locations on Granville Island.  
Sola uses yarn from recycled sweaters from thrift stores and she typically makes searching for such discarded treasures a part of each day. Sola estimates she's saves more than 600 sweaters and T-shirts from the landfill a year.
But when it comes to designing these massive pieces, it's not so much the materials she uses that make them so astounding, but the way she studies a city in order to recreate it in pinpoint detail — from the number of floors in a building to the colour of the trees and water.
Making her work even more astonishing is the fact Sola doesn't work from photographs. Instead, she moves to the city of choice and walks the streets for months capturing minute details in her mind.
"I go and look at buildings and then in my head I plan how I'm going to do it," Sola told the Courier during a recent interview. "I can complete about four square inches in a day."
In reference to the aerial views she creates, Sola imagines them from above.
"In Vancouver I was an eagle, in Las Vegas I was a helicopter and in L.A., I'll be a drone," Sola says, laughing.
Leap and the Loom Will Appear runs Sept. 21 to Oct. 2, 11 a.m. to 6 p.m., at 1359 Cartwright St.on Granville Island. An opening reception takes place Sept. 20, 6 to 9 p.m. and Sola will be in attendance. The walking tours take place from Sept. 17 to 30. To find the self-guided map, please visit silkweavingstudio.com.
sthomas@vancourier.com
@sthomas10