A study has ranked Vancouver the most Instagrammed #vanlife location in the world, citing the city's microculture of urbanites that live together in vans. 
Compiled by Budget Direct, the study notes that it's been eight years since the first #vanlife post appeared on Instagram. Since then, a whopping 6.4 million tags have appeared on the social media platform, with people across the globe celebrating the notion that 'home is where you park it.'
The study notes that North America receives the overwhelmingly majority of #vanlife tags in the world, highlighting the continent's vast network of open roads, endless plains and coastline.
As for Vancouver's #vanlife appeal, report authors note that it might "have something to do with the microculture of urbanites that choose to live in vans even while they work their day job."
In addition, the study highlights a small community of public transport bus drivers living the #vanlife together.
California was the top state in the U.S. and Los Angeles was the most popular city. San Diego also ranked high on the list due to its welcoming #vanlife community as well as its abundance of things popular amongst van-dweller like, "vegan food, yoga, and even nudist beaches." 
Banff was the only other Canadian city to make the top 10, placing third. 
Here are the top 10 international locations for the #vanlife hashtag, according to the data: 
Vancouver, British Columbia, Canada
Los Angeles, California, United States
Banff, Alberta, Canada
Venice, Italy
Portland, Oregon, United States
San Diego, California, United States
San Francisco, California, United States
Moab, Utah, United States
Yellowstone National Park, Wyoming, United States
London, United Kingdom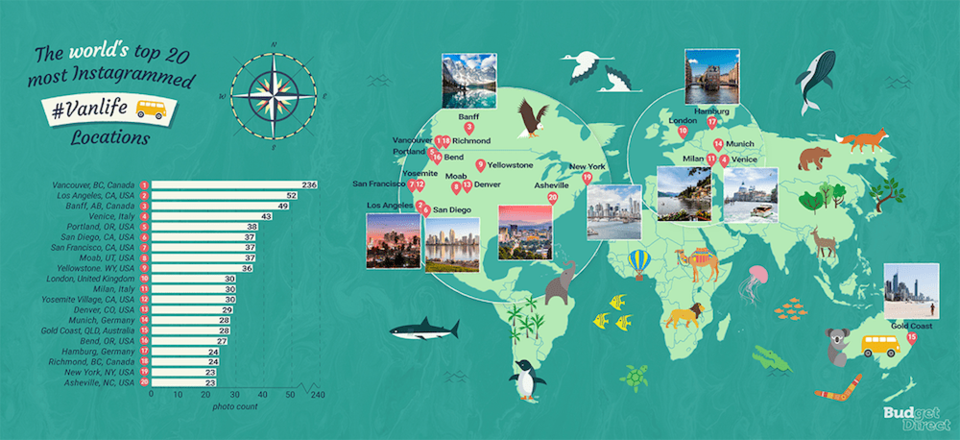 While it wasn't included in the world's top 10 list, Australia has a number of popular #vanlife locations, too. The Gold Coast was the most popular spot in Australia, due to its breathtaking scenery and easy beach access. 
Simply Savvy used custom scripts to collect metadata from 25,000 images posted on Instagram with the tag #vanlife. In total, 10,669 of the 25,000 images collected had location metadata indicating a town or city.
Read the original article here.