*Warning: The story below features several photographs of nude women.
Vancouver photographer Vince Hemingson says his latest body of work, the "Nude in the Landscape" series frames the human figure in the natural environment of the Pacific Northwest, "from its beaches and shorelines, to its rivers and streams, forests and mountainsides, encompassing every season, spring, summer, autumn and winter."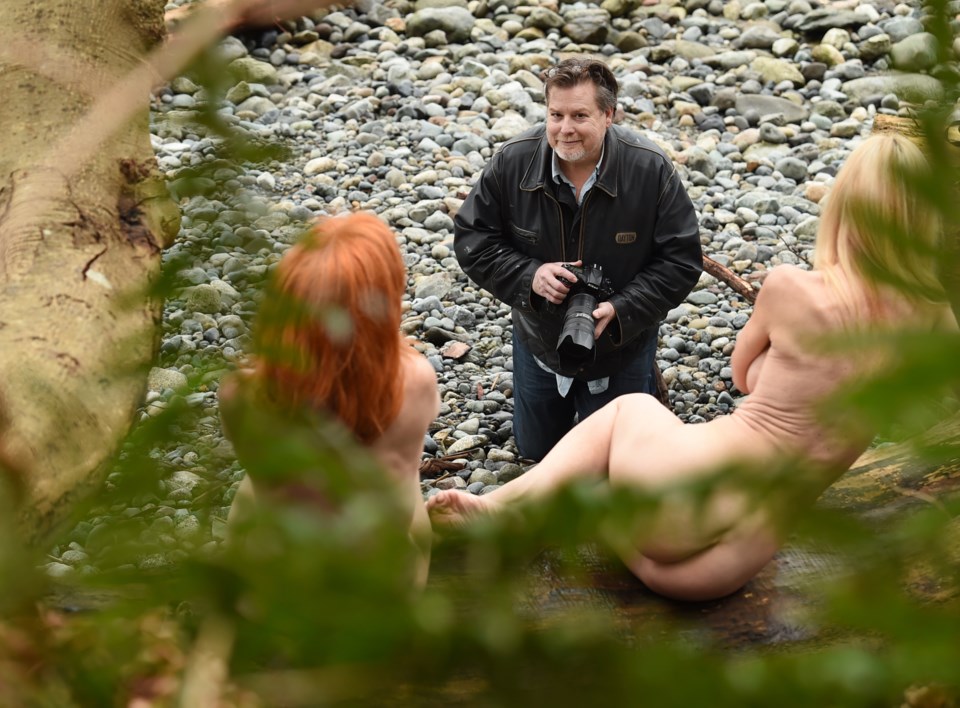 Hemingson says the black and white photos of naked women "juxtapose the delicacy and fragility of the female form against the scale and rugged grandeur of the landscape, contrasting the textures and tones between those two elements, and examining the relationship between the viewer and the subject."
Curious as to how — and why — Hemingson began photographing women in their natural state, the Courier had some questions for the artist about his craft.
When did you first know you wanted to become a photographer?
I learned how to process film and use a darkroom in high school in Qualicum Beach on Vancouver Island. (Thank you, Dr. Beard). It was a transformative experience to see images emerge in a tray of developer and added a powerful alchemical and magical element to the process of making art.
At the time I don't think I ever considered it as a career. But I was always an avid amateur photographer. As a college student, I travelled to Poland with (Canadian writer and commentator) Stan Persky and did the principal photography for his book, At the Lenin Shipyard: Poland and the Rise of the Solidarity Trade Union.
Working with National Geographic in the late nineties and early 2000s on a documentary series, I found photography a welcome diversion from the responsibilities of being a producer, writer and reluctant on-camera host.  
After some early success with stock images, I thought that, in a perfect world, I'd much prefer to focus on photography. 
When did you decide to start shooting nudes — and why?
I was a painter before I was a photographer, so to do a figure class with a nude model seemed the most natural thing in the world. 
I started shooting nudes again specifically because I was photographing people with large tattoos and extensive body art. In most cases the best way to see and appreciate the tattoo was without the distraction of clothes.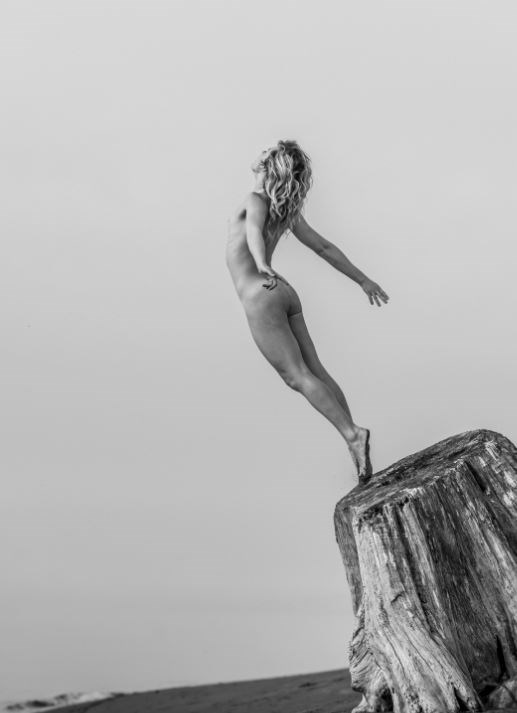 How do you find your models?
Friends, acquaintances, casting calls, people I've never met before on the street. I now have the luxury of having people approach me because they've seen my work and would like to collaborate.
You use models of all shapes and sizes, was that always the plan?
Initially, almost all of the models I was working with were agency models and fine-art figure models used to posing nude. They were almost all in their mid-twenties and very fit.  And I was hiring them because I was an unknown photographer.  
But once I had a body of work I began calling, Nude in the Landscape, my propensity to overthink everything came to the fore. What's nude, who is nude, what does the nude represent? What is the landscape?
As the years went by, I became fascinated by the passage of time and photographing the ebb and flow of the seasons. Women's lives have seasons as well. 
The cultural anthropologist in me liked the idea of the Paleolithic trinity of Maiden, Mother and Crone to illustrate the seasons in a woman's life.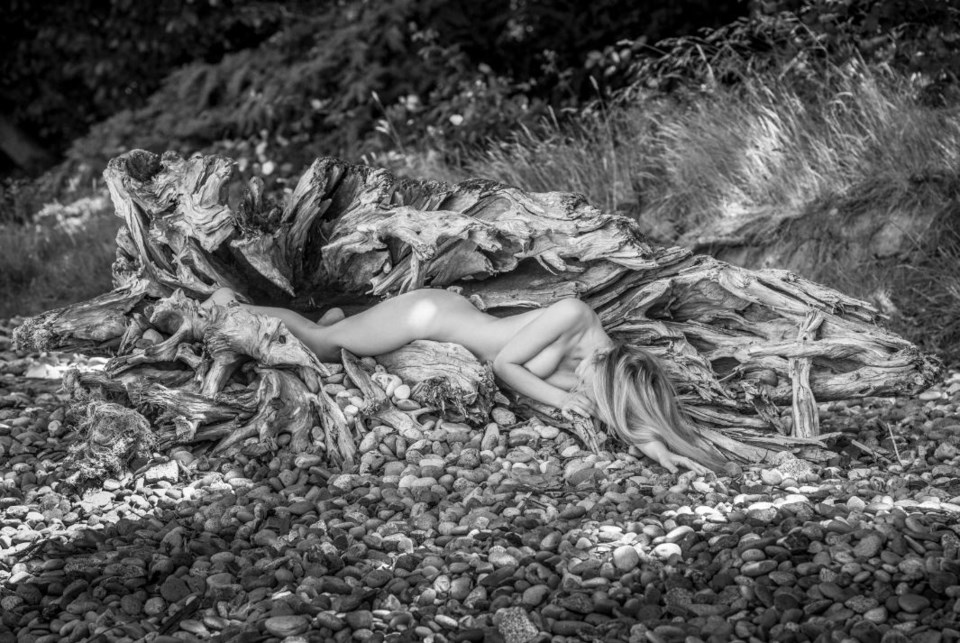 And I noticed quite quickly that while women might admire and love some of my earliest work, they were somewhat distanced from the nudes because I was portraying culturally accepted notions of idealized female bodies. Which wasn't my intent, as I was hiring models who were willing to shoot nudes.  
I then started asking friends to pose for me and started seeking out a much larger range of representations of ages, shapes and diversity of ethnicities.
This was difficult initially. I had to convince a lot of women that they would look wonderful as art.
The first few friends I photographed in their 40s and 50s gifted me with their trust and their photographs inspired a lot of women to pose. The work became much more powerful and meaningful and spoke to a much larger audience.       
Was that awkward to start?
In the case of The Tattoo Project: body. art. image., the emphasis and intent was always about showcasing the tattoos. And I asked everyone, male and female, what their comfort level was beforehand in regards to their partial or total nudity.
I also quickly learned how important communication was. But yes, it was totally awkward initially.
Later, when I was photographing the Nude in the Landscape series, I found that the more I communicated with the models the more comfortable it was for everyone involved.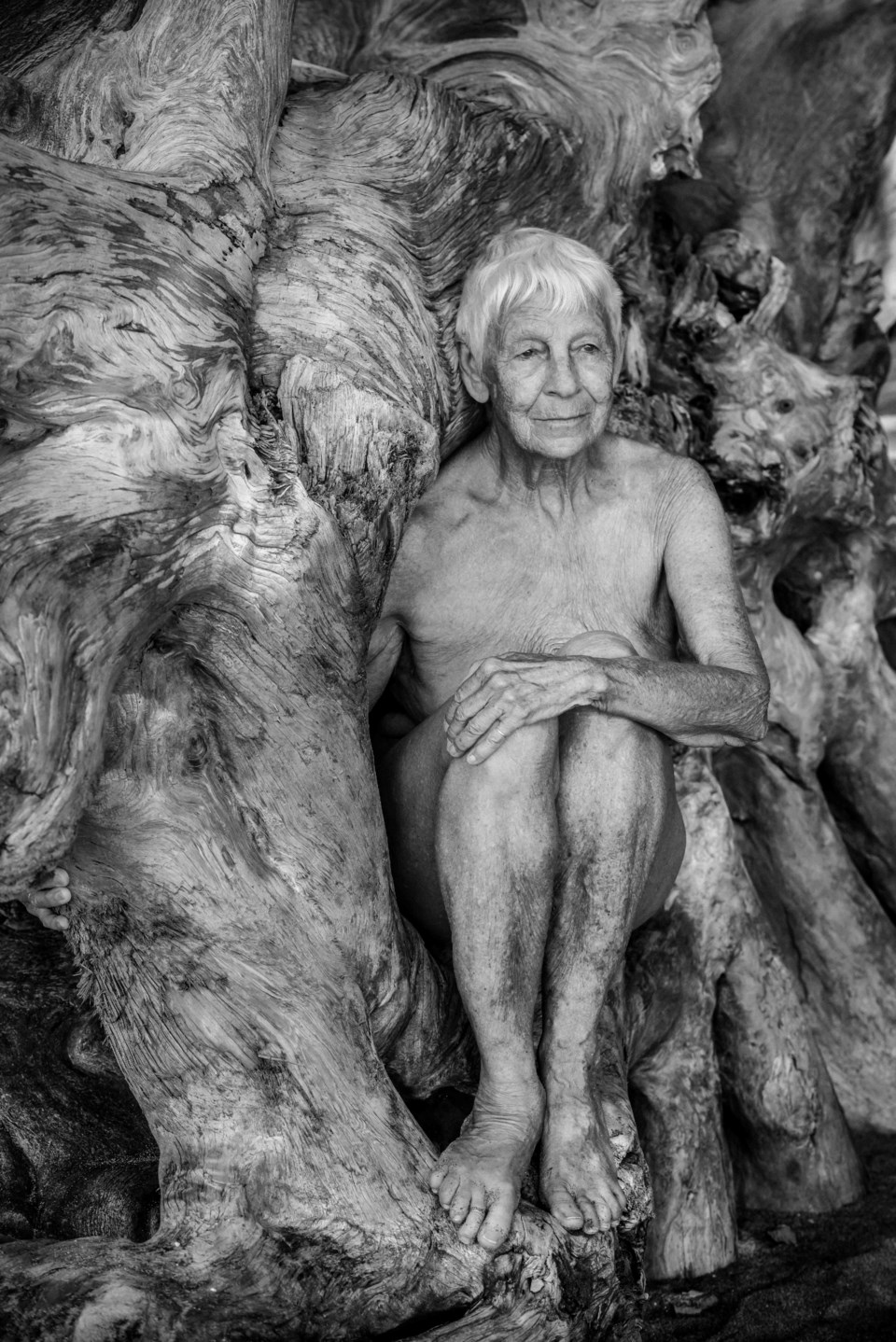 Your admiration for older women shows up in your work. What is it about older women that makes them such great subjects?
I'm an increasingly older man myself. None of the women in my life have become any less beautiful to me as they have aged. In most cases, their confidence, life experience, wisdom, and self-acceptance makes them even more beautiful. It's shocking to me that we see so few representations in art of women past a certain age.  
There are almost no fine art nudes of post-menopausal women, and nudes of women in their sixties and seventies are beyond rare. That saddens me.
If art represents who we are as a culture, and allegedly our highest ideals and aspirations, what does it say about us that we — and by "we" I mean mostly white, privileged men of a certain vintage because they're still the gatekeepers of the art world — don't represent, venerate and elevate art that portrays women who are no longer physically fertile, but who are the heart and soul of our lives and communities?
And of course the same goes for women of colour or women who don't appear in fashion magazines. On a personal note, it's great to spend time on a photo shoot with a woman who knows all my pop-culture references!
Your photo shoots are largely outdoors and even near or in water. How do you keep your models from freezing?
I shoot year round, including rain and snow. Everyone has a different tolerance when it comes to cold or being in water. For many shots, there's a lot of behind the scenes smoke and mirrors going on. 
Blankets and towels you can't see in the frame. And just about anybody can lie naked in the snow if there's a hot tub twenty feet away.  The key is never to get so cold you can't get warm in a few minutes. 
Where does your work appear?
On the occasional gallery wall and my website. Sadly, my work on social media platforms is relentlessly censored and deleted. I am shadow banned on Facebook and Instagram. I am constantly threatened with permanent deletion.
As a result, I self-censor. It's deplorable. It's about placing corporate profits above women's rights and human rights. The so-called "Community Standards" violate Canadian law as it pertains to female nipples.
But it's also about placating some of the worst regimes in the world with regards to women's rights and human rights. It's corporate sexism and misogyny at its worst. It's about controlling women by policing and controlling their bodies.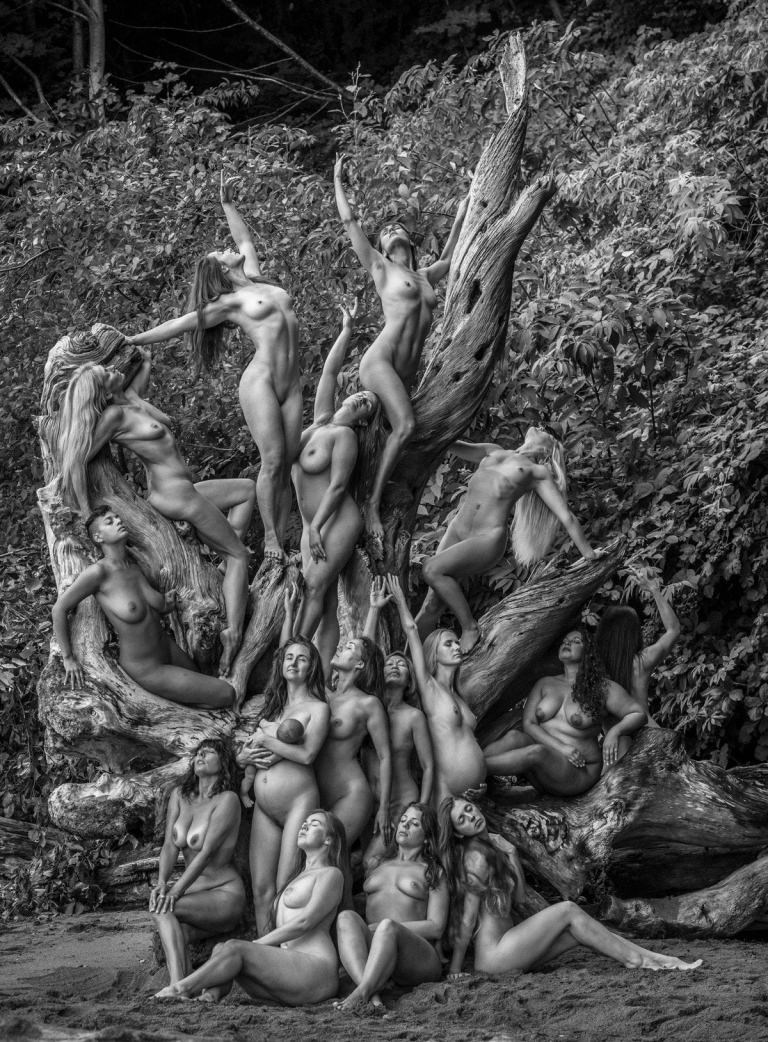 One of your most famous photos is dubbed, The Tree of Life and includes more than a dozen women. How long did it take you to pose all of those women in such a way?
My background in film and television comes in handy when directing large groups. I start at one end and then give directions across the frame. It takes about a minute per person to construct a pose. After four hours of that my brain has used up all of its bandwidth.  
Beginning this week, Hemingson has 10 over-sized photographs hanging at Cafe il Nido on Thurlow Street.
sthomas@vancourier.com
@sandrathomas10