I raise my stick in celebration after scoring the winning goal, set up by ex-NHLers Bernie Nicholls and Gary Leeman. The street hockey game on the M/V Louis Cristal's upper deck is over, but as the sun glitters on the Caribbean Sea, my adventures on this cruise around Cuba are just beginning.
What's going on here?
It's hard to picture "hockey" and "Cuba" in the same sentence. But Cuba Cruise, a 2013-founded Calgary company, is pioneering innovative ways to experience this long time socialist nation that go beyond simply baking on a Varadero beach.
The week-long "Hockey Night in Cuba" theme cruise I took recently with a group of other travel writers circumnavigated the 110,000-square-kilometre island, making multiple stops.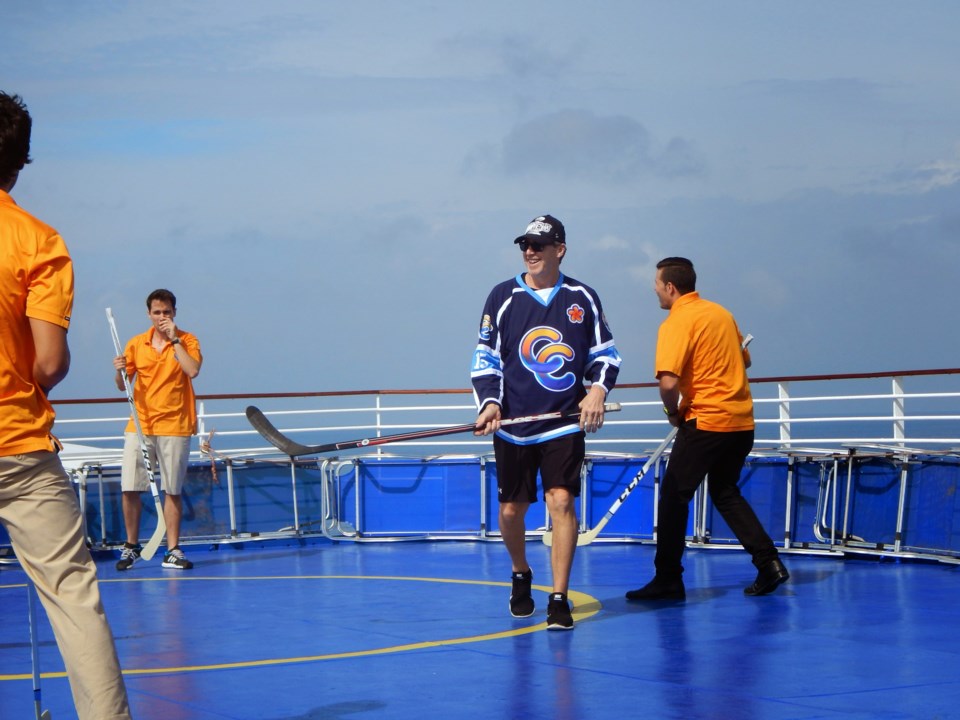 I was living in two different worlds. By day, I delved into the legacy of Fidel Castro, Ernest Hemingway, and other revolutionary characters. By night, I devoured ribeye steaks and Caesar salad at the on-board Alberta Prime Steakhouse, worked out at the well-appointed gym, vied for karaoke supremacy and chatted with the retired hockey players who'd been invited on this voyage.
It felt ironic that my introductory tour of Havana was in a red 1954 Chevy Bel Air. Old American cars have continued rolling through the Cuban capital since the U.S. trade embargo started in 1960, but the Obama administration's loosening of travel restrictions means there'll be more American visitors – and more modern vehicles – in this land of 11 million in the imminent future.
Many reminders of the 1959 Cuban Revolution linger on. Blocky Soviet-era buildings and signs reading "Socialism or Death!" contrasted with the crumbling colonial glory of old Havana, which is now a UNESCO World Heritage Site.
I stared up at the grey, 109-metre tower in Revolution Square, where a huge image of Che Guevara faces a statue of Jose Marti. Little-known abroad, Marti, a journalist and poet, became a national hero in Cuba's 19th-century fight for independence. At least in terms of statues, Marti surprisingly gets more exposure than Castro himself.
I just wished I'd had more time to explore Havana. Near the cruise ship terminal, I entered a small shop at the Hotel Conde de Villanueva, festooned with European soccer scarves, and watched a grizzled cigar maker rolling fat Habanos. I abstained, but enjoyed an espresso and a glass of rum.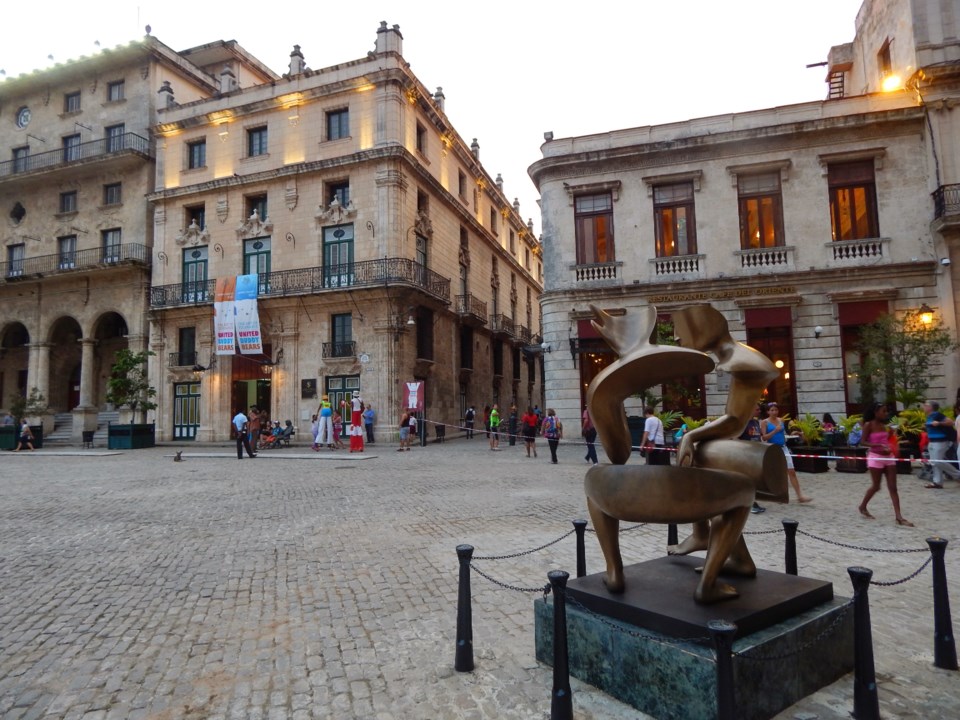 Afterwards, I strolled along magically lit cobblestone streets. I admired Havana's baroque cathedral and the Hotel Ambos Mundos, where Hemingway paid $1.50 a night for room 511 and wrote For Whom the Bell Tolls.
Our next stop was Antilla. My group took a bumpy two-hour bus ride past banana plantations and cactus fences to Castro's childhood farm in Biran, sweltering in 30-C weather. In a neat capitalistic touch, visitors are charged $10 U.S. to take photos. From the white marble family grave to the main house's pink-tiled bathroom to the 1918 Ford parked next to the reconstructed cock-fighting ring, evidence of the revolutionary leader's surprisingly affluent origins abounded.
Lunch at the nearby Ranchon Alcala was characteristically Cuban. In an open-air restaurant with a thatched roof, I tucked into black beans and rice with roast chicken and tomato salad – and drank a can of Cerveza Cristal, the go-to Cuban beer. 
In Santiago de Cuba, the country's second-largest city, my highlight was visiting the 1638-built El Morro, a Spanish fortress intended to guard against pirates. Burgeoning with rusting cannons, it magnificently overlooks the Bay of Santiago. A golden sunset illuminated the waves. Beneath an archway, four seated women sang "New York, New York" in exquisite harmony.

Happily, the itinerary did include some beach time. During a stop in Montego Bay, Jamaica, I took a dip and relaxed on a chaise at the famous Doctors Cave Beach, feasting on jerk chicken and strawberry daiquiris.
I visited the ship's bridge when we docked at the 1819-founded provincial capital of Cienfuegos. It was remarkable to watch Captain Goumas bring the vessel into port at 9.5 knots and work with his commanding officers to maneuver it into place. (The experience is $20/adult.)
In nearby Trinidad, celebrating its 500th anniversary this year, worlds seemed to collide. A tiny amusement park featured large, knock-off Mickey Mouse and Winnie the Pooh images. An old man smoking a foot-long cigar in the historic centre accepted tips in exchange for his photo. Castro-style green army caps with red stars abounded – for sale in gift shops. Ah, so that's what's going on here.
A warm rain falls in the main square as I prepare to head back to the ship, with all its North American comforts and familiar hockey talk. If fun, adventure, and history are what count, then clearly I've scored a hat trick in Cuba.
For more information on Cuba Cruise's different themed trips, visit yourcubacruise.com. Sailings run through late March.