The hour-long winery tour ends in a pink-hued room built for Instagram holding long-stemmed glasses of Trius Brut Rosé topped with fluffy clumps of pink cotton candy.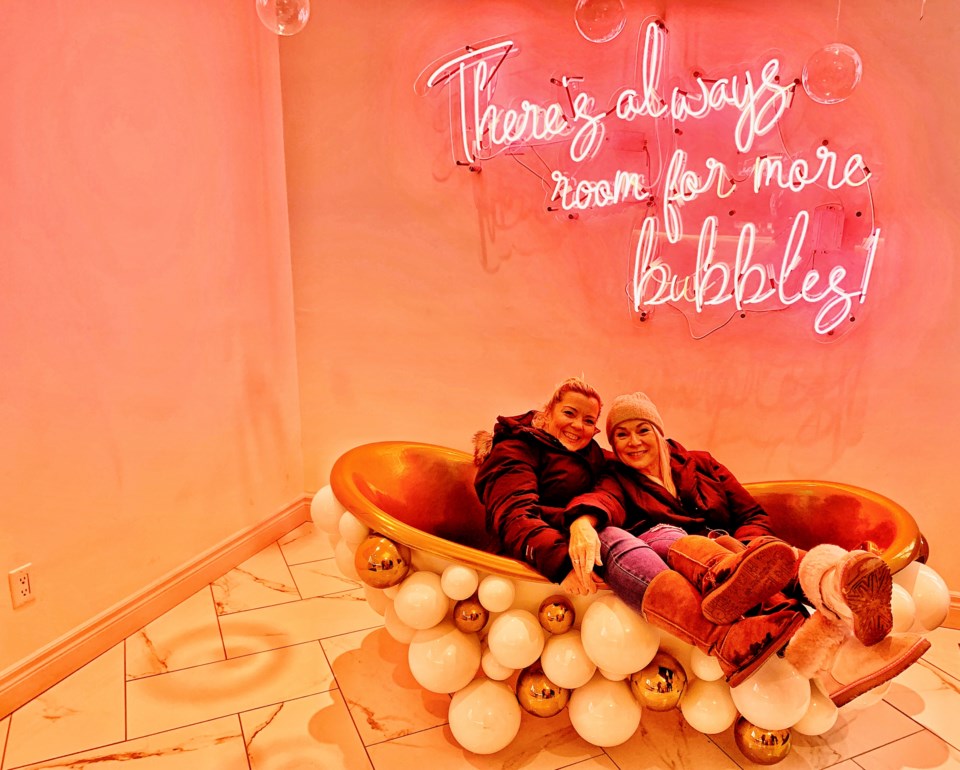 Grinning guests like Tia Mullett and Hazel Keats excitedly climb into a bathtub (aka the "bubble tub") decorated with giant gold and white bubbles under a sign that says "There's always room for more bubbly." Some hop into a swing of sorts with faux fur pillows or take selfies in a translucent hanging chair decorated with more bubbles and the slogan "More bubbles please."
Large information signs with fun fonts make the technicalities of sparkling wine approachable. "Learn to speak sparkle" details the way wine is blended, aged, riddled and disgorged.  "The finer points of fizz" explains how a white wine base and a hint of red creates "the picture perfect pink."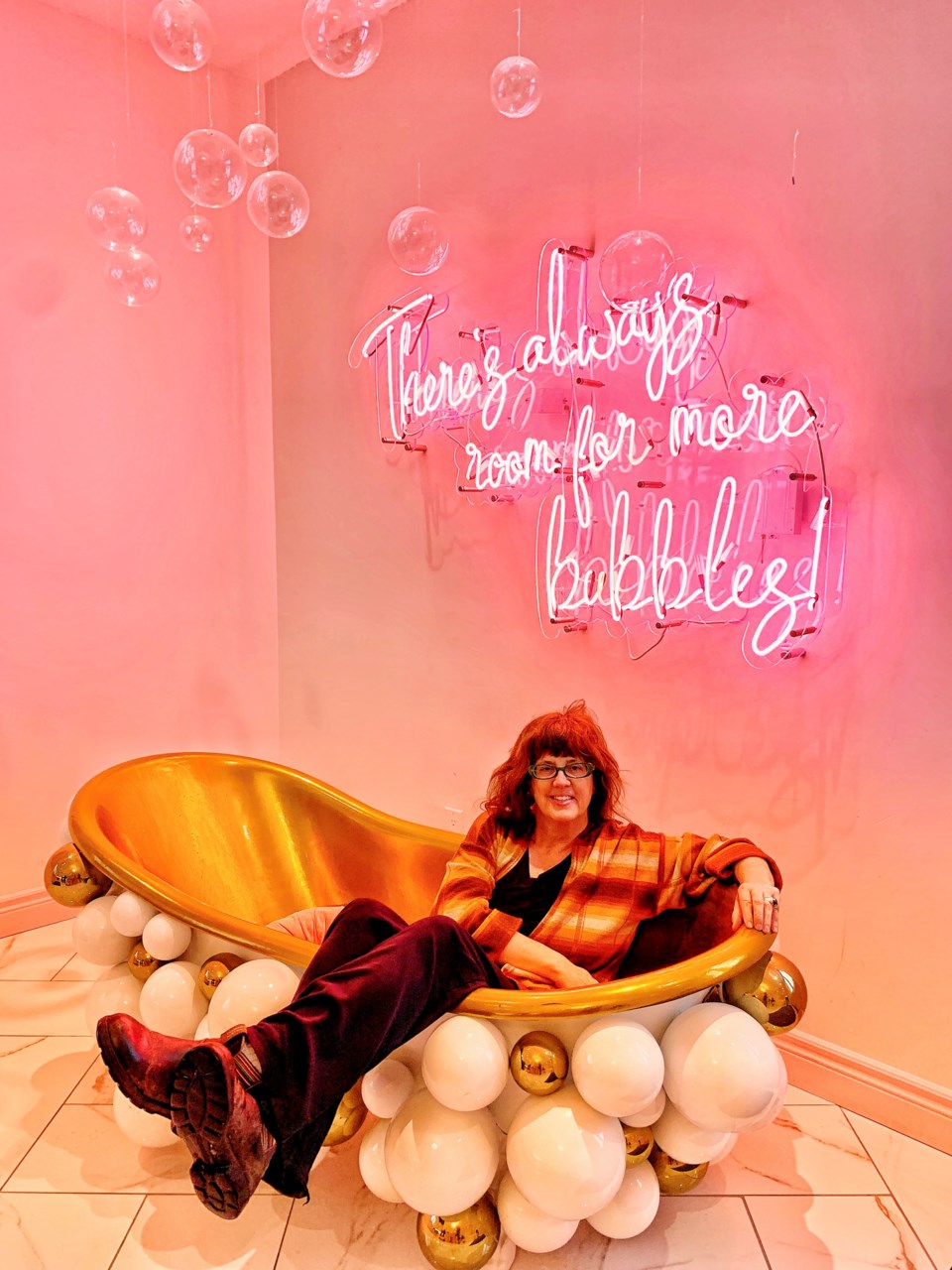 Tour guide Jasmin Ozkur ducks behind the counter to pour the bubbly and whip up a batch of cotton candy for the garnish. "You can eat the cotton candy on its own," she advises, "or add it to your drink."
Without stressing over the options, I push the spun sugar confection into my glass and watch it rapidly disintegrate and give the pale liquid a more pronounced pink hue.  Wine aficionados would probably be aghast, but I eagerly down the sugary rosé and it tastes just fine.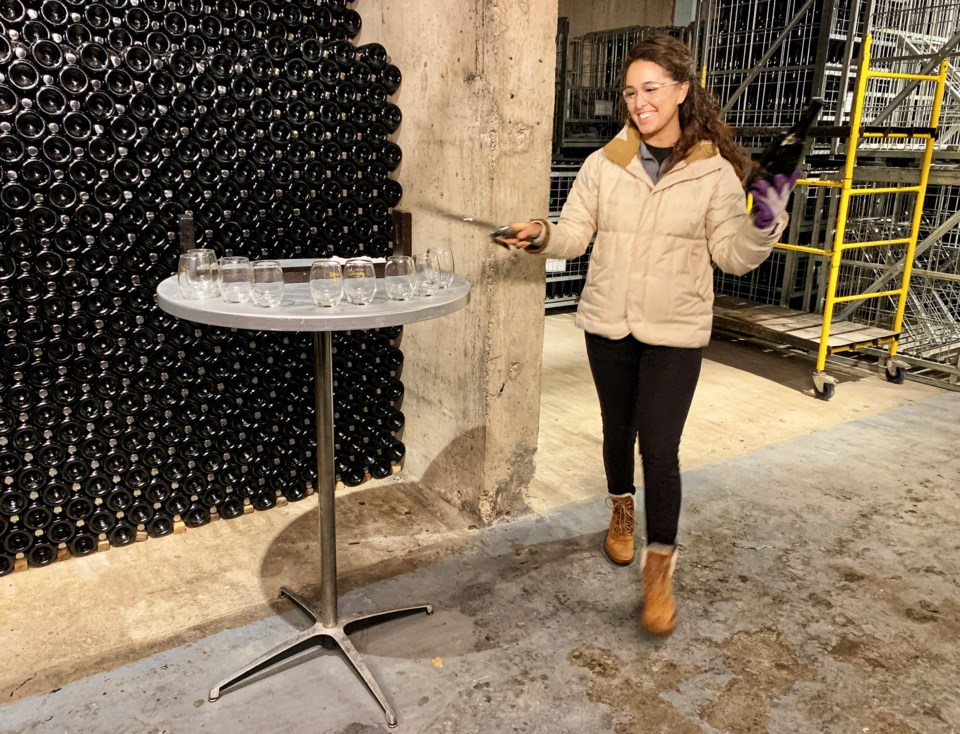 Welcome to the modern word of immersive wine tours and experiences. This one costs $39 and includes four drinks on the Trius Winery property, including one in Canada's largest underground sparkling cellar. Trius humbly calls it "the most Instagrammable winery tour on the planet." It may be winter, but everything except the drink on the "elevated hot pink vineyard perch" is going ahead.
Wine Country Ontario sees more than 1.8 million wine tourists a year. The fact that it's January and snowing doesn't deter my group. The wine's the same. The crowds are smaller.
Ontario is a world leader for icewine, but its table and sparkling wines are gaining recognition. More than 180 VQA vineyards (certified by the Vintners Quality Alliance) stretch across the southern part of the province near three of the Great Lakes. Three appellations include the Niagara Peninsula, Prince Edward County and Lake Erie North Shore.
Using Shaw Club Hotel as a base, my two-day exploration sticks to the Niagara appellation —home to the Niagara Escarpment — a limestone bluff that circulates moderating air from Lake Ontario down over the vineyards.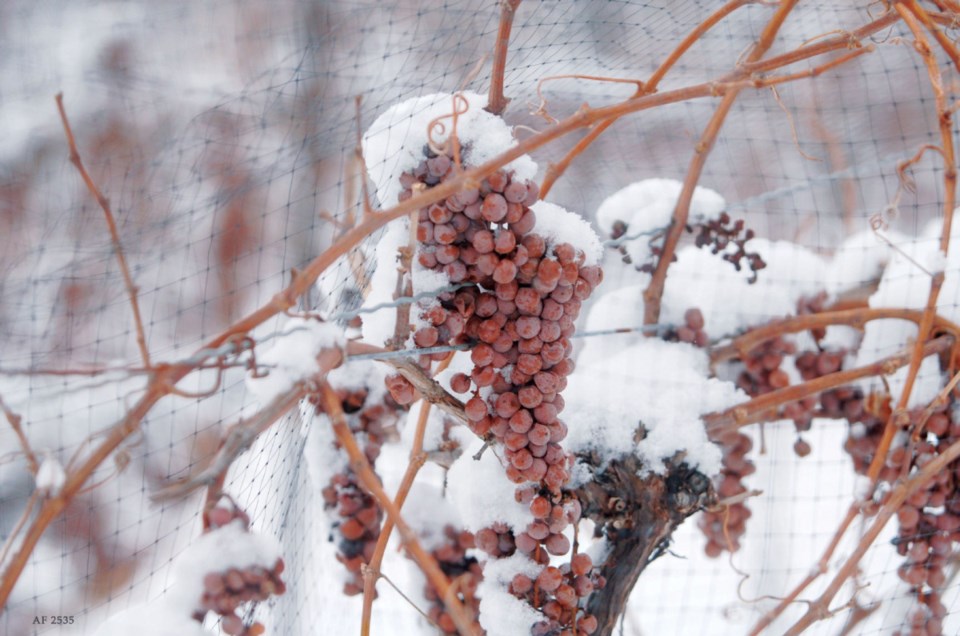 There are large, medium and boutique estates, wineries with elaborate shops and restaurants, serious guided tastings and fun tours. It's the middle of the annual Niagara Icewine Festival (which runs until Jan. 26) and there's an Icewine Village in downtown Niagara-on-the-Lake.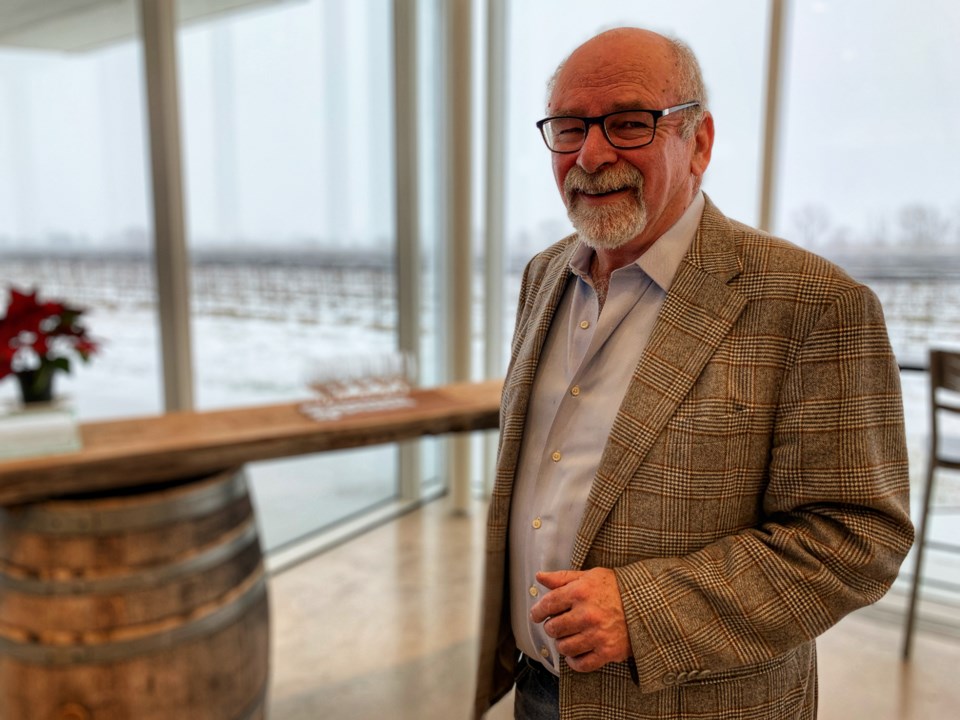 At Southbrook Vineyards, proprietor Bill Redelmeier goes by "chief storyteller." He regales us with tales of getting up at 5 a.m. for the first icewine harvest of the year in November, the importance of organic and biodynamic certifications, the gorgeous tasting table runner his mom wove from his old shirts, and the making of his orange wine, a Vidal Skin Fermented White.
Redelmeier also shows me — an unapologetic craft beer and cocktail lover who rarely drinks wine — how to smell it during a tasting, suck in a mouthful of air with the liquid and then spit it into a spittoon. "Make it sound disgusting," he urges. "The more disgusting and the further you can spit, the better."
For a wine guy, he's refreshingly down to earth. "Why do people drink that bottle of wine?" he asks rhetorically. "They buy it to put on the table, share with friends and tell a story about why they bought that bottle of wine. My job is to give out stories." As for wine pairings, he subscribes to the theory that if you "eat what you like and drink what you like, with people that you like, it will always go together."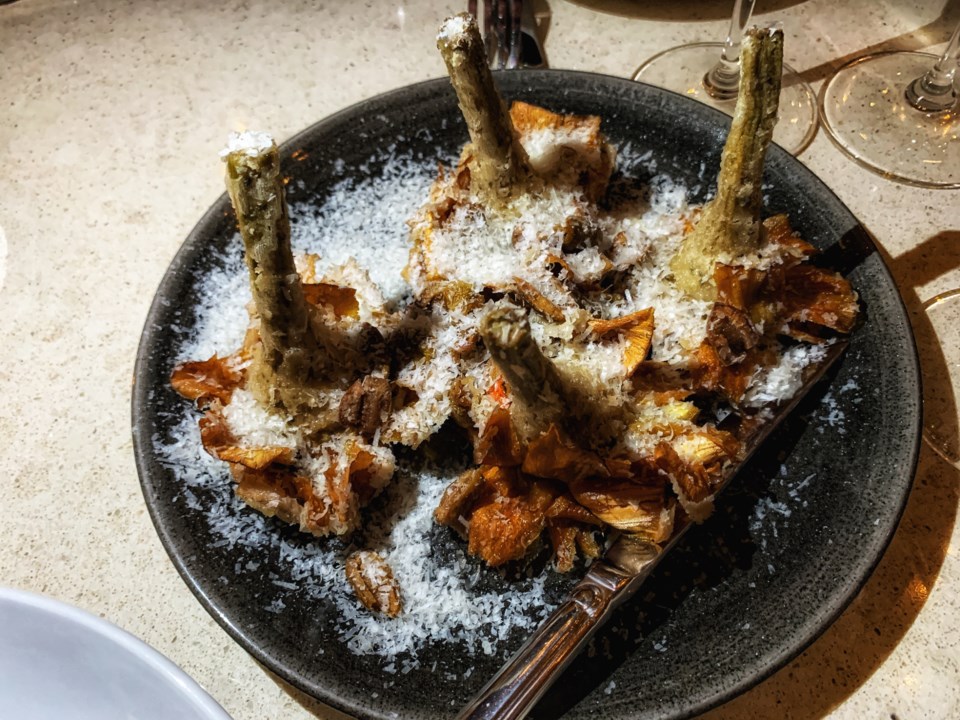 At Kitchen76 restaurant at Two Sisters Vineyards, we eat an Italian feast family style, trying things like elk tartare, heirloom beet salad and crispy artichokes with Parmigiano-Reggiano, preserved lemon and olives. In winter, the winery offers cooking classes, collaboration dinners, half-priced tours and an icewine cocktail experience.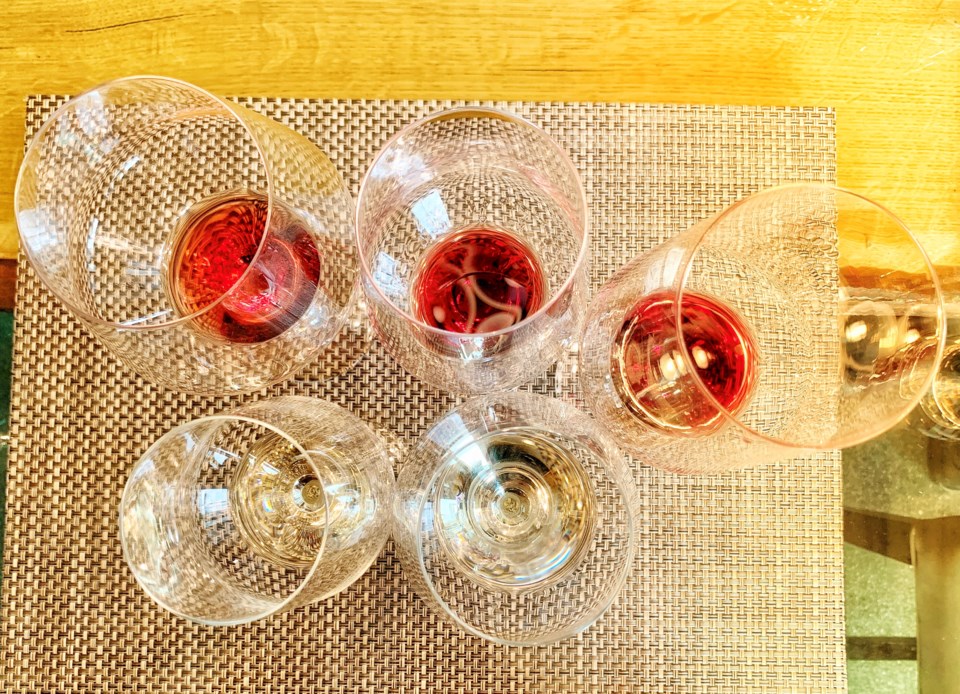 All our wineries are in Niagara-on-the-Lake, except for Redstone Winery in Beamsville. Winemaker Rene Van Ede leads us through a laid-back tasting and then a leisurely lunch with wine pairings.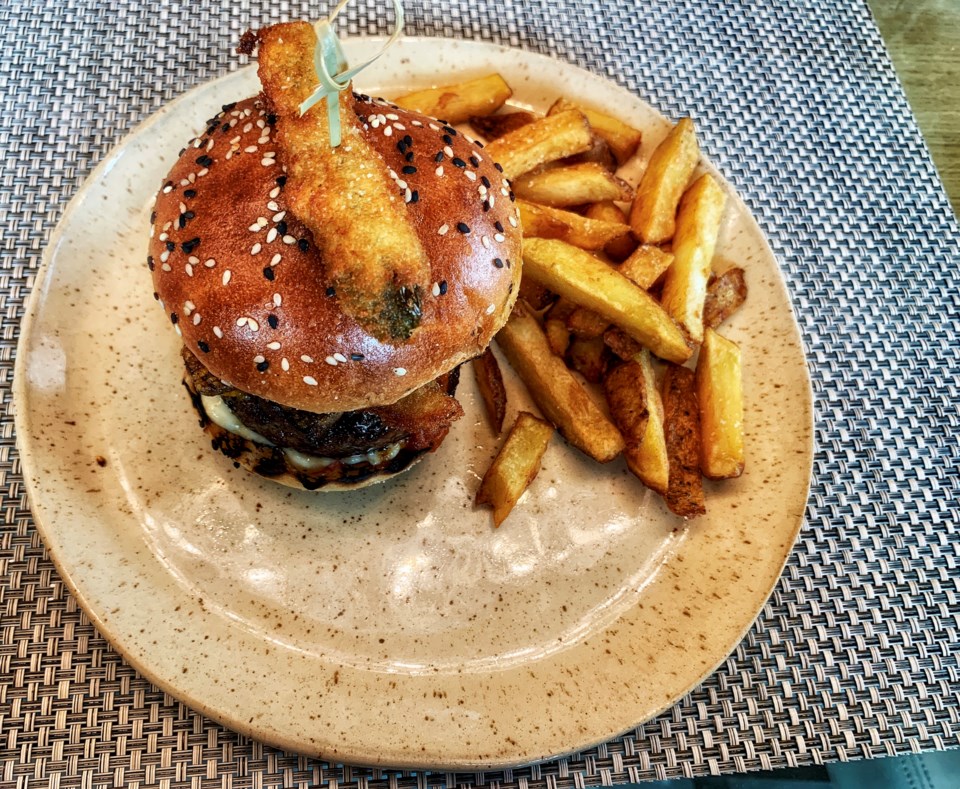 I'd return just to eat chef David Sider's Broccoli Caesar and Cumbrae Beef Burger (cooked medium-rare) and hand-cut fries again.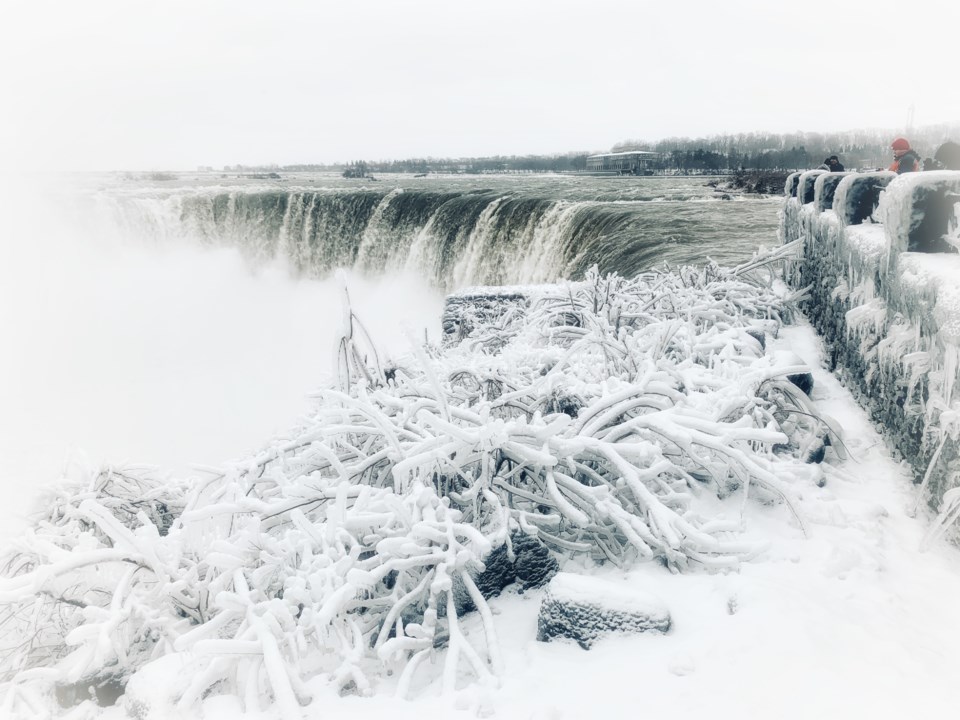 Any trip to wine country should include an appreciative moment at Niagara Falls, especially in winter when views from the observation deck include lovely ice formations. The Journey Behind The Falls experience happens year-round, so we take an elevator down 125 feet to explore the tunnels and see the falls from viewing portals.
"Everything is still open and people are still here from all over the world," says Niagara Falls Tourism communications manager Victor Ferraiuolo. The falls don't actually freeze, he adds, but when it occasionally looks like they do it's an optical illusion because the water is always flowing.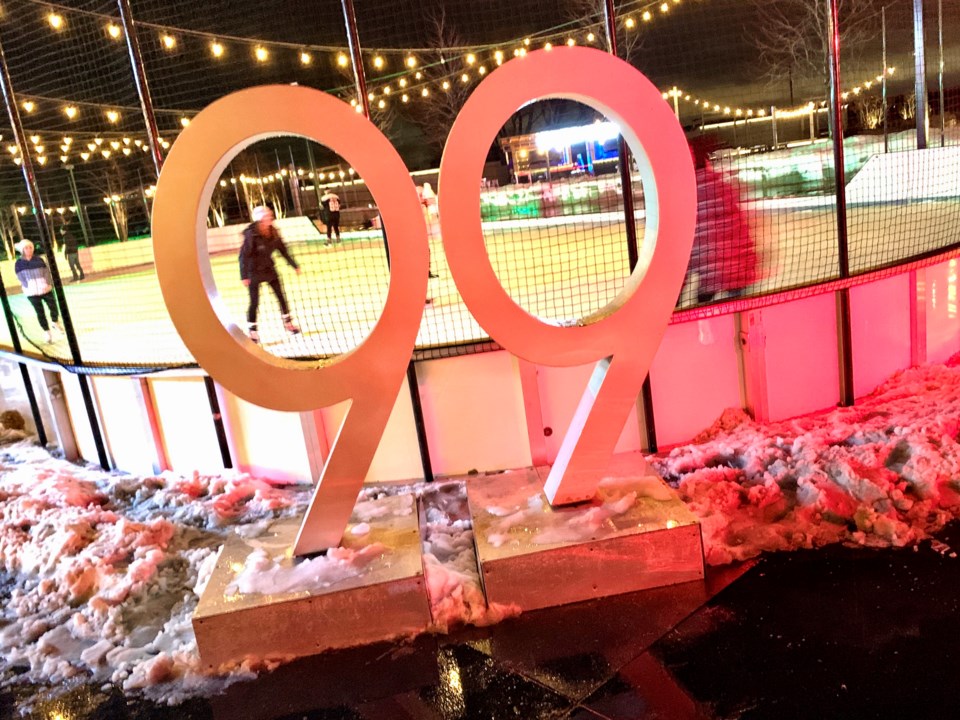 If I had to pick a favourite winter winery experience though, it has to be skating at Wayne Gretzky Estates. Canada's most beloved hockey player makes wine, whisky and beer here and so naturally offers "The Great One's Backyard Rink" from early December to mid-March.
Five bucks gets you on the ice (unless the Zamboni's out). Another $10 gets you rental skates. No hockey sticks are allowed and of course everybody stops for a selfie in front of the giant number 99 at the edge of the rink.