There's the slogan tee if you want to wear your support for a cause out proud, or a badge or buttonhole if you want to keep things closer to your chest. But what if you want something that makes your allegiance obvious, but can be removed when you want, and worn with different outfits? According to Obakki founder Treana Peake, you need a scarf. "Scarves tend to be a staple piece. Regardless of one's personal style or time of year, they're the perfect piece to tie together a total look," she explains.
For years, her fashion foundation has run its Scarves for Water project, which funds well-digging in African villages. Now, it's taking things up a notch with the Bidi Bidi scarf. It's designed by the women of Bidi Bidi in Uganda, the world's largest refugee camp, and 100 per cent of profits go back to the women to fund their business initiatives. "I walked into Bidi Bidi with a plan, to help where and how it was most needed. What the women asked for was simple, to be able to build their futures using their own two hands," says Peake. "I gave them paint, which they used to design this scarf, and the proceeds from this scarf will allow them to build their future."
Nimi Nanji-Simard, founder of NimiNimi, is also using scarves to support refugee communities, through the Office of the United Nations High Commissioner for Refugees (UNHRC). Her reason for choosing this charity is personal. "I came to Canada with my family in 1972 as a political refugee from Uganda," she says. "I must qualify the term refugee: My life was not in danger in the same way as many of the other displaced people around the world, in war-torn or famine-ridden countries are. I did not experience religious or gender persecution. However, what we had in common was that we were stateless and expelled from the country we were born [in] and called home for generations."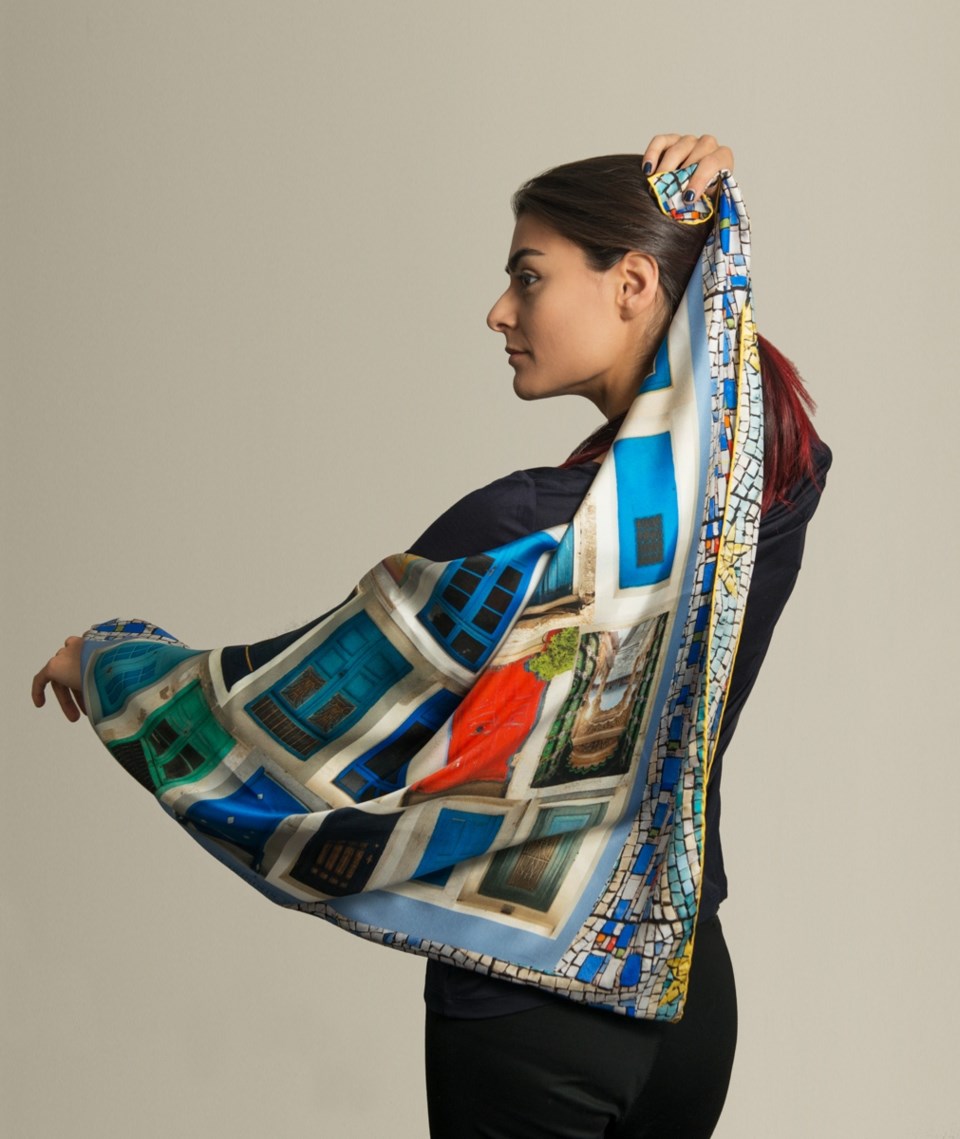 For her, scarves are more than just accessories. "Every scarf has a meaningful story and inspiration that informs it. They are not just patterns, they tell or reveal a story." Ouvre Moi Ta Porte/Won't you open your doors is decorated with images of doors that represent her childhood in Africa and her modern Montreal life – because, she says, "Canada opened its doors wide for us." The Italian-made, pure silk scarf commands a luxury pricetag ($300, of which $100 goes to the UNHCR) but that's intentional. "A luxury scarf like mine is made to be an heirloom, not disposable or easily replaced. Hopefully I am creating lifelong habits for people who buy my scarves, and to always look for products that share their wealth."
Social enterprise InFocus uses its scarves to support different charities around Canada, raising money for everything from conservation projects to individuals with disabilities. It partners with Canadian nature photographers to create what founder Kemp Edwards calls wearable works of art. "Our scarves truly are a giant canvas upon which we can print anything. Many people have chosen to purchase them to frame and hang in their homes," he says. More than just giving back, Edwards is keen for his products to leave a minimal environmental footprint, so they're made from recycled plastic bottles. He believes that these arresting accessories invite questions. "We get great feedback from wearers of the scarves who boast how they are proudly and regularly sowing off the images and communicating the story behind the piece. My hope is that this will inspire others to build products that tell a story," he says.