A contract assignment for the number-one penthouse in the not-yet-built Vancouver House in Yaletown is the highest-priced condo to be listed on the Greater Vancouver market the week of October 30 to November 5, MLS data shows.
The hyper-luxurious penthouse, PH1 at 1480 Howe Street, is one of the city's most prestigious condominium addresses. It is atop the Bjarke Ingels-designed tower that has been the subject of much media attention, largely on the topic of overseas marketing and foreign purchases for speculation and "flipping" purposes.
The building launched presales in 2015 and is not due to be completed until 2019 – so it's not impossible that this unit or others like it will be assigned again before completion.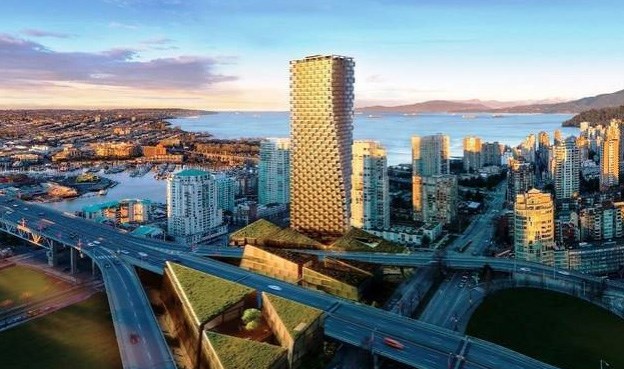 The penthouse has an internal elevator to all three levels, with 2,334 square feet of indoor living space and the same amount of outdoor space, over five patios and a private rooftop deck with hot tub and outdoor kitchen. The buyer paid for optional upgrades at purchase, totalling more than $50K, including private two-car parking, extra storage space and even a grand piano. The assignment of purchase was listed on October 30 for $11,888,900.
The most expensive listing overall to come on the market the same week was a 1992-built mansion in Shaughnessey. This enormous, six-bedroom home on a huge lot just off The Crescent has more than 8,000 square feet of living space and has seen millions of dollars in renovations and upgrades in recent years. It is listed at $17.98 million, also since October 30.
The median listing price of the 5,415 detached homes currently listed is $2,150,000 – down from the previous week's jump up to $2,323,117 and roughly the same as the week before that.
Townhome (and other similar attached units such as row homes and duplexes) saw a weekly increase of just $800 to their median listing price across the region, now $988,800.
Condos remained static in their median list price, which is $699,900 across the 2,289 condos available for sale in the whole Greater Vancouver area. That rises to $952K when looking within Vancouver's city limits.
The same week saw a total of 934 new listings, a jump from the previous week, bringing the total inventory of homes for sale on Greater Vancouver's MLS® to 8,892 as of November 9. That's lower than the previous week, suggesting higher sales absorbed even more than the new inventory.
Joannah Connolly is the editor of REW.ca, where you can find more Vancouver real estate news.