At 12:32 a.m. on Jan. 1, 1998, Linnea Teichroeb and Camille Bush made history together.
Linnea had the double honour of being Vancouver's 1998 New Year's baby as well as the first baby born in British Columbia under the newly licensed midwifery program.
Bush was definitely not the first midwife to help with a birth in B.C., but she was the first to be able to legally do it without a doctor present.
Of course, baby Linnea was a bit oblivious to all the fuss. But to Bush, who 20 years later is winding down a career that has ushered about 1,800 babies into this world, it was a very special moment.
Bush was one of three midwives working at B.C. Women's Hospital that night. Her interest in midwifery had been sparked by her Appalachian grandmother who gave birth to her children at home and told stories about "helping the neighbourhood ladies" give birth.
Bush's mother did not have the same stories to share. Giving birth was a medical procedure by then, done primarily in hospitals with sometimes invasive procedures. Mother and baby were kept in separate rooms during an extensive hospital stay.
After the birth of her first child, Bush became even more aware of the need many women felt to be more connected with their birth experiences. She became a midwife in 1974, but B.C. was slow in giving women the option of having a midwife deliver their babies. She got her licence in Washington State in 1987 and worked in the Kootenays.
By New Year's Eve 1997, Bush was in Vancouver, excitedly awaiting the stroke of midnight when, finally, it would be legal to have a midwife direct and manage the birth on his or her own. "By the time I came on in 1996, it was an established program within B.C. Women's," she says. Midwives met with mothers before and after birth and were welcomed and respected as part of the birthing team by most obstetricians and family doctors. However, provincial rules stated a doctor must be present during the birth.
As much Linnea's mother wanted Bush as her midwife, it was more important to her (at the time) to have Linnea born on Dec. 31.
Benedicte Schioetz is from Norway, where midwives have long had the responsibility of hospital deliveries. Schioetz's oldest daughter had been born in Norway, and it wasn't until she and her Canadian-born husband Kevin Teichroeb moved to Ottawa, where their second daughter was born, that she discovered it wasn't the norm in Canada. When the young family moved to Vancouver, it was Teichroeb who really pushed for having a midwife oversee the experience.
Schioetz was in complete agreement but she was willing to have a doctor preside in the delivery room in exchange for having a baby in the 1997 calendar year.
Schioetz had married young and wanted to be able to continue her own education once her children were in kindergarten. She waffled on whether to have two or three children until March 1997, when she realized that if she got pregnant right away, the baby could enrol in school two years after her middle daughter. If the baby was born Jan. 1, the school gap would be three years and she'd have one more year of being a stay-at-home mother.
"Can I get this baby out before Jan. 1," she asked herself.
She almost got the math right: the due date was either Dec. 31 or Jan. 1.
On the morning of Dece. 31, Schioetz began doing anything she could to convince the baby that today was the day. She went for a long walk, sipped on castor oil, tried a few old wives' tales. Nothing. By seven that evening, the couple realized they hadn't planned for a New Year's Eve at home so they ordered in Chinese dinner.
At nine o'clock, there was a twinge of recognition. Labour was starting. But Schioetz was tired and went to bed. By 11 o'clock, with a big "Oh!", she realized things were happening fast. They got to the hospital about 11:45 or 11:50.
The first person who saw her said, "You're at eight centimetres. Are you here to have the New Year's Baby?"
Schioetz replied, "No, I'm trying my very best NOT to have the New Year's Baby!"
Linnea obviously wasn't listening.
Bush, on the other hand, was thrilled.
The birth took place in Women's Hospital's relatively new "single room maternity care" unit. The hospital had made the shift in creating a place where a woman could go through labour, delivery and after care all in the same room.
At midnight, the obstetrician on duty, Dr. Michael Klein, asked Bush if she wanted him to leave the room — legally his presence was no longer required. Dr. Klein had asked to work that night because he was very supportive of the new midwife program so Bush knew that for him, too, this was a big moment. She was pleased to have him stay. He moved to the side of the room to watch history being made.
There was no "It's a girl!" moment. Bush feels that that the baby's gender is an important discovery for the parents to make on their own. Instead, her priority was the baby — "out, breathing, turning pink" were the items on her checklist.
Linnea was the third baby born at the hospital that evening; unfortunately, Bush was helping with one of the other mothers when the staff gathered for a one-for-the-history-books photo of the first baby born under B.C.'s licensed midwife program. (Linnea had also missed out of the provincial New Year's baby title by a few minutes.)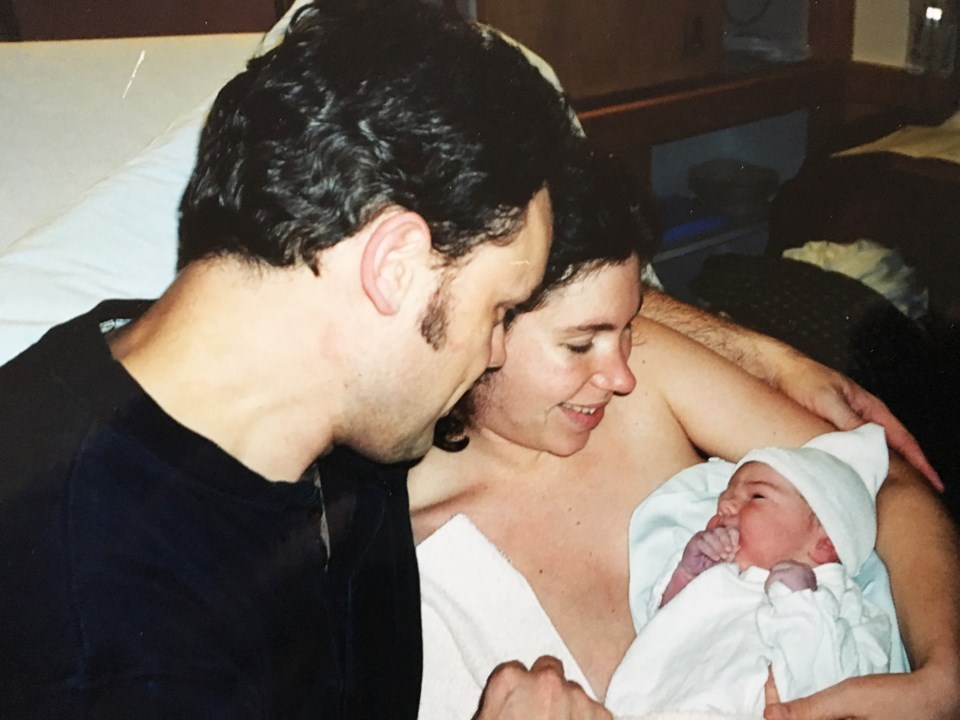 Twenty years later, it is routine for a midwife to lead the delivery process. Doctors are called in only if there are complications.
Bush is proud to have been there at 12:32 that January morning. "It was a landmark event," she says. "It was the first birth for midwives in the regulated system. But at the time, my attention was elsewhere."
"It was a beautiful experience," Schioetz agrees.
P.S. When Linnea started kindergarten, her mother did indeed go back to school. Shioetz is now a labour and delivery nurse at the Richmond Hospital, and she and Bush occasionally run into each other in their neighbourhood. Linnea is doing a gap year in Norway, where she hopes to enrol in medical school.
mperkins@vancourier.com