Heading into this season, the Canucks had one proven defence pairing: Alex Edler and Chris Tanev. Beyond that, the Canucks' defence was spackled together with hope. Would sophomore Ben Hutton fit with new acquisition Erik Gudbranson on a second pairing? Could they put together a legitimate third pairing out of the six other defencemen battling for a spot?
Tanev has been out since the beginning of November. Now Edler is expected to miss four to six weeks because his fractured finger needs surgery.
Losing an entire top pairing would be tough for even a Cup contender. For a cellar dwelling team like the Canucks, you would expect it to be devastating. But the Canucks do have depth at defence, including lots of youth, headlined by the surprise emergence of Troy Stecher.
So what defence pairings have worked for the Canucks so far this season? Which ones really haven't?
Let's take a really quick look at each pairing that we've seen at least 30 minutes from this season, using corsi, aka. shot attempts at 5-on-5.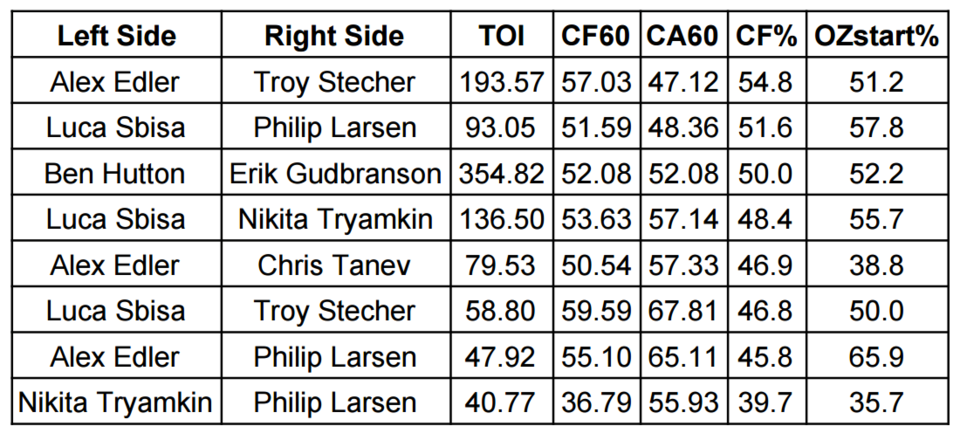 These pairings are ranked by corsi for percentage: the percentage of shot attempts taken by the Canucks with each pairing on the ice. If you're not familiar with corsi, just think of it as shot attempt plus/minus and know that it is a useful proxy for meaningful possession. It's not a perfect statistic, by any means, but it's a good quick way to get a surface look at how a pairing has performed.
It's not too surprising to see Edler and Stecher at the top, though I always have to remind myself that Stecher is a 22-year-old rookie. He shouldn't be this good, this fast. He has had good chemistry with Edler: they not only lead all these pairings in corsi for per 60, they're second in corsi against per 60. Essentially, they push the offence but still don't give up much defensively.
The second best pairing likely comes as a big surprise. Philip Larsen has been ripped to shreds by Canucks fans from what I've seen and it's understandable why. Not only has he been passed by Stecher when it comes to quarterbacking the power play, he has some pretty massive defensive flaws. Still, the pairing of Sbisa and Larsen has given up the lowest rate of shot attempts against and that is a bit of a shock.
There are a couple caveats here: Sbisa and Larsen were given more starts in the offensive zone than other pairings and were never tasked with playing against top forwards. There's an argument to be made that they took offensive zone starts away from more capable pairings, hurting the Canucks offensively just to protect that pairing.
Even with those caveats, however, there's reason to like Sbisa and Larsen as a third pairing. The next best option is Sbisa and Tryamkin, who have given up nearly 9 more shot attempts per 60 minutes of ice time. That said, if Larsen isn't getting sheltered on a pairing with Sbisa, things don't look so good for him, as we'll talk about in a moment.
The third pairing in the chart could come as a surprise as well. Hutton and Gudbranson have been criticized a lot recently. I admit, I haven't liked Gudbranson's game this season, but the pairing is dead even in corsi.
The pairing has struggled a bit more with both Tanev and Edler out as they've had to take on more responsibility, but overall they've held their own better than I thought. Maybe we shouldn't be so quick to call for the coaching staff to split up that pairing.
It's odd to see Edler and Tanev so far down this list, but there are a couple things to keep in mind. They have the most defensive deployment of any of these pairings and the two have always done better by fenwick, which excludes blocked shots, than by corsi, as Tanev is an excellent shot blocker and Edler is no slouch in that department either.
That said, an improved corsi would be preferable, particularly when you consider that Edler just got injured blocking a shot. So there's something to be said for putting Edler and Stecher back together once Edler returns and putting Tanev with Hutton. Just ignore what I just said about maybe keeping Hutton and Gudbranson together.
Finally, we get to the bottom of the chart, where Larsen's defensive flaws get massively exposed. The brief experiment that saw him skating on the top pairing with Edler should never ever happen again; despite starting the vast majority of their shifts in the offensive zone during their brief time together, the pairing got shelled.
Sbisa and Stecher, in their short time together, have also struggled, giving up even more shot attempts than Edler and Larsen. It should be kept in mind that they have had to play much more difficult minutes with Edler and Tanev out, while Edler and Larsen were much more sheltered. Still, it's blatantly clear that there is a massive step down from Edler to Sbisa, which should also remind us how much Stecher has benefited from playing with Edler this season.
Larsen's pairing with Tryamkin has the lowest corsi by a large amount, though in a largely defensive deployment, which really doesn't play to Larsen's strengths. Yes, Larsen has strengths. Stop looking at me like that.
Perhaps it's because Tryamkin is more more comfortable on the right side than on the left, perhaps it's because Larsen should be kept as far away from the defensive zone as possible, or perhaps it's a combination of the two, but that pairing has looked ugly on the ice and doesn't look any better on a spreadsheet.
So that's it: a quick look at the Canucks' pairings on defence, which should give us a decent overview of what has worked and what hasn't, even with the small sample size in mind for some of these pairings.
Oh wait, I promised that this would be quick and dirty. Uh...boobs!
There, that should do it.