As the Canucks get set to face the Boston Bruins, it's hard for Canucks fans to avoid thinking back to the 2011 Stanley Cup Final. It would be hard for much animosity to remain between the two teams, however, as just two players on the Canucks' roster were even on the team back in 2011.
Alex Edler and Chris Tanev are the only players remaining from that ill-fated 2011 team and they form the Canucks' current top pairing. The two veteran defencemen have plenty of experience and Green has relied on them to soak up big minutes for his young team.
Edler is averaging 24:39 in ice time per game, 16th in the NHL, while Tanev is not far behind at 22:42, mainly because he doesn't play on the power play. Green loves sending Edler and Tanev over the boards: they're first and fifth in the NHL in shifts per game.
There's just one issue: when Edler and Tanev are on the ice, they're getting absolutely crushed in puck possession.
When Edler and Tanev are on the ice together at 5-on-5, the Canucks have been out-shot 49 to 25. Shot attempts for the pairing are even uglier: 109-to-42 in favour of the opposition, for an appalling 27.81% corsi.
As a result, Edler and Tanev have been blocking a ton of shots. Edler leads the NHL in blocked shots with 35 through 7 games, an average of five per game. Tanev is in third, with 20 blocks. That's partly because they both play big minutes on the penalty kill, but Edler also has 22 blocked shots at 5-on-5. That pairing has been killing a ton of rats early in the season.
Blocking shots is like killing rats. Doing it is preferable to not, but if you're doing it all the time it suggests you have bigger problems

— Kent Wilson (@Kent_Wilson) March 18, 2015
It's not like Edler and Tanev are keeping the puck out of the net with any consistency either. They've been on the ice for a team-high six goals against at 5-on-5, which is unsurprising when you look at their scoring chance numbers from Natural Stat Trick: they've been out-chanced 67-to-18.
This isn't a new issue: Edler and Tanev struggled mightily by puck possession metrics last season too.
Unsurprisingly, Edler and Tanev's awful possession statistics are the worst in the NHL among pairings this season. No pairing that has played at least 50 minutes together is even particularly close to their 27.81% corsi. Greg Pateryn and Nick Seeler in Minnesota come closest at 35.78%, but they're the Wild's bottom pairing.
Most of the time, when a pairing has awful on-ice results like that, they don't last long as a pairing. For instance, Michael Del Zotto and Troy Stecher were awful early in the season, posting an atrocious 18.18% corsi and getting out-shot 15-to-3. That got Del Zotto a quick trip to the press box and got Stecher a new partner.
Canucks head coach Travis Green, however, doesn't seem to mind that Edler and Tanev are getting crushed.
"It's obvious how I look at them: they play a lot, they play against the best players in the world, and they're good players," said Green before the Canucks' game in Winnipeg on Thursday. "I'm not too worried about all the stats when it comes to everything."
"Eddy and Tanny are used to playing against top guys," he added later. "I know the stats aren't great, the analytical stuff, but they're also playing against the Crosbys, the Malkins, and starting every faceoff in their zone. They're under the gun.
"When you really watch the game they make some really good plays in their own zone that deny scoring chances and deny goals."
That last part is undeniable: Edler and Tanev absolutely do make really good plays in their own zone. They have denied the opposition scoring chances and prevented goals. Unfortunately, while they've denied some scoring chances and goals, they've given up even more. In aggregate, they've had a negative impact on both chances and goals.
The only Canucks defenceman who has been on the ice for a higher rate of scoring chances against than Edler and Tanev is Del Zotto, and it's a big reason why he's been a healthy scratch for the last five games.
The argument would be that another pairing given the same tough minutes would struggle even more and give up even more chances and goals than Edler and Tanev. Someone has to play the difficult minutes and it seems like Green doesn't have the same faith in the rest of his defence corps as he does in the two longest-tenured Canucks.
Essentially, Green is sacrificing Edler and Tanev on the altar of tough minutes in order to shelter his other defencemen.
When Green talks about Edler and Tanev "starting every faceoff in their own zone," he's barely exaggerating. At 5-on-5, Edler and Tanev have been on the ice for 61 and 59 defensive zone faceoffs, respectively, and just 24 and 25 offensive zone faceoffs. Across the NHL, only Josh Manson in Anaheim has been on the ice for more defensive zone faceoffs than Edler, and his usage is balanced with 44 offensive zone faceoffs.
Their usage is even more stark when you look at their quality of competition. While quality of competition doesn't have as big an impact as you might expect, it does make a difference, particularly when it's combined with skewed zone starts. In addition, quality of competition can make a bigger difference in small samples; it's over a larger sample like a full season that the effects of quality of competition wash out.
Early in the season, Edler and Tanev are indeed facing the proverbial "Crosbys" and "Malkins."
You can see it in the "teammates and competition" charts from Micah Blake McCurdy's HockeyViz. Below are the charts for Edler and Tanev: Edler on the left, Tanev on the right.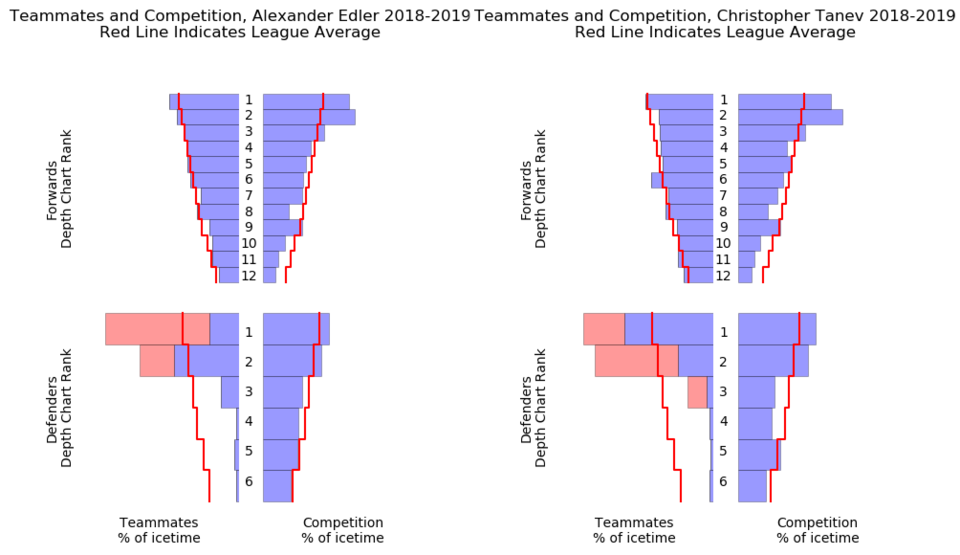 The key part is in the top right: that shows that Edler and Tanev have faced the opposition's number one and two forward in ice time (and to a lesser extent, number three forward) far more than the league average. They are regularly deployed against the opposition's best forwards.
Compare that to the Canucks' other two regular pairings and the difference is stark. Here's Ben Hutton and Erik Gudbranson: Hutton on the left, Gudbranson on the right.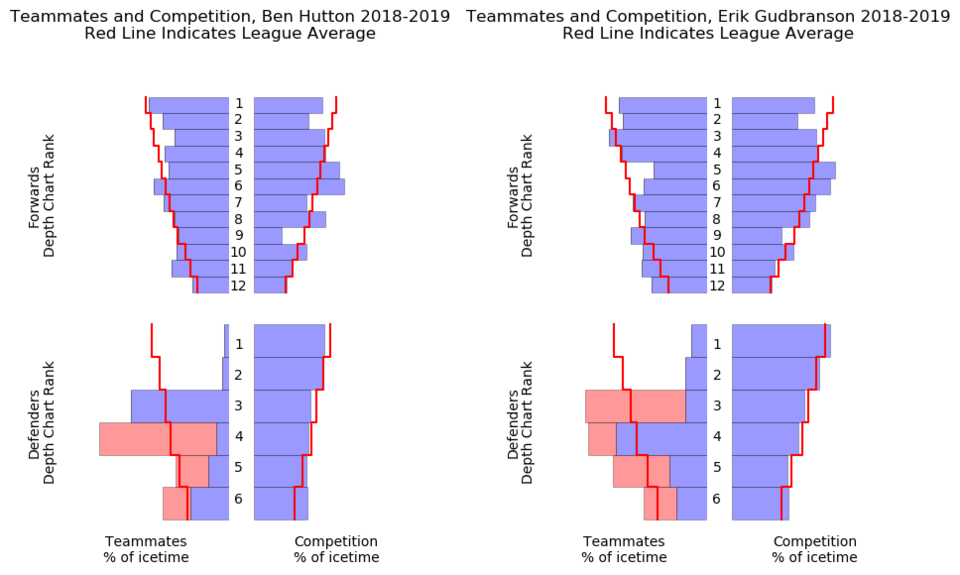 While that pairing has still played against top lines, it's been much less than the league average and they've seen more of the opposition's second lines. Moving on to Derrick Pouliot and Troy Stecher, and the difference in competition is even more significant.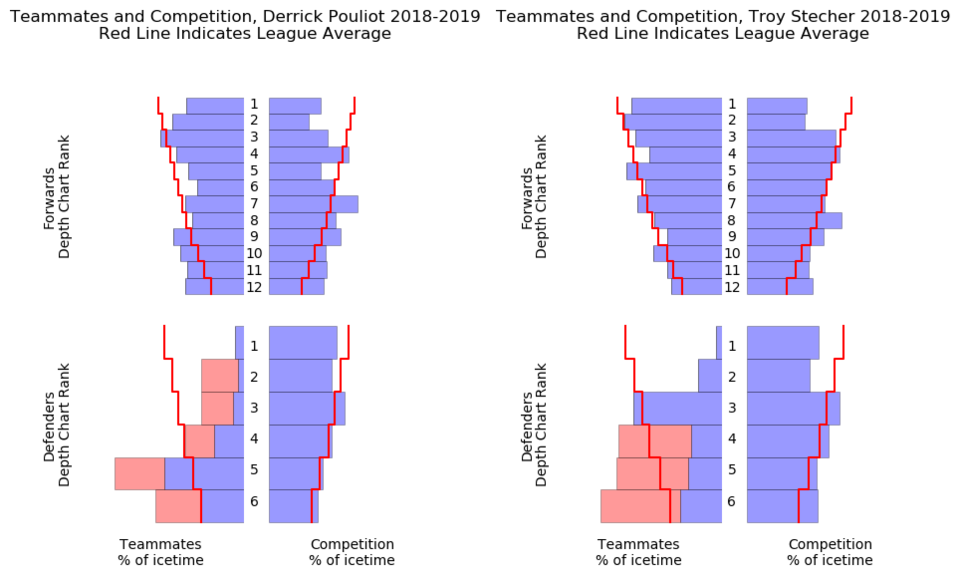 From the chart, Pouliot and Stecher have actually played more against fourth lines than they have against first lines. Given how much ice time a team's top line generally gets, that's hard to do, and it shows how extreme Edler and Tanev's usage has been early in the season.
The question is, just how long can the Canucks play like this? How long can Edler and Tanev last playing not just big minutes, but some of the most difficult minutes in the NHL? How many shots can they block before one or both of them get injured?
From the start of training camp, it looked like Green was invested in trying something different with the Canucks' pairings. Tanev was paired with Hutton in training camp scrimmages and that pairing stayed together through most of the preseason. Edler got paired with Gudbranson in training camp and Stecher in the preseason, both pairings that Green liked last season.
By the time the regular season rolled around, however, Hutton was in the press box and the Edler-Tanev pairing was reunited.
"I like Pouliot and Stecher together, I think they've been strong," said Green on Thursday. "I think Hutton and Gudbranson...arguably they both had their best game last game."
That was in reference to their game against the Pittsburgh Penguins. Against Winnipeg, Hutton and Gudbranson looked genuinely terrible together: Hutton was on the ice for three of Winnipeg's goals, while Gudbranson was on for all four.
At some point, Green might have to break Edler and Tanev apart, splitting them between his twop two pairings and also splitting some of those difficult minutes so that they don't all rest on one pair. Until then, Green seems content with allowing Edler and Tanev to get crushed to keep the same from happening to the rest of his defence.