The Paper Feature is a weekly column and sidebars that appears in the print edition of the Vancouver Courier newspaper. Track it down! 
---
Jacob Markstrom has no time for anyone who, in his view, doesn't have enough respect for Alex Edler. When it's suggested that he's playing better this season compared to the last couple of seasons, he doesn't hesitate to slap back.
"He's always been playing that good," said Markstrom. "It's just that you guys don't acknowledge it."
Markstrom has a reputation for being prickly with the media at times, but the prickles are well-deserved in this case. Edler has been undeservedly raked over the coals over the past few seasons, even as he continues to rack up significant minutes for the Canucks.
"When a goalie wins, he's asked, 'What did you change?'" said Markstrom, "and it's the same, now that Edler is putting up big numbers, he's playing good defence; he's been doing that for ten years!"
"There's a lot of talk from reporters, from people that write and talk in sports, 'We should get rid of him, he's getting old,' that don't see him every day in practice," he added. "Obviously, he's a good friend of mine too. That's frustrating when you know that's somebody that will be missed a lot, both on and off the ice."
With Edler on an expiring contract, trade and contract talk is inevitable, but it may be a moot point. Edler has a no-trade clause in his contract and has shown no inclination to leave Vancouver. Even if the Canucks were to explore trading him, they would have to weigh heavily the loss of his presence in the room.
"He's a leader," said Elias Pettersson. "Beginning of the season, especially when I was new, everything was new to me, him and the other Swedes helped me a lot, just to be comfortable with this group and teach me some small things...he's a really good person."
Edler's presence as the longest-tenured Canuck has helped ease the transition to North America for Pettersson, the latest in a long line of Swedish stars for the Canucks. Someone like Edler, who was brought into the NHL by previous Swedish stars like Mattias Ohlund and the Sedin twins, has made things a lot smoother for Pettersson.
Along with the other two Swedes, Markstrom and Loui Eriksson, Edler stayed up with Pettersson after he had his concussion earlier in the season, showing the care they have for their young teammate.
"They stayed up and made sure I was alright and I really appreciate that," said Pettersson.
All of his off-ice leadership would only go so far without excellent on-ice play and Edler has been playing at a high level all season. He leads the Canucks in average ice time by over two minutes per game, while playing in a shutdown role with Chris Tanev at even-strength and quarterbacking the top power play unit from the point. He's also second behind Tanev in short-handed ice time among Canucks defencemen.
Despite his shutdown role — starting the majority of his shifts in the defensive zone against the best players in the NHL — Edler leads the Canucks in goals against per 60 minutes of ice time. When he's on the ice, the opposition rarely scores.
When you look at a heat map of opponent's shots when he's on the ice at 5-on-5, it becomes evident why: shots rarely come from the front of the net or the dangerous slot areas. Everything comes from the outside.
"Alex comes into the rink every day and he works his bag off, both in the gym and on the ice," said Markstrom. "I don't know what more you can ask for, then a guy who does pretty much everything right."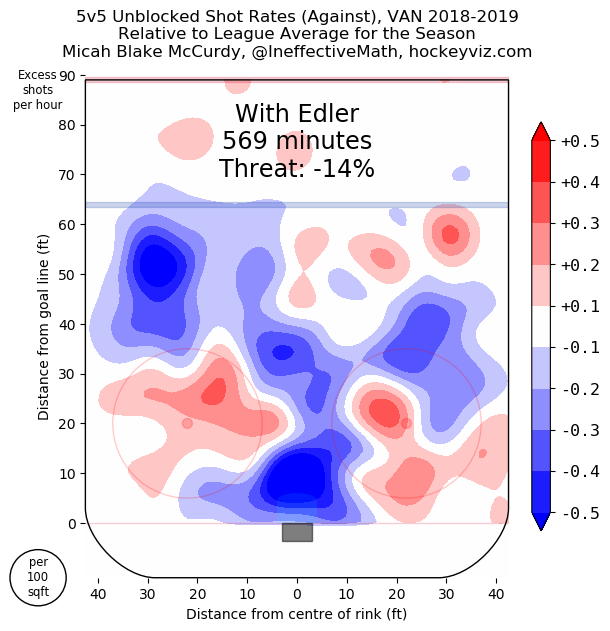 Stick-taps and Glove-drops
A tap of the stick to the Edmonton Oilers for providing endless entertainment to the rest of the NHL. Oilers general manager Pete Chiarelli waived Ryan Spooner this week, meaning winger Jordan Eberle, who has 11 goals and 23 point this season, was ultimately traded for a player that cleared waivers. Then he re-signed goaltender Mikko Koskinen, who has played 32 NHL games, to a three-year, $13.5 million dollar deal. Then he was fired. It was an utterly baffling week in a long line of baffling weeks for the Oilers.
I'm dropping the gloves with the thieves that made off with the Stanley Cup rings of Cameron Gaunce and his wife, who are brother and sister-in-law to Canucks' prospect Brendan Gaunce. The rings were in a safe that was taken out of their home in the Toronto area.
1/2 Last night, my brother and sister in laws Stanley Cup rings were stolen. They were being kept in a safe, yet that didn't stop the culprits from taking the entire safe out of the house. They are clearly recognizable objects, so if anyone has any knowledge or see's any info... pic.twitter.com/KLoTFPMWC2

— Brendan Gaunce (@BrendanGaunce16) January 22, 2019
Big Numbers
1.94 - Alex Edler has been on the ice for 1.94 goals against per 60 minutes of 5-on-5 ice time this season. That's good for 23rd in the NHL among defencemen with at least 500 minutes played, which is pretty impressive given his shutdown role.
3.21 - Jacob Markstrom's Goals Saved Above Average according to Corsica.Hockey is 3.21, meaning he's saved the Canucks 3.21 goals above an average goaltender. That may not sound like much, but it's good for 11th among NHL goaltenders that have played 1000+ minutes, in between top goaltenders Braden Holtby and Carey Price.