In their first season coaching the Canucks, Willie Desjardins and Doug Lidster matched the veteran Alex Edler with the 24-year-old Chris Tanev, and ended up with one of the best shutdown pairings in the entire NHL. Their ability to play big minutes against the best players the opposition had to offer was one of the big reasons the Canucks made it back to the playoffs after missing the season before.
Edler and Tanev were outstanding in the 2014-15 season. Despite playing tough minutes, they were elite when it came to shot suppression. Among pairings that played at least 500 minutes together, Edler and Tanev were ninth in shot attempts against per hour, second in unblocked shot attempts against per hour, third in shots on goal against per hour, and eighth in goals against per hour.
They were a true shutdown pairing and their reliability was essential to the Canucks overachieving that season.
Injuries kept Edler and Tanev apart for parts of the 2015-16 season, and they weren't quite as effective as their first season paired together, but they were still a strong top pairing when they were in the lineup.
Then, in the 2016-17 season, everything went haywire. Desjardins and Lidster gave Edler the responsibility of helping rookie Troy Stecher get comfortable in the NHL. That left Tanev with Luca Sbisa for most of the season, cratering his puck possession statistics.
But when Edler and Tanev did play together last season, their numbers were as good as ever. The insistence on keeping Edler and Tanev apart likely cost the Canucks points in the standings. On the plus side, that led to the Canucks drafting Elias Pettersson.
With a new coaching staff on board, it was gratifying to see Edler and Tanev reunited. Travis Green and Nolan Baumgartner turned to the two veterans on the blue line to once again form a shutdown defence pairing, ensuring that whatever other issues the Canucks might face this season, at least their top pairing would be solid and reliable.
There's just one problem: judging by their underlying puck possession statistics, Edler and Tanev have been one of the Canucks' worst pairings.
Here are the Canucks' 11 most frequent defence partners this season, along with their underlying shot metrics using data from Natural Stat Trick and Corsica.
Let's be clear: there is a lot of context missing in these stats. This doesn't take into account usage — some of these pairings have been hard-matched against tough competition, while others have been heavily sheltered — nor does it account for score effects, differences in stat-keeping in different arenas, etc.
That context is a big reason why Alex Biega and Derrick Pouliot are at the top of the chart in so many areas. In the time they were partnered, they got some friendly deployment from Green and Baumgartner. They did exceptionally well in those soft minutes, but it would be far too simplistic (as well as wildly inaccurate) to suggest they are the Canucks' best defence pairing.
But even with context in mind, the numbers for Edler and Tanev are appalling. The chart is sorted by unblocked shot attempt percentage (fenwick, FF%), a statistic that has tended to show Edler and Tanev in the best light over the last few seasons, as it takes into account Tanev's and, to a lesser extent, Edler's excellent shot-blocking ability.
This season, they have been the worst defence pairing on the Canucks in fenwick. That's shocking. A few years ago, they were among the best of the best in shot metrics; this season they're among the worst of the worst.
We can see a pattern here: Edler and Tanev are the worst on the Canucks mainly when it comes to shot production. They're nowhere near as good as they used to be in shot suppression, but it's the offensive zone that has crashed their numbers the most.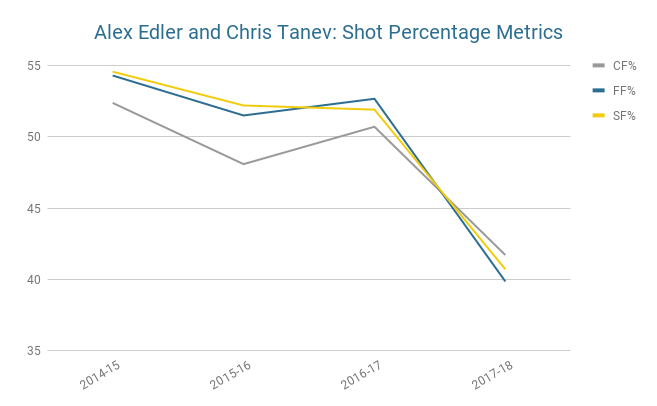 The combination of worsening shot suppression and crashing shot generation have combined to send their overall corsi, fenwick, and shots percentages off a cliff.
What might the reasons be for this decline? It's not that Edler is terrible now, though I'm sure that will be a popular explanation. As you can see from the chart, Edler has been very effective when paired with Derrick Pouliot.
It's also not the case that Tanev has gotten worse. He elevated Ben Hutton into a top pairing, shutdown defenceman when they were paired together, and he even was effective with Michael Del Zotto.
It's not even the context of their usage. Hutton and Tanev were deployed against the best the opposition had to offer when they were partnered together, just like Edler and Tanev. For that matter, Edler and Pouliot weren't exactly sheltered when they played together either.
But there's something interesting there: Edler excelled with a puck-moving, offensive defenceman in Pouliot. Tanev was effective with a couple of puck-moving defencemen in Hutton and Del Zotto.
Perhaps Edler's ability to move the puck in transition has suffered and that's a skill Tanev needs in a defence partner. When each are partnered with puck-moving defencemen, things click into place.
There are other, more positive, reasons to match Tanev with Hutton, and Edler with Pouliot, as outlined by Darryl Keeping in his debut over at Canucks Army, but the negative argument is a strong one: Edler and Tanev have been brutally out-shot when they've played together this season.
Splitting up Edler and Tanev may seem counter-intuitive, but the statistics suggest it's the right thing to do.