The two most important time slots for sports talk radio are in the morning and afternoon when people are driving to and from work. As much as podcasts, digital music, and streaming have taken ears away from radio, people still tune in when they're in the car.
That makes the morning and afternoon drive time slots key battlegrounds when Sportsnet 650 launches in September, as they aim to steer the listening audience away from TSN 1040.
Sportsnet recently announced that Scott Rintoul and Andrew Walker will host the afternoon drive show on Sportsnet 650. Rintoul is a known commodity in Vancouver, having hosted several shows on TSN 1040 and done play-by-play for the BC Lions. He's about as local as it gets: he played football at UBC, studied broadcast journalism at BCIT, and worked on the much-loved Sports Page on CHEK-TV.
Walker, on the other hand, is an unknown on the west coast and comes with the stigma of working in Toronto for the last four years, though he and Rintoul are quick to say that he is not "a Toronto guy." Instead, he grew up in Saskatchewan and spent years working in Alberta before getting a job on The FAN 590 in Toronto.
Curious to know more, one Canucks fan peered into Walker's Twitter history to see what Vancouver's newest sports talk host thought about his new digs. It didn't go well and it led to some more digging.
Essentially, everyone dug up a starter pack of ways to upset Canucks fans.
Cheering for the Bruins in 2011: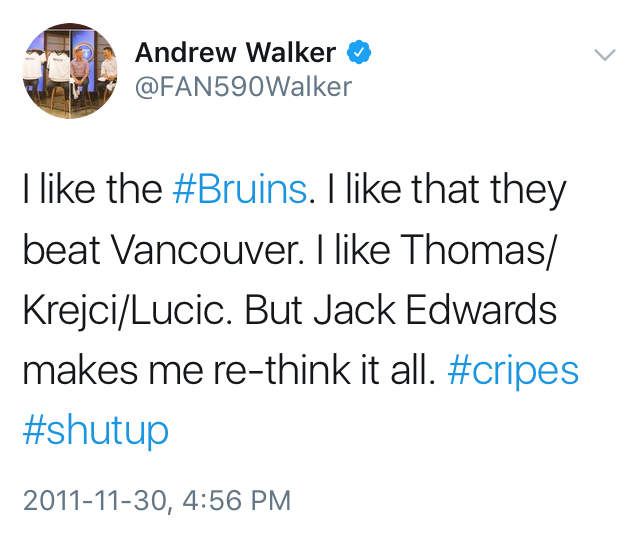 Snide remarks about Vancouver's lack of championships: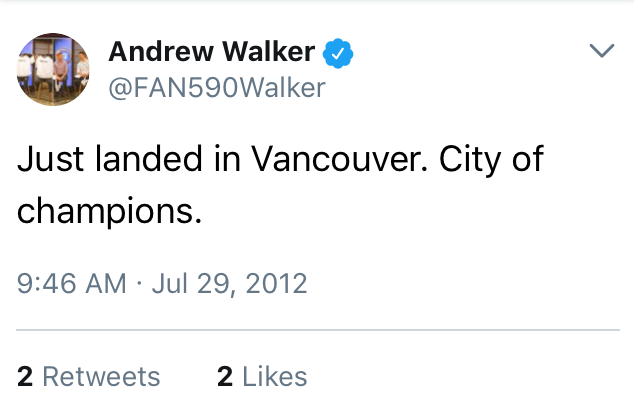 Defending Duncan Keith after his predatory elbow on Daniel Sedin because he could understand "why he was hot":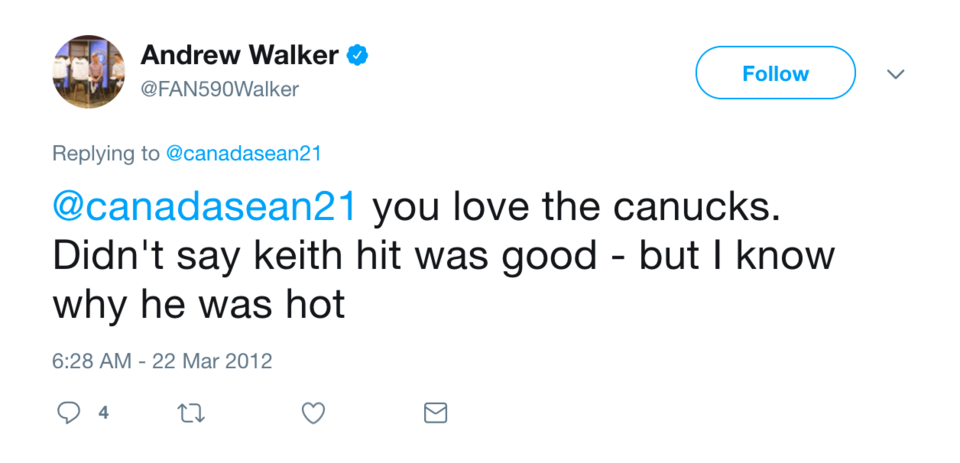 Defending the length of Duncan Keith's suspension for a hit that took Daniel Sedin out of the lineup for 12 games and since which Daniel has never quite been the same player: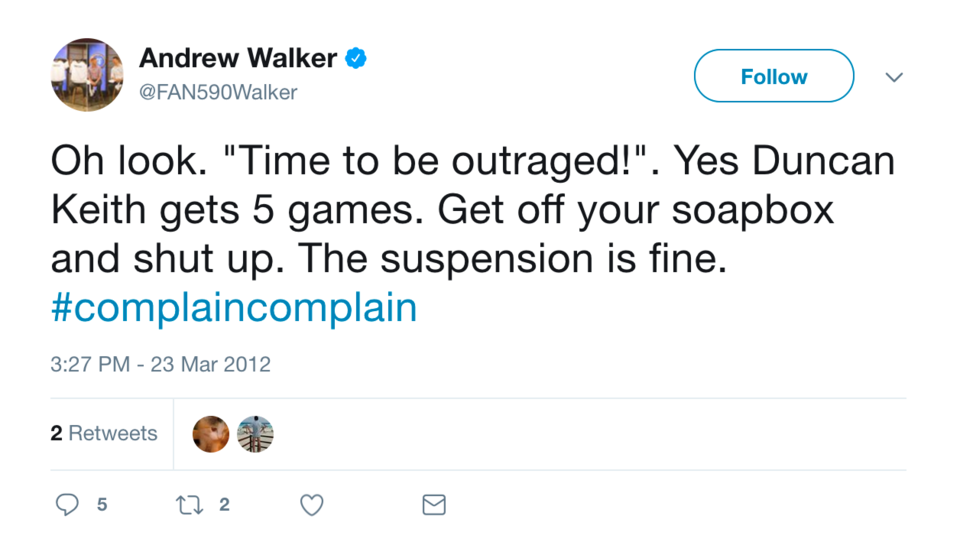 Two years removed from 2011 final, he still hates the Canucks, but loves Kesler: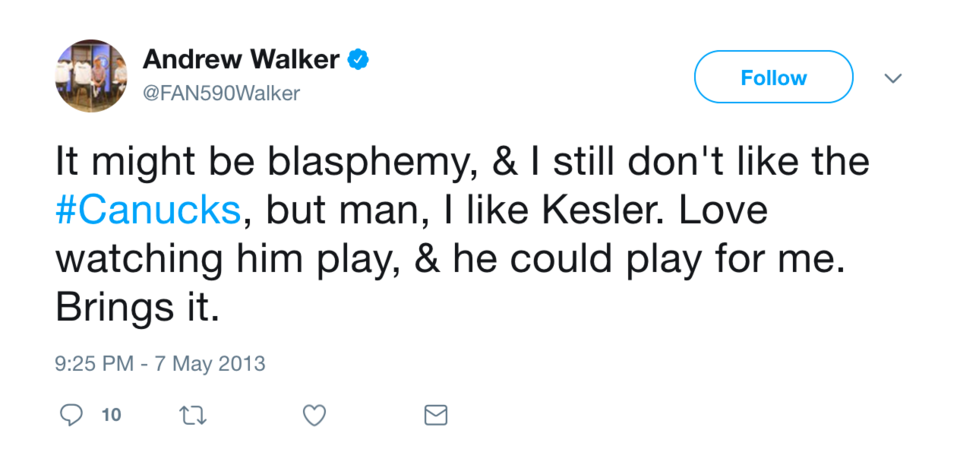 And, just for fun, he takes a shot at hockey analytics with the ever-so-edgy "mathletes" burn: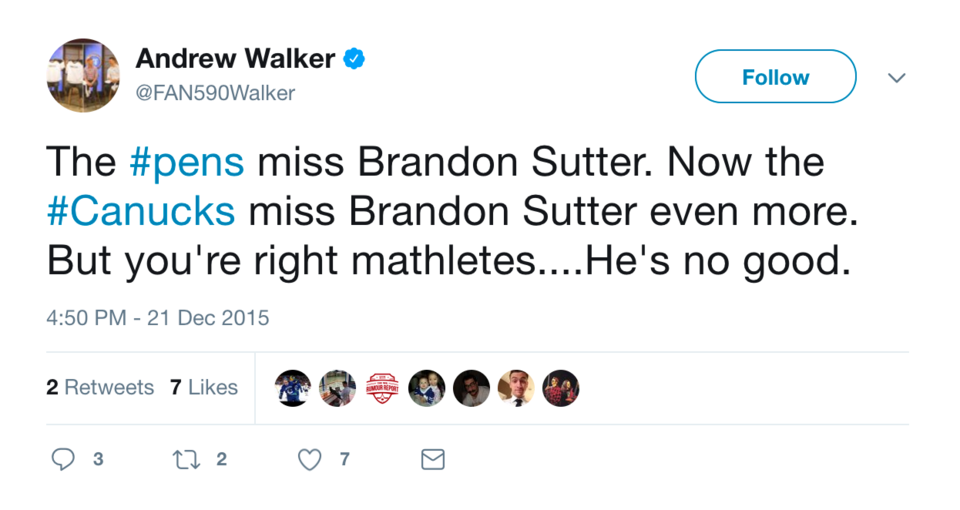 But you're right, Walker, the Penguins missed Brandon Sutter a lot, particularly at their two Stanley Cup parades. It would have been nice to have him there.
Let's be clear: none of these tweets are all that egregious, though I will argue until I'm blue in the face that Keith deserved much longer than a 5-game suspension. He didn't call the Sedins "sisters" like Jayson Megna or say anything else particularly offensive.
It's hard to swallow, however, a guy who repeatedly said he doesn't like the Canucks coming to Vancouver to host a show that will frequently be a lead-in to Canucks games. It's completely understandable why some people would be upset.
Walker has said that the media are not fans and he's not wrong, but it's also not wrong for fans to want to listen to someone who doesn't actively dislike their favourite team.
It doesn't help that Walker is from "out east" rather than being a local hire, even if he's not "a Toronto guy."
National media plays to the largest media market and, like it or not, that's Toronto. For Vancouver sports fans, they mostly don't like it. Toronto-centric stories are repeatedly given top billing on sports highlight shows and the Leafs are almost always on Hockey Night in Canada.
Hockey pundits in the east frequently betray a lack of knowledge of hockey on the west coast, likely because they would have to stay up past midnight to watch the Canucks play.
I recall loving Doug Gilmour as a kid. Why? Sure, he was a great player, but why did I latch on to him? It was mainly because the only hockey I got to watch was on Hockey Night in Canada and, week after week, it always featured a Leafs game, along with an intermission Coach's Corner where Don Cherry would repeatedly extol the virtues of Gilmour.
It's completely understandable why Vancouver sports fans would grow resentful of seeing their local team get short shrift. In essence, the reason Walker has been targeted by vitriol is because he's stepping into a predetermined role as the "out east" antagonist. Quite unintentionally, he's suddenly the face of what many Vancouver fans resent.
But Walker isn't "a Toronto guy" and from what I hear, he's a very good sports talk radio host. And he'll be paired with a very knowledgeable local guy in Rintoul. The show could and should be good.
All of this is to say, be careful what you say on Twitter, but don't be too hard on Walker, either. I'm sure if I got hired by a Boston-based website, Bruins fans would dig up all sorts of terrible things I have said about the Bruins on Twitter.
Of course, a Boston-based website probably wouldn't hire me in the first place.