It might be said that the Reifel family, then one of the city's wealthiest, made money the old-fashioned way — by selling alcohol during the US Prohibition and then investing cannily in real estate. Henry Reifel and his brothers Jack and Conrad had emigrated from the Alsace-Lorraine area of Germany in 1886, and after working in breweries throughout California and Oregon, settled in British Columbia and started a single brewery on Vancouver Island. In a few years, they owned four breweries and two distilleries in the Lower Mainland under the name Brewers & Distillers Limited of Vancouver, along with a legal export business.
With the money flowing in, Henry's sons George and Harry Reifel became involved in the business, and they eventually branched out into what has been Vancouver's all-time favourite industry for those who have money and want more — real estate. George Reifel started Vested Estates Ltd., a real estate and insurance company with an office at 1200 Homer Street. In early 1929, Vested Estates was still in its infancy, but with the brewery business showing great profits, George and his wife Alma could spend their nights in luxury at the city's finer establishments.
According to legend, it was Alma who felt that the Spanish Grill and Crystal Ballroom were getting too crowded and that the city needed another ballroom. One can only wonder what, exactly, Alma said to her husband on that fateful night, but she planted the seed in George's mind. Was George tantalized by the prospect that he could call a place like the Crystal his own?
Luckily, he had the wealth to make these grandiose dreams a reality.
George Reifel selected Vancouver architect Henry Herbert Gillingham to design the ballroom. Reifel and Gillingham envisioned a whole complex, with a basement bowling alley and billiards area, ground-floor retail space, and a new ballroom cabaret on the second floor. 
The ballroom stage was built as a mid-sized orchestra shell with a spotlight controlled from the stage. In the back were three rooms that could be used for banquets or private gatherings of up to 100 people. 

The jewel in the Commodore's crown lay under the patrons' feet. Gillingham had designed the dance floor to be 40 by 80 feet, in the style of an English ballroom and the dance palaces of the era. But the Commodore's dance floor was also "sprung." That is, it was engineered to absorb shocks and it bounced slightly, even more so when there was a full house dancing on it — an advantage over the ordinary floor at the Crystal Ballroom.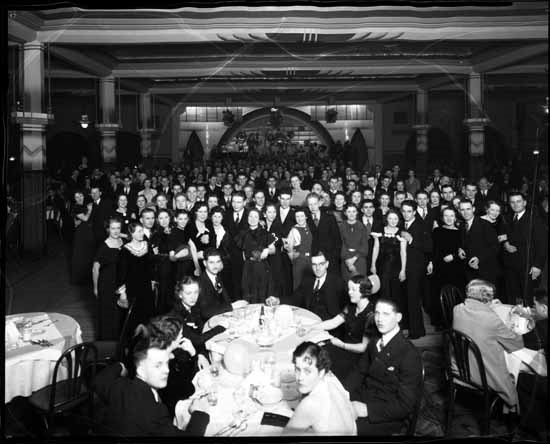 In later years, the opening date of the Commodore would be inaccurately given as 1929, but the correct date was Wednesday, December 3, 1930.
Exerpted from Live at the Commodore: The Story of Vancouver's Historic Commodore Ballroom (Arsenal Pulp Press, 2014) by Courier contributor Aaron Chapman. All rights reserved.