The government begins impounding fishing boats owned by Japanese-Canadians and shutting down Japanese language schools and newspapers one day after the attack on Pearl Harbor.
Approximately 1,000 vessels were seized by the Royal Canadian Navy and tied up at Steveston over fears Japanese nationals loyal to their homeland could be spying along the coast.
The seizure of the fishing fleet, which was later auctioned off by the government along with other property, was the first step towards the eventual and controversial internment of roughly 27, 000 Japanese-Canadian citizens during the Second World War.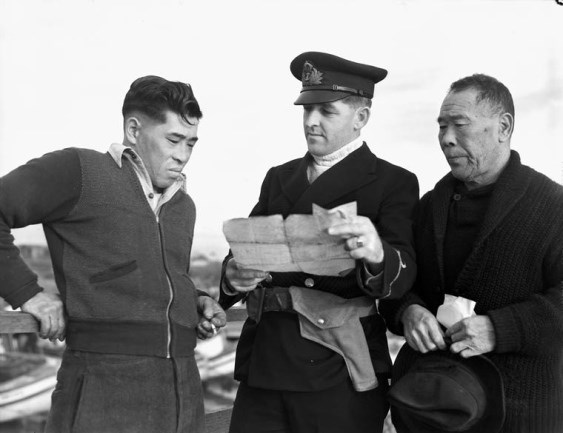 under the War Measures Act
under the War Measures Act
Prime Minister Brian Mulroney formally apologized for the internment and confiscation of property in 1988. He also announced a compensation package including $21,000 to each surviving internee, and the re-instatement of Canadian citizenship to those who were deported to Japan. The agreement also awarded $12 million to the National Association of Japanese Canadians to promote human rights, and $24 million for the establishment of the Canadian Race Relations Foundation to push for the elimination of racism.
He also announced a compensation package including $21,000 to each surviving internee, and the re-instatement of Canadian citizenship to those who were deported to Japan. The agreement also awarded $12 million to the National Association of Japanese Canadians to promote human rights, and $24 million for the establishment of the Canadian Race Relations Foundation to push for the elimination of racism. - See more at: http://www.vancourier.com/news/archives-prime-minister-apologizes-to-japanese-canadians-1.1384103#sthash.aYO1rWwo.dpuf
He also announced a compensation package including $21,000 to each surviving internee, and the re-instatement of Canadian citizenship to those who were deported to Japan. The agreement also awarded $12 million to the National Association of Japanese Canadians to promote human rights, and $24 million for the establishment of the Canadian Race Relations Foundation to push for the elimination of racism. - See more at: http://www.vancourier.com/news/archives-prime-minister-apologizes-to-japanese-canadians-1.1384103#sthash.aYO1rWwo.dpuf
He also announced a compensation package including $21,000 to each surviving internee, and the re-instatement of Canadian citizenship to those who were deported to Japan. The agreement also awarded $12 million to the National Association of Japanese Canadians to promote human rights, and $24 million for the establishment of the Canadian Race Relations Foundation to push for the elimination of racism. - See more at: http://www.vancourier.com/news/archives-prime-minister-apologizes-to-japanese-canadians-1.1384103#sthash.aYO1rWwo.dpuf