The ninth Asia-Pacific Economic Cooperation (APEC) meeting, only the second held in North America, begins at the University of British Columbia.
The summit meeting, the most expensive private gathering in Canadian history, drew more than a dozen world leaders, including U.S. president Bill Clinton, who all required the highest-level of security available.  
Protesters, angry over human rights not being on the agenda and particularly by the presence of Indonesian military strongman Suharto, broke down a perimeter fence erected outside the meeting the following day and were met with pepper spray and police dogs by the RCMP. Dozens were arrested.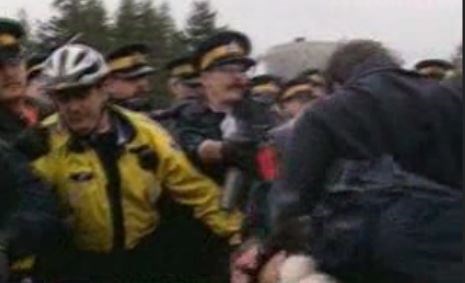 Staff Sgt. Hugh Stewart, who was captured by TV cameras spraying mace directly into the faces of demonstrators only seconds after ordering them to move, soon became known across the country as "Sgt. Pepper." 
Prime Minister Jean Chretien famously made light of the incident shortly afterward when questioned by Nardwuar the Human Serviette at a press conference, saying: "For me, pepper, I put it on my plate."
The RCMP Complaints Commission began an inquiry into the incident the following year. Commissioner Ted Hughes found that police conduct was inconsistent with the fundamental freedoms in the Charter of Rights and also that there was improper involvement by the federal government but stopped short of indicting Chrétien, whose personal emails revealed he had been worried about embarrassing visiting dignitaries and asked for security at the event to be stepped up.