The Beatles give their first Canadian concert in Empire Stadium before more than 20,000 fans. The concert, what little of it could be heard over all the screaming by fans, was also broadcast live on local radio station CKNW.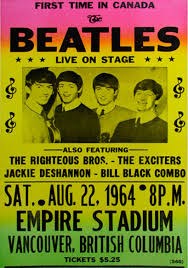 The band performed an 11-song set: Twist And Shout, You Can't Do That, All My Loving, She Loves You, Things We Said Today, Roll Over Beethoven, Can't Buy Me Love, If I Fell, Boys, A Hard Day's Night and Long Tall Sally before the show was cut short by police who feared a riot.
The Fab Four then departed for Los Angeles for a concert at the Hollywood Bowl that was later released as a live double album.