The Vancouver Whitecaps play their first home game as part of the now-defunct North American Soccer League in the pouring rain against the San Jose Earthquakes at a packed Empire Stadium. The home team found themselves down 1-0 three minutes into the game but defender Neil Ellett tied it up at the 37-minute mark.
It was not only the Caps' historic first goal, it also turned out to be Ellett's only one over three seasons with the team. The inaugural match then went to a shootout, going 3-3 after five shooters and 6-6 after nine. Following a miss by midfielder Brian Gant, San Jose converted the 19th shot to take a 2-1 win.
However, Gant managed to redeem himself six days later when he scored the team's only goal against the Denver Dynamos, good for a 1-0 win and the first in franchise history.
Coach Jim Easton, a veteran of the Scottish First Division, and owner Herb Capozzi had put together a team of underdogs whose combined salaries were reportedly equivalent to what a single player might earn on an opposing team. Thirteen of the 17 players on the roster were Canadian and most were from the Vancouver area, including 19-year-old Bob Lenarduzzi (now the team's president) and his older brother Sam.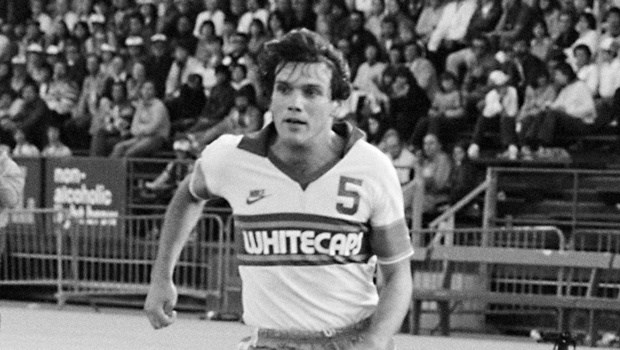 Vancouver finished 5-11-4 and ranked 11th overall in the 15-team league in their debut season. Five years later, they won the NASL Soccer Bowl championship.
-- With files from Jason Beck