It's hard to be surprised at the Canucks' injury woes at this point, particularly when it comes to the two oldest defencemen on the roster. Alex Edler has played a full 82-game season just once in his career, while Chris Tanev has never managed that feat.
Tanev missed 40 games last season, while Edler only missed 12, but their situations have been reversed this season. Edler has already been out for 20 games total and is expected to miss more recovering from a concussion, while Tanev has been mostly healthy, only missing five games. Unfortunately, he'll be out for a while, as he was placed on the Injured Reserve, meaning he'll be out a minimum of seven days.
Guillaume Brisebois was already up with the Canucks when Tanev got injured and made his NHL debut on Thursday against the Los Angeles Kings, but the Canucks were left with just six healthy defencemen on the roster. On Friday, they called up one more, the right-handed Luke Schenn.
Schenn came to the Canucks in the Michael Del Zotto trade with the Anaheim Ducks. He's spent all but 8 games this season in the AHL with the San Diego Gulls and Utica Comets. Since the trade, he has five points in seven games in Utica.
It's unclear at this point whether Schenn will actually get into a game with the Canucks, which should say something about how far Schenn has fallen. At one point, Schenn was a highly-regarded prospect, to the point that the Toronto Maple Leafs picked him fifth overall. He was supposed to be a cornerstone of their defence for years to come. Ten years later, he was in the minors.
In many ways, Schenn is a cautionary tale for drafting defencemen with a top-five pick (as is Erik Gudbranson, but we don't need to rehash that right now). Sometimes it works out and you get a franchise cornerstone on the blueline — Drew Doughty and Alex Pietrangelo, drafted the same year as Schenn, can attest to that — but other times you get burned.
The Leafs traded up at the 2008 draft so they could pick Luke Schenn fifth overall. At the time, Pierre McGuire basically lost his mind.
"Toronto wins big here," said McGuire. "This is huge for the Toronto Maple Leafs and their organization going forward. This is the start of their rebuild and you couldn't build it on better shoulders than Luke Schenn's."
"When you can get a player like Luke Schenn, you just go crazy as a scout," he added as Toronto took the stage. "This is a franchise player."
The Leafs and McGuire weren't the only people high on Schenn, who was consistently ranked near the top of the draft. Central Scouting had Schenn third among North American skaters, behind Drew Doughty but ahead of Zach Bogosian, Tyler Myers, and Alex Pietrangelo.
Erik Karlsson went 15th overall in that draft. John Carlson was 27th overall. Roman Josi didn't get picked until the second round. Heck, the Leafs did get a top-four defenceman at the 2008 draft, but it came 12 picks later in the form of Jake Gardiner.
Schenn had 28 points in 57 games for the Kelowna Rockets in his draft year. Doughty had 50. Pietrangelo had 53. Points certainly aren't everything when it comes to evaluating defencemen, but they can be a warning sign. Schenn was billed as a big, physical shutdown defenceman, but his relative lack of points meant he likely should have been drafted much lower in the first round.
Jared Spurgeon, who did become a top-pairing NHL defenceman, had 43 points in the WHL in 2007-08, but didn't get picked until the 6th round. But he's 5'9". Scouts looked at the big, punishing Schenn and saw a top-pairing defenceman, but didn't see one in Spurgeon.
The biggest difference, apart from size, between the two defenceman is skating. Spurgeon is a fantastic skater, with great agility and top speed. Schenn, on the other hand, is a plodding skater with poor agility. He's a throwback stay-at-home defenceman in a league that has literally passed such players by, usually on the outside down the wing.
That said, is there still a possibility that Schenn could provide some value to the Canucks? Yes, there is.
In a third-pairing role, it's hard to imagine Schenn being much worse than Gudbranson, Pouliot, or Biega. When it comes to handedness and playing style, Schenn is a better fit for Gudbranson's spot, but Biega is the more likely candidate to sit for a game or two.
It seems worth a shot, because Schenn does have one significant positive aspect to his game that would be a boon to the Canucks' defence: he can pass the puck.
While Schenn struggles with his feet, he has no such issue with his hands. He has above average puck skills and can make a good first pass out of the defensive zone, an area where the Canucks have struggled. Looking at the microstats tracked by Corey Sznajder for the All Three Zones project, you can see that Schenn is well above average in zone exits with possession.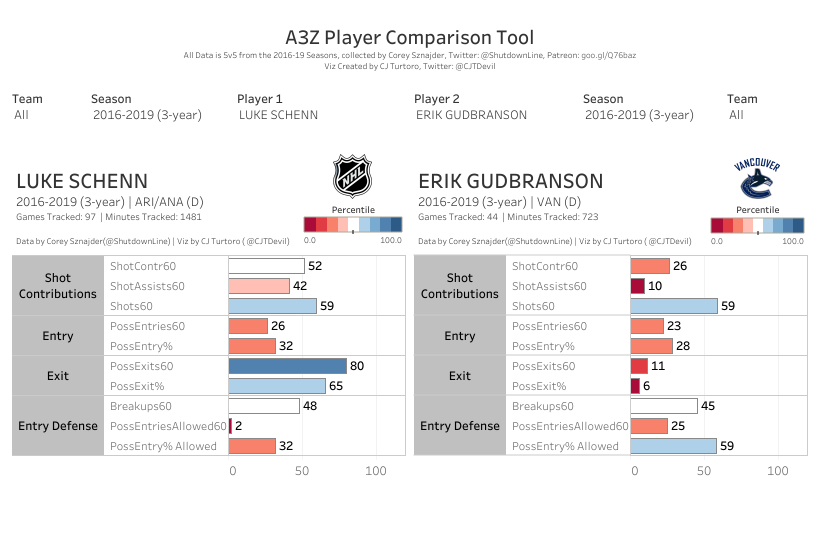 Compared directly to Gudbranson, you can see where the two players differ. Gudbranson is better at defending the blue line and preventing a zone entry, though still below average, but Schenn is markedly better at exiting the defensive zone. It's a legitimate strength of his game. In other aspects, the two are fairly similar.
At this point, Schenn is likely eager to prove that he's still an NHL defenceman and deserves to play. It might be worth a shot.